In a Nutshell
MakeSpace is a professional storage facility that offers full-service storage units for consumers and businesses. Services include free pickup from your home or place of business, professional wrapping, and delivery of your belongings on demand. You can use the convenient mobile app to see your storage contents and request a delivery with just a tap. What's more, MakeSpace offers state of the art security systems for all units.
pros
Full-service storage, pickup and delivery
Contents returned on demand
Photo inventory, free packing supplies, free pickup
cons
Currently only in 24 cities
No self-storage option
Delivery and cancellation fees

Make Space​ Visit Site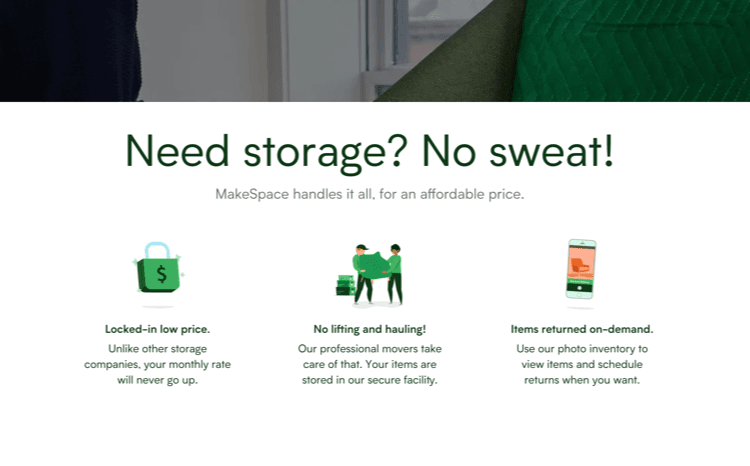 MakeSpace at a Glance
Main services covered: Full service, pickup, delivery
Participating states: 31 cities (US and Toronto)
24-hour security: Yes
Climate-controlled: N/A
What Services Does MakeSpace Cover?
MakeSpace offers full-service storage with all the frills included. This company will come to your home or office to pick up your belongings, load and store everything in secure storage units, and then return them to you when you need them.
Possibly the coolest feature MakeSpace offers is its photo inventory. Using the mobile app, customers can see exactly what's in storage, schedule a pickup, and arrange delivery of selected items with a few taps. This is not just a gimmicky nod toward technological storage services. The MakeSpace mobile app makes storage a whole lot more convenient too. It basically means you'll never have to visit your actual storage unit. You know exactly what's there all the time, and you can request a delivery of items whenever you need them.
MakeSpace also has business storage plans, though the same rules apply. MakeSpace will pick up and deliver your business items with scheduled appointments via the mobile app. This is a good solution for additional inventory, seasonal businesses, bulky equipment, samples storage, and other business storage needs.
The process for storing items with MakeSpace is a little different from the average self-storage service. Here's how MakeSpace works:
You'll choose a plan based on your storage needs and order a pickup date

MakeSpace will send you heavy-duty bags for packing prior to the pickup date (these bags are later transferred to durable plastic bins for the actual move)

The day of the move, MakeSpace's pro movers will come pick up your belongings

Each item will be given a barcode and scanned for an itemized inventory of your storage unit

At the storage unit, each item is scanned, weighed, and photographed for your photo inventory
The one thing worth noting is that MakeSpace only works within a limited service area. That means you can arrange to have your items delivered to a different address from the pickup point, as long as both locations are within a defined MakeSpace service area.
MakeSpace Facility Features
MakeSpace has secure facilities that are not accessible to the public. This is an added security measure that ensures units are more secure than most competitors. There are specific rules about what is permitted to be stored in the MakeSpace storage units. For example, firearms, illegal substances, explosives, living items, perishables, and anything that contains liquids are banned.
Free packing supplies

Free pickup by professional movers

Free transportation

Photo inventory via mobile app

Delivery services

Guaranteed rate lock

Basic insurance coverage is included
MakeSpace Security
MakeSpace employs heavy-duty security measures. For one thing, there is 24-hour security on the premises. MakeSpace also employs alarms, motion-sensor cameras, and other advanced technologies to keep storage units secure at all times. MakeSpace doesn't allow public access to the storage facilities, making the units even more secure. There are also fire sprinkler systems in place.
MakeSpace Storage Unit Details
MakeSpace has storage units available in a range of sizes, from 2'x2' to 10'x15' units. There are helpful pictorial guides on the website, as well as information on size of packing bins and how they are stored so you can determine what size unit you will need.
Unfortunately, MakeSpace is currently only available in 31 cities across the US and Canada (see list below):
Baltimore, MD

Boston metro area

New Jersey (all cities)

New York City metro area

Philadelphia metro area

Pittsburgh, PA

Providence, RI

Washington, DC

Wilmington, DE

Worcester, MA

Ann Arbor, MI

Chicago, IL

Detroit, MI

Jacksonville, FL

Miami, Ft. Lauderdale metro area

Nashville, TN

Orlando, FL

Tampa, St. Petersburg, FL

Austin, TX

Dallas, TX

Houston, TX

Phoenix, Mesa, AZ

San Antonio, TX

Denver, Aurora, CO

Inland Empire, CA

Los Angeles metro area

Orange County, CA

San Diego, CA

San Francisco Bay area

Seattle, Tacoma, WA

Toronto, ON, Canada
How Much Does MakeSpace Cost?
MakeSpace pricing starts at a reasonable $69 per month for pickup and storage, but plans are generally customized according to your storage needs. What we really like about this company though is that you get a price rate guarantee. That means whatever rate you're quoted is what you pay. That rate is locked in for you, making it easier and more affordable to store things long term. You can also adjust your plan according to your changing storage needs.
It's important to note that MakeSpace charges for deliveries. It's a flat fee of $59 no matter what you get delivered. That means that whether you have your entire storage unit delivered or just a few items, it costs the same. The first pickup is free, and subsequent pickups cost $59 per appointment. You'll also be charged a cancelation fee if you cancel or reschedule an appointment with less than 48 hours advance notice.
MakeSpace provides you with free packing supplies including durable bags, interlocking bins, and moving blankets. If you need additional packing supplies (boxes, tape, etc.), these are also available for purchase. What's more, MakeSpace has professional movers come to wrap and transport your belongings so there's significantly less risk of damage along the way. All storage plans include free basic insurance cover and there are options to upgrade for added protection.
MakeSpace Rental and Leasing Options
MakeSpace offers 3-month contracts or longer. There's no limit to how long you can keep your storage unit for though. And as mentioned, MakeSpace offers a rate lock. So the price of your storage unit will not go up regardless of how long you keep your unit.
MakeSpace Customer Service
MakeSpace has a tremendous Help Center on the website you can use to get answers to commonly asked questions. You can also call a customer service representative with the phone number below:
Phone Support:
855-758-3293

Make Space​ Visit Site
What Are People Saying about MakeSpace?
"Matt, Dylan and Ramone did a great job on the pick up: on time, polite, professional, and efficient. Overall MakeSpace has so far performed as advertised and has proven a worthwhile service! Certainly recommended." – Douglas P
"Really easy process for moving and makes moving very organized! The movers were so nice and worked quickly, answered any questions I had and made sure everything was right before leaving." – Emily C
Bottom Line
MakeSpace is a great choice if you're looking to take all the work out of storing your belongings. Free initial pickup by professional movers means your items are transported and stored securely and without any effort on your part. MakeSpace will also deliver your items back to you whenever you want them. The convenient mobile app gives you a photo inventory of everything in your storage unit. And MakeSpace has the most advanced security measures in place, guarding your belongings at all times.