In a Nutshell
CubeSmart is a budget-friendly, self-storage option for personal or business storage. The units offer various types of amenities including climate-control, strong security features, and free Wi-Fi. Additionally, CubeSmart customers can get more services bundled into their storage plans including logistics services, office amenities, and customized storage options. CubeSmart has discounts, giveaways, and contests for fun and savings too.
pros
Lots of discounts (2 free hours truck rental)
Drive-up and climate-controlled units and roll-up doors
Additional services bundled in
cons
Not accessible 24/7
No full-service option

Cube Smart​ Visit Site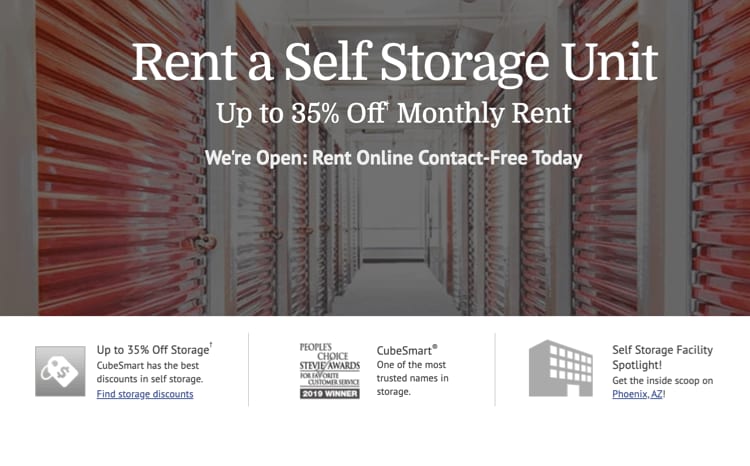 CubeSmart at a Glance
Main services covered: Self-storage, car/RV/boat, business storage
Participating states: 40
24-hour security: Yes
Climate-controlled: Yes
What Services Does CubeSmart Cover?
CubeSmart has various types of storage, but they're all self-storage options. You can get personal storage units, or business storage, vehicle storage, military storage (that comes with an additional 10% off any other discounts you're already entitled to), and boat storage.
In addition to traditional storage services, CubeSmart has several supplementary services that are pretty handy. Here are a few of the ones we thought were worth mentioning:
Customers can have their packages sent directly to their cubes for storage or held for a later-date pickup. CubeSmart will also help you retrieve specific items from your storage unit and have them shipped or delivered to you directly.
This is a great option if you aren't interested in renting out office space but need to get work done and have items that need storage. With tools like free Wi-Fi, printing, copying, and faxing, and a lounge area (with free coffee!), CubeSmart provides you with a space to get work done efficiently.
You can rent a moving truck for up to 2 hours free of charge. After that, CubeSmart offers other moving services for pay including full-scale moves, truck rentals, and loading and unloading.
This is a really unique option. CubeSmart will customize your storage solution to fit your needs. Customization options include everything from the lighting and electrical accessibility to tailored shelving options, automatic door openers, and remote-controlled access. Unlike other freemium services, storage customization is a premium service.
Reservations can be made up to 30 days before move-in date. CubeSmart also has contactless, online rental contracts. You can select a storage package, sign a contract, and get access to your unit conveniently and completely online.
CubeSmart Facility Features
CubeSmart has several types of storage units including indoor and outdoor units for various types of storage needs. You can also get climate-controlled units for more sensitive items such as expensive artwork, electronic equipment, and delicate machinery. Notably, CubeSmart offers drive-up units and roll-up doors. Drive-up units are convenient for loading and unloading heavy items, and roll-up doors are ideal for fitting more items into your unit. They're also convenient for bulkier item storage since you don't have to wrestle with small, standard-sized doorways to get things in and out of the unit.
Climate-controlled units

Roll-up doors

Drive-up units

Moving carts and dollies

On-site manager

Packing supplies available

Package receipt

Item retrieval and delivery

Free Wi-Fi

Printing, copying, and faxing

Workstations

Lounge area

Fresh coffee

Professional shredding (premium)

Free local moving-truck

Professional organizer services (premium)

Organizational supplies (premium)

Storage customization, individual lighting/electric, video monitoring, automatic door-openers, remote-controlled access (premium)
CubeSmart Security
CubeSmart has strong security features protecting these units. Each facility is equipped with electronic security gates, strong lighting, and 24-hour video surveillance and recording. Units are only made available to the public during open-gate hours. Outside of gate hours, the units are locked down, and no one is allowed access.
Additionally, CubeSmart has on-site managers for most of their units. This means someone actually lives on the premises and ensures the safety and security of your belongings at all times.
CubeSmart Storage Unit Details
CubeSmart offers small, medium, and large storage units ranging from mini lockers up to bulk 10'x30' units. Units are available for everything from household items to vehicles and boat storage. Depending on the location, many CubeSmart facilities offer drive-up access, roll-up doors, and climate-controlled units. Here are a few options for storage units from CubeSmart:
Boxes, small furniture, misc. items
Contents of 2-bedroom apartment
Contents of a full garage or 4-bedroom home
Fits most cars, motorcycles, ATVs
Of course, each category has multiple size options (e.g. small lockers are available in 5'x5', 5'x10', and 5'x15'), so you can choose the size that works best for your storage needs.
How Much Does CubeSmart Cost?
Pricing details vary depending on location and storage requirements. But CubeSmart is known for being among the most affordable storage plans out there. You can generally find units starting as low as $26 for a small cube. Here's a sample of some prices you can expect from the company:
CubeSmart runs frequent deals as well. At the time of writing for example, new customers can get 1 month free and 35% off additional month rentals. You can also get half off your next month's rent when you refer a friend to the storage facility.
What's more, CubeSmart has some interesting contests and giveaways. During the summer months one year, CubeSmart ran a "Store My Dorm" contest. When college kids stored their belongings for the summer, tweeted a selfie of themselves by their storage unit, and tagged it, they were entered into a prize draw for a Polaroid Cube camera. Another fun contest was the "More Living Room" challenge that gave customers a chance to win $1,000. You can check out CubeSmart's Twitter feed to see other innovative contests and giveaways run by this creative company.
CubeSmart also has a 10% military discount that is valid for all units in addition to any other discounts you might receive. You can also purchase packing supplies from a CubeSmart facility near you. These shops offer bulk rates on boxes, glass partition kits, bubble wrap, packing tape, mattress covers, and more.
CubeSmart Rental and Leasing Options
CubeSmart has month-to-month rental contracts. So you can rent for as long or as short as you want.
CubeSmart Customer Service
CubeSmart won the People's Choice Stevie Awards for favorite customer service last year (and every year for the past 7 years in fact). That should tell you something about the quality of the customer service from CubeSmart. In general, CubeSmart is known for generating a positive customer experience, with a good attitude, dedicated staff, and helpful staff members. You can reach out to customer service via phone or email. There is also a helpful FAQ section with commonly asked questions and answers.
Call 1-844-248-3104

Cube Smart​ Visit Site
What Are People Saying about CubeSmart?
"I love this place. The service is incredible. My relationship with storage had not been pleasant until I came here to CubeSmart! Thank you CubeSmart, you rock!"
Carolyn H. – Long Beach, CA
"My experience renting a unit was extremely positive. The facility manager was very friendly, informative, and knowledgeable. I'm very satisfied with my service and will definitely refer anyone here with future storage needs. Thank you!"
Dawn M. – Mundelein, IL
"Very professional staff, extremely clean facilities, and an accommodating location. I would recommend CubeSmart highly!"
Jeffrey G. – Royal Palm Beach, FL
Bottom Line
CubeSmart is a customer-friendly self-storage provider with one of the widest coverage areas in the industry. The company makes it a point of providing top-quality service with a smile and includes several freebies into the cost of storage. You'll get things like package receipt, office space, and Wi-Fi for your convenience. CubeSmart also offers top-of-the-line security measures including video surveillance, electric gates, and on-site facility managers.