In a Nutshell
No doubt you've seen the signs when driving through your hometown. Public Storage is a nationwide brand with a sterling reputation. The largest self-storage provider in the country, Public Storage offers climate-controlled units ranging from closet-stuffers to full house storage, secure locations (thousands across the US), and some of the most competitive rates anywhere. Plus, you can reserve a unit for free and without any commitment to rent.
pros
$1 first month rent +30% savings
Free reservations and no contracts
Climate-controlled spaces
cons
No 24-hour access
No full-service storage options

Public Storage Visit Site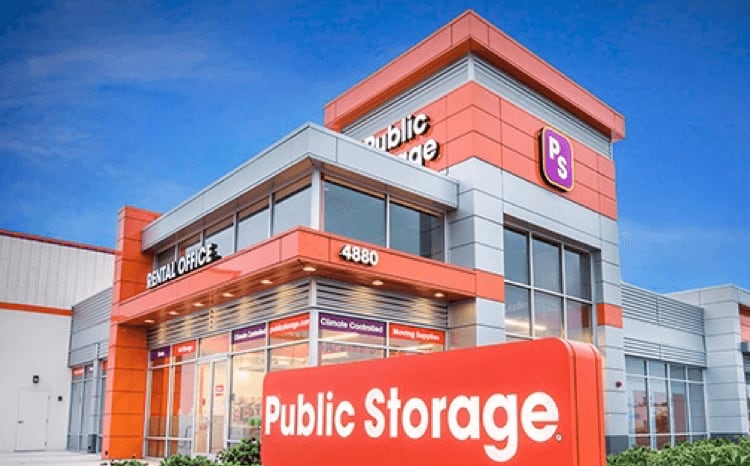 Public Storage at a Glance
Main services covered: Self-storage, car/RV/boat storage, business storage
Participating states: 39
24-hour security: Yes
Climate-controlled: Yes
What Services Does Public Storage Cover?
With thousands of locations nationwide, Public Storage is the largest self-storage provider in the country. Additionally, you can utilize these services globally, with Public Storage locations across Europe within Germany, France, Sweden, Denmark, Belgium, Netherlands, and the UK. The one downside to working with Public Storage is that it doesn't offer any type of full-service storage plans. If you're ready to do the work yourself though, Public Storage is a great option. Here are the services available from this brand:
Public Storage has self-storage units ranging in size from 5'x5' units (good for a large closet) up to 10'x25' units. The units are all clean and well-lit, so you can access them without fear or looking over your shoulder like you need to with some other, less-reputable companies. Self-storage is a good option if you have extra belongings that you don't have room for in your house, are looking to expand your family and want to make space, or if you are relocating, traveling, or being called up for military duty. Public Storage units are also a good option if you are subletting, offering your home for short-term lets, remodeling, etc.
The best part of working with Public Storage is that you can reserve a storage unit for free, without any obligation to rent or sign a contract. You can also call up and reserve a unit on the spot. This is good because life is unpredictable, so if your plans change and you don't need the unit in the end, there are no stressful surcharges. And if you need to get your furniture stored somewhere in a pinch, Public Storage is great at accommodating last-minute changes.
This is a good option for SMBs that don't want to waste their budget on expensive business office rentals for equipment, documents, or inventory storage. Public Storage is also a good solution for seasonal businesses that want to store their leftover inventory for the next year, industries that have large cases of product samples (pharmaceuticals, for example), or for businesses that require bulky equipment such as construction or landscaping.
Boats, cars, trucks, and RV storage
Public Storage also has covered spots, parking, and enclosed storage units for trucks, cars, RVs, bikes, and boats.
Regardless of the storage unit type, Public Storage works on a month-to-month basis. There are no long-term contracts tying you down. We like this feature a lot because it means anyone can rent a unit without a long commitment to worry about. You can also set up everything, reservations, move-in and move-out dates, and anything else directly online. It's a totally contactless process. Here's how it works:
Search for a storage location near you

Choose a unit size using the sizing guide

Reserve a unit and move in on that date
Public Storage Facility Features
Public Storage offers outdoor drive-up and indoor units for business and regular storage. The indoor units have the option for climate control. Vehicle storage units are available in uncovered, covered, or fully enclosed spaces. The latter is a good choice for long-term vehicle storage.
Climate-controlled units

Accessible from 6 a.m. – 9 p.m.

Change units or locations easily

Month-to-month contracts

Large loading docks

Roll-up doors for loading

Outdoor drive-up units

Elevator access

Wide hallways

Electronic gates with keypad access
Public Storage Security
Public Storage has gated facilities that are secured behind electric gates. These can only be accessed via a code entered into a keypad. The individual storage units are accessible only with the key that you possess.
Public Storage – Storage Unit Details
Public Storage has a wide variety of unit sizes including:
What's nice about Public Storage is that you can upgrade or downgrade your storage unit size easily. And what's more, Public Storage has a full unit-sizing guide to help people visualize how much stuff fits into the various sizes of units. This is extremely helpful for people who don't have a strong sense of proportions and dimensions (ourselves included).
How Much Does Public Storage Cost?
How much each storage unit costs depends on the location and size you need. Some Public Storage locations offer online-only deals, so you'll have to search via your location to get an exact price. Here's an example of some pricings available:
Public Storage definitely offers a lot of value for money. For one thing, you can make free reservations. That means you can put a unit on hold without having to pay for it or even put down a deposit. This is a rare feature that certainly explains why Public Storage is considered one of the best.
Additionally, Public Storage tosses in lots of extras. For example, there are hand trucks and dollies available at all locations. These are provided by Public Storage free of charge, and any customer can take advantage of them. There are also packing materials available, but these you'll have to pay for.
Best of all though is probably the introductory offer Public Storage has for its self-storage units. Customers can get their first month's rental for just $1. That's unbelievable. What's more, you can save up to 30% on additional months going forward, making Public Storage one of the most affordable options out there.
Public Storage Rental and Leasing Options
Another reason consumers like Public Storage so much is the lack of commitment involved. These storage units are available on a month-to-month basis, so you aren't tied into a long contract that might become irrelevant if your plans or circumstances change. These easygoing terms make Public Storage a great choice for just about anyone.
Public Storage Customer Service
You can reach a customer service rep via phone or by using the online contact form. Public Storage also has a fabulous Help Center on the website that you can use to find just about any question and answer you're looking for.
Reserve a Storage Unit
800-688-8057
Modify Your Reservation
888-797-6980
Existing Customers
800-567-0759
Pay by Phone
866-444-4747
Customer Service
Mon–Sat 5am – 10pm PT
Sun 5am. – 9pm PT

Public Storage Visit Site
What Are People Saying About Public Storage?
"I wanted a simple, easy storage solution to clean out some clutter from our house. Public Storage had just what I needed, made sure it was clean and took extra care to make sure I was getting the right size unit for my stuff." – Bill T
"I had some of the best customer service I've ever experienced at Public Storage! They went above and beyond to make sure I was making the best decision for my storage needs. I really appreciate all of their help!" – Larisa K
"I had a great experience at Public Storage and I would honestly refer it to my friends. This place is very convenient for me and my family." – Analie B
Bottom Line
Public Storage has been an industry leader for almost half a century, and it's not hard to understand why. With $1 first-month rental, secure and easy to access indoor and outdoor units, and climate-controlled storage options, Public Storage is an obvious choice. From businesses to personal storage needs, consumers also appreciate the free reservations, no long-term commitment, special offers and extras, and great customer service.