In a Nutshell
Clutter is a newer storage company dedicated to modernizing the storage unit industry. Unlike traditional storage unit services, this service will pick up and drop off your items. It specializes in moves and reducing clutter in your life, hence the name. Clutter stores millions of items across the US and touts a great reputation among past customers.
pros
Streamlined moving process
Options to add or remove items in storage
Simple online booking system
cons
Not available in all states
High cost for month-to-month storage

Clutter Visit Site
Clutter at a Glance
Main services covered: Seasonal and general storage, door-to-door moving and storage, big city moving and storage
Participating states: New York, New Jersey, California, Washington, Pennsylvania, Illinois
24-hour security: Yes
Climate-controlled: Yes
What Services Does Clutter Cover
Clutter is not a typical self-storage company. Instead of throwing your stuff in a basic locker, it houses your belongings in a huge climate-controlled warehouse that uses a high-tech organizational system.
Curbside Pickup
Clutter will come and get your items and store them for you. All you need to do is have your stuff ready to be put in one of Clutter's truck. Note that although Clutter employees will pick up your things, with this package, they won't provide additional move out assistance.
Full Service
For an increased fee, Clutter will send movers to your house to pack up your things and take them into storage for you.
Self Storage
Available in New York only, Clutter offers a more traditional self-storage option. You can also opt for a shuttle to help you drop off your items.
Clutter Facility Features
Clutter stores items in large, secure warehouses in anonymous locations. You can imagine Clutter facilities as similar to an Amazon distribution center. They are fully climate and pest controlled, and your items are kept wrapped and barcoded on a pallet to keep things organized and safe. Facilities are:
Secured 24/7 by technology and friendly, comfortable staff

Climate controlled

Pest free

Not available for public access

Clean and organized
Clutter Security
Because Clutter facilities are not available for public access, its storage tends to be more secure than typical self-storage. Not only that, but the locations are not published online. Each facility is staffed 24/7 and has round-the-clock video surveillance.
Clutter Storage Unit Details
For the typical Clutter customer, various storage sizes are offered. These run from 5x5 to 10x25 ft. If you don't know what size you need, Clutter has one of the best estimator tools in the business.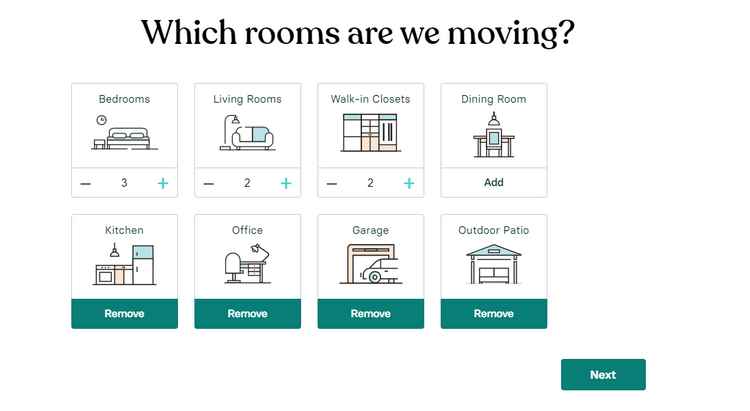 For customers in the New York area, Clutter's self-storage units are about 5x10 feet and both indoor and outdoor units are available. Additionally, Clutter offers storage lockers and car storage
How Much Does Clutter Cost?
While Clutter's prices vary by location, we got a few quotes for Clutter storage in the Los Angeles area to give you an idea of what to expect price-wise. Keep in mind Clutter does commit to price matching other storage companies.
Approximate storage capacity
For the LA area, the move-in fee is $199 and includes curbside pickup. Your items will need to be packed and ready to go. Although the movers will provide a dolly, you'll need to ensure your items are safe and ready to be put into the van or truck. Then Clutter's employees will drive it to the storage facility. For an additional fee of $78/hour Clutter will send 1 to 2 people to pack up your things for you.
Clutter Rental and Leasing Options
As indicated in the table above, there are 3 rental schemes. These are the month-to-month plan, the Flexer plan, which has a 4-month minimum, and the Saver plan for storage periods of 8 months or longer. It's possible to make savings of up to 50% if you avoid paying month-to-month, which is unsurprising as month-to-month units are normally quite pricey. Also, Clutter is currently offering $100 Amazon gift card bonuses for new leases.
Clutter Customer Service
Clutter has a dedicated customer support network that can only be accessed by current or former customers and is known for providing good service. The Clutter team has responded positively to the COVID-19 pandemic by changing policies to ensure the safety of customers and staff throughout the crisis. Clutter assistance is available at (855) 719-7760 or by logging in to Clutter's website for location-specific help.
This company automatically insures your items at a rate of $1 per pound, but additional insurance is available to protect your stuff at a rate of up to $2,500 per item. The only things not covered are previously broken items, composite wood, and electronics' internal functioning.

Clutter Visit Site
What Are People Saying About Clutter
"I needed my stuff out of my home. I went online and looked up storage services. I wanted a company that was completely contact-free and had easy payment online options. I got alerts during every step of the move, from how far they were to me to when they had my things put away. It was also easy to have them pick up stuff from my friend's house on a different day. I know my things are safe and out of my home."-Simona, Los Angeles
"We have had a great experience with this company! How convenient, especially for older people who can't lift and move things to their own storage units. My parents moved out of their very large house this week and this is the third time they've come out for stuff. We loved that you can add to your storage capacity. The last trip was the final move out day, so it had the most stuff. Six guys showed up to move it all and it took them a while, but it was a lot of stuff."-Michelle, Philadelphia
Bottom Line
Clutter is a great alternative to old-school self-storage companies. Its curbside pickup and easy-to-use website make this service very attractive to people who are tired of the hassle of moving and storage. Although Clutter's prices are high compared to self-storage units, the company's suite of extra benefits more than justify the extra cost.