In a Nutshell
STDCheck.com is a good service for those who want test results fast. You have to go to a laboratory to take the test, but results are available in as little as 24 hours. Consultations with licensed physicians are available if you have a positive test result. However, STDCheck.com can be very expensive if you need multiple tests, and having a prescription written after a positive result costs extra.
pros
Same-day testing at a partner lab
Results available in 1 to 2 days
Consultations with licensed physicians after a positive result
cons
Very expensive to order multiple tests
Getting a prescription after a positive result costs extra

STD Check Visit Site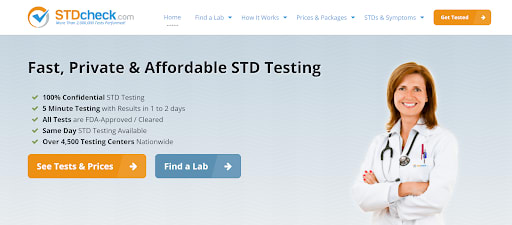 STDCheck.com At a Glance
Take at home: No
Referral needed: No
Medical staff qualifications: Licensed physicians available for consultation
Collection type: Urine, blood
Results in: 1-2 days
Follow-up services: Doctor consultation, prescriptions, referrals
Why Go With STDCheck.com
The number one reason to go with STDCheck.com is that it offers among the fastest time to results of any online STD testing service. After you order one or more tests, you can walk into a partner lab without an appointment on the same day and get results within 1 to 2 days.
Another advantage to STDCheck.com is that the company allows you to purchase tests a la carte, rather than forcing you to pay for multiple tests in a panel. That can save you money if you only want a single test. The STDCheck.com website offers online questionnaires to help you determine which tests are most relevant based on your symptoms and history.
STDs Tested For
Chlamydia
Gonorrhea
Hepatitis A
Hepatitis B
Hepatitis C
Oral Herpes (Herpes Simplex Virus I)
Genital Herpes (Herpes Simplex Virus II)
HIV I & II Antibodies
HIV RNA (early detection)
Syphilis

STDCheck.com offers a 10-test panel that includes all of these tests. There are also 2 smaller bundles: one for chlamydia and gonorrhea tests, and another for herpes simplex virus I and II tests.
How it Works
When you sign up for an STD test or panel through STDCheck.com, you are given an order form that you can take to your local lab. You don't need an appointment, and you can go in the same day—typically, you only have to spend about 5 minutes at the lab to give samples.

Test results are available in your online account within 1 to 2 business days. If you received a positive result for one or more tests, STDCheck.com will contact you to set up a doctor consultation.
Signing Up for a Test
STDCheck.com doesn't mail you a test kit. Rather, you're given an order confirmation in your account, which you can take to a local testing lab. STDCheck.com partners with around 4,500 labs nationally, including some facilities that are open on Saturdays. It's easy to search for partner labs in your area through the STDCheck.com website before signing up for a test.
Once you've signed up for a test, you can visit the lab at any time. There's no appointment needed and you can go to whatever lab in your area is most convenient for you.
Collection Process
Sample collection is done at the testing lab and all the materials you need are provided. Blood tests are particularly easy in this case, since a lab technician will take care of pricking your finger and collecting blood. In most cases, you'll spend a total of 5 minutes or less at the lab to give your samples.
How Long for Results?
Results are available in 1 to 2 business days. However, HIV RNA tests may take an extra day in some areas.
Report Features
Test results are posted in your online STDCheck.com account. The report gives an easy to read positive or negative result for each test, along with relevant values for specific tests. There isn't an explanation of what these values mean, but you can contact the STDCheck.com Care Advisor team to get more information.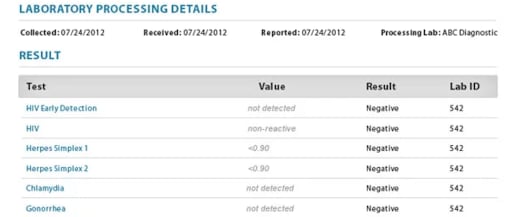 Follow-Up Support
If you test positive for any test, STDCheck.com will contact you to set up a consultation with a licensed physician. These consultations are arranged around your schedule, but are typically during business hours. Physicians can write prescriptions for you and your partner, although this costs extra. They can also offer referrals as needed.
Outside of this consultation process, you can contact the Care Advisor team. However, this is essentially a customer service team, not a licensed medical support team. Note that if you receive negative results for all of your tests, you won't get access to a physician consultation.
Pricing
Hepatitis A/B/C: $24 each
Syphilis: $79
HIV I & II Antibody: $79
HIV RNA Early Detection: $169
Chlamydia & Gonorrhea Panel: $129
Herpes I & II Panel: $130
10 Test Panel: $198
10 Test Panel with HIV RNA test: $349
These prices include a consultation with a doctor if you test positive. However, receiving a prescription costs $95, and a prescription for your partner costs another $95.
Confidentiality
STDCheck.com keeps the testing process fully confidential. You're not required to show ID at the lab, and all of the testing records are kept under an anonymized ID that is generated when you order a test. The results in your online account are only available to you, and the STDCheck.com website is encrypted for extra security. In addition, STDCheck.com and its partner labs comply with all HIPAA regulations.

STD Check Visit Site
Customer Support
You can contact STDCheck.com's customer support team by phone during normal business hours. The company has a very detailed FAQs page online to answer most common questions. In addition, STDCheck.com offers a documentation section detailing all of the STDs the company tests for, including their symptoms and prevention advice.

Bottom Line
STDCheck.com is the go-to choice if you need test results as quickly as possible. It's not as convenient as some other online STD testing services since you have to go to a lab, but that means there's no waiting around for a testing kit to arrive, either. Results are typically available in 1 to 2 days, and many labs are open on Saturdays. However, STDCheck.com is relatively expensive for multiple tests and charges for prescriptions, so it's not necessarily the best choice if you don't need speed.