In a Nutshell
Nurx primarily focuses on female health, but the company provides STD testing for both women and men. All tests are taken at home and the service is extremely inexpensive if you have health insurance. Unfortunately, the range of STD tests available is somewhat limited and there's no way to order individual tests. But, Nurx offers an HPV screening test and you get unlimited access to the Nurx medical team no matter what your test results are.
pros
Simple take-at-home testing kits
HPV screening test is available
Nurx will bill your insurance provider directly
cons
7-day turnaround for results is somewhat slow
Herpes simplex virus I and II tests not available

Nurx Visit Site

Nurx At a Glance
Take at home: Yes
Referral needed: No
Medical staff qualifications: Nurses, physicians
Collection type: Urine, blood, throat swab, rectal swab and/or vaginal swab
Results in: 7 days
Follow-up services: Prescriptions, referrals
Why Go With Nurx
Nurx works hard to instill confidence in their service. The company works with a single partner laboratory that's been accredited by the College of American Pathologies and approved under the Clinical Laboratory Improvement Amendment. After every test, regardless of the outcome, a registered nurse or licensed physician will contact you to go over the results and help with treatment, including by offering prescriptions or referrals.
On top of that, Nurx is convenient. The service mails you tests at home in discreet packaging, allowing you privacy and the ability to choose when you take samples. If you have health insurance, Nurx will also submit a claim for the cost of your lab tests on your behalf.
STDs Tested For
Chlamydia
Gonorrhea
Syphilis
HIV
Trichomoniasis
Hepatitis C
HPV
Nurx offers testing for all of these STDs except HPV in 1 of 3 bundles. The "Healthy Woman" kit includes chlamydia, gonorrhea, syphilis, HIV, and trichomoniasis testing. The "Full Control" kit swaps trichomoniasis testing for a hepatitis C test. The "Basics Covered" kit only includes tests for chlamydia, gonorrhea, syphilis, and HIV. HPV screening requires a separate test kit.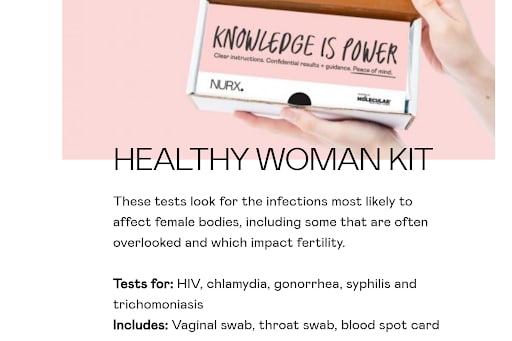 Note that while Nurx offers treatment options for herpes simplex virus I and II, the company does not include tests for these STDs in any of its kits.
How it Works
When you order a test kit from Nurx, it's delivered to your house a few days later in discreet packaging. The kit comes with detailed instructions and everything you need to collect the required samples.
After sampling, return the kit to Nurx within 48 hours using the provided prepaid shipping label. You'll receive a call from a nurse or physician at Nurx within 7 days to give you your test results and offer treatment options as needed.
What's in the Box?
Depending on which test kit you order, your box may have quite a few items. The Full Control kit, which requires the greatest number of samples, includes:
Urine collection cup
Dropper
Urine sample vial
Throat swab
Throat swab sample vial
Blood sample collection card
Lancets
Bandage
Rectal swab
Rectal swab sample vial
Biohazard bags
Instruction cards
Prepaid return envelope
Not every kit will have all of these items, as it depends on what samples are required for the tests included with each kit. The Healthy Woman and HPV screening kits will also include vaginal swabs.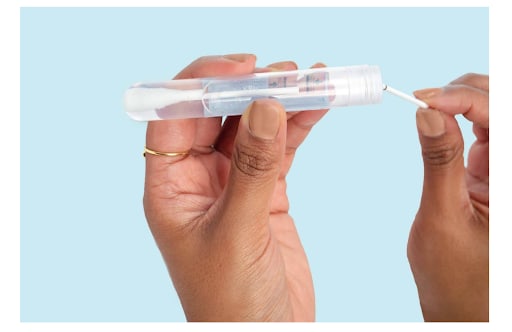 Collection Process
Some samples are easier to collect than others, although Nurx does a good job of including instruction cards that walk you through the sampling process with clear visuals.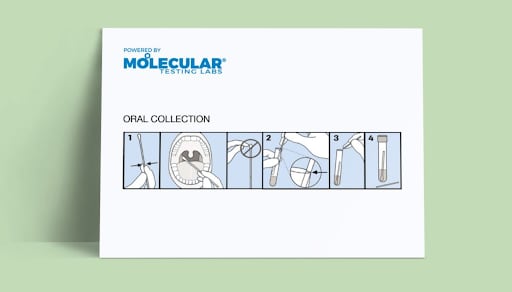 Urine samples are the easiest to get. Your kit includes a urine cup that you can pee into, as well as a plastic dropper that you can use to transfer urine to the sample collection vial.
Throat samples are quick, but slightly uncomfortable. You'll need to be sure that the swab reaches your throat, which can give you the sensation of choking. But, swabbing is fast, and once you're done you simply need to put the sample in the included vial.
Nurx does blood samples slightly differently than other testing companies. Rather than filling a vial with blood, you'll drip 5 drops of blood onto a laminated card. This may be a little easier for people who have trouble getting enough blood with a single finger prick. All kits that require a blood sample include a lancet to make the process relatively fast and painless.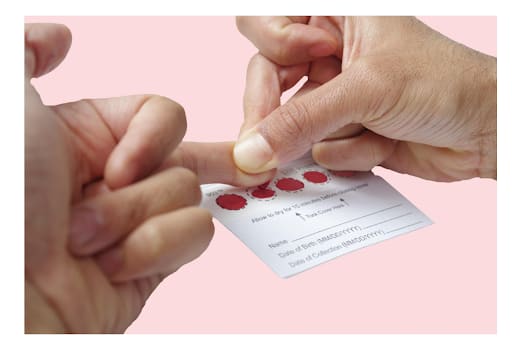 Vaginal swabs can be uncomfortable, as you need to keep the swab inserted into your vagina for 30 seconds. After that, you'll deposit the swab into an included sample vial.
Rectal samples are also less than friendly. You need to insert the swab into your rectum, which is itself uncomfortable, and then hold it there for 10 seconds. Once you're done, place the swab in the included vial.
On the whole, none of these individual collection procedures are all that bad. However, having to do each of them, as for the Full Control kit, can be a little annoying.
How Long for Results?
Results are available in 7 days or less.
Report Features
You'll receive your results over the phone from a nurse or physician at Nurx. This gives you the opportunity to ask questions about what the results mean and how to interpret them. You can also request a hard copy of your test results to keep as part of your medical records.
Follow-Up Support
Nurx offers unlimited access to its team of registered nurses and licensed physicians for up to one year after your tests. They'll contact you initially to give you your test results (regardless of whether they are positive or negative) and offer prescriptions and referrals as needed. However, you can get back in touch at a later time if you have additional questions.
Pricing
If you have health insurance, each of Nurx's kits costs $90, which includes a consultation fee for unlimited access to the medical team. Nurx will bill your insurance company directly for the cost of the lab tests. If you don't have insurance, the Basics Covered kit costs $165, the Healthy Woman kit costs $205, and the Full Control kit costs $235.
An HPV screening kit costs $64 with insurance or $79 without insurance.
Confidentiality
Nurx is HIPAA-compliant, meaning that it keeps your health records private, but may share them with other health agencies including your insurance company. The company's privacy policy contains noticeably more legalise than other those of other STD testing services, and patient data is not necessarily anonymized. All in all, this is about the same level of privacy that you could expect if you went to your primary care physician.

Nurx Visit Site
Customer Support
You can contact Nurx by phone during standard business hours or by email 7 days a week. The company's FAQ section provides information about specific STDs, including symptoms and treatments. However, there is surprisingly little information about the company's privacy practices or its testing kits.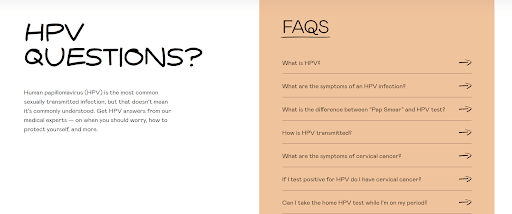 Bottom Line
Nurx is a great option if you have health insurance that will cover the cost of your lab tests. In that case, the kits are very inexpensive, and they come with unlimited consultation with the Nurx medical team. The fact that Nurx offers HPV screening is also a plus, although it's worth noting that herpes tests are not available. The company's 7-day turnaround is also quite slow relative to other services, so Nurx is not the best option if you need test results quickly.