In a Nutshell
myLAB Box is a convenient at-home STD testing service that stands out for the variety of STD, STI and other sexual health tests it has to offer. With this service, there's no need to go to the doctor or a lab for testing and, thanks partly to the subtle packaging your testing kit will arrive in, you can rest assured your test will be conducted in complete privacy.
pros
Collect your samples in the privacy of your own home
Large range of male and female tests to pick between
Prepaid postage envelope and comprehensive instructions included
cons
Certain tests are expensive compared to competitors' pricing
Lab processing time can be long

myLAB Box Visit Site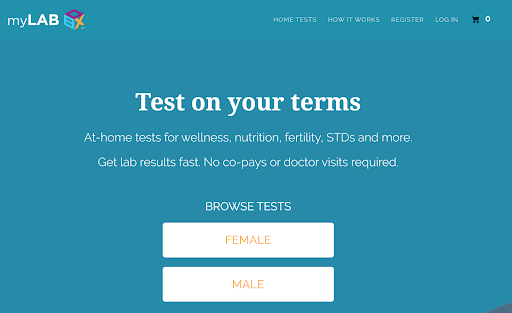 myLAB Box At a Glance
Take at home: Yes
Referral needed: No
Medical staff qualifications: Physicians
Collection type: Urine, Vaginal Swab, Blood Prick
Results in: 5 to 11 days
Follow-up services: Complimentary consultation and prescriptions
Why Go With myLAB Box
If you don't have insurance, want to avoid a high deductible charge, or don't want results to appear on your medical record, myLAB Box is an excellent service to use for one-time STI and STD tests. The tests provided by myLAB Box are simple to administer in the privacy of your own home and give you free access to a consultation from physicians in case of a positive result.
myLAB Box isn't just an STD-focused service though. Fertility and general health tests, such as diabetes detection, gluten sensitivity, and heavy metal screening, are also available through this platform. myLAB Box is notable because it offers a large range of niche STD and general health packages that you won't find through many competitor services.
STDs Tested For
Gonorrhea (genital, throat, and rectal)
Chlamydia (genital, throat, rectal)
Mycoplasma genitalium
HIV (1 and 2)
Hepatitis (B and C)
Herpes (type-2)
Trichomoniasis
HPV
Syphilis
You may wish to be screened for multiple STDs. If you do, you will be better off purchasing one of myLAB Box's multi-STD panel tests. Several of these are available including the 5-panel Safe Box, the 8-panel Uber Box, and the 14-panel Total Box.
Besides general-purpose STD panel kits, myLAB Box also has panels for specific uses. One example is the PrEP or Pre-exposure Prophylaxis kit which fulfills the checkup requirements needed for a PrEP prescription. PrEP is an effective way to avoid contracting HIV. Another unique myLAB Box test is the so-called Boomer Box test which is designed specifically for older adults and identifies the STDs they are most vulnerable to.
How it Works
The simplicity of the myLAB Box system is one of the service's biggest draws. Once you've placed an online order at myLAB Box, all you need to do is wait for your testing kit to arrive. Once it does, use it to collect and post your sample, which could be done through blood-prick, swab, or urine collection.
After you've posted your sample using a prepaid envelope, it's just a waiting game until you can access your results online and get a free consultation with a physician if necessary. At no point do you have to visit a lab or doctor's office in person, so a myLAB Box test can fit into the busiest of lifestyles.

What's in the Box?
Inside the myLAB Box package, you'll find everything you need to collect your samples, plus a few helpful guides. The first thing you should open is the registration form which contains a number you can use to link your myLAB Box kit with your online account.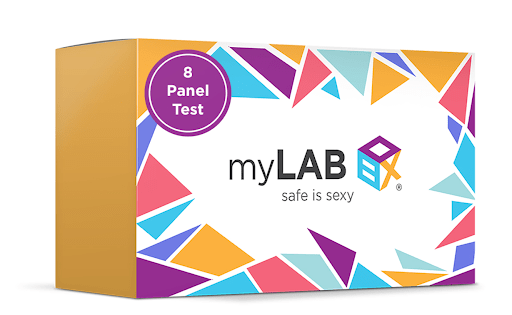 Also included is a comprehensive instruction guide that will explain the proper technique for taking your samples. It's important that you read this carefully as sterile conditions will prevent your samples from becoming contaminated. In the box as well is a sealable biohazard plastic bag that must be used to secure the samples before posting.
And then, of course, you'll find the collection equipment itself. The exact equipment you're given will change based on the type of sample you need to provide. For example, if only a urine sample is needed, you'll find a specimen cup. If a finger-prick blood sample is needed too, you'll get a finger-prick tool, plus a card to press your finger on.
Collection Process
The sample collection process should only take a few minutes of your time and shouldn't be too physically painful. Unlike at a lab or doctor's office, you don't need to provide a large volume of blood when doing a myLAB Box test that requires a blood sample. Instead, a small prick at the end of a finger will produce a sufficient number of dried blood spots for a myLAB Box affiliated lab to test accurately for STD biomarkers.
According to the CDC, certain STDs like HIV are detected significantly faster and with fewer false negative results through blood rather than oral fluid tests. That's why putting up with the mild unpleasantness of the blood collection process is well worth it for your myLAB Box test.
If you are giving a blood sample, it is key that you sterilize your finger prior to collection and place a bandaid on it soon afterward. For this reason, it's best to wait until you have a quiet, comfortable place to carry out the collection process.
For some female STD tests, a vaginal swab test is needed. These require only a minute or 2 to perform and shouldn't result in any significant amount of discomfort. myLAB Box STD and STI tests also typically involve collecting a straightforward urine sample.
How Long for Results?
Once the myLAB Box partner lab has received your samples, it will take 2 to 8 days for you to get the results. However, the overall process is a little longer as it will take a few days for the kit to reach you and for your sample to get to the lab. In total, you should expect to get your results 5 to 11 days from when you place your myLAB Box order.
Report Features
Once your sample has been fully processed, you'll get an email linking you to a secure myLAB Box portal where you can view your results. There aren't many extra features to discuss here, but you can trust the results you see because they come from a CLIA-approved laboratory, guaranteeing accuracy.
It's worth noting, though, that all diseases and infections have an early negative-testing period. This means that during the first few days, or weeks, of infection, you will see an inaccurate negative result on your myLAB Box report page.
Follow-Up Support
myLAB Box does a great job when it comes to follow up support for customers who receive positive results. A myLAB Box network of trained STD counselors is available for anyone who gets a non-negative result to speak to.
In case of a positive result, STD experts from myLAB Box can also refer you to a local doctor for treatment. However, depending on the symptoms you are experiencing at the time, a myLAB Box affiliated physician may also be able to send a prescription to your local pharmacy on the day of your result.
Pricing
5-Panel Safe Box: $189
8-Panel Uber Box: $269
14-Panel Total Box: $369
8-Panel for Couples: $499
5-Panel V-Box: $189
Pre-Exposure Prophylaxis (PrEP) 8-Panel: $289
Chlamydia and Gonorrhea Panel: $79
Genital Herpes: $79
HIV: $79
Trichomoniasis: $79
HPV Cervical Cancer Screening: $79
HPV for Women Over 30: $79
Boomer Box Panel : $189
Mycoplasma Genitalium: $79
Syphilis: $79
Hepatitis C: $79
Hepatitis B: $95
Whether or not myLAB Box offers good value for money depends very much on what kind of STD test you wish to purchase. For example, the 5 panel Safe Box is significantly cheaper than the equivalent on STDcheck.com, but several of the single STD marker tests are more expensive than competing services.
Confidentiality
myLAB Box promises to keep your results strictly confidential and makes use of subtle packaging to prevent attention from being drawn to your test kit. It's worth noting, however, that myLAB Box does accept payment from health insurance providers. If you use your policy to cover the cost of the exam, positive results may be recorded on the national Medical Information Bureau (MIB) database.
Also, there's a good chance that myLAB Box will notify federal and state authorities too of any positive STD results, as it may be legally required to do.

myLAB Box Visit Site
Customer Support
A good deal of sexual health information is available on myLAB Box's resources page. If you need more personal assistance with an order, you can get in touch by email, or talk to a trained myLAB Box STD expert over the phone.
Bottom Line
There's no question that myLAB Box excels when it comes to offering concerned customers access to a large array of different STD and STI screening tests, including several panels and individual STI tests that you won't find elsewhere. As long as you can afford to wait for the slightly longer than average delivery time to pass, this service could well be the right one for you.