In a Nutshell
EverlyWell sells medical testing kits, including several sexual health packages that can detect STD infections, and can be used in the privacy of your own home. After returning the samples you use EverlyWell kits to collect, you'll receive test results within 5 business days.
pros
No need to visit a lab in person
Check for individual STDs or take a 'panel' test
Competitively priced
cons
Slow result turnaround time
Some have questioned the science behind non-STD EverlyWell tests

Everlywell Visit Site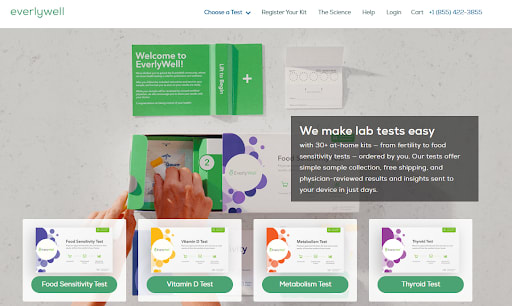 EverlyWell At a Glance
Take at home: Yes
Referral needed: No
Medical staff qualifications: Physicians
Collection type: Finger prick Blood, Vaginal Swab, Urine
Results in: 5 business days
Follow-up services: Prescriptions, 'For Doctor' printouts
Why Go With EverlyWell
EverlyWell first became a household name back in 2017 when CEO Julia Cheeks appeared on season 7 of ABC's Shark Tank. While other at-home STD testing services have outdated user-interfaces, EverlyWell, with its Shark Tank pedigree, stands out from the crowd and very much feels like a Silicon Valley startup for medical tests. Sample collection materials are sent to you in attractive and incognito packaging, and EverlyWell's secure online results platform does a good job of displaying and interpreting your test feedback.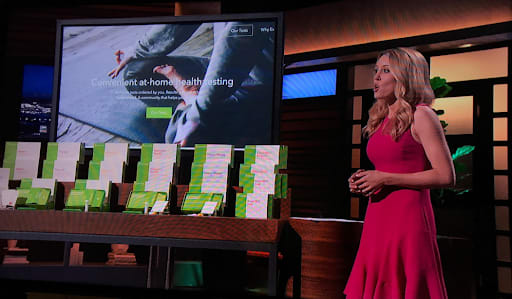 In this review, we'll focus on EverlyWell's STD testing capabilities, but it's worth noting that this service actually offers more than 30 different at-home testing kits. If you want to combine your STD checkup with a test that evaluates your metabolism, thyroid condition, or ovarian reserves, you have the freedom to do that with EverlyWell.
STDs Tested For
Chlamydia
Gonorrhea
Trichomoniasis
Hepatitis C
HIV
Syphilis
Herpes Type 2
Besides purchasing tests for single STDs, through EverlyWell you can also buy a general STD test that's able to detect all of the 7 STDs listed above. It's worth highlighting the fact that, unlike some competitor online STD testing services, EverlyWell doesn't offer any tests for Herpes Type 1 or Hepatitis A and B.
How it Works
The first step to taking an Everlywell test is to place an online order. After that, you'll need to wait for your sample-taking kit to arrive at your address. The whole collection process can be carried out in the privacy of your own home, so there's no need to visit a doctor's office or lab.
Every EverlyWell kit comes with a unique ID number. Once your package has arrived, you'll need to open it and spend a few minutes linking the ID number of your testing kit to your online EverlyWell account.
After registering, you'll need to read the included instructions to find out how to administer the testing procedure yourself. Depending on the particular test you've opted for, you'll need to provide a blood, vaginal swab, or urine sample.
After you've taken your sample, simply slip the sample container into the biohazard bag and then put the whole package in the prepaid mailer EverlyWell has sent you. You can drop it off at your local post office or USPS mail collection point. The sample will go directly to a CLIA-certified lab for processing. CLIA stands for Clinical Laboratory Improvement Amendments, a set of federal regulations that hold medical testing labs to the highest possible standards, so you can rest assured that your sample will be tested accurately.
When the results of your test are processed, you'll be able to log in to your secure EverlyWell account to see them. This should happen within 5 business days of the lab receiving your sample, and you'll get an email to tell you when your results are available.
What's in the Box?
Inside the EverlyWell package you receive, you'll find all the equipment you need to help you take your sample and send it off to one of EverlyWell's affiliated labs. The exact equipment you get will change depending on the type of STD test you have opted for. For example, if you need to give a blood sample, you'll find a lancet that can be used to prick your finger and a collection card on which you can place blood droplets.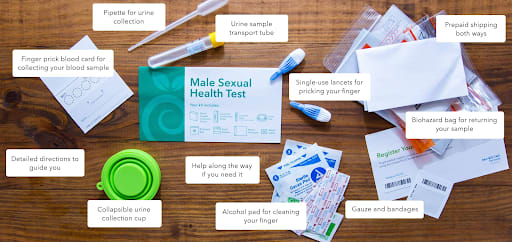 Appropriate sterilization and safety products are also included in the EverlyWell package such as a cleansing alcohol pad to create sterile conditions for collection and bandages to place on your finger after collection.
Besides the equipment, you'll find a handy set of instructions to ensure you collect your sample correctly. These are supplemented with more visual video instruction guides on the EverlyWell website.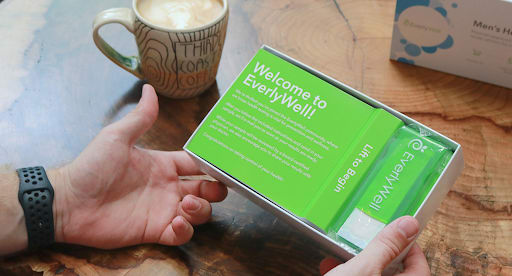 Also in the box, you'll find a biohazard transparent plastic bag. You'll need to seal the sample materials in this, place them in the EverlyWell box, and then put everything in the prepaid envelope prior to posting.
Collection Process
The EverlyWell collection process varies depending on the type of test you need to take. Some tests, such as single marker tests for Hepatitis C, Syphilis and HIV require you to take a blood sample.
But don't be afraid of this procedure, EverlyWell uses a technique that's very different from what you'd normally experience during a typical blood test at your doctor's office. All you need to do is pierce your finger using the EverlyWell-provided instrument and then touch a piece of card to create a "dried blood spot" which will then be tested at a lab.
EverlyWell's multiple marker tests also require you to take a blood sample. In addition, female customers will need to provide a vaginal swab sample and male users will have to give in a urine sample. Collecting both of these extra samples is straightforward and should take no more than a few minutes. In the case of single sample tests for Trichomoniasis, Chlamydia or Gonorrhea, it is only necessary to provide a urine sample.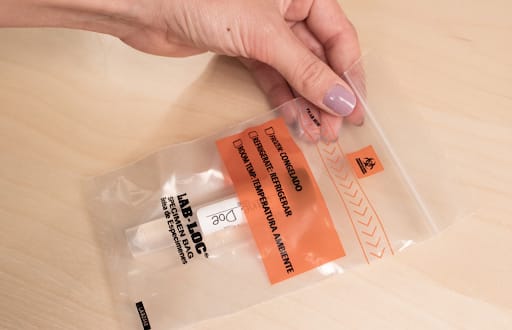 On the sample collection device, you'll find a convenient place to place your information. Before sealing your sample in the biohazard bag and sealing it tightly, you'll need to write your collection date, collection time, and name on your sample.
How Long for Results?
After the lab receives your sample, your results should be processed and available for viewing in no more than 5 business days, though things can take longer if your sample is contaminated or inconclusive.
It's worth noting the overall EverlyWell STD testing process will take a bit longer than that though. You should allow an extra 2 business days for your sample collection kit to reach you after your order has been placed, and a further 2 for it to reach the affiliated lab after you've posted it.
Report Features
As soon as your results are prepared, you'll get an email prompting you to log in to your online EverlyWell account. This secure platform can be accessed on your phone or on a desktop computer. In your EverlyWell report, you'll find details about each of your biomarker results and an option to print out a detailed "doctor's version" of your results.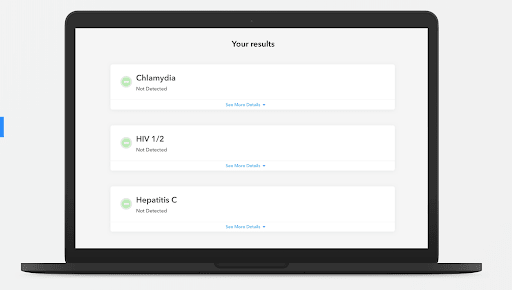 Follow-Up Support
Compared to other online STD testing services, EverlyWell really stands out for its excellent follow-up care, which begins even before you receive your results yourself. Prior to release, all EverlyWell results are reviewed by a physician from the EverlyWell network. If any of your biomarkers are dangerously out-of-range, say if your blood sugar appears to be dangerously low, you will be called by an EverlyWell representative.
And, if you receive a positive STD biomarker result, a physician in the EverlyWell network will provide you with a relevant medical prescription. Unfortunately, due to certain state laws, this option is only available in 34 states.
Pricing
7 Panel STD Test: $199
Chlamydia and Gonorrhea: $39
Hepatitis C: $39
HIV: $39
Syphilis: $39
Trichomoniasis: $39
At the time of writing, EverlyWell is offering customers a 10% discount on certain STD tests. You can also cut down on costs by subscribing. A semi-annual subscription reduces costs by 15%, for example.
Confidentiality
When it comes to privacy, the great thing about the EverlyWell system is that everything happens from the security of your own home, and there's no need to visit a doctor's office or lab. EverlyWell data is stored on HIPAA-compliant servers in an encrypted format which should prevent it from ever being accessed by third parties.
You should know, though, that as a US-based company EverlyWell is subject to state and federal regulations that may require it to report positive STD results to medical oversight bodies.

Everlywell Visit Site
Customer Support
The EverlyWell site is a great source of sexual health resources, with unique FAQ sections provided for each type of STD test this service offers. If your questions aren't answered adequately though EverlyWell's online resources, you can get in touch via email or by calling an EverlyWell advisor during standard Central Standard Time working hours.

Bottom Line
EverlyWell is bringing STD testing into the 21st century. Although this service falls short of the mark when it comes to tests for certain STDs such as Hepatitis A and B, it's a good option to consider if the virus or infection you want to be evaluated for is covered. Thanks to EverlyWell's comprehensive testing package and digital resources, you can rest assured that this service will get you an accurate result fast.