In a Nutshell
LetsGetChecked makes getting checked for common STDs fast, easy, and inexpensive. All tests can be done at home, and your privacy is maintained thanks to discreet packaging. Test results are available within 2 to 5 days online. Better yet, testing kit prices are lower than those of most competitors, and 24/7 consultation with a professional medical team is included so that you can discuss results and treatment options.
pros
All tests can be taken from home
Prices include 24/7 medical consultation
Relatively inexpensive for multiple tests
cons
Express shipping for your test kit costs extra

LetsGetChecked Visit Site

LetsGetChecked At a Glance
Take at home: Yes
Referral needed: No
Medical staff qualifications: Physicians review results; nurses available for consultation
Collection type: Urine, blood
Results in: 2-5 days
Follow-up services: Consultation with nurses; prescriptions available if needed
Why Go With LetsGetChecked
LetsGetChecked offers fast and simple STD testing. You get detailed instructions on how to take urine and blood samples for your test, and results are available within 2-5 days. All lab tests are analyzed by licensed physicians, so you can be sure that your results are accurate. Better yet, every test is followed up by a phone consultation with a registered nurse, who can issue prescriptions or advise you on what symptoms to watch for in the future.
Throughout the process, LetsGetChecked prioritizes your privacy. The company anonymizes all of your data during the testing process and samples are discarded immediately after testing. Your health records are available online so you can see them anytime, but no one else can access your account. LetsGetChecked also mails your testing kit in discreet packaging and bills you as "LGC" to maintain your privacy.
STDs Tested For
Chlamydia
Gonorrhea
Trichomoniasis
HIV (I, II, P24 antigen)
Syphilis
Gardnerella
Mycoplasma
Ureaplasma
Herpes Simplex Virus I & II
LetsGetChecked offers 4 test packages, depending on what tests you need. Chlamydia and Gonorrhea are tested for in all packages. Testing for gardnerella, mycoplasma, ureaplasma, and herpes simplex virus requires a full panel that includes testing for all ten STDs, including herpes I and II.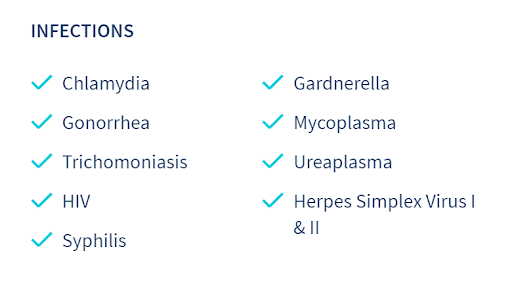 How it Works
When you order a testing kit from LetsGetChecked, the kit is mailed to your home in discreet packaging. The kit includes everything you need for the tests you ordered, including detailed instructions on how to collect samples. Once you've collected samples, you need to same-day ship the testing package back to LetsGetChecked using an included shipping label.
Test results are available in your online account within 2 to 5 days. Once your results are available, you can call in 24/7 for consultation with a nurse to receive prescriptions, treatment advice, or guidance to what to watch for in the future.
What's in the Box?
Detailed instructions
Patient ID card
Lancets (3)
Blood collection tube
Urine collection tube
Urine collection box
Alcohol swabs
Wipes
Band-Aid
Biohazard bag
Addressed envelope with prepaid same-day postage
The exact contents of your testing kit may vary slightly depending on whether the tests you order require a urine sample, a blood sample, or both. Make sure you keep the patient ID card, as this is how you will be able to access your test results.
Collection Process
The sample collection process for LetsGetChecked is relatively smooth. For collecting a urine sample, the kit comes with a small box with a plastic lining that you can pee into and then finish in the toilet. Once you're done, simply pour the urine into the urine collection tube until it reaches the marked line.
Taking a blood sample can be a little bit trickier. You'll use the included lancet to prick the tip of a finger, then massage your finger to fill the blood collection tube to the marked line. If your finger bleeds easily, this process takes less than a minute. However, if you have trouble getting blood to flow out of your finger, you may need to use multiple lancets on multiple fingers. The test kit includes wipes and Band-Aids to help stop the bleeding once you've collected enough blood.
Keep in mind that LetsGetChecked recommends that you collect urine or blood before 9am and the test kit must be mailed immediately after you are done.
How Long for Results?
Results are available in 2 to 5 days.
Report Features
Results are reported first in your online account. You can access your account using the patient ID card that was included in your testing kit. The information provided is straightforward, offering a simple positive or negative and a brief explanation of what that may mean.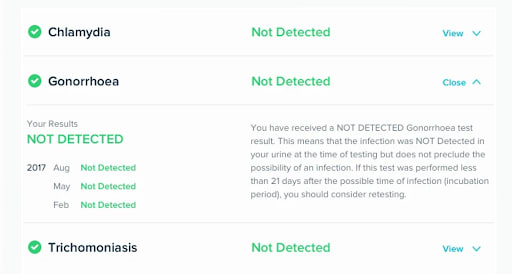 Follow-Up Support
Regardless of whether your test results are positive or negative, a registered nurse from LetsGetChecked will contact you within about 24 hours to discuss your results and options. You can also contact the nursing staff for a consultation 24/7 before or after your test results come in.
The nursing staff is able to issue prescriptions at no added cost and can advise you on taking additional tests in the future if you continue to experience symptoms. LetsGetChecked nurses can also give referrals for follow-up treatment as needed.
Pricing
Herpes Simplex Virus I & II (HSV I & II)
The prices listed, ranging from $99 to $269 depending on what infections you want to test for, include standard shipping of your test to your home after you order it. You can request express shipping, which usually delivers the test within 2 days, for an extra charge (the cost varies by location). Importantly, 24/7 consultation with the LetsGetChecked nursing staff is included in the listed pricing.
Confidentiality
LetsGetChecked protects your privacy by keeping your test and all data produced from it fully anonymous. The company issues a patient ID card with your test, which contains a number and letter string that you will use to access your test results and receive consultations. All samples are discarded immediately after testing.
The company also practices discretion, mailing testing kits in generic packaging and billing as "LGC Health Check." However, LetsGetChecked does not provide information about what health data it reports to state or federal agencies.

LetsGetChecked Visit Site
Customer Support
Customer support is available by phone, email, or live chat during normal business hours. The company has offices in New York, Dublin, and Toronto, each with phone numbers listed online. In addition, you'll find a detailed FAQs page on the LetsGetChecked website that answers most questions about the testing process.
Bottom Line
LetsGetChecked does a very nice job of streamlining the STD testing process. The service allows you to test for a wide variety of infections in the privacy of your own home. Results are available in as little as 2 days and you get a consultation with a nurse regardless of whether you tested positive or negative. The only reason not to use LetsGetChecked would be if you want an individual STD test that's not available in one of the less expensive packages.