In a Nutshell
Founded in 2015, HealthLabs is an online STD testing service that works with thousands of lab locations across the United States. This service offers clear, up-front pricing that's free from hidden fees. HealthLabs may be worth considering if you need a test quickly and don't have a health plan or if your insurer has a high deductible.
pros
Partner labs are CLIA certified
Walk-in lab system means you get a fast turn around
Convenient lab locations no matter where you live
cons
Lacks a 'take home' option
Few single-STD tests

HealthLabs Visit Site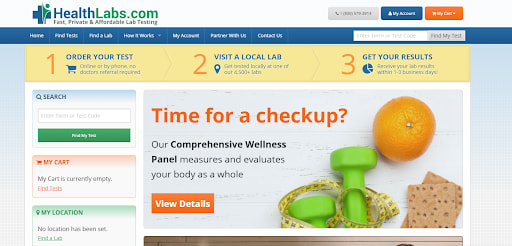 HealthLabs At a Glance
Take at home: No
Referral needed: No
Medical staff qualifications: MDs and surgeons on staff
Collection type: Blood and urine sample testing
Results in: 24 to 72 hours, usually
Follow-up services: Speak to trained care advisors and consult with physicians if required
Why Go With HealthLabs
For many, convenience is the main reason to pick the HealthLabs service over other, similar online STD testing services. With well over 4,500 partner labs, it's easy to find a place to carry out your HealthLabs test in the continental USA. When searching, you can even narrow down clinics to those with Saturday opening hours, in case you're busy during the week.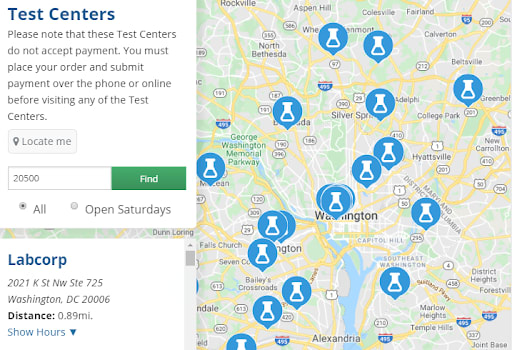 Also, HealthLabs stands out for the large range of other medical tests you can order through it besides STD tests. If you want to combine your STD test with an allergy, cardiac health, or diabetes test, you can do that, too. HealthLabs has even been making headlines as the first online testing service that can evaluate key hormone levels in transgender people.
STDs Tested For
Hepatitis A,B & C
HIV type 1 and 2
Herpes Simplex Virus 1 and 2 (HSV-1 and HSV-2)
Chlamydia
Gonorrhea
Syphilis
Trichomoniasis
Most HealthLabs customers will wish to purchase a panel test that can reveal if they have contracted a variety of different STDs. The most popular HealthLabs STD product is a 'Comprehensive STD Panel' that can identify the presence of up to 10 STDs at once. For an additional fee, this can be combined with an early HIV detection service.
How it Works
Most online STD testing services require you to send a urine sample, dried-blood spot or swab for testing to a lab facility that you never visit in person. But that's not how things work with HealthLabs. With this service, everything happens in 3 simple steps:
Order and pay for a lab test online or over the phone.
Print the lab test confirmation email and take it to a local HealthLabs affiliated testing center.
Log in to your HealthLabs account to receive your results in 1 to 3 days.
Because the lab you visit doesn't take payment itself, there's no need to book an appointment to carry out your test once you've made a HealthLabs order. Just walk into your chosen lab location within normal business hours and you'll be good to go.
What's in the Box?
Because HealthLabs is essentially a 'middle man' service that connects you to labs in your area, you won't receive any collection equipment, sterilization tools or other physical packages directly from the company. The entire sample taking process will be carried out in person at your chosen laboratory.
After your order is placed, the only thing you will get directly from HealthLab is an email that contains a secure login to your online account. In the account, you'll find the lab order that you can print out to take to your chosen lab. It's also possible to fax the form straight to the lab by clicking "FAX."
Collection Process
All HealthLabs tests are done through urine and blood samples, depending on the type of test. Typically, taking a sample takes less than 10 minutes and is a relatively straightforward process. Because HealthLabs partner labs are CLIA-certified, you can rest assured that your blood will be taken by a technician with an appropriate medical background.
In the case that you are required to give a blood sample, a technician should ensure that your collection site is sterile by using an alcohol wipe and will provide you with a bandage after the sample has been taken. For some HealthLabs tests, you will be required to fast prior to collection. However, for the majority of STD packages, this isn't necessary.
How Long for Results?
For peace of mind, HealthLabs offers a quick turn around on STD tests. Your results should be ready 24 to 72 hours after you have finished your lab visit. However, if your sample becomes contaminated or is otherwise inconclusive a retest may be required, increasing the amount of time you have to wait prior to receiving your results.
The great thing about HealthLabs is that you don't need to wait to visit a testing center, reducing the overall length of the testing process significantly.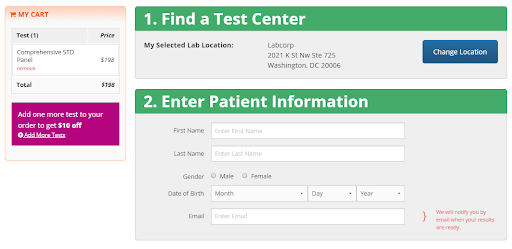 Report Features
When your results are available, you'll receive a notification email. To see them, you'll need to log into your HealthLabs account with the email or phone number you registered with when purchasing your test order.
The relevant result information is presented clearly, but if you need help, you can contact a certified HealthLabs health specialist for clarification via live chat or over the phone. The assistant will be able to walk you through the results and explain anything you haven't understood.
Follow-Up Support
After your result has been returned, you can contact a trained HealthLabs care advisor from 6am to 10pm CT over the phone or via live chat. These advisors can refer you to a physician who will provide you with information and counseling based on your results.
HealthLabs' Terms of Service make no promises about the particular qualifications of the physician you are referred to and make it clear that you may have to seek further care from a private doctor or seek separate psychological counseling.
Pricing
Chlamydia and Gonorrhea Panel: $129
Viral STD Panel: $149
Bacterial Infection STD Panel: $199
Ultimate STD Panel with early HIV and trichomoniasis detection: $444
Comprehensive STD Panel with early HIV detection: $349
Comprehensive STD Panel: $198
Hepatitis A, B & C Panel: $72
It's worth noting that HealthLabs has a price match service. This means that if you can find the same test listed at a lower price elsewhere, HealthLabs will match the competitor's price and even give you a 10% discount.
Confidentiality
HealthLabs promises to keep your data encrypted and your connections to its site secure through SSL protection. Also, as it doesn't work with traditional medical insurers, this service promises to keep your test results from appearing on your medical record
To add an extra layer of privacy, all transactions for your tests will simply appear as 'HealthLabs' on your debit or credit card statement. Although that's all reassuring to hear, it's worth noting that HealthLabs is still subject to state and federal laws. These may require it to report positive STD results to local or regional health departments.

HealthLabs Visit Site
Customer Support
Because HealthLabs isn't an STD-only testing service, you won't find many useful sexual health resources on its website. However, you can still get good personalized customer service from its trained Care Advisors who are available over the phone and via a live chat system during CST working hours.
Bottom Line
Need an STD test with a quick turnaround and don't want to go through your insurer? Then HealthLabs may be the ideal service for you. Because tests are carried out through CLIA-certified local labs, you don't need to wait for a collection kit to be sent to you and can be confident that your results won't be influenced by non-sterile collection conditions.