Meanwhile, others are just mere observers, intrigued by the concept but not sure how to jump into the fray. Well, whether you are a weathered pro or haven't even begun enjoying the benefits of convenient subscription box services, these tips are for you.
Here are 10 hacks to help you get the most out of this glorious service known as subscription boxes.
How Subscription Boxes Work
A quick rundown for the newly initiated. A subscription box service, such as a snack subscription box, allows you to have a fun box of goodies delivered to your door every month. The contents will vary depending on your preference and, of course, the industry. And there's pretty much a subscription box service for everything. From cheeses, to wines, to books, shaving sets to personal skincare, chocolates, international snacks, and even socks, yes, there is a subscription box to fit your niche personality and desires. These services provide you with incredible convenience, and best of all you can save time and money discovering cool new products.
Now for the sneaky tricks for maximizing on this awesome subscription box experience. Enjoy!
1. Subscribe for shopping convenience
Probably the easiest and most relevant hack that members can enjoy from a subscription service is the convenience factor. Instead of having to go out and deal with malls, crowds, parking, etc., somebody else does the heavy lifting for you. If you hate trying to match up new clothes with accessories, never seem to find the right makeup for your skin tone, or can't be bothered shopping around for the most appropriate Cabernet Sauvignon to pair with your next dinner party menu, then you'll love how easy subscription boxes make it all happen without any effort on your part. Delivery to your door is just the cherry on top.
2. Save time to save money
It's an important rule of life: Time is money, and don't ever forget it. The amount of time you spend picking out facial care products, trying on clothing, matching up accessories, or even grabbing a few snacks for your movie weekend can add up quickly. And that time you've used could be time spent doing something more productive (whether that's working and actually earning more money or doing one of the other important things on your to-do list). So, yes, time is money. Save money by saving yourself time when you allow subscription box services to take that load off your shoulders.
3. Take advantage of auto-ship savings
Most subscription box services offer customers an easy savings option. When you sign up for recurring deliveries you can get 5%, 10%, or even 15% off your order without having to do anything else. So it's an easy way to save. This is even more relevant for items that you'll want to purchase regularly (food for your dog, supermarket groceries, or clothing items when trying to build up your wardrobe). And remember, you can always cancel later on if the item becomes less relevant to you in the future.
4. Discover new products from around the world
Here's one of the best parts of ordering from a subscription box service. Instead of being limited to the products you have at your local supermarket, CVS, or mall, monthly boxes open you up to an entire global industry for you to enjoy! This is particularly true when it comes to snack boxes. These delightful care packages curate goodies from all over the world. They'll usually come with some interesting tidbits of information about the world's region where the snacks are from. And you can taste the variety without having to step foot on an airplane.
Here's an example of our team trying out snacks from Japan with a Premium box from TokyoTreat: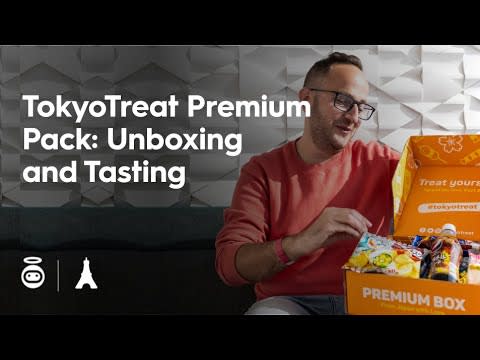 5. Know the cancellation process beforehand
It's important to know the cancellation process before you get started. Subscription box services are great for the here and now. But life is fluid, and before you know it, you've grown out of that niche need and moved on to another. Many people get stuck with recurring orders that they don't want or need any more simply because they are too stuck to figure out the cancellation policy. So, before you even get started, just browse the terms and familiarize yourself with this process. That way if you need it in the future, it's easy to execute.
6. Pay attention to returns
It's also a good idea to check out the return policies. Many subscription box services allow you to return some items from the box and keep others. This may come with a fee, though, so read through the return rules carefully. Often you will get a discount on items in the box if you keep some or all of the shipment.
7. Keep up with trends economically
If you're the type who loves to have the latest trends (clothes, snacks, accessories, whatever), subscription boxes are supremely helpful. It's a great way for you to be among the first to get those cool gadgets or styles before the rest of your friends. More importantly, subscription boxes allow you to try before you buy. Instead of buying full-sized versions of whatever trend you're following, a subscription box delivers smaller, sample-sized bottles of lotions, wines, clothes, etc. So it costs less than purchasing the full-scale option and allows you to test it out before you go all in.
8. Good for transitions
Subscription boxes are also handy if you are testing the waters with a new lifestyle choice. For example, let's say you are interested in eating a vegan diet but don't know much about it. Instead of having to learn all the rules, figure out vegan menu plans, and master the art of cooking vegan meals, a vegan meal subscription service will deliver all your food ready to eat and fully-compliant with the rules. This gives you the chance to get to know the diet and the lifestyle without the pressures of making your own food right away. After you're comfortable and more familiar with the transition, you can ease off of the meal subscriptions or keep them depending on how you feel at the time.
9. Custom pick items for best savings & variety
Many subscription box services send you an eclectic variety of the industry's best products without having to give the thing a second thought. Some people like to be more in control of their incoming packages though, and there's actually a good trick for folks like that. Most services give you the option to customize your monthly care package. This way, you know exactly what you're getting each month and know it's something you'll love.
What's more, if done properly, you can utilize the custom picks to save substantially on hot items that you would be buying anyway. Because subscription box services order products in bulk, they pass those savings on to the consumers and whatever you order from their stores will be at a cheaper price than elsewhere.
10. Get (or give) an education
Who said subscription boxes are just for vanity or indulgences? Educational subscription boxes abound, and you can learn everything from crafting to cooking, and even pure science. Kits come with incredible experiments, fun craft projects, and interesting reads to help you learn the material, work hands-on for a better understanding, and walk you through the activity. They can appeal to a wide age-range and audience. So, whether you are looking to learn something on your own, have kids who need to be kept occupied, or want to give the gift of knowledge to a friend, these subscription boxes are a great way to go.
Subscription Box Services: Live it Like a Boss
From nail polish to makeup and skincare, from snack packs to gourmet chocolates and cigars, from timepieces to t-shirts and socks, you name it, it's out there in easy, convenient, and affordable subscription box form. So what are you waiting for? Get online, and taste the rainbow today!
You may also like:
Top 10 Monthly Subscription Boxes for Gifts