Yep, snacks are the best. And you want to know a secret? There are finger-licking-good treats that you've never even had the pleasure of partaking from yet. Yes, from India to Spain, France, and Israel, there are delectable delights all over the world. But how's a body supposed to indulge in this international smorgasbord? Are we to just envy those global goodies from afar? Hardly! Today there are subscription box services that'll deliver delicious snacks from all over the world straight to your door. Besides being a convenient way to ensure you are never met with an empty cupboard when the munchies come calling, snack subscription boxes are a great way for you to discover snacks from different countries that you wouldn't usually be exposed to.
Check out 10 of the best snack subscription box services out there and Bon Appetit:
1. TokyoTreat
Cost of a box: $22.50-$35 for 12-17 full-size snacks
What's so special: Best for authentic Japanese treats
One of the best-kept secrets for snackers the world over is that Japan has some of the most mouth-watering snacks. Cat's out of the bag, and fortunately for you, you don't have to board a plane to indulge in these delectable treats and drinks. With TokyoTreat you can choose from a huge variety of snack packs that range from American-inspired Japanese treats, dagashi packs, anime snacks, and even (how cool?!) your own DIY candy kit!
Here's an example of our team trying out snacks from Japan with a Premium box from TokyoTreat: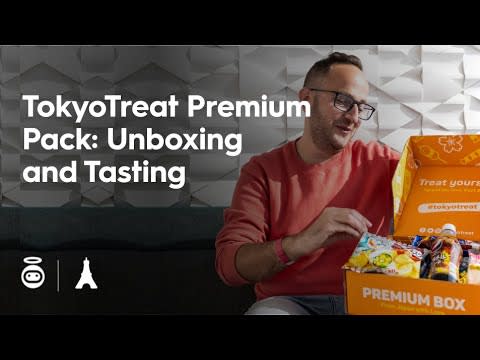 2. Universal Yums
Cost of a box: $13.75-$35.75 for 6+, 12+, 20+ snacks
What's so special: Fun variety of global treats with great packaging
Universal Yums turns mindless noshing into an entertaining and even educational pastime. Each month you'll be gifted a box filled with colorful treats from all over the world. In addition to the snacks, Universal Yums tosses in a whole activity kit for your entertainment. The box comes with recipes, fun facts, and trivia questions about that month's locale. Whoever knew snacking could be so interesting?
3. Bokksu
Cost of a box: $36.99-$44.99 for 20-25+ snacks
What's so special: Top quality Japanese snacks, teas, & more
If you're looking for more traditional Japanese treats, Bokksu is the way to go. With 20-25 different snacks delivered every month, you're sure to get your fair share of fabulous Japanese snacks and treats. In addition to a variety of themed snack items, Bokksu includes some delicious teas that'll go nicely alongside your newly-acquired snack favorites and a culture guide to raise your dining delight.
If you're looking for more Japanese-inspired snack boxes, check out Japan Crate, Zen Pop, or Snakku.
4. MunchPak
Cost of a box: $9.95-$43.95 for 5+, 10+, 20+ snacks
What's so special: Treats from all over the world
MunchPak is a fun way to taste-test super cool flavors from all over the world. And what's really neat about this snack subscription box is that it doesn't just stick to a single type of snack or taste bud. MunchPak delivers a great variety of sensational flavors from a new area of the globe every month. And if you like a particular treat, you're in luck. MunchPak lets you customize your boxes to include more of the stuff you love every time.
5. Cravory Cookies
Cost of a box: $12.95- $539.50 for ½ dozen to 2 dozen
What's so special: Tremendous variety of crunchy, gooey, chocolatey delicious cookies
For some people, cookies are the only worthwhile snack food. For those people, Cravory Cookies is the only snack box worth mentioning. These hand-crafted cookie delights will send you into throes of delight with flavors, consistencies, and textures that are out of this world. Every month you'll get 6 new flavors that cover the spectrum from chocolate truffle to salted caramel, mint julep, and blueberry oatmeal. Choose from a variety of subscription options, or throw together your own mix from the winning flavors you've loved the most.
6. UrthBox
Cost of a box: $14.99-$44.99 for up to 30 full-sized snacks
What's so special: Healthy snacks, full-sized packages
Who says snacking has to be bad for you? UrthBox certainly doesn't! Organic, healthy snack options, Urthbox is the answer to any health nut's midnight craving for something yummy. Aside from offering a tremendous variety of healthy treats, UrthBox delivers full-size packages, so you're not just getting a tease. You can eat the whole bag! Enjoy the curated crunchies or select from a menu of vegan and gluten-free goodies that are good and good for you.
There are plenty more healthy snack boxes to try, including Love With Food, Fit Snack, Snack Sack, Nature Box, and Keto Crate.
7. Variety Fun
Cost of a box: $29.99-$39.99 for 30-40 snacks
What's so special: Classic snacks delivered in bulk
Sometimes you're not looking for something new. Sometimes you just want to indulge in some old favorites, the snacks you've grown to love over the years. When familiarity breeds comfort, Variety Fun is the answer to your snack cravings call. This snack box comes with all the classics, and plenty of 'em, including Doritos, Cheez-It, Sour Patch, Oreos, Terra chips, Kind bars, and more. It's a fun variety (go figure) of popcorn, chips, chocolates, candies, and more that you already know you love. And best of all? Variety Fun ships in bulk! So you get roughly 40 snacks every single month to nosh on throughout the month.
8. Candy Club
Cost of a box: $29.99-$39.99 for 6 oz., 12 oz. boxes
What's so special: Tremendous variety of candies
Candy Club is the snack box for anyone with a sweet tooth. That's because this delightful monthly subscription service delivers candies of every variety and flavor you could imagine. Whether you love the sweet stuff or get off on sours, enjoy chocolate treats that melt in your mouth or can't get enough of those adorable gummy bears, Candy Club sends you a party in every box based on your own personal candy profile. Yum, yum, yum!
9. Kernel Crate
Cost of a box: From $15 for 3 flavors (approx. nine cups)
What's so special: Flavored popcorn delivered to your fingertips
If your idea of a good snack time is popcorn every which way, then Kernel Crate is going to be your best friend. Every month you'll get three new flavors of freshly-popped popcorn chosen from an ever-growing variety of tastes. From peaches and cream to cinnamon roll, ghost pepper kettle corn and caramel, Kernel Crate changes things up often so you're never bored. Made in peanut and tree nut-free facilities, popcorn is freshly made, air-popped (read: healthy), and starts at $15 a month (read: affordable). So Kernel Crate is a great option for anyone who loves their popcorn.
10. CrateJoy
Cost of a box: $5.83-$197 per month for varying boxes and contents
What's so special: Every type of snack box imaginable, highly customizable
Got the munchies? Can't decide? Why settle for one when you can have them all! CrateJoy is the ultimate in snack time indulgence. It has every type of snacky goodness you could possibly imagine. Neatly categorized for easy selections like international and foreign food, chocolates, candies, desserts, and straight-up snacks, CrateJoy curates the best of the best, and then hands it to you so you can get all the sweet treats (or savory, or gooey, or whatever!) you want.
Vegan Cuts is another great snack box that you can order which also includes real foods. So if you're looking for a fun combo box that's vegan-friendly and good for you, Vegan Cuts is a top pick.
Snack Box Subscriptions: Your Taste Buds Will Thank You
On top of getting an awesome, eclectic variety of global treats from all over the world delivered to your doorstep, snack subscription boxes are a lot of fun to receive. You'll get some interesting snippets of information about each place that the goodies hail from. Many boxes are themed, changing the theme each month and keeping things fun and interesting. Get your snack cravings met, save money on much-needed munchies, and have fun at the same time with convenient and timely snack subscription boxes made just for you.