In a Nutshell
Zazzle is a leading custom product store offering thousands of personalizable items. It features an excellent built-in designer, no minimum order quantity, and affordable global shipping with all orders. The high prices will put some people off, but there's little else not to like. Ordering is simple, returns are accepted within 30 days of receipt, and there's even a great mobile app that you can use in place of the desktop site.
pros
Huge product range
International shipping available
Excellent built-in designer
cons
Slightly expensive compared to alternatives
Minimal bulk order discounts

Zazzle Visit Site
Zazzle Promotional Products
Zazzle offers over 1000 products that can be fully customized with your brand logo, text, or whatever else you require. Popular categories include clothing and accessories, home and personal care, office and school, and business supplies.
We had a look at Zazzle's classic coffee mugs, which are among the company's most popular products. There are various styles and size options available, and you can customize virtually every aspect of your design.
One thing worth noting here is that while Zazzle enables you to create your own custom products, it also enables people to sell their own designs. This may cause some confusion when you first browse the store, as it results in thousands of results for every type of product.
Zazzle Pricing
Zazzle offers tiered volume discounts with large orders, but not to the same extent as many of its competitors. Maximum discounts tend to be in the vicinity of 20% to 50%, while some competitors offer as much as 90% off with bulk orders. There are no minimum order quantities and no setup fee, which is great to see.
For example, an 11oz classic coffee mug will cost you $14.95. Order anywhere between 2 and 9 mugs to get 15% off, or access a 20% discount with orders of 10 or more.
How to customize products with Zazzle?
To begin customizing, head to the relevant product page and click the "Add Image" or "Add Text" button. You will be taken to Zazzle's native designer, which is excellent.
Here, you can customize virtually every aspect of your design. Add text, icons, background colors, your own media, and various other elements. A selection of popular file types can be uploaded, including PNG, JPG, and PDF.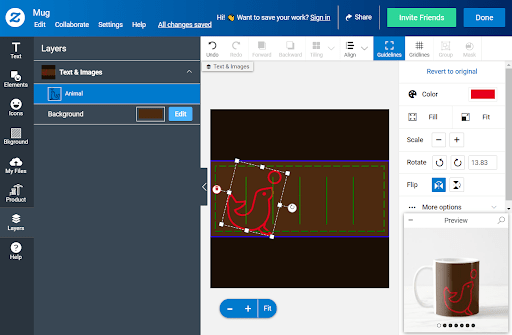 Free samples aren't available, but there's no minimum order quantity, so you could always order a small number of products to test.
How do I order from Zazzle?
Once you've customized a product, simply add it to your cart and head to the checkout to complete the purchase process. You will have to create an account or log in with Facebook, Google, or Apple to proceed.
Worldwide shipping is available with Standard (9-18 days), Expedited (5-9 days), and Express (3-5 days) options. With our test order, standard shipping cost us $8.79 within the USA. Free shipping is also available with a Zazzle Black subscription, which starts from $9.95 per year.
Zazzle Features and Tools
One standout feature is the Zazzle Black subscription option. For just $9.95 per year, you can access unlimited standard shipping on most products. Or, upgrade to a premium subscription ($39.95 per year) for unlimited 2-3 day shipping on qualifying products. This is only available within the US.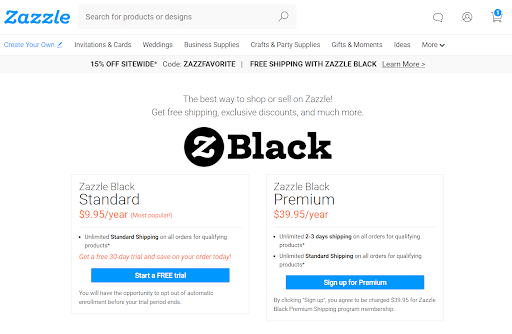 Other things that stand out about Zazzle's service include its international shipping options, industry-leading design tool, and the huge selection of customizable products.
What about the Zazzle app?
The Zazzle mobile app is available across Android and iOS devices. It has a great rating across the App Store and Google Play Store, which is good to see. It enables you to create new designs, make orders, and track the progress of your existing order from your mobile device.
Service and Support
Email, live chat, and phone support are available. The live chat can only be accessed when an agent is online, which appears to happen sporadically. Phone hours are Monday to Friday, 9:00 am to 5:00 pm (PT). There's also a help center with numerous high-quality articles covering virtually everything you will ever need to know.
How to get a refund from Zazzle
Any purchase can be returned for a full refund or replacement within 30 days of receipt. To start the process, you will need to request a return from the customer care team. Specify why you want to return your item(s) and state whether you want a replacement, refund, or account credit. Refunds can take 7-21 days to process.

Zazzle Visit Site
The Bottom Line
Zazzle is a big name in the world of promotional and custom products, and it's easy to see why. However, it's certainly not perfect, and its high prices and low volume discounts will put some people off.
On the plus side, the built-in designer is excellent, and there are numerous shipping options for customers across the world, a tidy app, and thousands of different products on offer. Overall, Zazzle is a great option for those who want to order small numbers of customized items.
FAQs
Where is Zazzle based?
Zazzle is based in Redwood City, California.
Does Zazzle offer free shipping?
Free shipping within the USA is available with a Zazzle Black membership, which starts at $9.95 per year.
Does Zazzle ship internationally?
Yes, Zazzle ships to most countries across the world. Shipping times and prices will vary according to your destination.
Does Zazzle do free samples?
No, Zazzle doesn't do free samples. However, it has no minimum order quantity, enabling you to order one item as a sample if you would like.
Can I get a refund with Zazzle?
Yes, refunds are available on all Zazzle products within 30 days of receipt. Simply reach out to the customer care team to begin the refund process.