In a Nutshell
LogoMaker has an easy to follow online format to design your own logo, business cards, and website. It has many templates to choose from to find the right style for your business. LogoMaker also provides tools so your business can grow further, such as promotional products, domain tools, and DIY web creation. You can preview what your logo will look like on various promotional items.
pros
Easy design creation tools
A full refund is available within thirty days of your order
Quality designs
cons
No free samples
Each service offered comes at an additional cost

LogoMaker Visit Site
LogoMaker Promotional Products
LogoMaker has thousands of templates to choose from. Their three-step design process is easy to follow. The customer is given clear instructions at each step of the way. Once your template is designed, you can customize your colors, size, and font.
LogoMaker also has tools to help you grow your business. It provides website design, domain creation, and online listing. Each service they provide does come at an extra cost, which may be worth it if your budget allows.
LogoMaker's services are best suited to small and medium-sized businesses. One of the benefits of LogoMaker is that they have affordable options for every budget. For users who want the full-service experience, LogoMaker provides an onsite designer to help create logos and assists with applying them to promotional items.
Pricing
LogoMaker gives you flexibility in terms of how many promotional products you can order at once. Bulk orders do give you reduced pricing. Some items come with a minimum order requirement.
Here's an example of how ordering more saves you money on LogoMaker:
For businesses who would like additional services, custom Logo packages are available. These packages are created by professional designers. There are four options for logo packages, each offering different services:
How to Customize Products with LogoMaker
LogoMaker has a simple, four-step process that allows users to design a logo that fits their style, business, and tone. Here's how it works:
1. Enter your business name, the type of industry you're in, and optionally, you can add a slogan or phrase to your logo.
2. Next, LogoMaker will give four different styles to look at. You'll choose the three you like best.
3. On the next screen, you'll be given a choice of four different fonts. Choose three of the four font styles that are offered.
4. Finally, you'll be asked to choose three out of four layout choices that are offered.
LogoMaker will then come up with templates based on your choices so you can pick the logo that suits you. Once you select your template, you can change the colors or add icons if you wish.
While LogoMaker does not offer free samples, they work closely with customers to ensure they are satisfied with their logos and merchandise.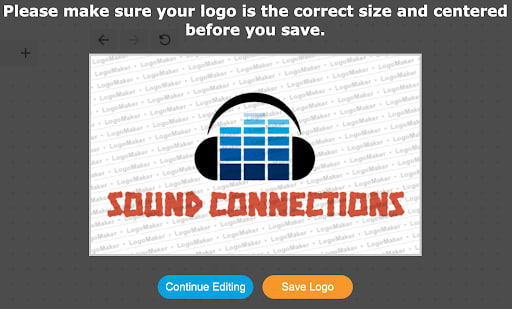 How do I Order from LogoMaker?
After finalizing your design, you can purchase the logo for your own use, or you can purchase promotional items directly from LogoMaker that will feature your logo.
LogoMaker offers three logo packages:
1. Basic - With this free option, you do not have to purchase your logo. You can use it on LogoMaker's website to buy personalized promotional items from their inventory.
2. Essential - This option costs $40.00 and gives you downloadable files to use on promotional items anywhere.
3. Premium - For $60.00, you get unlimited edits even after purchasing your design.
The first order you place on LogoMaker comes with free shipping. Afterward, all orders will have a shipping fee. Shipping fees and delivery estimates depend on your location. To find out specific information about shipping, you can speak with one of LogoMaker's customer support representatives.
LogoMaker accepts all major credit cards.
LogoMaker Features and Tools
LogoMaker's online tools make it simple to create your logo. Here are a few examples:
Easy to use instructions for creating designs
Onsite designers can create a personalized package
Preview your logo on a range of products before you buy
The following file formats can be downloaded:
What About the LogoMaker App?
There is no dedicated LogoMaker app, but their website is mobile-friendly.
Service & Support
LogoMaker's FAQ section will address most of your questions regarding design and access to logos. Additional questions can be sent to support@logomaker.com. Logomaker also has an online chat option. When an agent is available, they will usually respond within 5 minutes of your request.
LogoMaker delivers to all 50 states and overseas. Contact LogoMaker to find out about international shipping using their email support or through their online chat option.
LogoMaker's blog, while not frequently updated, provides resources to support clients.
How to Get a Refund From LogoMaker
If you are unhappy with your design, a refund is available within 30 days of purchase under the brand's Love Your Logo guarantee. After that, LogoMaker will try to work with you to update your design until you are satisfied. To receive a refund, contact LogoMaker through its support email or use the online chat option.
Bottom Line
LogoMaker provides quality products at a reasonable price. It offers a range of services including website design, blog writing, and promotional products that will feature your logo. LogoMaker gives you complete control over your design and provides onsite designers if your budget allows for it. Another plus is getting free shipping on your first order and no minimum purchase amounts on some items. Overall, LogoMaker is a good choice for personalized promotional products.
FAQs
Can my designs be saved?
Yes. Once you set up an account, all designs are saved in your account for future use.
How do I access my logo?
Once purchased, files with instructions will be emailed to you allowing you to access your logo.

LogoMaker Visit Site
What is the 'Love Your Logo' guarantee?
Within thirty days of your purchase, if you aren't satisfied with your design, we'll give you a full refund. To learn more, contact our support team.
Which file type is recommended for printing?
EPS, or Encapsulated PostScript, is the preferred file format for printing.