In a Nutshell
4Customize offers a small selection of customizable promotional products. On the surface, it seems like a viable option, but a closer look reveals numerous concerns. There are significant inconsistencies between the advertised shipping rate and the rate we experienced at the checkout. There's no built-in design tool, no mobile app, and really, nothing else that makes this store stand out above its competitors.
pros
Streamlined ordering process
Low minimum order quantities
Tiered discounts with large orders
cons
Major inconsistencies across the store
Very limited product selection

4Customize Visit Site
4Customize Promotional Products
4Customize offers a small selection of promotional products, including bags, drinkware, office products, outdoor gear, tech items, and more. All items are cleverly categorized, but most categories only contain a couple of products. Everything can be customized as required, and volume discounts are available.
One standout product is 4Customize's canvas bags. These are available in 3 colors, 4 sizes, and with your logo or design if required. The range of 12oz stainless steel insulated coffee mugs are also noteworthy. These are available in 8 colors with a choice of 2 lid styles, various logo positions, and 2 printing methods.
4Customize Pricing
Like most promotional product stores, 4Customize uses tiered pricing. This means that the price per item gets lower as your order size increases. For example, the company's Canvas Bags come in at $6.69 each if you go for the minimum order quantity of 20. You will only pay $5.09 per bag if you order 500 or more, and this decreases to $4.09 with orders above 5000.
Prices obviously vary across products, ranging from a few cents to over $12.99 per item (before customization). Advanced customization options such as special packaging can increase these prices. On the plus side, there are no setup fees.
How to customize products with 4Customize?
Unfortunately, 4Customize's product personalization options are a little limited. There are no built-in design tools, and usually all you can do is upload a design.
To begin the customization process, you will need to head to the relevant product page. Here, you will be able to select a color, an imprint method if these are available, a size, and any product-specific customizations on offer.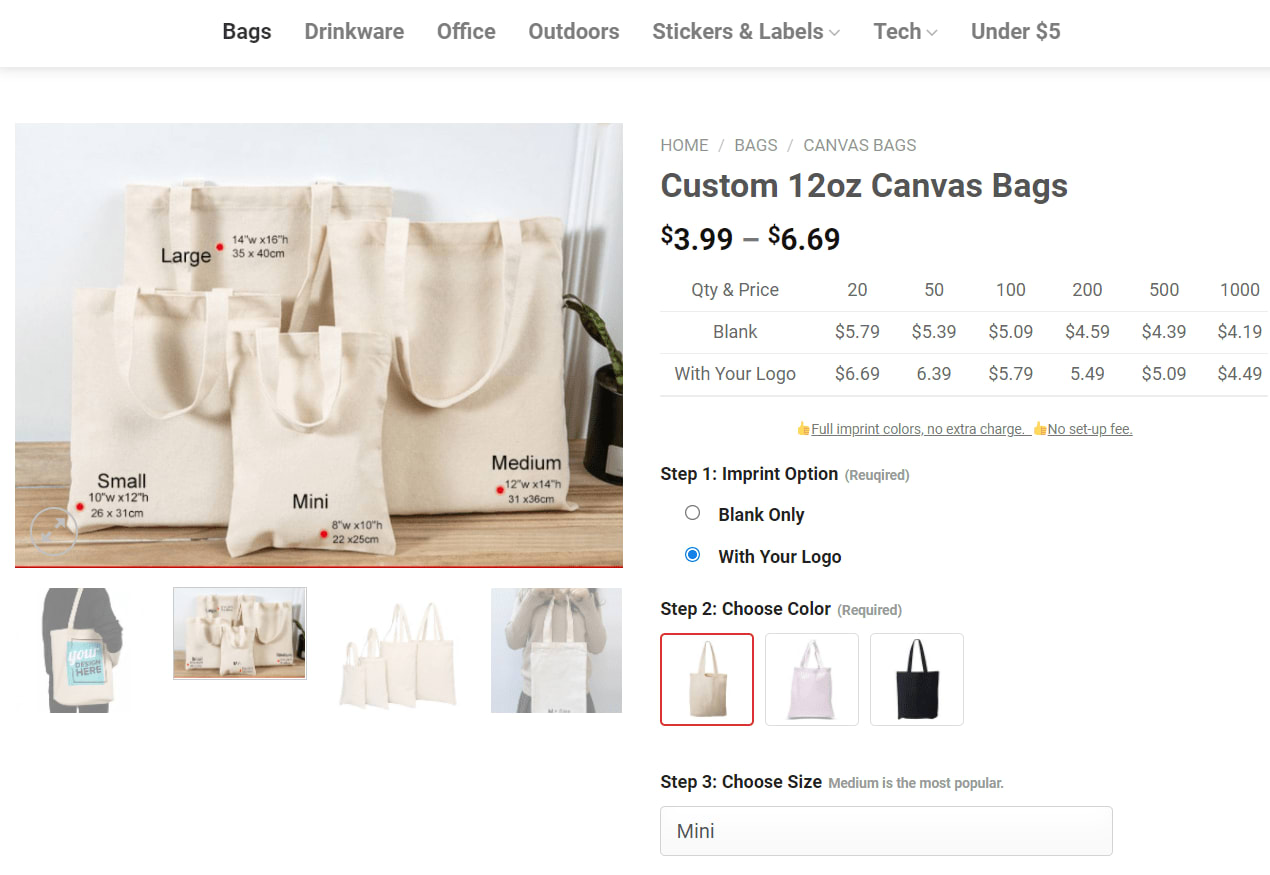 Upload your logo, select an order quantity, and add your customized products to your cart. A range of image file types are supported, including JPEG, JPG, PNG, PDF, TIF, and more. There are a few small references to free samples spread across the company website, but we were unable to find any way to request a sample or any specific documentation.
How do I order from 4Customize?
Once you're ready to complete your order, head to the checkout page. Here, you will be required to enter standard information such as your name and shipping address. PayPal and credit/debit card payments are available.
However, we ran into a major problem here. At the top of the store is a banner advertising "free shipping worldwide $69+". But when we went to complete our $133 order, we were going to be charged a minimum of $27.96 for standard (12-15 working days) shipping to the United States. Expedited shipping (4-7 working days) is also available, and it would have cost us $59.96.
4Customize Features and Tools
4Customize appears to be a poorly run and poorly designed promotional products store, and it doesn't have any real standout features. There's no built-in designer or other creation tools, and there's conflicting information spread across the website.
What about the 4Customize app?
4Customize has no app for either iOS or Android devices.
Service and Support
The best way to reach out to the 4Customize team is via email or online contact form. There's also a Chinese phone number available, but this may not be a viable option if you're calling from a different country. The company's social media profiles are virtually empty, with zero or few followers.
There's also a page outlining a few questions about shipping and returns. These are very basic, though, and we were left with more questions than we started with. The company blog doesn't have a single post on it.
How to get a refund from 4Customize
4Customize's return policy at first states that you can get a refund or exchange on new and unused products within 14 days. However, the very next paragraph states that customized items can't be returned.
The next section of the return policy adds even more confusion, stating that you can request a refund on damaged, defective, or incorrectly printed items—but only within 3 days of delivery. Apparently, instructions for your return will be provided "if applicable."

4Customize Visit Site
The Bottom Line
4Customize may appear to be a decent promotional product store on the surface, but a deeper look reveals numerous flaws. There are mistakes and inconsistencies throughout the website, and there's only a very small number of products available.
For example, there's a large banner claiming free international shipping on orders over $69. When we got to the checkout, we found that this wasn't the case. Customer service is quite limited, the refund policy is all over the place, and there's just not enough positives for us to be able to recommend 4Customize.
FAQs
Where is 4Customize located?
4Customize is located in Zhengzhou, a major city in China.
Where does 4Customize ship to?
4Customize ships items internationally to virtually any country in the world.
How can I track my order?
If you head to the 4Customize website and scroll to the bottom of the homepage, there's an Order Status link that you can follow to track your order.
How long will it take for my 4Customize order to arrive?
With standard shipping, your order should arrive within 12-15 working days. Expedited shipping is available, which decreases the shipping time to 4-7 days.
Does 4Customize have a built-in design tool?
No, there's no built-in design tool. You can upload your own media and select from a minimal number of customization options.