In a Nutshell
Deluxe is a reliable promotional product provider that doesn't charge an arm and a leg. It uses US-based manufacturers, offers rush production on some products, has a line of eco products, and ships internationally. Free samples are available in many cases, and minimum order quantities are quite low, varying from 1 to 1000+, depending on the product. Overall, Deluxe is a great choice with a suite of products to choose from.
pros
Very competitive prices
Free samples for wholesale customers
Great customization options
cons
No listed international shipping costs
Additional setup fees
Deluxe Visit Site
Deluxe Promotional Products
Deluxe offers a wide range of promotional products, ranging from typical stationery to apparel, electronics, corporate gifts, and more. It's also known for its professional services, which include brand marketing and payment processing.
In terms of products, the most popular sellers include neoprene drink holders, customized sunglasses, pens, and t-shirts. Items are categorized as expected in an online store, but you can also shop by industry and budget.
One standout offering is Deluxe's promotional bundles. These vary significantly in composition, but popular examples include a branded desk stationery kit and a branded travel tech kit.
Rather than ordering a number of products together and packaging them yourself, you can simply order one of these pre-configured bundles. Significant savings are available with bulk bundle purchases, although these vary with each package.
You can also connect with a Deluxe sales representative to order larger numbers of promotional products than those advertised. Significant discounts are available with wholesale purchases, but again, these vary by product. You will also benefit from a price match guarantee and access to a selection of free product samples.
Deluxe Pricing
In general, Deluxe products come with a minimum order quantity, which varies from one to 1000 or more, depending on the product type. Purchase larger numbers of products to access lower prices per item, with discounts of up to 50% available with very large purchases. There's also a setup fee with most products, which can range from a few dollars to more than $50.
For example, one of Deluxe's most popular products is its Kolder Kaddy Neoprene Can Cooler. The minimum order quantity here is 50 at $1.39 each. Discounts are available with larger purchases, with the price dropping to $0.95 each with purchases of 1000 or more. There's also a $45 setup fee.
By default, products are sent via UPS Ground services. Prices vary according to the size of your order and location. Alternatively, you can use your own shipping carrier or method by informing the Deluxe team of your preferences.
How to customize products with Deluxe
To customize products with Deluxe, you will need to select your order quantity on the main product page and click the "Design & Buy" button. You will be taken to a customization page, where you can specify various design preferences.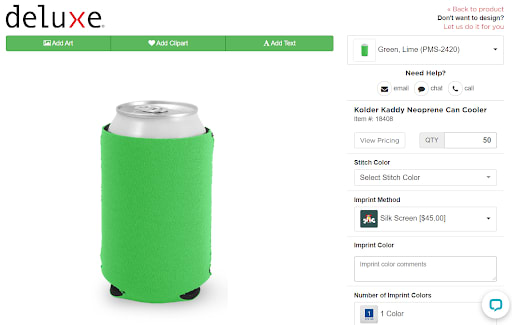 You can start by specifying a base color and modifying your order quantity if necessary. In addition, you can select an imprint method (if available), add comments and special instructions, and choose a delivery option. Different types of items come with different imprint methods, according to their composition and the nature of the design being added.
Images, text, and clipart can be added to your design via the menu options at the top of the screen. Customize your font, text color, and more. Various image file types can be uploaded, including .jpg, .jpeg, and .png. You can also add clipart from a large stock library. Overall, the design tool is intuitive and easy to use.
Free samples are available in some cases, particularly if you're making a large wholesale order. Speak with the Deluxe team to find out more about this.
How do I order from Deluxe?
To order from Deluxe, select the products you want, customize them, and add them to your cart. Create an account, or check out as a guest if you would like to. You can pay by credit/debit card, PayPal, or Google Pay.
Customers from most countries across the world can order from Deluxe, but the company mainly targets those in the USA. Shipping prices within the USA vary according to location and order size. We tested the checkout to get a shipping estimate for a small order, and this came out at just over $20 for every ZIP code we tested. International shipping isn't quoted, but the team will provide you with a custom shipping quote after you've submitted your order.
Deluxe Features and Tools
Deluxe offers fairly standard personalized promotional products, but there are a few things that make it stand out.
For one, it offers 24-hour printing on a selection of products, which helps ensure your order arrives in a timely manner. Note, though, that the 24-hour period only begins after art approval, and large orders may not be completed within this time.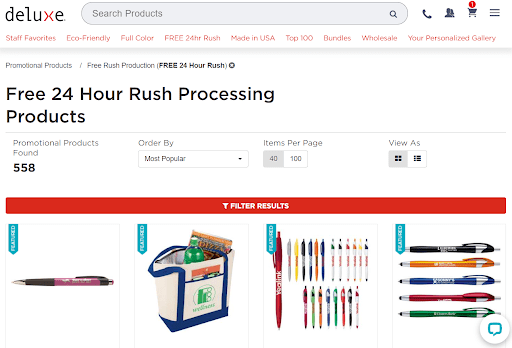 There's also a selection of eco-friendly promotional products made from recyclable and/or renewable materials. These are great for those looking to reduce their environmental impact, and they're very competitively priced. Or, go for a product bundle to reduce the amount of work you need to put in to create your promotional kits.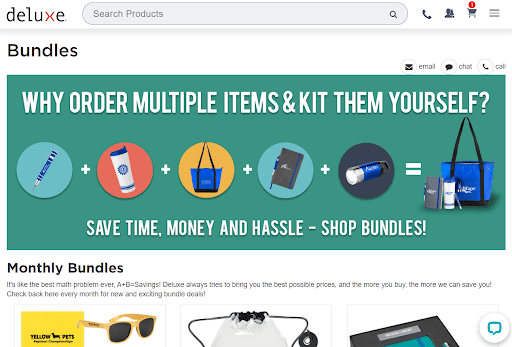 What about the Deluxe app?
Deluxe offers various mobile apps associated with its professional services, but there are none available for its online store or promotional product offerings.
Service and Support
Deluxe offers email, live chat, and business hours (Monday-Friday, 9 am-6 pm EST) phone support. We tested the live chat option, but no operators were available to take our questions, and after three hours, we still hadn't received a reply. A reply to our email ticket took over three days, despite a note stating that the team will reply within 24 business hours. On the plus side, there's an excellent knowledge base that contains numerous articles and step-by-step guides.
How to get a refund from Deluxe?
Deluxe has a no-risk guarantee that enables you to request a refund in most cases. Personalized items can only be returned if they have a manufacturing defect or other damage. Orders can be canceled pre-production for a full refund, and blank items can be returned—but these may incur a 10% to 20% restocking fee.
All returns must be arranged within 30 days. Deluxe will cover return shipping in the case of damaged or defective products. Reach out to the customer service team for more information or to arrange a refund.
Deluxe Visit Site
The Bottom Line
All things considered, Deluxe appears to be an excellent option for those looking for personalized promotional products. It offers a huge range of items, its customization options are great, and its minimum order quantities are fair.
There are a few downsides, including sub-standard customer service and a lack of information on international shipping prices. Overall, though, we'd definitely recommend browsing the Deluxe store if you're looking for promotional products for your business.
FAQs
Does Deluxe offer any freebies?
Yes, free samples are available with many products. You will need to speak with the sales team to find out more and arrange this.
Can I get rush production at Deluxe?
Yes, many of Deluxe's products are available with rush production. This depends on the item, though, and rush production may attract higher fees.
Is there a minimum order quantity?
Yes, all Deluxe personal products have a minimum order quantity, which usually sits around 50 or so.
Is free shipping available?
No, free shipping isn't available in any case.
Can I purchase from outside the USA?
Yes, international customers are welcome. However, shipping prices aren't advertised, and the Deluxe team will reach out to you with a quote after you've placed your order.