In a Nutshell
Although it doesn't have a large range of promotional products, Customon excels when it comes to branded apparel and accessories. Prices are a little high, but there's no minimum order quantity, making it a great option for small businesses. The design tool is quite simple, although the customization options are somewhat limited with some products. You can select media from a huge design library or simply upload your own.
pros
No minimum order quantities
Streamlined designer
The ability to sell your designs
cons
Quite expensive
Long shipping times

Customon Visit Site
Customon Promotional Products
Customon is a little light on the promotional product front. It offers a wide range of custom apparel items, along with accessories such as coffee mugs, phone cases, and masks. There are numerous designs to choose from, or you can upload and add your own design if required.
The company's coffee mugs stand out as a popular option. There's only one shape and size available, but you can customize various design options. However, there are only five color combinations to choose from. You can add your own text and visual media.
Customon Pricing
Customon's prices are quite high when compared to many alternatives. This is largely because it's a consumer-facing company, rather than a B2B promotional product producer. On the plus side, there's no minimum order amount with most products, and tiered discounts are available with larger orders.
For example, a single blank coffee mug will cost you a high $15.95. Order six or more, and this will drop to $15.15 each. Prices will continue to decrease until the cheapest price of $4.79 per item is met with orders of 577 or more. Prices will increase significantly if you want to add a custom design.
How to customize products with Customon?
To design a custom product, you will need to select the item you want from the Create menu at the top of the screen. Select the variant you want (if available) from the main product page, and you will be taken to the design portal.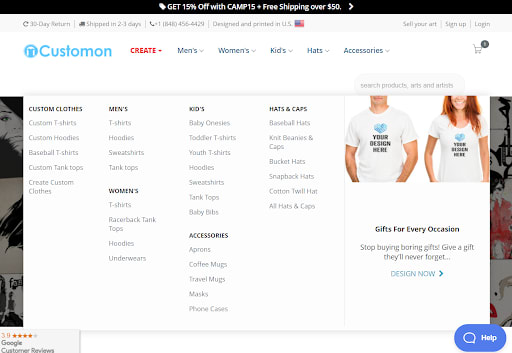 Here, you can change colors, select sizes where applicable, and add your own design. Most popular image types can be uploaded, including JPG, JPEG, and PNG. Once uploaded, they will be stored in your personal image library. You can also add plain text or select from a range of designs that have been uploaded by other users.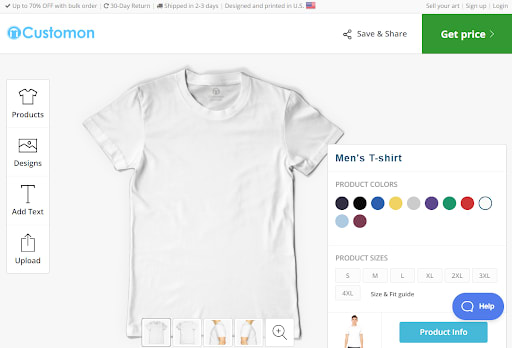 There's no choice of printing options, which means that you will be forced to go with the company's default printing methods. Free samples are also unavailable, which will be concerning for some.
How do I order from Customon?
To begin an order, select a product, add your design, specify an order quantity, and add it to your cart. Shipping prices can be quite high. Delivery times can range from one to four weeks, and you will have to pay at least $5.99 shipping per order. Free standard shipping is available on orders over $50.
You can pay an additional fee for expedited delivery, but this will usually only cut a few days off the delivery time. Next-day delivery isn't available, and orders can only be delivered to customers in the USA and Canada.
The checkout process is quite straightforward. You will need to add an email address, your name, and a delivery address. Both PayPal and credit/debit card payments are available, and you shouldn't have any problems here.
Customon Features and Tools
Customon is an interesting combination of personalized product vendor and third-party marketplace. You can upload and submit your design to sell, and future customers will be able to select it if they would like to. You will receive an income share for any sales that are made.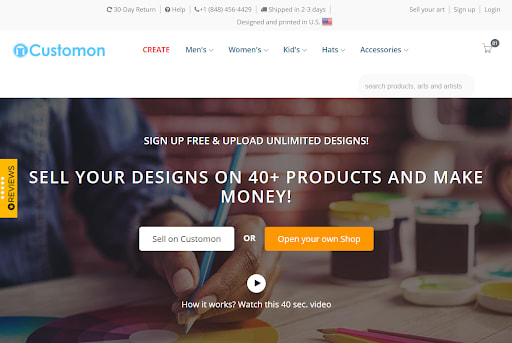 Another standout feature is Customon's low minimum order quantity, with most items having none at all. There are no setup fees, and you will only ever pay the listed price for your items.
What about the Customon app?
Customon doesn't have an app for either Android or iOS mobile devices.
Service and Support
Customer service is available via email, online contact form, or phone. Support hours aren't listed, though, and we can only assume that 24/7 service isn't available. There's no FAQ section, and the help center is quite sparse. There is, however, a blog containing a number of informational articles.
How to get a refund from Customon
Customon offers a 30-day satisfaction guarantee, which means that you can get a full refund on any product you're not happy with. This is quite rare when it comes to customized promotional or branded items.
To submit a return, you will need your email address and order number. Follow the prompts, and you will be able to request a replacement order, a store voucher, or a full refund where the money is returned to your original payment method.
Bottom Line
If you're looking for a true promotional product store, Customon isn't it. However, it does offer a decent selection of customizable products, with a focus on apparel and clothing accessories. The design process is straightforward and intuitive, and you can select from a range of art uploaded by other users.
On the downside, prices are quite high and shipping times are long. Only customers in the USA and Canada are supported. There's no minimum order quantity, though, which means that it may be an option worth considering for small businesses and others who want to order a small number of branded items.
FAQs
Is Customon legit?
Customon is based in the USA, has been in business for over ten years, and has decent ratings across the web.
Does Customon offer express shipping?
Yes, Customon offers an express shipping option. However, this is only slightly quicker than the standard option, and orders can still take a few weeks to arrive.
Does Customon have a minimum order quantity?
No, there's no minimum order quantity.

Customon Visit Site
Does Customon offer international shipping?
Yes, Customon offers international shipping to customers in Canada. Shipping isn't available anywhere else outside of the USA.
Can I get a refund on my Customon order?
Yes, Customon has a full 30-day money-back guarantee. This means that you're entitled to a full refund, even on customized products.