In a Nutshell
With more than 200,000 products, AnyPromo is a one-stop shop for promotional swag and has a great deal to offer those looking to personalize items for their business or special occasion. As well as an excellent selection of customization options, it has partnerships with much-loved brands such as Nike and Adidas. Its flexible model allows customers to submit their own artwork or receive help from AnyPromo's artists to personalize their designs.
pros
Built-in design studio for adding text, images, and photos
Free proofs available on most products before ordering
Free shipping on thousands of custom items
cons
No mobile app available
International shipping not available (US only)

AnyPromo Visit Site
AnyPromo Promotional Products
AnyPromo breaks its products down into categories such as:
Auto
Bags/luggage
Mugs/drinkware
Outdoor/leisure
Pens/writing
Trade shows
It also sells brand name promotional items from partner providers such as Adidas, Fruit of the Loom, and Nike.
Featured items include 2-tone matte sunglasses, which are available in 8 colors and begin at prices as low as $1.06, and folding chairs with carrying bags, with prices beginning at $18.45.
AnyPromo Pricing
AnyPromo provides a similar experience to shopping online and has thousands of items available for a few cents or dollars. Select the items you'd like to order, specify the quantity, add your design, and pay.
You'll pay a cheaper cost per item if you're buying in bulk, while minimum order amounts are specified when placing your order.
You also have the option to become a Platinum member for a $25 fee per year with free ground shipping and rush production, exclusive promotions, and extra rewards.
The company also offers a 110% price match guarantee; if you find a cheaper price on an item elsewhere, it'll match that price and offer a 10% discount.
Finally, the company offers a number of online coupons, including a 7% repeat customer discount, and 6% off for new customers.
How to customize products with AnyPromo
AnyPromo offers numerous options to customize your product with your name, artwork, or logo, which include:
Screen printing
Heat stamping
Laser engraving
Debossing
Customization is done via a straightforward tool, which allows you to upload your artwork and specify details such as color. You can also email your artwork or ask the company to design the item on your behalf. Although AnyPromo prefers EPS, AI, and CDR, it will work with other formats such as PDF, JPEG, and PNG.
If you'd like a preview of your items, you can place a free standard sample order of up to $10 with up to 3 items if you have an account with UPS or FedEX.
How do I order from AnyPromo?
If you'd like to place an order, the first step is normally to visit the item's product page, and you'll have the option to customize your item. Before your order goes into production, you'll see a virtual proof so you can approve your purchase.
AnyPromo will also show you the shipping costs associated with your delivery on the basis of a ground delivery, although you may choose other delivery options.
Shipment typically takes between 1 and 5 business days, although the company also offers a 24-hour and a 3-day rush service. Note, shipping isn't available outside the US.
You can pay for your order via check, bank account payment, or all major credit cards.
AnyPromo Features and Tools
The most distinctive feature we identified is the company's 110% price match guarantee. If you spot a cheaper price on one of its items elsewhere, it will not only match the price but offer a 10% discount.
When we tested the site, we found its built-in design tool extremely easy to use and were also pleased to see the Design For Me option, in which AnyPromo's designers will create the design based on your instructions.
Other notable features include its super rush offering, whereby items are printed and shipped within 72 hours, and its shopping guides, which help you find goods under $1, items with free shipping, eco-friendly gifts, and products for holidays and events.
The site's ease of navigation is also impressive, with customers being able to filter their search according to characteristics such as material, cost, and print quality.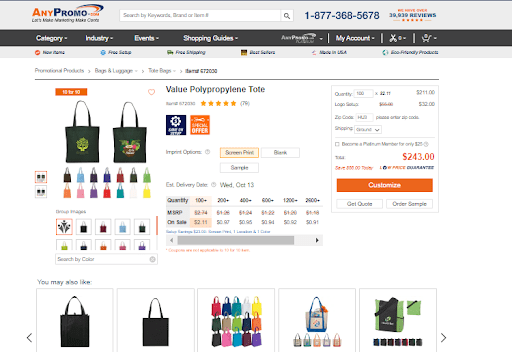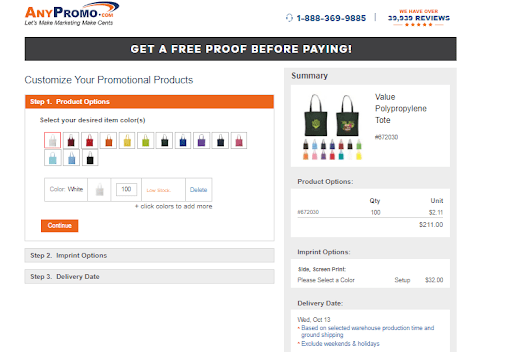 What about AnyPromo app?
AnyPromo doesn't have an app.
Service and Support
You can contact the company by phone, email, or live chat, from 6am to 6pm (PST), Monday to Friday. The website has a detailed selection of FAQs and a blog, which covers topics relating to business practices.
How to get a refund from AnyPromo
If you discover a fault with your item and AnyPromo is to blame, you'll receive a full refund or exchange.
Although the company doesn't typically accept returns if it hasn't been at fault, it will attempt to accommodate as many requests as possible on orders below $1,000 if you make your request within 30 days.
At present, AnyPromo is temporarily extending its refund policy to 100 days on all orders under £1,000. Refunds are typically issued within 3 to 5 business days.

AnyPromo Visit Site
The Bottom Line
If you'd like to promote your brand or celebrate a major life event, it could be worth considering purchasing your swag via AnyPromo. We were particularly impressed by the availability of free design help through its design tool. Although the company doesn't have an app, there are numerous options to customize your products online.
FAQs
Does AnyPromo keep my artwork on file?
Yes, this will make future orders simpler.
What if my items are broken or damaged?
Contact your customer care rep and the company will replace these items or provide you with a credit.
Why have I received more or less items than I ordered?
Due to manufacturing processes, there will occasionally be over- or underuns. AnyPromo will only bill you for the amount received.
Do AnyPromo offer lines of credit?
Lines of credit are available to qualifying customers.
Is AnyPromo secure?
Yes. All your information is kept on password protected, limited access servers.