ServiceTitan Visit Site
Overview
ServiceTitan at a Glance
Best for: Field service businesses
Key use: Booking and logging field service visits
Price: $199-$349/month per technician
Storage: Unlimited
Free trial: No
How ServiceTitan Works
Features and Functionality
Customer Management
Although ServiceTitan is closer, in nature, to a project management solution than to a CRM, it does include a functionality for logging and saving customer details. ServiceTitan allows field service managers to capture all the information that might be required about a job including the job type, the marketing campaign that led to the customer asking for the service, and the type of technician required for the callout. Additionally, when linked to a phone system, the tool can automatically match stored information with a particular inbound lead. This expedites the appointment booking process as the customer does not have to repeat previously provided details—such as their home address.
Drag-and-Drop Scheduling Tool
ServiceTitan features an attractive drag-and-drop interface for managing technicians' service schedules. Different agents are color coded and dispatchers can even call up an agent's job history and call recording history in order to make sure that they are well suited to the customer's job. Dispatchers are also able to send SMS messages to technicians with a couple of clicks making it easy for them to quickly update their team members in the field as to essential details—such as the access code required for a customer's gate.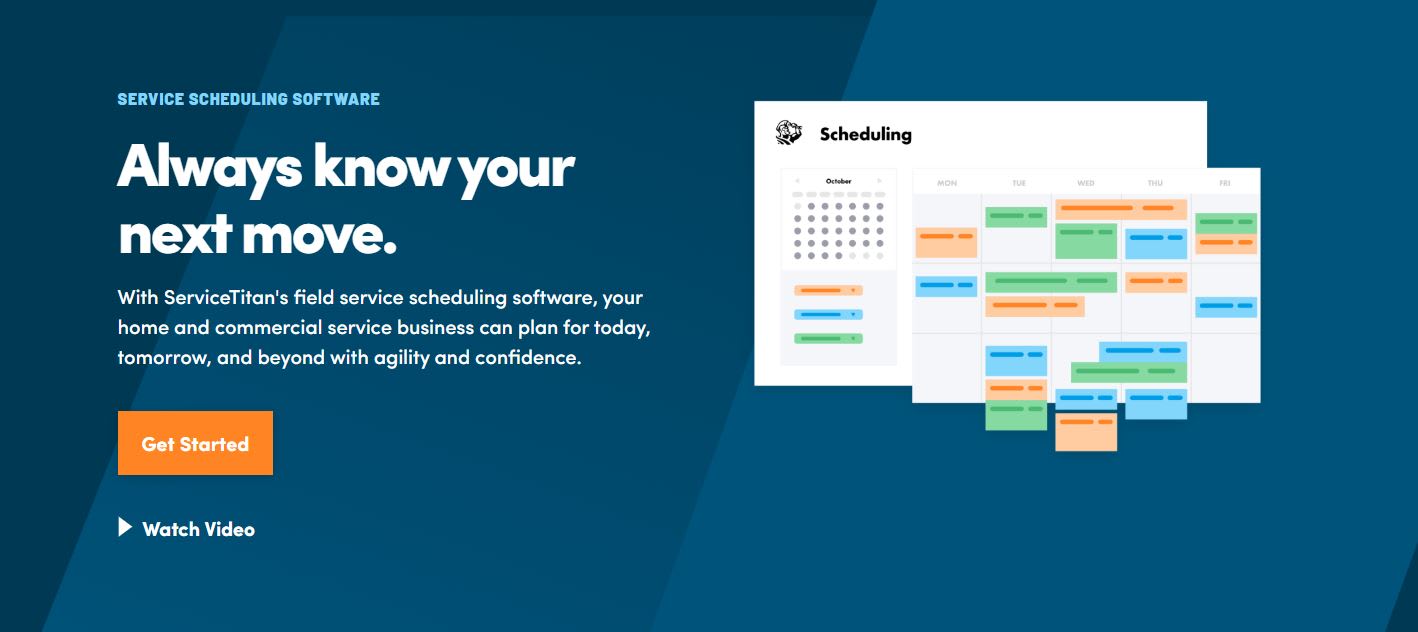 Avoid No Shows
ServiceTitan sends confirmation links to customers ahead of technicians' scheduled arrival making sure that they will be home in time to let the technician in. ServiceTitan's research has shown that simply adopting this process can save busy field service teams up to 12 hours per week in wasted time not spent calling out to customers who are not home.
Scheduling Optimization Tool
ServiceTitan is able to build up a database of previous technician visits in order to suggest the optimal time to visit customers according to current call volume and previous arrival times.
Inventory Report System
Nothing is more frustrating for a field service technician than having to return to base halfway through a job in order to pick up some extra components or pieces of installation hardware. Thanks to ServiceTitan, those days can be no more. Inventory managers are able to run reports against scheduled jobs in order to make sure that they have enough parts in stock to complete all upcoming field service visits. Wowing customers in one visit has never been easier!
Collaboration Tools
Busy field service shops rely on a steady and constant flow of communication between service operators and those in the office in order to make sure that jobs consistently get done on schedule.
ServiceTitan's tools include:
Real time dispatch notifications to customers as soon as technicians are on the way to their house or place of business
Reminder messages to forewarn customers to expect the service people at a certain time
Easy communication from the office to the field workers at the click of a button
By centralizing the company's dispatch schedule on one multi-user dashboard, ServiceTitan also makes it easier for multiple parties to ensure that everything is running on schedule. This, in turn, reduces the possibility of human error and results in higher customer satisfaction.
Data Privacy
You might be worried about putting all your service business data into a project management system that lives "in the cloud." Can the company access it, you might be wondering? There's no need to fret. ServiceTitan takes its customers' privacy very seriously and has even instituted a security vulnerability disclosure system for any hawk-eyed users that find something amiss about how the app processes users' data. Those reporting faults are even encouraged to do so via the ultra secure Pretty Good Privacy (PGP) encrypted email system. Additionally, all data to and from ServiceTitan's servers is encrypted using strong and tamper-proof encryption. This ensures that nobody is going to be reading your customers' data on the way to their servers.
ServiceTitan Apps
ServiceTitan is primarily used through a web based online interface. However, naturally there are smartphone apps to allow those in the field to easily relay details back to base. Those are for the Android and iOS platforms and can be installed through the conventional means (Google Play and the iTunes store). By using a combination of the smartphone apps and the cloud-hosted tool, teams are able to stay in contact throughout the workday.
ServiceTitan Customer Support
As a service industry leader, it should come as no surprise to learn that ServiceTitan itself takes ensuring the happiness of its customers very seriously. ServiceTitan has built up a repository of online information designed to guide customers in best practices and how to take maximum advantage of their solution. Its blog is also full of helpful tips about how to use the product. Those that require personal attention can call the customer's helpline and receive support from the company's team of product experts.
ServiceTitan Pricing
Pricing & Special Offers
ServiceTitan's pricing model takes into account the type of service business being operated. However, it ranges from roughly $199 to $349 a month per technician. For an exact quote, businesses need to contact Service Titan and outline their requirements. For the enhanced business performance and better customer satisfaction that the tool allows, we feel like it's good value for money.
ServiceTitan Alternatives
How ServiceTitan Compares to Other Project Managers
Dedicated account manager
API, webhooks, ServiceTitan Phone Pros, and others
Zoom, Slack, Zendesk, and more
Zapier, Workplace, VMWare, and more
Per customer requirements
From 5 to 200+ (custom pricing)
Per user on Standard. By quotation on Enterprise plan

ServiceTitan Visit Site
Bottom Line
For companies looking for a way to manage large field service workforces more effectively, ServiceTitan is the answer that the industry has been calling for. It features an impressive array of tools which are together designed to make field service visits a more seamless and enjoyable process for both servicepeople and their customers.