In a Nutshell
Glip is a team messaging and collaboration software created by RingCentral to get team members working together better than ever before. It allows users to chat in real time anywhere, be they in the office or on their mobile devices out in the field, and allows for seamless file sharing. Users can also make use of a wide array of integrations, so they can use some great apps to their advantage.
pros
Shared video chat feature
Drag and drop file sharing in chat windows
cons
No keyword notifications
You can only associate email with 1 account

RingCentral Glip Visit Site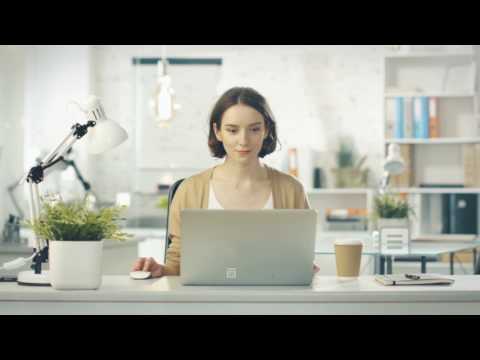 Features and Functionality
Unlimited posts

Unlimited storage

Unlimited integrations

Unlimited guest users

Unlimited 1:1 and team messaging

24/7 priority support

Configurable email and push notifications

24/7 bank-level and SOC 2 compliant security
Collaboration Tools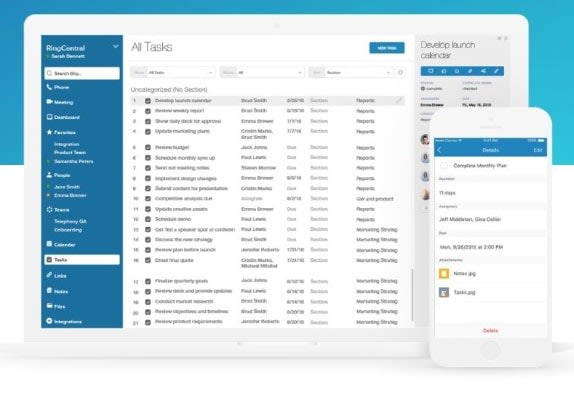 Glip allows users on the software to perform collaborative document editing. How does this play out? The software allows team members to work on documents and to do lists, make changes and communicate with each other within the documents in real time. These documents and to-do lists can also be organized by task, team member, priority, and more. Glip's team calendar allows team users to make changes and set events that are visible to the entire team, helping everyone keep on top of where the team is going.
Glip has a highly efficient, easy-to-use instant messaging feature for team members to communicate with one another directly or as a group. In perhaps one of the most useful features of Glip, it allows you to share files with other team members by dragging and dropping them directly into the chat window. With the paid, standard plan's advanced administration controls, you can also set up admins that will have a high level of control over sharing, posting, deleting posts and members, and adding integrations.
Glip allows you to make video calls by simply clicking on a video camera icon at the top of the screen. The app will send out an invitation to everyone in your team (if they're invited) to take part in the video chat and then it's up to them to chime in.
In addition, Glip integrates with a wide range of apps that can work with your business and increase collaboration, including Salesforce, Google Drive,and Dropbox, just to name a few.
Plans and Pricing
You don't need to sign up for a RingCentral VoIP plan to use Glip. In what is perhaps one of the best bargains in the industry, Glip has a free plan that provides a wealth of features. If that's not enough though, you'll be happy to know that upgrading to the paid version only costs $5 per person per month.
Standard - $5 per person per month
Unlimited 1:1 video meetings
100 hours of cloud storage of recordings
Advanced administration controls
Apps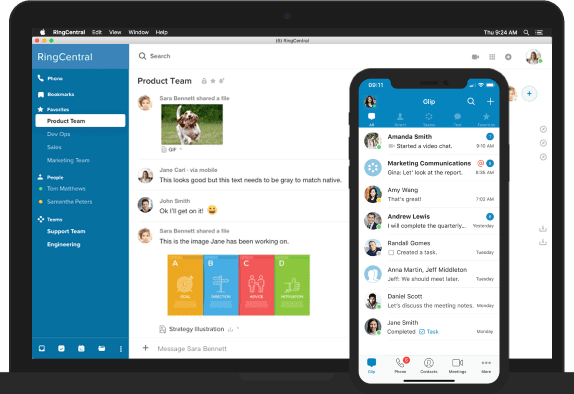 Desktop app: Glip has a desktop app that you can download for Windows or Mac

Mobile app: Glip has a mobile app that you can download for iOS or Android, and which you can use to access all of the features—including video chat—even if you are far away from the office.
Both apps are easy to download and setup, and should not require any sort of outside assistance whatsoever.
Data Privacy
When you use RingCentral, the company retains a certain amount of data that you provide to them, including your email addresses, mailing address and phone numbers. This information is only used specifically for the reasons for which you provide it.
The company retains other data, including traffic data about your calls and chats, network monitoring data to keep an eye on security, log data to know where users access their service, cookies that are saved to your device, and call detail records. It will also keep a record of your emails with the company and your billing data for payment purposes.
These forms of data are used by the company in order to find ways to improve the service and also investigate fraudulent activities and personalize your experience, according to RingCentral.
You may opt out of third-party marketing uses of data.
RingCentral says on the company website that it uses "a variety of appropriate technical and organizational safeguards to protect your personal information both during transmission and once it is received," and that they make use of 24/7 bank-level and SOC 2 compliant security.

RingCentral Glip Visit Site
Customer Service and Support
RingCentral runs a lengthy FAQ section on its website where you can get all types of information about Glip and the company's other products. If you can't find an answer there, you also have the following options:
Open a case: The company has a form online where you can fill out a query about a problem you have or an issue you'd like resolved.
Online chat: The company has a chat option where you can get answers to your questions online, 24/7.
Ask the community: The company hosts a forum of customers and product experts who can help you with your query.
Pick up the phone: You can reach RingCentral in the US at:
1-888-898-4591
+1-925-301-8209
Bottom Line
Glip is a highly effective project management tool that can get your team members talking and collaborating easier than ever before. Glip is available for free—with a wide list of features—and also with an expanded program at only $5 per person per month. With each plan you get a large array of collaborative tools—like instant messaging, video calls, and drag-and-drop shareable documents—that can make things easier for you and save some headaches.