In a Nutshell
NetsuiteCRM is a mature and enterprise-grade CRM developed by Oracle. It allows users to connect other data sources in order to deliver a seamless information flow to users. Netsuite CRM can also facilitate commission tracking, sales forecasting, and can leverage integrated Ecommerce capabilities.
pros
Project dashboard with KPI
Leverage project automation
Automatic job creation
cons
Enterprise level pricing
More complex than basic tools

Netsuite Visit Site
Oracle (Netsuite) CRM at a Glance
Best For: Large companies
Key Use: Project tracking and automation
Price: By quotation only
Storage: No limitation
Free Trial: Depends on MSP, but usually 14 days
Overview
Features and Functionality
Quick Project Setup
Netsuite allows users to develop project templates to avoid having to create the same project charts over and over again. For organizations such as marketing agencies that need to repetitively roll out similar projects, this is a great time saver.
Budget Tracker
The best projects run on time, scope, and cost every time. To make the job of tracking those variables easier, Netsuite has a budget tracking tool which provides a fine grained estimate of project expenditure and a real time tracker to quickly identify any looming overspends.
Detailed Task Tracking
Netsuite Project Management supports the full variety of task types that are commonly required in formal project planning. These can be layered onto a Gantt chart to provide a visual display of project activity. Deadlines and task types that can be annotated include:
Finish to start (FS)

Start fo start (SS)

Finish to finish (FF)

Finish no later than (FNLT)
Project Dashboard
The project dashboard provides managers with a visual depiction of current project updates including how the staff is faring toward achieving its Key Performance Indicators (KPIs). The updating process happens in real time and administrators can choose how to display the data. Common data display formats including pie charts are all supported.
Gantt Charting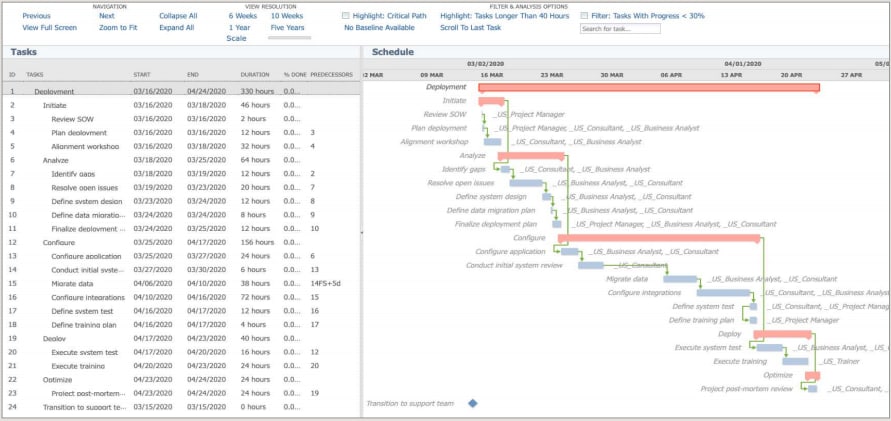 Netsuite's project management tool includes a Gantt chart editing and display tool. Gantt charts are the most widely used charting format for professional project managers. Netsuite's project management package makes it easy for even rookie users to put these together by using a simple drag-and-drop editor
Collaboration Tools
Timesheets
In order to help project managers keep track of what human resources are available, Netsuite features a timesheet manager which allows users to submit weekly timesheets. These are immediately visible in the SuiteCloud platform.
Additionally users are able to send each other tasks and see each other's annotations in order to stay in touch about key task deliverables.
Plans and Pricing
Netsuite is now an Oracle company and targets large user-bases. Because bulk discounts are commonly factored in, the company does not provide standardized pricing. However, in general the system costs a monthly base license of $999/month with an additional access cost of $99/user/month.
Apps
Netsuite offers a mobile application for both Android and iOS. In addition to project management functionalities the tools feature a mobile dashboard, a workflow monitoring engine, and allow administrators to send push notifications for time sensitive actions—like impending project deadlines.
Data Privacy
Netsuite is now a fully owned subsidiary of Oracle which is among the largest computer companies in the world. Netsuite is known for having some of the best security standards in the industry and the worldwide network of data centers it uses to serve customers Netsuite data from is managed by a globally distributed cybersecurity team. The 8 geographically distinct data centers the company operates provides customers with full failover and disaster recovery capabilities. This means that customers' data is both well-secured and virtually indestructible. In almost all cases, storing project management data locally is a far riskier proposition.
Customer Service and Support
SuiteSupport is available for all NetSuite products at 2 levels of service: Basic and Premium. The Basic plan provides 24/7 access to severity 1 issues, and business hours access to severity 2 issues. The grading depends on the nature of the disruption that users are experiencing. On Premium support, users gain access to severity 1 and 2 support on a 24/7 basis. Business hours support is available for severity 3 and 4. Support is available by phone, live chat, and email.

Netsuite Visit Site
How NetSuite Compares
Dedicated account manager
Zoom, Slack, Zendesk, others
Bottom Line
Netsuite is an enterprise level project management tool that features all the tools professional project managers need to get their jobs done and manage a team at scale. The tool includes Gantt charting, a work breakdown management system, and basic collaboration tools to help employees stay in the loop and keep each other up to date on progress toward deliverables.