In a Nutshell
Hive is a project management app geared toward boosting team collaboration, task flow, and of course, project management. It's a strong tool that has several useful features including analytics, group messaging, and file sharing, not to mention some excellent integrations. Hive is used by thousands of businesses such as IBM, Starbucks, Uber, and Harvard University. But are there any downsides to Hive's project management tool? Let's take a look.
pros
Advanced collaboration tools
More than a thousand integrations
cons
Mobile app view isn't optimal
Amount of features can be overwhelming

Hive Visit Site
Features and Functionality
Hive has been praised as being one of the most feature-rich tools on the market, and when you start digging, it becomes obvious why. Here are some of the big ones:
Projects
As a project management software, obviously, this is the area where Hive really shines. Each employee can create a personal to-do list for each project they're involved in, combining or separating tasks according to preference. This gives all users a clear view of what needs to be done each day. Hive supports Gantt, Kanban, Calendar, and Table view formats. Each team member and employee has the ability to switch between views, so they can see the information that they need in the most productive format for them. All updates are available and visible regardless of which view you choose. You can also sort and view a given task by team member, specific labels, or status.
For every project, you can create individual action cards for subtasks within the project. These cards can have comments, team member mentions, and files attached directly to them for easy access, simple sharing, and faster turnaround.
Analytics and Reports
Hive goes above and beyond in the analytics department. You won't just find the standard charts and graphs on this dashboard. Instead, Hive supports some of the most sophisticated technology to really dig deep and get to know your team members, giving managers insightful data about productivity levels, inefficient practices, and improvement zones. You can track time according to employee, tasks, projects, and resources.
All reports and analytics are sent to you in real time, so you can troubleshoot or predict issues before they become real problems and figure out solutions on the spot. And you can even get alerts for dips in productivity. That's helpful to keep your tasks and overall project completion dates on target.
Templates
One of the real time-savers Hive offers are templates for repeated actions or groups of tasks. These are extremely helpful if you have a string of tasks that need to be done repeatedly, such as sending out a request to team members to send in their expenses, updating a spreadsheet, and aggregating the information into a chart for a weekly expenses meeting. With a task template, all of these steps get done automatically, so you can come to the meeting prepared with everything you need without having done a thing.
Integrations
Hive gives you native integration to more than 1,000 tools, some of which you're probably using everyday, like Zoom, Google Drive, Salesforce, Slack, Zendesk, Zenefits, Gmail, Outlook Mail, iCal, and more. And if you have current projects still active on an old project management app like Trello or Basecamp, you can quickly import them directly to Hive, so you don't have to start all over again.
Hive also has forms that minimize the usual tedious tasks and task scheduling for greater efficiency.
Collaboration Tools
Hive has both built-in and third-party app integrations for effective collaboration. You can choose to use the Hive communications tools that allow you to send direct messages to both group chats or individuals. Alternatively, you can hook up with a supported third-party app like Zoom or Slack if you are already comfortable using these communication tools.
Hive lets you connect to Google Drive, Dropbox, One Drive, and Box, so all your information is easily shared across platforms. Plus, an incredibly convenient addition to the collaboration tools is the document upload feature. File exchange is made easy with the many sharing options available, including the ability to directly upload a file or document to a specific project, task, or message board.
Hive also supports invitations to external users, so if you have a team member who is working from outside the network, an independent contractor, client, or consultant that you want to loop in on a project, you can all be on the same page.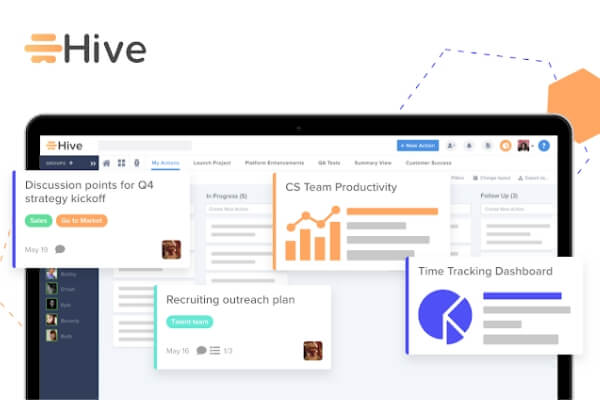 Plans and Pricing
Hive has 2 pricing models, which keeps things nice and simple. The basic version is very reasonable at just $12/per user a month. The upgraded version is more customizable for larger teams and includes things like a dedicated account manager, custom integrations, and the ability to add external users.
Both plans are clearly explained on the site, and the customer support is helpful if you have questions. Plus, Hive has a real 14-day free trial, meaning you don't have to put your credit card info in and cancel when the trial ends, or you'll be charged. It's a real free trial, really free. Really.
Unlimited Projects and Messages
Project Management Toolkit
Dedicated Account Manager
On-premise Installation Available
Apps
Hive has a desktop and mobile app that are fully compatible with all devices.
Desktop App
The Hive desktop app is available for Windows and Mac. You can click on the link directly on the website to download the app. Setup only takes a few minutes. You'll need to create an account or sign in directly using Slack or Google. When you're all set up, you'll be able to get perks like:
Desktop notifications

Faster performance

Easy access to any documents or files
iOS and Android Apps
Hive also has a mobile app for both iOS and Android devices. Though some users have been complaining that the app's visualization of projects isn't optimal, it still enables doing just about everything that can be done on the desktop app, like send messages, add new tasks, check on a project, and share files. Hive continually updates and improves its mobile app for a smoother work experience.
Data Privacy
Hive is committed to customer security and that includes all messages, interactions, and files shared or stored within the system. The app and network are covered on several security fronts with methods like password and authentication steps, rate-limited attempts, expiring links, user request tracking, and across the board SSL security.
Hive hosting is ISO 27001 accredited with N+1 fault tolerance. Additionally, Hive uses restricted workspaces, so the workspace you're using isn't public or discoverable. The platform is not indexed by search engines either for further data security.

Hive Visit Site
Customer Service and Support
Phone: (866) 470-9133
Email: USA@hivehome.com
Online Form: Link
Live Chat: Yes
Hive customer support is available through live chat. It also has a help center, but it's not what you're thinking. Hive does have a tremendous library of articles that you can search, browse, and read for just about any question concerning the setup and usage of the app, but that's not the most impressive part. Hive's help center is internally linked, so if you're anywhere on the website and have a question about a particular feature or task, Hive has the phrase linked to the specific article or section in the help center that will answer your question. This saves you a tremendous amount of time searching through the archives.
Bottom Line
Hive is an awesome application if you're looking to get all of your team members on the same page. New to the industry, Hive does have some details to work out, like a better mobile experience, but the pros certainly outshine the cons. Hive offers advanced collaboration tools, like file sharing according to tasks and group chats so that everyone can join the conversation, as well as in-depth and real-time analytics, and a whole slew of views. Plus, with all those integrations, Hive is a big winner for any team.