Glip by RingCentral Visit Site
Overview
RingCentral Video at a Glance
Best for: Businesses that need a highly secure system for video meetings
Key use: Team collaboration through video meetings
Price: Free. Paid plans from $11.99 per user per month
Storage: Unlimited cloud storage but retention period varies by plan
Free trial: No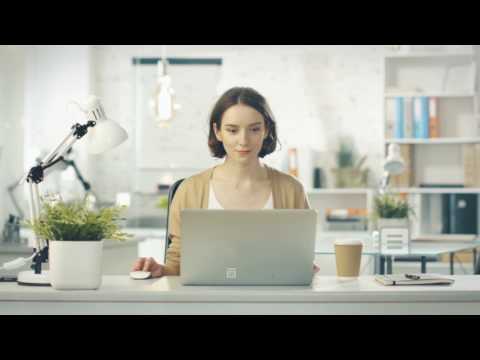 How RingCentral Glip Works
Features and Functionality
Project Management
RingCentral's features a variety of project management tools designed to help teams keep on track with key projects. If clarification or a meeting is needed, then a collaborative team video chat is just a couple of clicks away.
RingCentral's project management features include:
Messaging threads for internal and external groups. Keep all stakeholders in the loop!
Task checklists to assign tasks to colleagues and mark them as completed once done.
Integrations with other productivity and web applications including Mailchimp, Github, and Zapier.
File Sharing
For organizations that like to store their documents and spreadsheets in the cloud,RingCentral's integration with Google Drive will be a major selling point. After integrating with Google Drive, users can begin sharing resources in real time with colleagues.
Unlimited Guests
With RingCentral's video meetings, there are no limits as to how many guests can be added to each meeting. Company video collaboration meetings are possible.
Instant Team Meetings
RingCentral features a smooth integration between its project management and collaboration elements. For instance, users can form into groups based upon calendar appointments and then initiate a live video call meeting with all the same participants.
Collaboration Tools
Team Video Meetings
RingCentral Video is a full fledged real time video meeting collaboration tool that allows colleagues to meet online with audio and video feeds.
Unlimited Meetings
Nothing is more annoying than getting cut off after 40 minutes on a call. Whether you're meeting with friends or colleagues, users receive unlimited meetings. The good news is that this is available both with free and paid RingCentral Video plans.
High Quality Infrastructure
RingCentral is a leading provider of global cloud communications and collaboration tools for enterprises. The company provides all the carrier grade infrastructure that it brings to its worldwide base of VoIP customers. This means a more consistent and high quality video streaming experience.
Data Privacy
When you use RingCentral, the company retains a certain amount of data that you provide to them, including your email addresses, mailing address and phone numbers. This information is only used specifically for the reasons for which you provide it.
The company retains other data, including traffic data about your calls and chats, network monitoring data to keep an eye on security, log data to know where users access their service, cookies that are saved to your device, and call detail records. It will also keep a record of your emails with the company and your billing data for payment purposes.
RingCentral Glip App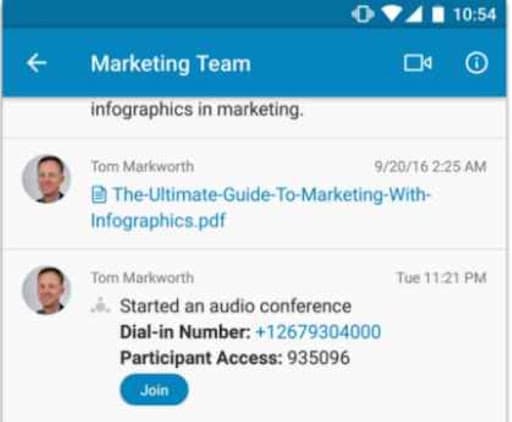 RingCentral has a desktop and mobile app for download. Users can download the mobile app by sending a download link to their phone from the website. Users are able to seamlessly switch between the desktop and mobile apps.
RingCentral's Android app is native built and has support for features including split screen support, enhanced search experience, and quick message retrieval. The iOS app supports scheduling and joining meetings with 1 click, superior team messaging, and centralized portal-based access.
RingCentral Glip Customer Support
RingCentral runs a lengthy FAQ section on its website where you can get all types of information about the company and its other products. If you can't find an answer there, you also have the following options:
Open a case: The company has a form online where you can fill out a query about a problem you have or an issue you'd like resolved.
Online chat: The company has a chat option where you can get answers to your questions online, 24/7.
Ask the community: The company hosts a forum of customers and product experts who can help you with your query.
Pick up the phone: You can reach RingCentral in the US at:
1-888-898-4591
+1-925-301-8209
RingCentral Glip Pricing
Pricing & Special Offers
RingCentral users can choose between 2 tiers: Free and Pro. Pro supports up to 200 participants and comes with a number of business integrations. Additionally, there's single sign-on support and users can gain access to advanced analytics.
$11.99 per month (paid annually)
Cloud recording retention period
Additional collaboration and messaging features that Pro users receive include:
User management
Message data retention policy
Message data export
Admin file sharing controls
RingCentral Glip Alternatives
How RingCentral Glip Compares to Other Project Managers
Dedicated account manager
Mailchimp, Github, Zapier
Slack, GSuite, Trello, Asana, Jira, Dropbox and more
BigCommerce, Magento, WooCommerce, and dozens more
With Pro and Enterprise plans
Bottom Line
RingCentral Video is a real time chat and collaboration tool that takes advantage of its highly performant infrastructure.
Those on the Pro plan can hold meetings that support up to 200 participants with unlimited duration. For those that need participation and project management features, this is a good choice.