Easy Projects Visit Site
Overview
Features and Functionality
Easy Projects comes with project management, task management, and resource management features, designed to keep team members focused on their tasks, as well as make them aware of the team's larger goal. Easy Projects is designed for desktop and mobile use, with native iOS and Android apps.
There are 2 Easy Projects plans: Pro and Enterprise. Pro comes with a variety of project and task management features, while Enterprise includes additional administrative features.
Pro features include:
Unlimited projects, tasks, custom forms, and guest users
Custom fields, portfolios, storage space (amount differs by plan)
Dependencies, milestones, baseline, time tracking
Interactive Gantt
Kanban board
Resource management
Reports and dashboards
Vacation
Calendar
Native apps for iOS and Android
Free group training (2 hours)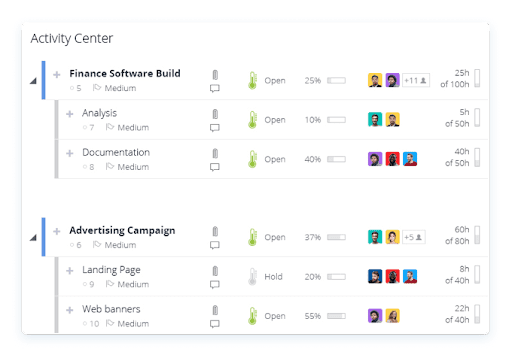 Enterprise comes with additional features, including:
Resource loading simulation
Critical path
Time logs approval and lockdown
SAML single sign-on
Enhanced security
Payroll/billings report
Optional add-ons for both plans include business intelligence analytics and MS Outlook integration. Training and implementation is required for customers with 10 or more users.
Whenever a new or upgraded version of Easy Projects is released, your account is automatically updated at no cost.
Collaboration tools
Easy Projects aims to make project collaboration simple and hassle free. Team messages and discussions are saved and can be easily accessed and turned into action items at any time. You can send messages to your team through the "Activity Center" or through a details window. If you wish, you can get an email notification about new messages so you don't miss anything important.
Any file you upload to team discussions, will immediately become available for download for other members. When uploading images to discussions, you are able to get a sneak peak of your files using the "preview." All files in each team discussion can be viewed and accessed at any time through "audit trail."
Easy Projects also has a feature that allows you to "request approval" from another team member. He or she will then be notified that you're waiting for their approval to continue working on a particular project. To grant approval to other team members, simply click the "Approve" button.
Data Privacy
Easy Project's servers are located in secure data centers in the USA and Canada and are continuously upgraded with cyber-security mechanisms. Additionally, all of the system's passwords are encrypted, and its data is backed up on a daily basis. Password strength and expiration policies, encrypted HTTPS traffic, user-lockout, private cloud, data encryption at rest, as well as Azure AD integration, are tools and options that are available to you so you can ensure that your data is safe.
Ease of Use
Easy projects is a fairly intuitive platform that can be used easily by managers and team members alike. Of course, to get the most out of the product it's worthwhile to take advantage of the free group training that's offered for Pro and Enterprise plans alike. Additionally, managers might want more personalized support and training to ensure that they're getting the most out of the software.
Easy Projects App
In addition to its desktop version, Easy Projects has iOS and Android apps. Through these mobile apps you can manage tasks, be notified when you're assigned a new task, use a time tracking feature for meetings (or anything else essentially), collaborate and communicate with other team members, add new projects, view an in-app notification feed, as well as access Easy Project's support.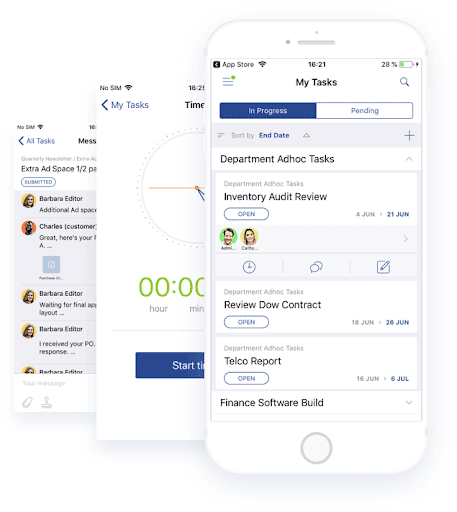 Easy Projects Customer Support
Customer support can be reached by email, live chat, phone, and remote access support. You can also browse Easy Projects' Resources pages which include articles and videos to help you get the most out of your project management tools.
Email: info@easyprojects.net
Phone: 1-888-261-9878
Easy Projects Pricing & Special Offers
When it comes to pricing, Easy Projects falls somewhere on the higher end of the spectrum when compared to similar products. For example, Asana's Premium plan costs $9.99 per user, per month, while ProofHub's Essential plan costs $45/month for unlimited users when billed annually. Since these project management tools are fairly similar it's up to you to decide if Easy Projects is worth the extra cost.

Easy Projects Visit Site
Bottom Line
Easy Projects is a straightforward, fairly easy to use project management software tool that comes with a variety of features to help make project completion successful, including reports, dashboards, calendars, Kanban boards, Gantt charts, and much more. Easy Projects can be used for teams of all sizes and each of its 2 plans comes with 2 free hours of training.