In a Nutshell
Are you looking for a better way to manage your content production? If so, Content Cal might be the tool for you. With tools for content production, analytics, and collaboration, ContentCal contains everything efficient content teams need to better plan their workflow.
pros
Central writing repository for multiple authors
Strict workflow control
Makes repurposing content easy
cons
Lots of features to come to learn
Reporting feature lacks some detail

ContentCal Visit Site
ContentCal at a Glance
Best for: Users looking for a way to scale and standardize their content production
Key use: Content marketing teams, particularly in medium to large companies
Price: $17 per month (Pro) - $47 per month (Company)
Storage: Unlimited
Free trial: 14 days
Features and Functionality
Content Hub
Picture this. It's time to work on your content marketing collateral. You have to go leafing through your Google Drive folders to find something that might work. Wouldn't it be a lot easier if you had a nice looking library with a button to quickly re-use posts? With Content Hub that bright future can be your reality.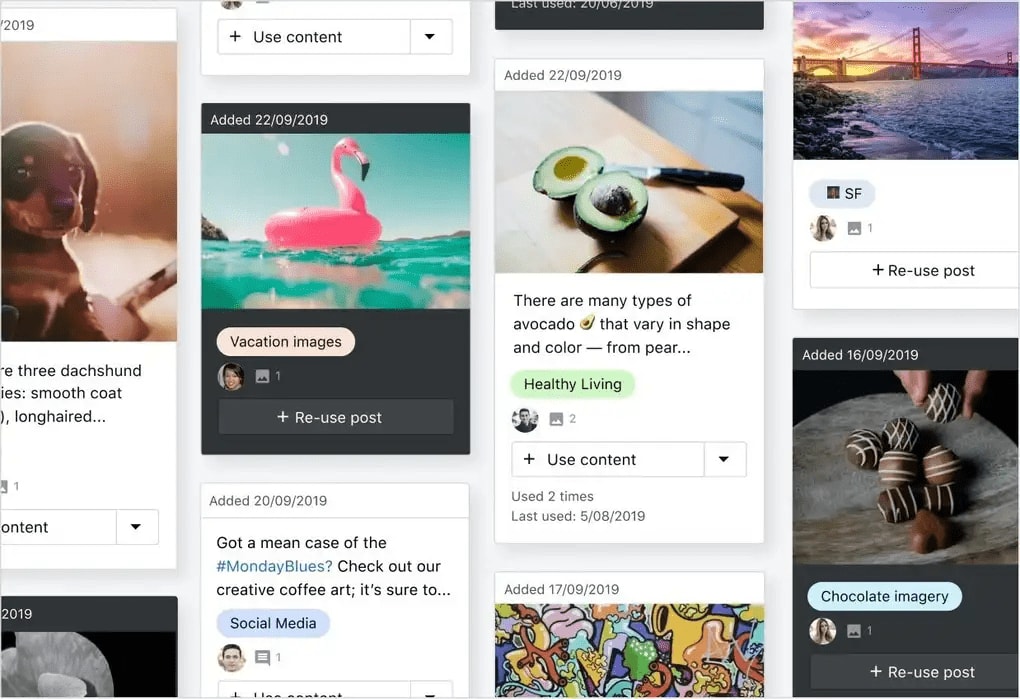 Content Hub makes it easy to reuse content. Pieces in the library are presented in an attractive layout replete with lots of appealing thumbnails.
Web Clipper
Looking for an easy way to integrate some of the best content from the internet into your writing? ContentCal's library contains a web clipper tool that integrates with browsers in order to highlight and import content into the central dashboard.
Content Editor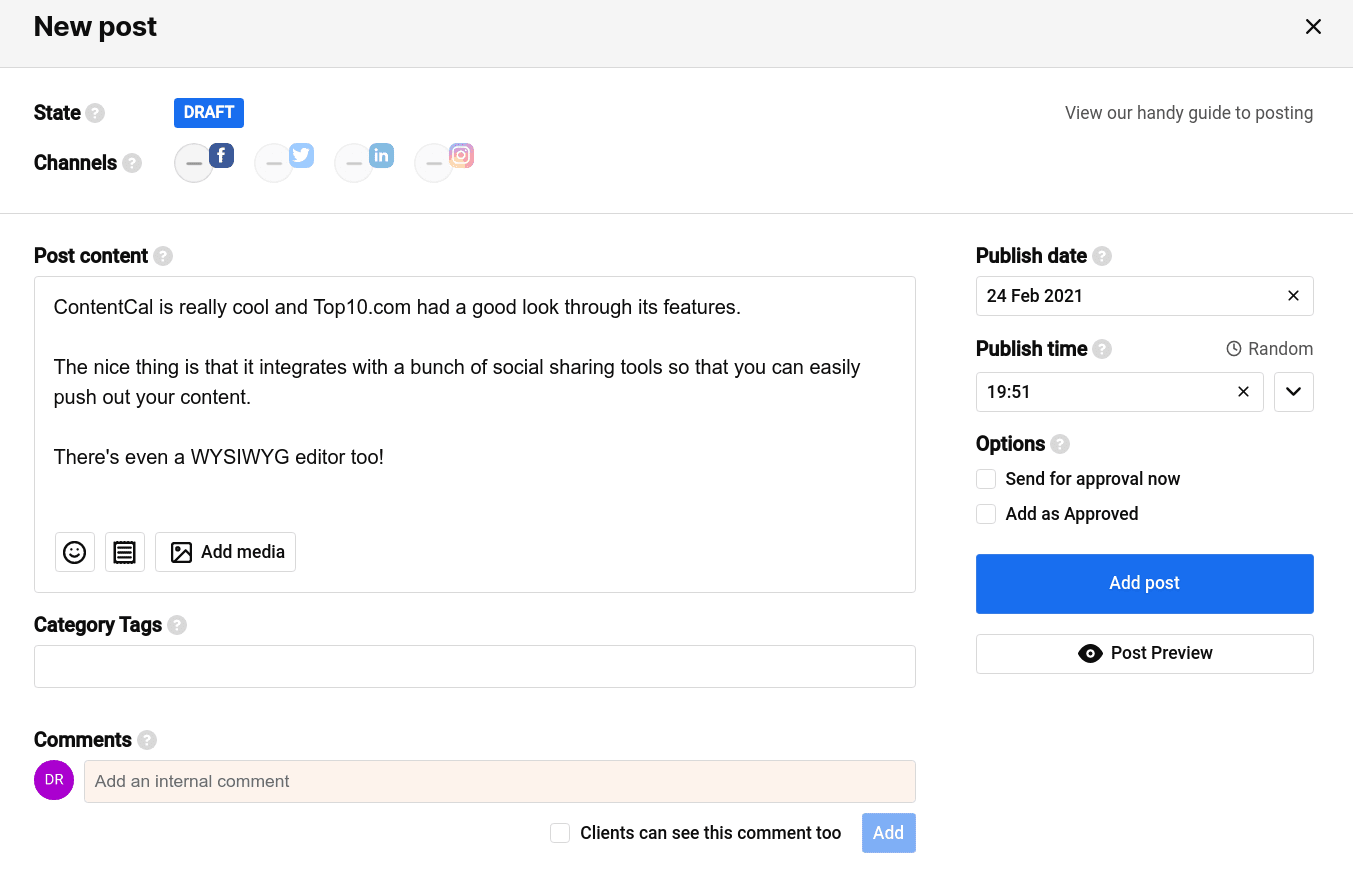 Keeping content in one place is vital if you're a content marketing team managing production across multiple channels. With ContentCall there's a nice what-you-see-is-what-you-get (WYSIWYG) editor that would give any CMS a run for its money. The attractive content editor features all the tools required to create great content — all without having to load up an external editor or program:
Category tags
Publication time editor
Post preview mode
Option to toggle whether clients can see comments or only the internal editing team
Approval Workflows
If you have standardized workflows for signing off on new content, these can be integrated directly into ContentCal. Approval workflows ensure that the proper sign-offs are always worked through when approving content for clients. This feature is particularly valuable for agencies that need to ensure that a standard workflow is completed internally before sending work to clients.
Campaigns
Running various marketing campaigns? You can tag content as belonging to a specific campaign, assign notes, and log ideas and organize pieces of content into folders.
Collaboration Tools
ContentCal makes it easy for teams to build out rich approval workflows that require the input from multiple team members. Posts can be color-coded according to their status in the internal workflow.
Drag And Drop Content Calendar
Planning out your content on a calendar can make it much easier to save and strategically plan your content, particularly when working with multiple team members. With ContentCal you can drag and drop content over a daily calendar view.
For content managers that want to drill down into exactly what's on the calendar, there's a post state filtering option that lets users see which posts are in draft, pending approval, approved, published, or which have failed validation. Users can also filter by channel and content creator.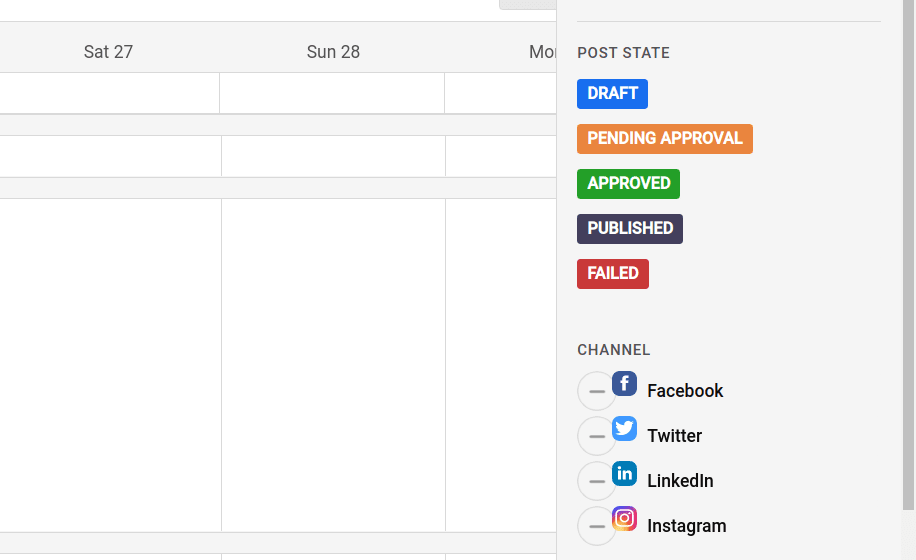 Plans and Pricing
ContentCal has a plan to support both individual content creators — perfect for those scaling a presence on social media. The Company plan supports 2 users and 2 editorial calendars as well as 8 social profiles and unlimited scheduled posts.
Apps
Although Content Cal doesn't have any smartphone apps — it's designed to be accessed from a web interface — it does integrate with a number of other applications. More importantly, it integrates with Zapier. So if you want to connect ContentCal with other cloud-hosted online services, then making the required integrations is as easy as connecting services in Zapier.
Data Privacy
Thinking about migrating your company's content marketing to ContentCal? You might have concerns about how secure your company's content marketing data is going to be in the cloud. Content Cal's current privacy policy can be accessed via its website. According to that information, any payment transactions to the company are processed via secure servers located in the Republic of Ireland. TLS encrypts the connection.
Customer Service and Support
Need to get in touch with support resources? ContentCal maintains an online support infrastructure that contains a substantial amount of self service material. Content Cal Academy contains lots of tutorials designed to help users make the most out of the platform.
Recent topics have included:
5 steps to mastering ContentCal
Small business success
Practical B2B marketing
Those who need personalized support can reach out to the team too. They are most responsive during 08:00 to 18:00 BST M-F.


ContentCal Visit Site
How ContentCal Performs
Dedicated account manager
BigCommerce, Magento, WooCommerce, and dozens more
Flick, integrated personal calendar
Pro and Enterprise plans only
Bottom Line
Signing up for ContentCal is easy as setting up a profile on the website and then setting up a content calendar. Once you're that far in, you just need to start creating content and filling up slots.