Backlog Visit Site
Overview
Backlog at a Glance
Best for: Technology companies that need a project management tool
Key use: Collaboration, codebase integration, and task management
Price: Free tier. Paid plans range from $35/month (Starter) to $175/month (Premium)
Storage: From 1GB (Starter) to 100 GB (Premium)
Free trial: 30-day free trial
How Backlog Works
Features and Functionality
Kanban-Style Project Boards

Backlog lets users group tasks into Kanban style "boards" in order to track progress toward completion. Users can configure each list with a common name such as "Open," "In Progress," and "Completed" and drag tasks between the lists as the status changes. This allows team members to get a quick visual overview of where each project stands within the overall development spring.
Bug Tracking
Backlog contains a separate module for identifying and tracking bugs. Resolution can then be handled collaboratively whether the bugs are flagged internally or reported by a member of the public (Backlog supports a number of integrations and also has an API integration which can be used to connect with an external bug tracker).
The bug tracker supports full cycle management from capture through to resolution and release. Custom fields can be added in order to label and aggregate commonly reported bugs.
Subtask Management
The easiest way to achieve a difficult project is to break the job down into smaller pieces. With Backlog, users can create subtasks within each task. The hierarchy can also be presented graphically and divided into checklists and regular tasks.
Gantt Charts
Gantt Charts overlap tasks against a calendar view in order to provide a visual overview of project progress. Project managers can also use them to map out critical paths and identify task dependencies that might make the difference between meeting a deadline and exceeding it. Backlog brings this feature to the development world. Users can choose to map a sprint on a Gantt chart and quickly see where each task stands in the development cycle and what's dependent upon what.
Tiered Permissions
Backlog supports three types of users:
Administrators
Regular members
Guests
Guests have limited access to the Space and can view their account details and the team they belong to. Members can be regular non-administrative users or be able to act as an admin and invite other members. Finally, users can act as Administrators and configure all settings related to the space—including managing user settings and assigning users to different teams.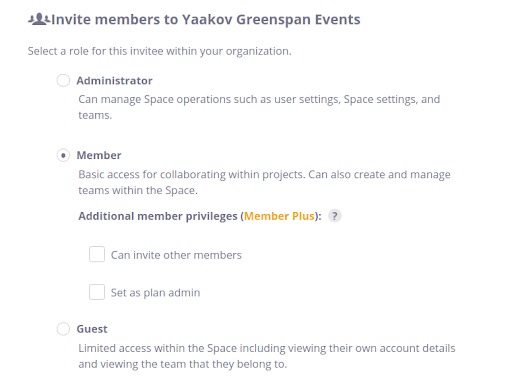 Collaboration Tools
Backlog puts collaboration at the core of its user experience. Each user can upload a profile photo and description of themselves (useful for larger teams where team members may not have face-to-face relationships).
Users are able to tag one another on tasks and create a conversation thread which can be accessed by all members of the team.
Shared Files

Users are also able to share files across the organization. After uploading a file to an issue, users can click on the 'Link Shared File' button to call up a link that can be used to share the resource across the space. If an individual user receives a resource share or is mentioned they will receive a notification to alert them to the fact that they have been tagged.
Data Privacy
Of course, putting your entire development team's projects on the cloud might seem like a big ask for privacy-sensitive team leads. Fortunately, Backlog takes user data very seriously:
Professional hosting: Backlog is hosted in an Amazon Web Services (AWS) data center. AWS offers enormous built-in redundancy, meaning that users have extremely little chance of ever losing their data.
Data protection certifications: Backlog has gone above and beyond in meeting some of the industry's toughest data protection certifications. It is compliant with ISO 27001, ISO 27017, and ISO 27018.
Backlog App
Desktop
Backlog's most impressive user interface is undoubtedly its web based app where users can access all collaboration and project tracking functionalities.
Mobile
Backlog also provides mobile apps for Android and iOS. These allow users access to the same set of functionalities in the website version. But because charting is such an important part of the software, users have reported that they find it difficult to call up some of the charts and inspect them in adequate resolution. For updating project tasks on the go, the mobile apps suffice. But to derive maximum benefit from the solution, we recommend sticking to the desktop UI as much as possible.
Backlog Customer Support
Support can be accessed via the Backlog Help Center which includes a knowledge base and video tutorials designed to steer users through all steps involved in making the most out of the tool.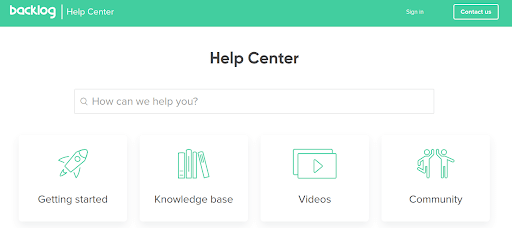 The Help Center features both article style tutorials as well as video content.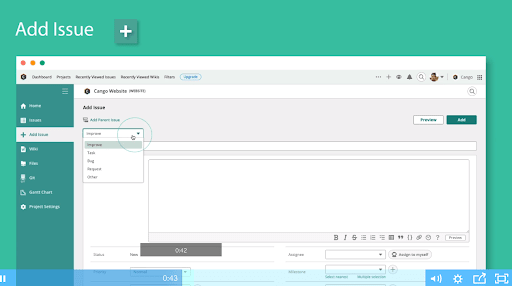 For those that require more personalized support, users can reach out via a ticket-based email support system or tweet the team on Twitter to initiate a support conversation over social media.
Backlog Pricing
Pricing & Special Offers
Backlog includes a limited free tier that supports only one user and prevents access to critical features such as Gantt chart development. Therefore, the vast majority of users choose one of the 3 paid plans which are: Starter, Standard, and Premium. All paid plans can be accessed with a 30-day free trial.
Standard includes all Starter features and adds Gantt charting. It can also support up to 100 projects and provides 30 GB of total storage. The top Premium tier features unlimited users and projects and offers a generous 100GB of total storage. Importantly, it also supports custom fields.
Backlog Alternatives
How Backlog Compares to Other Project Managers
Dedicated account manager
Zoho CRM
Zoho People
Zoho Desk

Backlog Visit Site
Bottom Line
For those leading projects within technical environments, Backlog is one of the best tools on the market. It features collaboration tools, integrates with the codebase and handles version control, and is backed by comprehensive support.