There are quite a few project management tools on the market, and choosing one that offers the features you need—while remaining user-friendly—should be your goal. In order to ensure that you make the best choice for your business, let's break down which key factors you should take into consideration when choosing your project management software.
Ease of Use
Signing up for a project management tool is just the first step of the process. The second step, which is arguably more important, is getting your employees to buy in and use it. People are creatures of habit, and even if they know that managing projects through email is inefficient, it will be difficult for them to move to a project management tool if it is overly complicated.
Businesses should search for a tool that allows employees to ease their way in with simple task management, and scale up gradually to more complex functions. Monday.com, for example, features grids, called Boards, to which you can add Pulses, or new tasks, and make customizable columns to include whichever information you'd like about the task—like who initiated it, when the due date is, and what the status is.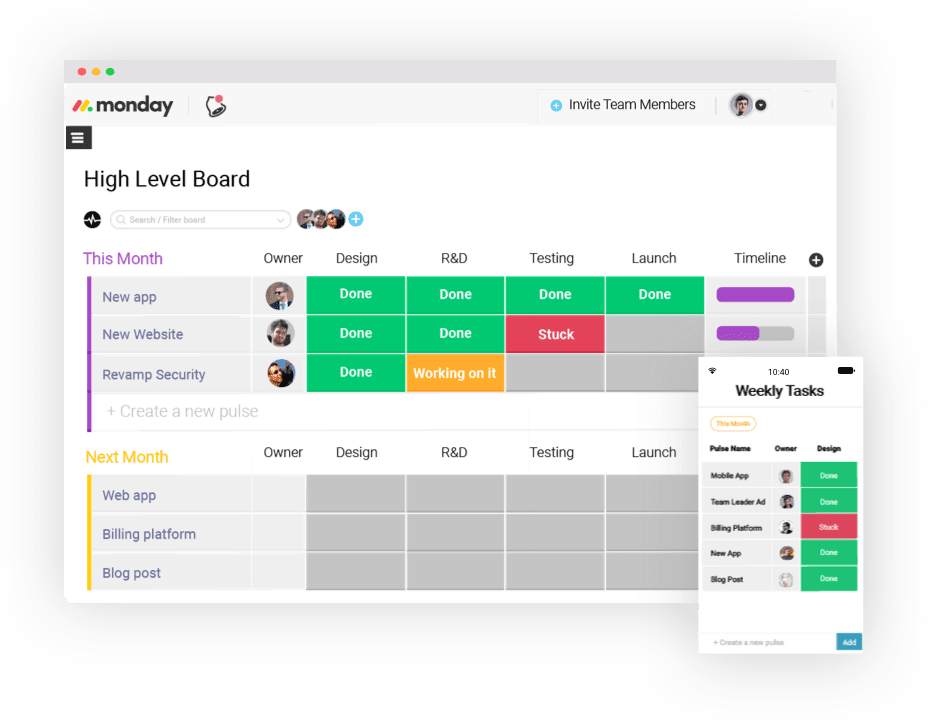 If you click on the task it opens up, allowing users to write updates, place links to related documents, and tag other collaborators. Multiple employees can make notations on Pulses and add relevant files, so it can take the place of unwieldy and hard-to-follow email chains. It's as easy to use and as customizable as an Excel or Google spreadsheet, but because of the colorful and modern user interface, it's easier to understand.
Team Collaboration and Communication Tools
Projects generally involve multiple employees working on different tasks, many of which are interdependent. Therefore, good communication is an essential part of preventing bottlenecks and keeping projects on schedule.
Most of the top project management software solutions include similar team collaboration features, such as the ability for multiple employees to comment on tasks, update their status, attach files such as documents and photos to tasks, and notify relevant employees of important developments by mentioning them with the @ symbol attached to their name (they'll be notified by email). These features go a long way toward making things like clumsy email chains and daily sync meetings obsolete.
However, if your projects require real-time collaboration, you may want to consider a project management tool with a built in chat function, such as Zoho Projects. This is particularly useful for teams that carry out projects with remote employees or in multiple locations. In fact, employees who go on the road can stay updated with current project status and communicate from Zoho's mobile apps for iPhone and Android.
Time Management and Tracking
The project management tool you choose should enable your employees and your business to reach maximum time efficiency. Easy Projects, for example, features a resource management module that shows the workload for each team member on a grid, to give you an idea if certain employees are overloaded or under-utilized. In addition to telling you whether an employee is at 35%, 75%, or 100% capacity, the software takes this information and runs a simulation to see which team would be optimal for a given project, given current workload, skills and conflicts with other projects.
Another way of helping employees meet their maximum efficiency is by using the advanced time tracking tools that many project management software include. The aforementioned Zoho Projects allows employees to time how long they're working on a project—even when they're offline on their mobile phones—and it integrates with Zoho's invoicing app for client billing.

Paymo offers similar time tracking capabilities, plus a few more that you won't find in most project management tools. The tool features automatic time tracking, which monitors how long you use various apps, documents, Facebook or YouTube. You don't have to start or stop the timer, it will change automatically when you switch tasks. You can link time spent on certain apps to corresponding projects. This allows you to see how much time was spent on a given project for the purposes of billing and to monitor efficiency.
Visual Representation of Projects and Their Progress
Being able to change the way you view your tasks and projects can help you see where you may be falling behind or are in need of reallocating resources. Most project management suites offer multiple views beyond the standard list view which is generally the default setting.
For instance, Asana, which describes itself as a work management platform, offers the standard list view, a Kanban board view, a Timeline or Gantt Chart view, and a calendar view. Why do you need so many different views? Each one allows you to visualize your tasks in a different way. The list view is a good way to see tasks in order of priority, the Kanban view lets you drag-and-drop tasks through 4 customizable stages as they progress, the Timeline view lets you see how tasks overlap, and automatically updates dependent tasks when a requisite task is delayed, and the calendar view lets you see a bird's-eye view of how your staff's week looks. In some cases you'll have to upgrade to a more expensive plan to access certain views, so you must consider which configurations are actually necessary for your type of projects.
Pricing
As with any business decision, price is a main factor to consider when choosing a project management tool. If you're a freelancer, who needs very limited task management, then you may be able to suffice with Paymo's free plan. But if you're a business with multiple employees, you can expect to pay a minimum of $10 per user per month for a basic plan, and more for a plan that's suited to more complex needs.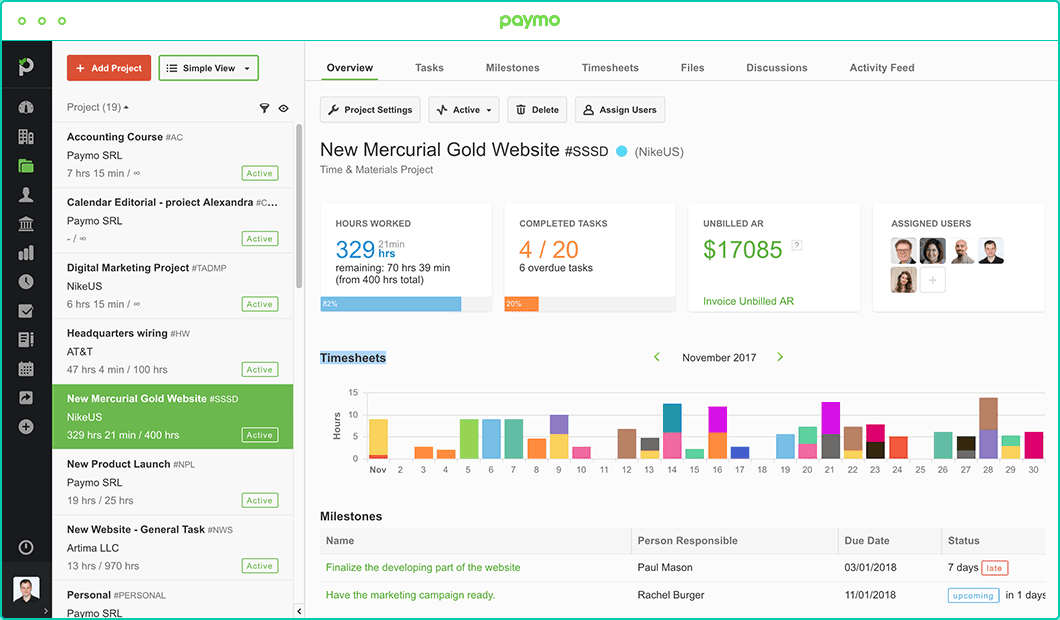 This is why it's imperative to decide which features you'll actually use, and which may not be worth paying extra for. The best way to do this, and to see which interface you like the best, is to start with a free trial. This will give you 10-14 days to see how easy to use a software is, which features are useful, and which plan gives you the minimum you need to manage your projects effectively.
Start Managing Efficient Projects that Succeed
Having all the information about your company's projects in one place that every key stakeholder has access to is a revolutionary way to stay efficient.
From a single, visually-pleasing and collaborative board you can assign tasks, set due dates, track progress, attach relevant files, enter status updates, track time, run reports and get a bird's eye view of a project's progress.
You may need all of these functions, or perhaps only a few of them, and this will determine which project management tool you choose, and how advanced a plan you sign up for. All of the major project management software offers free trials which are essential to making the right decision for your business.
See our in-depth reviews of the top project management software for more information.