In a Nutshell
Lightspeed Restaurant is an all-in-one POS for restaurants with many features beyond order-taking and payment. It integrates with apps like Uber Eats and DoorDash for delivery, supports inventory to help you manage your kitchen, and offers tools for managing your restaurant's floor plan. Lightspeed also has a detailed analytics dashboard and offers 24/7 customer support. Overall, Lightspeed offers excellent value for fast-growing restaurants.
pros
Highly customizable for any restaurant
Integrates with delivery apps
Allows you to monitor inventory in your kitchen
cons
Can be overwhelming for small restaurants
Many features require paid add-ons

Lightspeed Restaurant Visit Site
Ideal For
Restaurants looking to expand into online ordering and delivery

Restaurants that want to set up loyalty programs

Large restaurants that need advanced table management tools
Why Go With Lightspeed Restaurant
Lightspeed Restaurant is a highly customizable, all-in-one solution for fast-growing restaurants. It's ideally suited for restaurants that are looking to take their business to the next level, whether that means expanding to multiple locations, offering online ordering and delivery, or streamlining operations at an existing location.
Lightspeed Restaurant is packed with features including integrated payment processing, inventory management, advanced analytics, and integrations for accounting software and delivery apps. The platform enables you to customize your menus and table layouts, relay information between servers and the kitchen with a tap, and set up loyalty programs to attract repeat customers.
On top of all that, Lightspeed Restaurant comes with 24/7 customer support. We particularly like that Lightspeed provides onboarding support for new customers. This makes it easier to get over the platform's learning curve and get the most out of your POS.
What's On Offer
QR-code based ordering and payments at tables

Support for online ordering, takeout, and delivery

Advanced analytics dashboard to track profits and employees

Automated inventory management for your ingredients

Accounting integrations for Quickbooks, Xero, and Sage

Support for customer loyalty programs and gift cards

Integrated kitchen display system
Ease of Use
Lightspeed Restaurant has a somewhat steep learning curve, which is to be expected given how customizable this POS is. It takes some time to configure the POS for your restaurant's layout, create your first menu, and assign login credentials for all of your employees. The good news is that Lightspeed provides free one-on-one onboarding support to walk you through this process if you need it.
Once you get past the initial setup, Lightspeed is very user-friendly. The POS is cloud-based and works even if you're offline for several hours. You can update your menus, table layouts, and more right from your browser or smartphone (iOS and Android supported). Lightspeed also offers role-based permissions, so your restaurant managers can track inventory and run analytics for the locations they're in charge of.
You can request a quote from Lightspeed online and try out the platform's features for free with a 14-day trial. To get a quote from Lightspeed or to sign up for a trial, you'll need to provide:
Your name, email, and phone number

Your business name

The type of restaurant you own

How many locations you have
What's Unique About Lightspeed Restaurant?
One of the most unique aspects of Lightspeed Restaurant is the platform's customizability. With this POS restaurant owners can manage multiple locations—each with its own menus, table layouts, server staff, and more. Restaurant managers can update menus and table layouts at any time, as well as monitor what dishes are ordered most and what tables are delivering the highest revenue.
Lightspeed Restaurant also stands out for its omnichannel ordering support. The POS enables a wide variety of ordering modes.
Order entry by servers

QR code ordering at the table

Online ordering

Advance orders (hours or days ahead of time)
Lightspeed also supports delivery through integrations with Uber Eats, Skip The Dishes, and DoorDash. Integration with OpenTable enables customers to reserve tables ahead of time.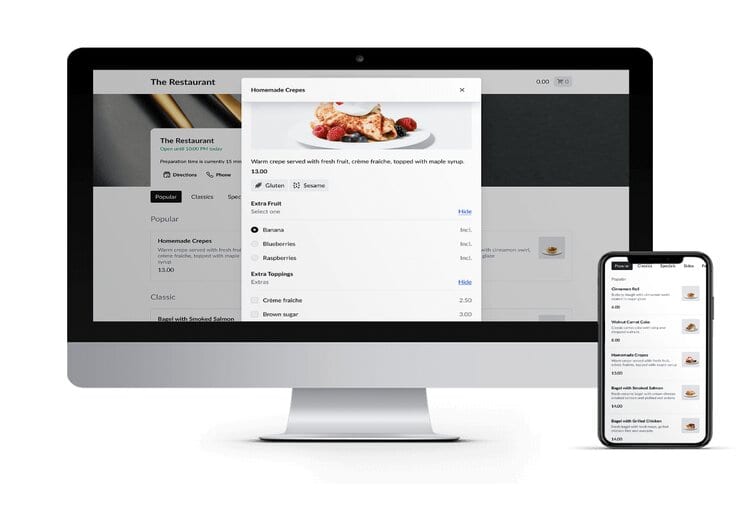 In addition, Lightspeed Restaurant offers excellent customer experiences. Customers can not only see the menu by scanning a QR code, but they can also use the same QR code to view and pay their bills whenever they're finished eating. Lightspeed's interface also makes it easy for customers to split bills.
Another way in which Lightspeed Restaurant makes it easy to run a restaurant is by offering integrated payments. Lightspeed Payments charges a flat fee of 2.6% + $0.10 for every transaction. Alternatively, you can process payments through:
There are no monthly payment limits with Lightspeed Restaurant.
Lightspeed has built-in tools for creating custom loyalty programs and managing your restaurant's inventory. The inventory management tools are particularly useful since you can cut down on costly food waste and get low stock alerts before you run out of key ingredients. Lightspeed also offers a wide variety of additional integrations for accounting software, employee scheduling software, payroll processing, and marketing.
Restaurant owners and managers can also use Lightspeed to get insight into their restaurant's operations. The Lightspeed Restaurant analytics dashboard offers information about how each item on your menu is performing and which members of your waitstaff are producing the most revenue. Lightspeed also creates a profile for every credit card that's swiped, enabling you to track your repeat customers and see what they're ordering each time they visit.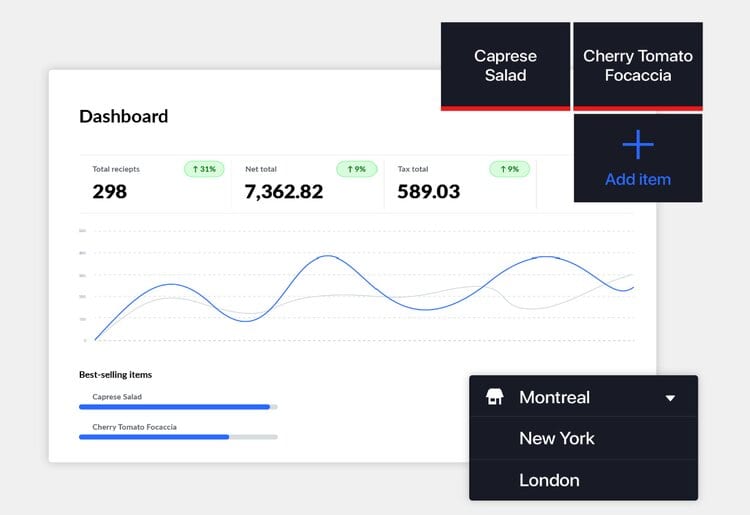 Customer Support
Lightspeed offers 24/7 customer support by phone, email, and text message. We found the company's support to be very responsive.
Lightspeed's website has detailed guides about the software and a community forum where you can get help from other restaurant owners. In addition, Lightspeed provides free onboarding support for all new customers, including a live question and answer session for your employees with a Lightspeed representative.
Pricing
Lightspeed offers 4 pricing plans: Essentials, Plus, Pro, and Enterprise. The Essentials plan costs $39 per month and offers all of Lightspeed's basic features, such as payment processing, table management, and analytics. Loyalty programs, gift cards, and advanced inventory require paid add-ons.
The Plus plan costs $119 per month and includes loyalty programs and gift cards. The Pro plan costs $289 per month and has the addition of advanced inventory management tools. The Enterprise plan includes personalized software and hardware—pricing is by quote only.
All Lightspeed plans include 1 POS device. You can purchase additional POS tablets for $39 per month. Lightspeed also offers accessories like a receipt printer, kitchen printer, or you bring your own accessory hardware.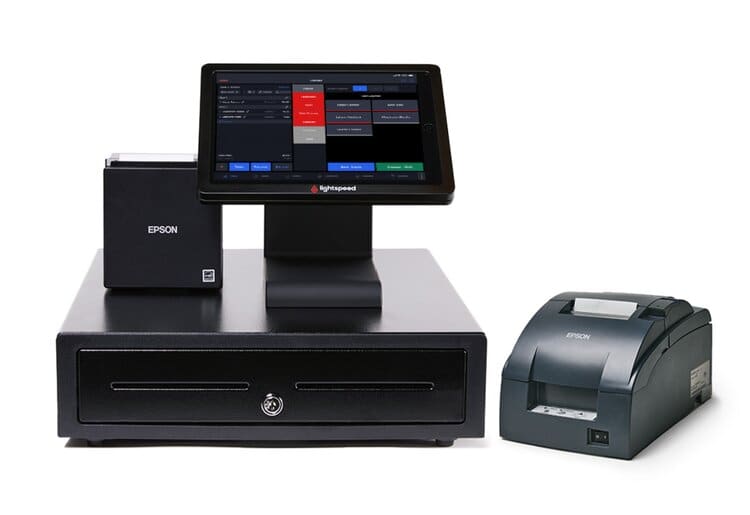 Lightspeed charges 2.6% + $0.10 per transaction for processing payments.
Features such as delivery app integration, accounting software integration, and QR code ordering require paid add-ons. Pricing for these add-ons is by quote only.
Lightspeed offers a 14-day trial, which you can activate by signing up on the company's website. You must enter your name, company name, email address, and phone number, but there is no credit card required. Your information is protected by SSL encryption.
Contract Terms
Lightspeed Restaurant offers monthly pricing with no contracts. You may be able to get a lower price by signing up for an annual contract, although this varies depending on your restaurant's needs. You can cancel a month-to-month Lightspeed subscription at any time with no penalties.

Lightspeed Restaurant Visit Site
About Lightspeed
Lightspeed was founded in 2005 in Montreal, Canada by Dax DaSilva—who holds the role of the company's CEO. Lightspeed now serves more than 150,000 customers in over 100 countries. Lightspeed has offices in Canada, the US, the UK, Switzerland, Germany, France, The Netherlands, Belgium, Australia, and New Zealand.
Lightspeed is publicly traded on the New York Stock Exchange and the Toronto Stock Exchange.
Physical Address
700 St-Antoine Est, Suite 300, Montreal, Quebec, Canada, H2Y 1A