In a Nutshell
If you're looking to get lightning-fast 5G connectivity for a price that's not going to break the budget, then Xfinity Mobile can help you save up to $400 per year, with shared data starting at $15 a month and the lowest price for 1 line of Unlimited. It's important to mention that Xfinity Mobile services are only available for those with Comcast Xfinity home internet.
pros
Bring-your-own-phone supported
No term contracts
Nationwide 5G coverage
cons
Data caps
Throttling for users that exceed data cap

Xfinity Mobile Visit Site
Xfinity Mobile at a Glance
Best for: Cellphone users that want a flexible solution for getting 5G
Price: From $15 to $65 for data plans
Plan: Per gigabyte data plans and an unlimited plan
Network: MVNO, Network provided by Comcast
Use your own phone: Yes
What Services and Features Does Xfinity Mobile Offer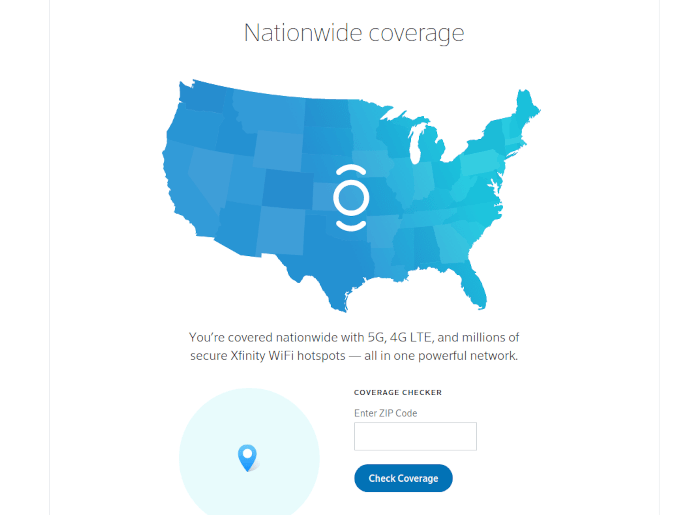 Xfinity's main draw is its Unlimited 5G plan which promises users 5G connectivity wherever it is available across the United States (US).
Xfinity is a virtual mobile network operator (MVNO) that provides connectivity to Comcast's (physical) infrastructure. So although Xfinity doesn't operate a network of its own, users should be able to enjoy the same quality of service as a Comcast user. This means that wherever Comcast has provisioned 5G it should be available to Xfinity Mobile subscribers.
For those that want to check in advance whether coverage is available in their area, Xfinity has a network coverage checker lookup tool. Users just need to enter their zip code in order to see whether 5G reception is available in that locality.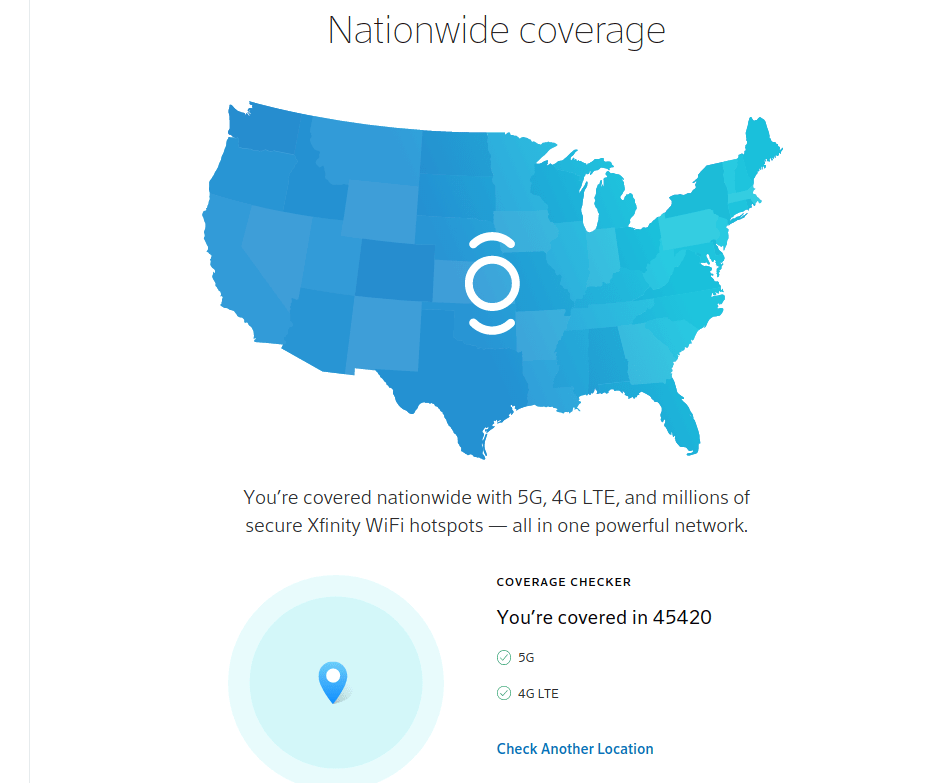 Prices, Plans and Value for Money
Xfinity Mobile offers both per gigabyte pricing ("per gig") as well as unlimited data plans. The per gig pricing is tiered according to the number of gigabytes of data provided. Those who are on the plans don't have to worry about sticking rigidly to their limit. Additional data is billed at $15 per gigabyte and users are able to easily switch between the metered and unlimited plans.
Of course, unlimited data rarely truly means "totally unlimited." Comcast has provided an Acceptable Use Policy For Xfinity Internet which is posted on the Xfinity site. That policy includes two important clauses:
"High speed bandwidth and network resources are not unlimited."
"The company uses reasonable network management practices that are consistent with industry standards."
The unlimited plan offers the lowest per-line cost for 5G coverage of all service providers for plans with 4 lines, reducing the cost per line from $45 a month to just $30 a month. That means the more lines you add, the more you save, making this plan a great option for larger families.
By The Gig pricing:
There are some other important differences between the plans:
For those on the unlimited plan, the data allowance is per line. For those on the By The Gig plan, it's split between all their subscriptions.
On the By The Gig plan, the video streaming resolution is high definition (HD) but for unlimited customers, it's reduced to standard definition (SD).
Activation Process
Users have two means of getting activated on the network:
They can bring their own devices. For this, users just need to sign up for a package with Infinity and verify that their phone is compatible with the network. Customer support can assist with this process.
Users can buy a device from Xfinity and have it shipped. Such devices are pre-compatible and guaranteed to work on the network.
Selection of Phones Available
Bring Your Own Phone (BYOD)
Xfinity Mobile provides users with flexibility in terms of how they wish to engage with the network. With the Bring Your Phone option (also called Bring Your Own Device, BYOD) users can keep their existing devices and port them straight onto the network. The option works for most iPhone, Galaxy and Pixel devices. Additionally, the company operates an online store that allows users to buy a device that is guaranteed to be compatible with the network. Users can select from phones by:
Apple
Google
LG
Motorola
Samsung
Xfinity Mobile Call and Text Performance
The By The Gig plan includes higher quality mobile cellular services during periods of peak network traffic.
Those on the Unlimited subscription get HD Pass which offers a similar performance boost even when the network is crowded with subscriber traffic.
Xfinity Mobile Data Speeds
Xfinity gives users access to 5G nationwide wherever it is available and operates an online checker where users can see whether their devices are compatible with the new network technology.
As a MVNO for Comcast, Xfinity operates the network that RootMetrics named the highest-ranked in its 1H 2020 US Report.
5G can provide users with speeds that are up to 20 times higher than 4G network performance.
Xfinity Mobile Customer Service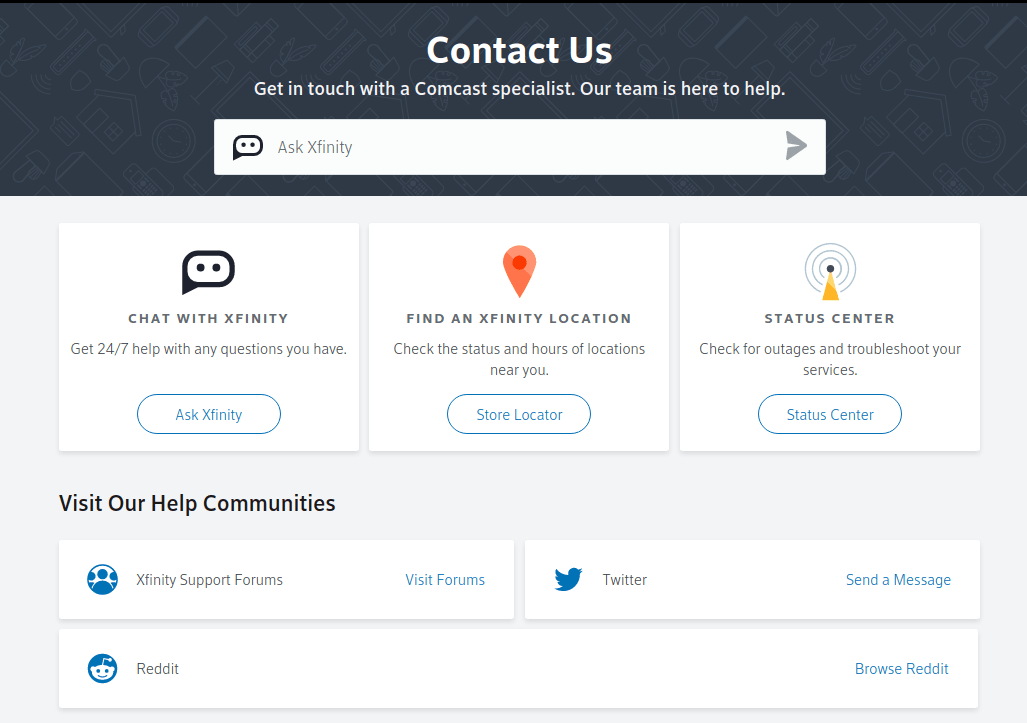 Xfinity customer support is provided by Comcast who operates a status center that informs users of outages as well as a 24/7 chat facility and social media support over both Reddit and Twitter.
Between the personalized support and the community forums, users should be able to get any network or connectivity issues they might be experiencing resolved expeditiously.
What People Say About Xfinity Mobile
"Very reliable after bad experience with a competitor. I could never get tech support. Now no problems at all."
Donald from Sterling Heights Michigan (via Consumer Affairs)
"You pay for what you use, and though we don't ever use that much, the "Unlimited" plan is Cheaper than all the others."
Alva from West Grove, PA (via Consumer Affairs)
"I am a new Xfinity Mobile customer. I called customer support this morning for the first time because I could not get my number to port to my new phone correctly. The customer support rep was beyond fantastic."
Rachel from Hiram, GA (Via Consumer Affairs)

Xfinity Mobile Visit Site
Bottom Line
IF you're looking for an affordable solution for getting blazingly fast 5G connectivity then Xfinity Mobile is a service provider that should be on your evaluation list. It offers both by the gigabyte and unlimited payment plans.