In a Nutshell
If you're looking for a network with lots and lots of coverage, then Gen Mobile, which promises to operate America's largest 4G (LTE) network, might be a good match. The company offers a 7 day money back guarantee and doesn't lock users down into annual contracts. For those who place lots of international calls, the $13/month unlimited plan should prove a great enticement.
pros
Cheap unlimited calling plan
Affordable data packages
7 day money back guarantee
cons
Doesn't run its own network
No contracts - some corporate users want them

Gen Mobile Visit Site
Gen Mobile at a Glance
Best for: Users that want a cheap and flexible provider for data and calls
Price: From just $10/month
Plan: Unlimited talk and text plans and data only plans
Network: Sprint (CDMA); GSM from other providers
Use your own phone: Yes
What Services and Features Does Gen Mobile Offer
CDMA and GSM
For those not up to school on the telecoms jargon, CDMA and GSM are the two standards for cellular connectivity that are operated in the United States. Although Gen Mobile is a mobile virtual network operator (MVNO) — which means that it doesn't actually own the infrastructure used to power the network — it does give customers the flexibility to choose between either CDMA or GSM connectivity.
Unlimited Calling and Texts
If you're a huge fan of international texting and calling, Gen Mobile's unlimited calling plan to more than 100 countries — available on plans valued at $15 and above — is likely to be a huge boon.
Prices, Plans and Value for Money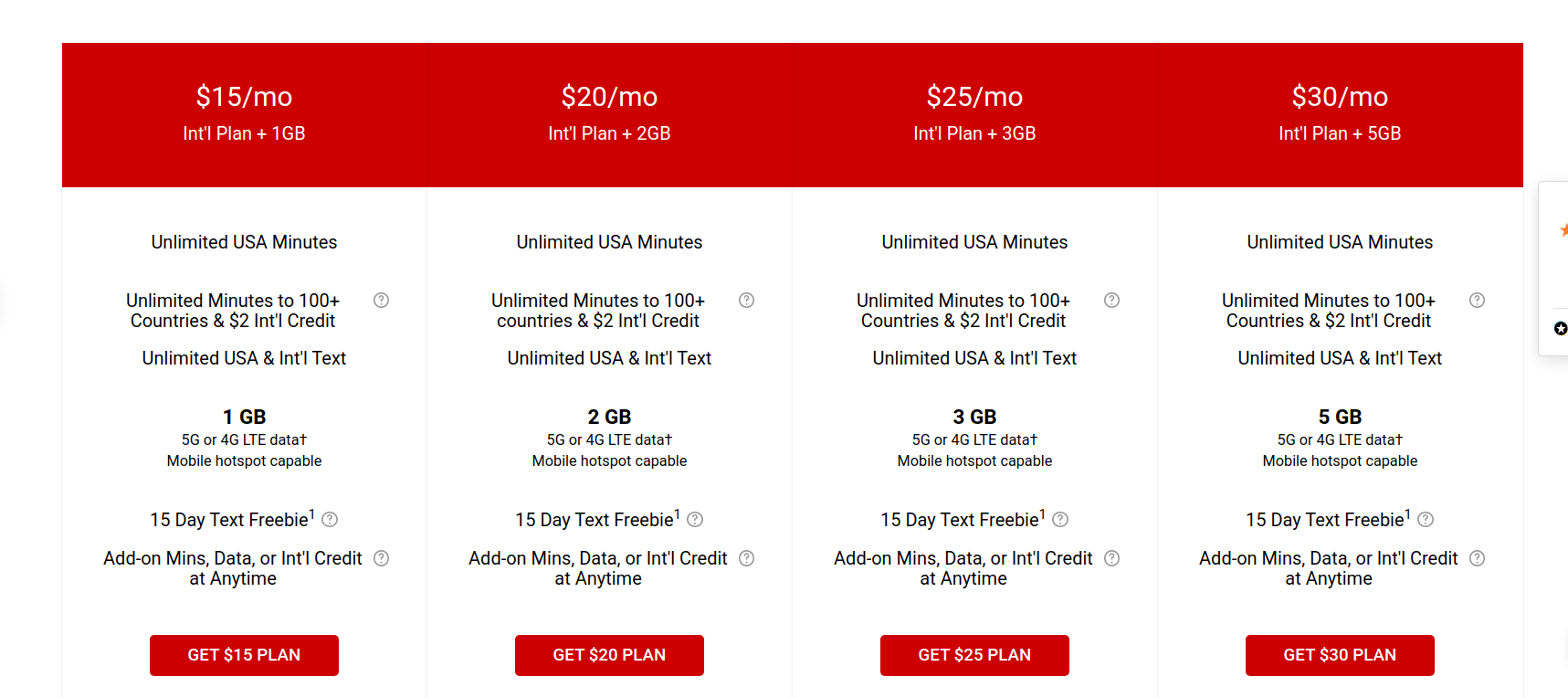 One of the main selling points of Gen Mobile is that when it comes to plans, there are a lot to choose from. On the 3-month or monthly plans, users have four options to choose from:
3 month price (per month)
International plan with 1GB data
International plan with 2GB data
International plan with 3GB data
International plan with 5GB data
If users sign up for the longer 3-month commitments, they receive a better price.
For all the 1- and 3-month plans, users receive:
A 15-day text freebie
The ability to add on minutes, data, or international credit
Unlimited minutes within the USA
Unlimited minutes to 100+ countries around the world
Additionally, Gen Mobile offers 3 monthly data plan subscriptions which are designed for those who do not need to make calls and only want a means of ensuring cellular connectivity. These plans are popular with users who need a backup option to their home internet package, for instance.
If users need more data than the limit then they can simply buy more for an additional $5 per 500MB. The data plans provide access to the same 4G/5G data that the cellular plans do.
Activation Process
Getting activated on the network is quick and easy. Like most providers, Gen Mobile supports a port-in process that allows users to keep their existing number from another provider. Alternatively, fresh numbers can be provisioned. The flexibility to choose between GSM and CDMA gives users a wide range of choices.
Selection of Phones Available

Gen Mobile offers a variety of pre-owned phones across both the Android and iOS powered product families. For users that need an affordable handset that is guaranteed to work with the network, these options could be a great means of achieving connectivity. Among the handsets available for sale through the site are:
iPhone 6s 32GB
iPhone 7 32 GB
Moto E4
LG K40
Gen Mobile Call and Text Performance
With 4G and 5G connectivity users can expect good data speeds. Additionally some of the plans support:
Unlimited minutes' calling within the USA
Unlimited SMS usage
Gen Mobile Data Speeds
4G and 5G (where available)
Whether users opt to connect through GSM or CDMA, Gen Mobile promises nationwide coverage with either 4G (LTE) or 5G data. The 5G rollout throughout the US is picking up pace and users who sign up for Gen Mobile can be tapped into a network that is already primed for rollout. Either way, fast speeds can be achieved.
Gen Mobile Customer Service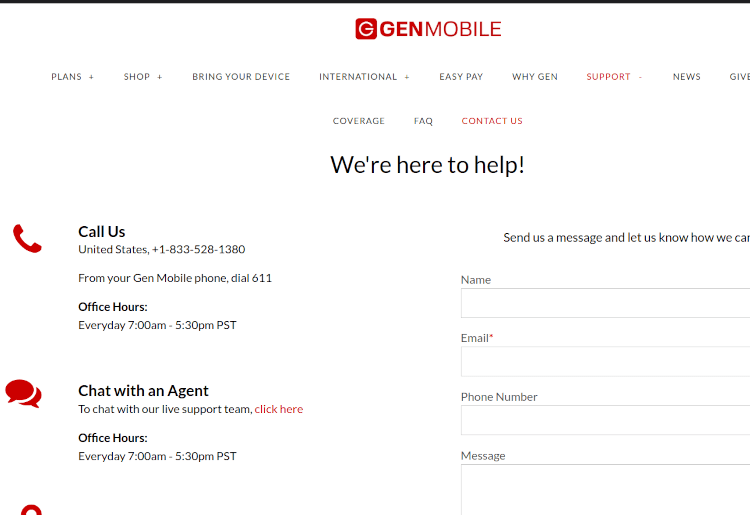 Run into trouble getting your Gen Mobile device to work? The team supports various communication channels including:
Live support / agent chat
A support number accessible from within the USA (office hours: 07:00 - 17:30 PST)
Gen Mobile has also posted an online coverage checker. Users just need to plug in their zip code to see if the company supports connectivity in their area. There's also an FAQ page where users can see answers to commonly asked questions.
What People Say About Gen Mobile
"Customer service reps are always friendly and helpful."
Daniel (via Reviews.io)
"Good plan for low data needs. I like the ability to purchase economical international dialing credit."
Elma (via Reviews.io)
"Excellent customer service."
Robert (via Reviews.io)

Gen Mobile Visit Site
FAQ
Do I need to take out an annual contract?
No. Gen Mobile offers a variety of connectivity options including monthly and three month subscription plans.
If I join Gen Mobile, can I keep my existing number?
Yes you can. If you want to keep your number then Gen Mobile will provide instructions to help you 'port' in your existing line. You will need your PIN code for your current carrier and the porting process may take up to 48 hours.
Does the network support Wifi calling?
Yes. So long as your device supports it, you can contact support to enable WiFi calling.
Bottom Line
If you're looking for an affordable and flexible provider that supports both CDMA and GSM connectivity then check out Gen Mobile, an MVNO that supports both bring-your-own-device and pre-approved hardware. They also sell affordable pre owned handsets online.