Consumer Cellular Visit Site
Overview
Consumer Cellular at a Glance
What is Consumer Cellular?
Consumer Cellular is a postpaid mobile phone provider. Because it uses other providers' networks to provide coverage to its users, the company can save on operating and maintenance costs and thus offer customers more affordable plans.
Consumer Cellular is therefore particularly suitable for seniors and others on lower incomes looking to keep their costs down while staying connected with friends and family. Its optional GrandPad tablet lets grandparents keep in touch with their family circle via photos, messages, and video chats.
You can sign up for Consumer Cellular on a contract-free monthly basis that allows you to cancel anytime. It currently offers three tiers of service, each offering a different data allowance.
Consumer Cellular features
Each Consumer Cellular plan comes with the following:
Unlimited talk and text
Cellular data
5G and 4G LTE access
Premium nationwide coverage
Paperless billing and convenient automatic bill payment
5% discount on monthly service for AARP members
Optional GrandPad tablet designed to meet the needs of seniors
Optional roadside assistance
Is Consumer Cellular Reliable?
Consumer Cellular uses AT&T and T-Mobile to provide its service, both of which are reliable nationwide networks.
How Consumer Cellular Works
Consumer Cellular is an MVNO that provides 5G and 4G LTE cell coverage via AT&T and T-Mobile networks. The company is a postpaid provider, meaning you get a bill at the end of each month.
How To Get Started With Consumer Cellular
It's easy to get started with Consumer Cellular. Visit the website, choose the plan that works for you, and select whether you want to add a device. To use your own device, select "Bring Your Own Phone" from "Products & Services." You'll then need to dial *#06# to find your phone's IMEI number and check if it's compatible.
You'll have the choice of keeping your existing number or getting a new one, and whether you want roadside assistance included. For those buying a phone through Consumer Cellular, you can also add accessories and insurance.
Because Consumer Cellular is a postpaid service, you don't pay when you place the order. Instead, you see the total owed monthly. When checking out, Consumer Cellular offers free priority shipping (3-5 business days) or express shipping (1-2 business days) for an additional $10.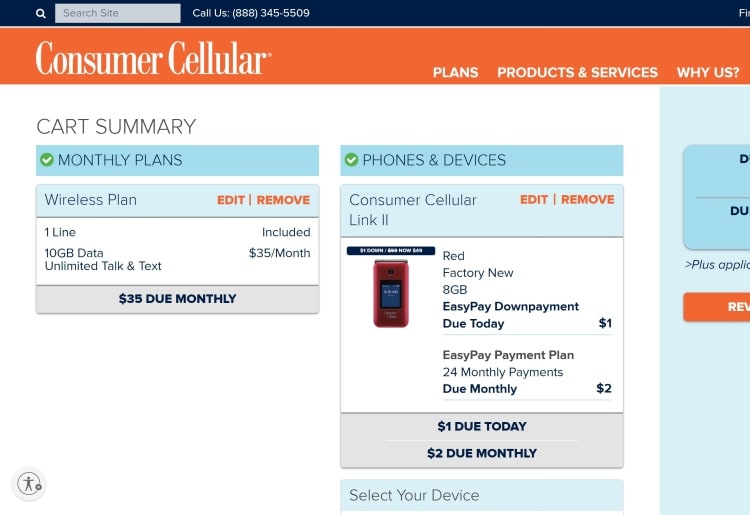 Activation process
When you receive your SIM, you'll also get a guide on activating and maintaining your account. You can do this online or by phone using the details provided. If your device uses an eSIM, Consumer Cellular will provide a QR code for you to scan. This will take you through the steps to activate your phone.
Selection of phones available
Consumer Cellular allows you to use your own phone, but you can also purchase a range of handsets through its website. This selection includes the latest iPhone and Samsung devices, but also a range of budget Android and flip phones. Financing is available through EasyPay, a 0% interest payment plan.
Consumer Cellular call and text performance
Consumer Cellular's calls operate via AT&T and T-Mobile, so call quality and performance should be good across most locations in the United States, with fair or poor performance in only a handful of rural areas. I had no problems in this regard, but you may wish to consult the company's coverage checker, especially if you live in a rural area.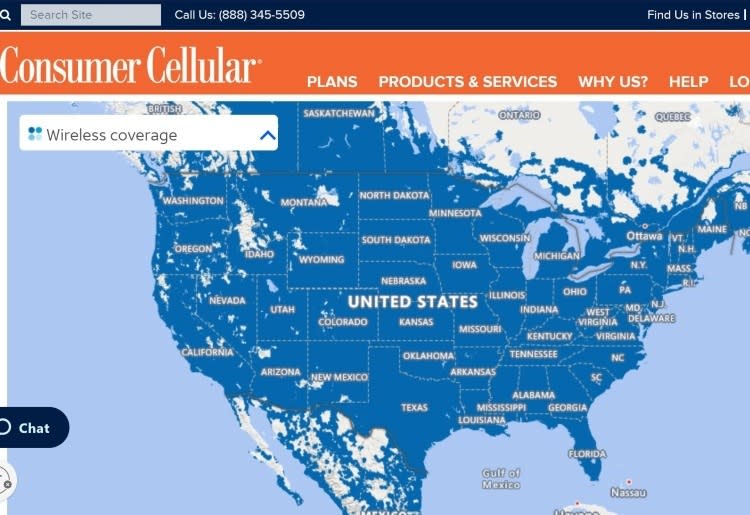 Consumer Cellular data speeds
Both of the networks Consumer Cellular uses have rolled out 5G coverage, although some areas may still be limited to 4G and 3G coverage. Generally, your data speeds will be fast enough to stream audio and video comfortably.
However, once you've exceeded the "unlimited" data cap of 50GB, the connection speed will be slower unless you contact a customer service representative to purchase more data.
Consumer Cellular Customer Service
Consumer Cellular offers limited support hours from 5am-6pm (PT). You can contact the customer service team by phone or speak with a live agent via web chat. Consumer Cellular does not guarantee how quickly it will answer your support requests, so try to avoid calling at peak times.
The website also has a knowledge base that contains some basic documentation. While this provided some answers to my questions, it wasn't comprehensive.
There are mixed reviews on Consumer Cellular's customer service, including a poor Trustpilot score of 1.3/5, but I found the support to be perfectly reasonable for the questions I had. However, getting through to support was a little slow.
How To Cancel or Pause a Consumer Cellular Subscription
Consumer Cellular offers contract-free subscriptions. This means you can cancel your service at any time, but you'll need to pay until the end of the billing cycle. To cancel your service, the company requires you to contact customer support over the phone.
Is There a Consumer Cellular App?
Yes, the Consumer Cellular app is available on both Android and iOS. It's fairly minimal, but it allows you to manage your account, make payments, and upgrade your plan. The app also contains a knowledge base, which answers questions such as how to set up your voicemail or activate your SIM card.
I found the app interface straightforward to use. However, some users have reported having problems, particularly with logging in.
Consumer Cellular Pricing
How Much Does Consumer Cellular Cost?
Consumer Cellular's plans offer unlimited talk and text, nationwide coverage, and 5G access at no extra cost. The only difference between the plans is how much cellular data you can use.
If you exceed your data limit within the month, Consumer Cellular automatically upgrades you to a plan that covers your data usage. Once you reach the Unlimited plan, you'll be able to use up to 50GB of high-speed data. After this, you may experience slower speeds. You'll receive an alert when you move onto another plan, but you need to manually change back to the lower plan after the billing cycle finishes.
If you tend not to use your cell to connect to the internet or to stream video content, then the 1GB plan will suffice. This plan is cheaper than the lowest-priced plans of competitors like AT&T and Verizon. However, the Unlimited plan is slightly more expensive than you can find elsewhere, considering high-speed data is limited to 50GB.
Optional add-ons
Friends and family sharing: You can share your monthly plan data with friends and family, adding additional lines to your account for $15 per month.
GrandPad Central: This is a multifunctional device costing $149 with basic phone, photo, and tablet functionality to connect seniors and their families remotely.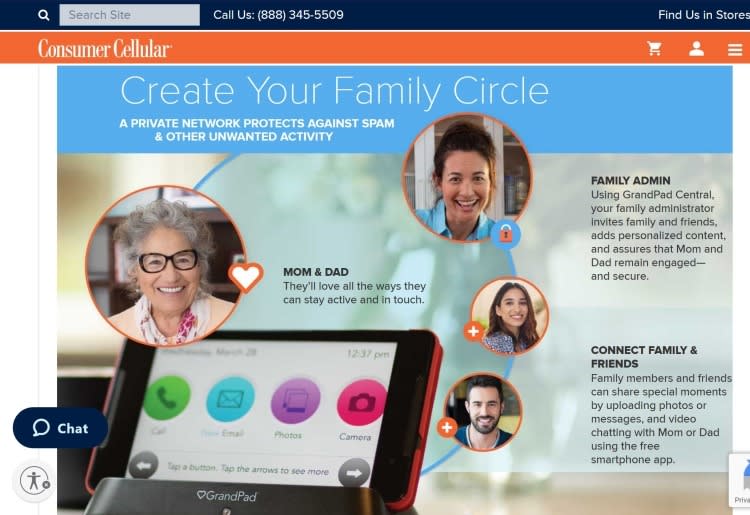 Consumer Cellular Alternatives
How Does Consumer Cellular Compare to Other Mobile Plan Providers?
Unlimited talk and text. High-speed data varies.
Unlimited talk, text, and data.
Unlimited talk and text. High-speed data varies.
Unlimited talk and text. High-speed data varies.
AT&T and T-Mobile GSM Networks

Consumer Cellular Visit Site
Consumer Cellular vs AT&T
Consumer Cellular uses AT&T's physical infrastructure but has additional network coverage via T-Mobile. AT&T provides the largest wireless network in the US, so depending on your area, you might not need the extra coverage. While Consumer Cellular's plans are best suited to individuals and low-data users, AT&T's pricing makes it more attractive to families using multiple lines and for heavier data usage.
Consumer Cellular vs Verizon
Unlike Consumer Cellular, Verizon uses its own infrastructure. This means it can prioritize its customers across its network, whereas with Consumer Cellular you might find your data speeds limited at times. Consumer Cellular focuses on the senior market and low-cost individual plans, while Verizon targets the premium segment. Its child-friendly plan lets you manage screen time, filter content, and track location.
Consumer Cellular vs Mint Mobile
Mint Mobile and Consumer Cellular both use T-Mobile's infrastructure, but Consumer Cellular also uses AT&T, giving it a slightly wider coverage area. Both have low-cost plans, with Consumer Cellular more suitable for people not wanting a contract service. On the other hand, Mint Mobile provides better value for customers willing to commit to a 12-month contract.
Is Consumer Cellular Worth It?
With good network coverage across the US, and a low-cost plan providing good value for money, there's plenty to like about Consumer Cellular as a basic wireless carrier. Its senior-focused GrandPad device might also be of interest if you want to stay connected with children and grandchildren.
Although some customers report issues using the mobile app, it is possible to manage your plan easily through Consumer Cellular's website—so using the app is purely optional. Consumer Cellular isn't necessarily the right choice for everyone, but it's worth considering if you don't need much data and want to save money.