PAYARC Visit Site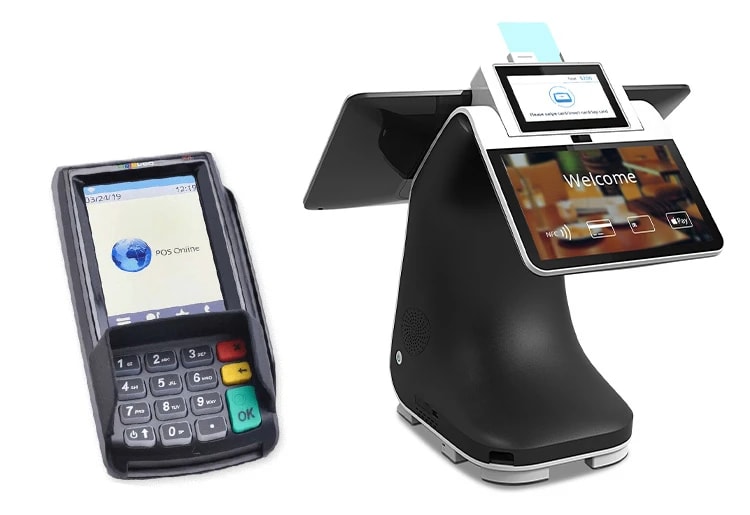 Overview
Ideal For
Businesses that want to offer subscriptions

Business owners who want in-depth payment analytics

Businesses that want to receive same-day payments
What's On Offer
PAX POS devices and Dejavoo card readers

Support for online payments, invoicing, and subscriptions

Same-day transfers to your business bank account

Custom software interface with customizable reports

Advanced security features to reduce chargebacks and fraud

Integrations with Apple Pay, WooCommerce, ChargeZoom, and more

24/7 customer support by phone, live chat, and email
How PAYARC Works
Application Requirements
PAYARC offers 3 different account types with different requirements for approval.
Credit card swipe accounts for charges less than $5,000 per transaction require:
Merchant application

Driver's license or government-issued ID

Business license or doing business as (DBA) filing for sole proprietors
Credit card swipe accounts for charges of $5,000 or more per transaction also require 3 months of bank statements.
Ecommerce accounts for which the charged card is not physically present have several additional requirements.
3 months of credit card processing statements

Photos of inventory of fulfillment facilities

Sample copy of customer agreements
Business owners must contact PAYARC's customer support team to get a quote and apply for a merchant account.
What's Unique About PAYARC?
PAYARC offers unique solutions for small and medium-sized businesses. The company doesn't offer preset plans or tiers but rather works with business owners to find the best possible processing solutions for their needs.
Here are some of the key features that stand out about PAYARC.
PAX POS Devices
PAYARC offers several PAX POS devices, including the E500, E700, E800, and A920. PAX E-series devices are tabletop POS platforms that include high-definition touchscreens and integrated card readers. They are highly customizable and can be used for everything from creating menus, checking out customers, and managing tips and receipts.
The PAX A920 is a handheld card reader that supports EMV chips and contactless payments. It includes a thermal receipt printer and a touchscreen to allow for streamlined checkout.
PAX POS devices are available for purchase or lease from PAYARC.
Dejavoo Card Readers
For businesses that only need a card reader rather than a full-service POS platform, PAYARC offers several card readers from Dejavoo.
The Dejavoo Z1 is a mobile card reader with a compact PIN pad and a simple display. The Dejavoo Z6 offers a touchscreen, support for processing EMV chips, and integration with POS systems. The Dejavoo Z8 is a tabletop card reader that requires an Ethernet or phone line connection for high-speed processing. It includes an integrated receipt printer.
Dejavoo devices are available for purchase or lease from PAYARC.
Online Payments
PAYARC offers a PCI-compliant web payments gateway for businesses that want to sell online. In addition to credit card payments, PAYARC enables your business to accept Apple Pay and Google Pay. The payment gateway can be integrated into most existing websites.
PAYARC's online payments gateway has several security features, including the ability to blacklist payments from specific countries or IP addresses. Merchants can also limit the total transaction volume from individual cards to reduce the risk of accepting fraudulent transactions. Finally, PAYARC can automatically encrypt card data so that customer information isn't lost in the event of a security breach in your business's network.
Invoicing
PAYARC also offers business owners the ability to invoice customers and accept payments online. Merchants can use PAYARC's software to design custom invoices without any coding and send them instantly. The platform offers a variety of invoicing options, including promotions and trial periods, tiered pricing, and usage-based pricing.
PAYARC makes it easy to keep track of when invoices are paid and can even send reminders to customers about unpaid invoices.
Subscriptions
PAYARC enables merchants to offer ongoing subscriptions and memberships. Business owners can set up multiple subscription options with different timeframes and pricing. PAYARC can automatically charge customers' cards when subscriptions are due to renew.
Customizable Reporting
PAYARC's back-end dashboard for business owners offers a wide range of built-in reports and metrics. Business owners can use these reports to track changes in payment volume over time, see what products or services are generating the most revenue, or see what employees are driving the most business.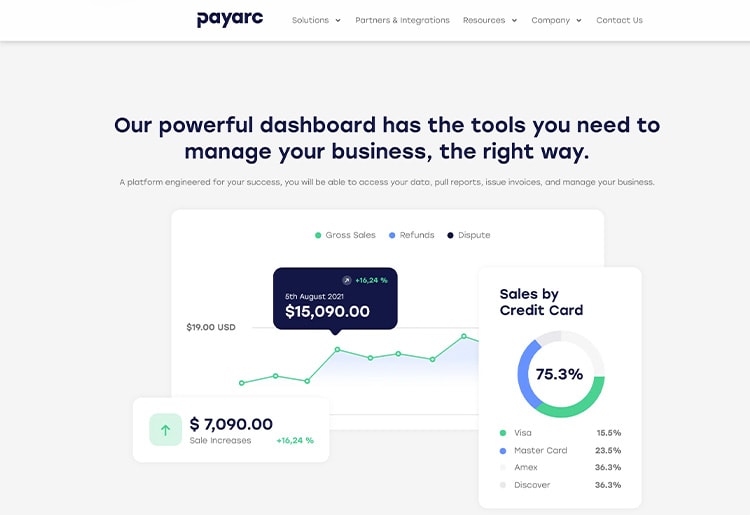 Same-day Payments
Funds from transactions processed by PAYARC are paid into a business's bank account at the end of each day. This means that businesses always have access to their revenue right away instead of having to wait days for transactions to clear. Note that payments may be delayed by several days for some high-risk businesses.
Contract Terms
PAYARC does not provide information about whether merchants are required to enter into long-term contracts.
PAYARC Customer Support
PAYARC offers 24/7 customer support by phone, email, and live chat. When emailing PAYARC's support team, merchants can expect to receive a response within 24 hours. PAYARC's support team can also assist with technical questions about PAX POS devices or Dejavoo card readers.
PAYARC Pricing
Pricing & Special Offers
PAYARC offers tailored processing solutions for businesses, which means that business owners must contact the company to get a free quote. PAYARC does not provide any information about its pricing before requesting a quote.
To request a quote, business owners must enter their name and email—phone number is optional. PAYARC representatives will typically get in touch within 24 hours and can also offer a demo of PAYARC's software.

PAYARC Visit Site
About PAYARC
PAYARC is a Connecticut-based payments processor that was founded in 2016. The company works with all types of small and medium-sized businesses across the US to provide credit card processing and merchant services. The company works with more than 10,000 merchants and processes more than $3 billion in transactions annually.
PAYARC is a member of the Electronic Transactions Association and the Visa Global Registry of Service Providers. PAYARC is not accredited by the Better Business Bureau and has not been reviewed on Trustpilot.
Physical Address
411 West Putnam Avenue Suite 340, Greenwich, CT 06830, United States