Merchant One Visit Site
Merchant One at a Glance
What is Merchant One?
Merchant One is a payment processing solutions provider for merchant businesses large and small. It helps you process credit card payments quickly and securely, collecting the transaction money for you and transferring the funds to your bank account. While other payment processors may refuse to do business with people with low credit scores, Merchant One highlights its 98% approval rate for those types of applicants.
Merchant One also resells Clover POS systems and was bought by Clover's parent company Fiserv in December 2022. This partnership enables Fiserv to reduce its operating costs, which may lead to reduced pricing for Merchant One. Clover products and Merchant One already work well together, but further integration may do even more to help merchants process customer payments conveniently, using top-notch and secure technology.
Ideal for
Restaurants

Small and large businesses in various industries—retail, restaurants, hospitality, Ecommerce, etc.

Applicants with low credit scores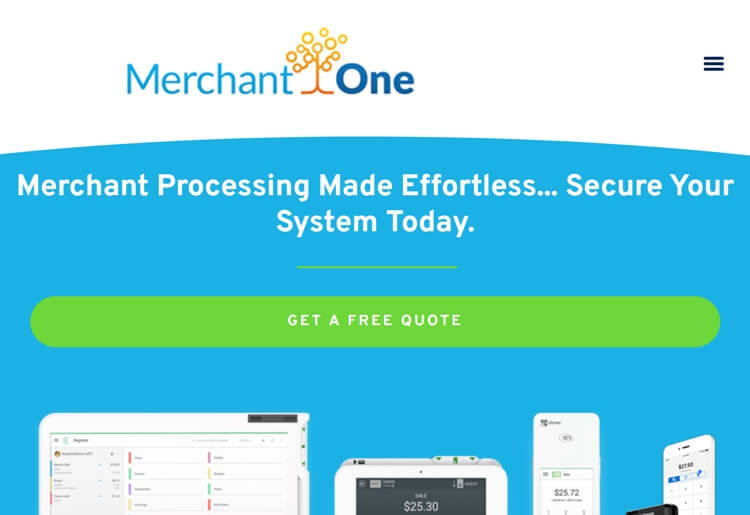 Merchant One features
Merchant One's top features include the following:
Credit card payment processing
Merchant One offers credit card retail swiping, keyed-in card transactions, high-speed payment processing, stationary or on-the-go payment terminals, receipt printing, customer management tools, and more.
Mobile payment processing
Merchant One provides a secure way of processing credit card transactions through your iPhone or Android device. You can use mobile credit card terminals that help you handle transactions on the go.
Payment gateway
Merchant One has a payment gateway that enables merchants to be successful online with an Ecommerce store. The gateway offers secure keyed-in transactions, recurring payments, invoice generation, 175 shopping cart integrations, hosted checkout, fraud detection tools, and more.
POS system
As a Fiserv reseller, Merchant One offers state-of-the-art Clover POS systems—Clover Station, Clover Mini, Clover Go, and Clover Flex—that make running your business, taking orders, and processing payments seamless. Merchant One also provides free training to its customers on using Clover products.
Dedicated account managers
Processing credit card payments can be challenging if your business needs continue evolving. Merchant One assigns a dedicated account manager to guide you in customizing its solutions to fit your business's payment requirements.
Is Merchant One Safe and Reliable?
Merchant One has a high 4.9/5 rating on Trustpilot, but only 1.97/5 on the Better Business Bureau website. Positive reviews cite Merchant One's user-friendly software and helpful customer service agents. However, there were complaints about billing, unclear pricing, cancelation fees, being misled by sales agents, and more. I'd therefore recommend that you discuss all the contract terms with an account manager before signing up for the service.
Regarding performance reliability, Merchant One solutions are customized for your business, meaning they'll work well in busy environments or peak periods. The company says it uses data protection and fraud detection tools to keep customer information and credit cards safe. For example, it adheres to the Payment Card Industry Data Security Standard (PCI DSS). This requires companies that store or process cards to protect cardholder information.
How Merchant One Works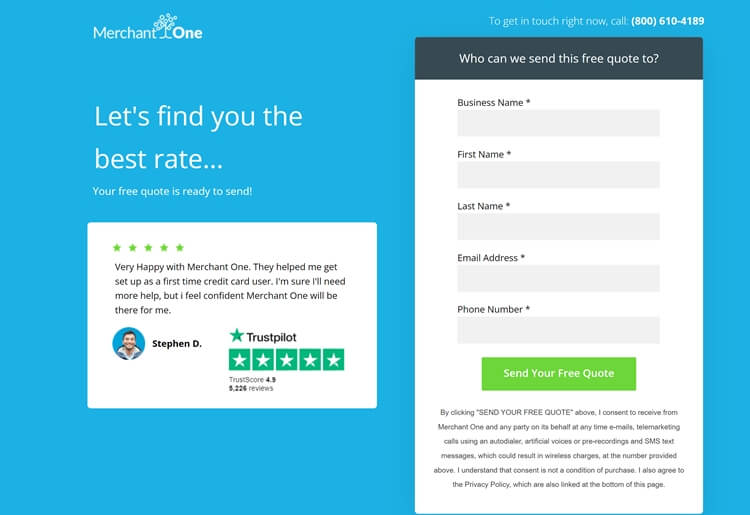 Once you're an account holder and have paid the custom business fees, Merchant One will send you free basic credit card processing terminals, as well as any advanced POS systems you've leased from them. The company will provide free training on using Clover POS products.
You'll be able to begin transacting once everything is set up. The company will charge the agreed-upon payment processing fees, collect your business's transaction revenues on your behalf, and deposit them in your account.
How To Get Started With Merchant One / How To Sign Up for Merchant One
To get started, you can contact customer support by email or through the online form on the website. You can also sign up by clicking the "Get Started" button on the Homepage. This will direct you to a registration page where you can get a free quote. The registration details include your business name, first and last name, email address, and phone number.
You can also sign up by phone. During your call, a dedicated account manager will guide you through setting up your account, customizing the service for your needs and addressing any other questions you may have. Once you agree to the contract terms, the registration is complete, and a welcome team will ensure everything's in order so your business can begin accepting payments.
The entire process is straightforward, and account setup and approval usually take about 24 hours.
Application process
Typically, when applying for a merchant account, you'll need to give your identification details, credit score information, bank statements, and card processing history. You must also be the owner of a legitimate business and provide the employer identification number (EIN) and other company details, such as location.
Merchant One Customer Service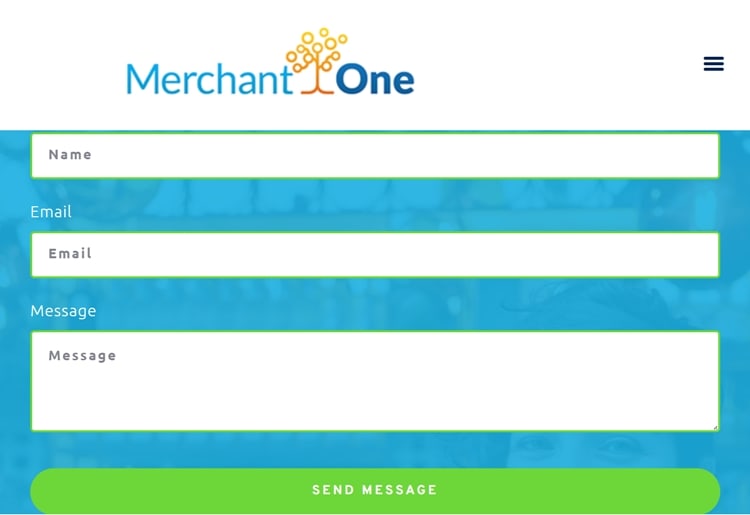 Merchant One provides customer service via phone, email, and an online contact form. I believe live chat should be a standard feature for every customer support, but this service isn't available.
I tested the company's claim about providing 24/7 support but couldn't get any response via email. For phone calls, the new accounts phone line played an out-of-office message, whereas the customer support line kept sending me to voicemail.
There are no FAQs or supporting documentation in the form of blogs and guides. The website provides some information about Merchant One's services, but I thought it should add more.
How To Cancel or Pause a Merchant One Subscription
To cancel a Merchant One contract, you must pay an early termination fee of about $300 or more per year left on the three-year contract. Many of the negative online reviews relate to complications with canceling a contract. Note that Merchant One requires written notice of termination, or it will continue billing you. You're also expected to return its hardware as per the contract you agreed, or you'll incur an additional fee.
Is There a Merchant One App?
No, Merchant One doesn't have an app. However, if you buy a mobile card reader like Clover Go 3rd Gen, it will have a mobile app that turns your device into a mobile POS (mPOS) system.
Merchant One Pricing
How Much Does Merchant One Cost?
Merchant One offers flexible, custom pricing depending on the size of your business, your industry, transaction volumes, etc. There is no free trial version. The table below gives a snapshot of what to expect, but the prices may vary for each company.
Cost per keyed-in transaction
Cost per swiped-card transaction
Merchant One does well against its competitors in terms of credit card processing fees, charging 0.29%-1.99% compared to the industry average of about 1.29%-3.5%.
Optional add-ons
Additional products available include the following:
Clover Terminals: Clover Station DUO WiFi at $1,825; Clover Station Solo at $1,650; Clover Flex 3rd Gen at $650

Countertop Terminals: Clover Mini 3rd Gen at $825; Dejavoo QD4 at $365; FD-150 at $325; PAX S80 at $175; FD-150 and RP10 Combo at $525

Mobile Card Readers: Clover Go 3rd Gen at $125; Swift B250 at $105

Receipt Paper: $1 per roll
Merchant One Alternatives
How Does Merchant One Compare to Other Merchant Services?
Custom pricing and merchant solutions
Comprehensive Ecommerce solutions
$13.95 per month
0.29%-1.99% per keyed-in transaction
0.29%-1.55% per swiped card transaction
$9.95-$39.95 per month
2.3% or 2.7% + $0.10 per transaction for in-person purchases
3.5% + $0.10 per transaction for virtual or keyed-in payments
$39-$399 per month
2.4% or 2.7% + 0¢ USD per transaction in person
2.4% or 2.9% + 30¢ USD per transaction online
$0 to custom price per month
2.6% + 10¢
per tapped or swiped transaction
2.9% + 30¢
per online transaction
3.5% + 15¢ per keyed-in transaction
Month-to-month, or yearly

Merchant One Visit Site
Merchant One vs Clover
Clover and Merchant One are now part of the same company (Fiserv), and Merchant One resells Clover products. Clover's prices can rise much higher than Merchant One's due to its higher per-transaction charges and the additional costs of purchasing its products and integrated software. Clover offers a 30-day free trial, whereas Merchant One has no free trial period.
Merchant One vs Shopify
Shopify is geared toward Ecommerce and costs more than Merchant One, which focuses more on payment processing. Merchant One doesn't have a free trial, but Shopify offers you three days to test its service. Moreover, Shopify has better customer support, with live chat, email, and phone, whereas Merchant One doesn't have a live chat function.
Merchant One vs Square
Square offers quality POS solutions for businesses of all sizes but charges more per transaction than Merchant One. Square has a plan with no monthly fees that only charges for credit card processing, whereas Merchant One doesn't have any free plan. Like Merchant One, Square doesn't have live chat and also delays in responding to emails.
Bottom Line (Is Merchant One Worth It?)
Merchant One has essential features for credit card payment processing and POS systems that can be tailored to meet your business requirements. I like that the service is customized, and its connection to Clover means the POS products will be high-quality and state-of-the-art hardware.
Nevertheless, the company's pricing and billing practices raise safety concerns, and it's vital to review the contract details carefully before signing. Overall, Merchant One compares well with rivals and may be worth considering.