In a Nutshell
Invoicing tools don't need to look ugly and vcita goes out of its way to prove that to be true. vcita is a slick and multifunctional business management app. It includes features for marketing, generating invoices, and managing clients. vcita is an all in one tool that's a great choice for those looking for a unified and effective tool to run their small business.
pros
Seamless integration between invoicing and other apps
Dashboard widgets provide high level business overview
Dropdown items for quick invoicing
cons
No system for creating automatic retainers
SMS reminders not included in the free plan
vCita at a Glance
Best for: Small business
Price range: Solo pricing from $29/monthly to $75/monthly. Team pricing from $45/month to $196/month
Apps: Invoicing, Calendar, Client Management, Payroll, Document Management
Features and Add-ons
Dashboard
vcita's first screen after login is its dashboard which provides a birds-eye overview of business activity including currently active clients and total overdue payments.

vcita's focus is on easy usability and from the dashboard screen users are able to undertake quick activities with one click, such as creating campaigns and uploading documents. All documents that are uploaded are managed in a document repository that can be shared with other users or clients.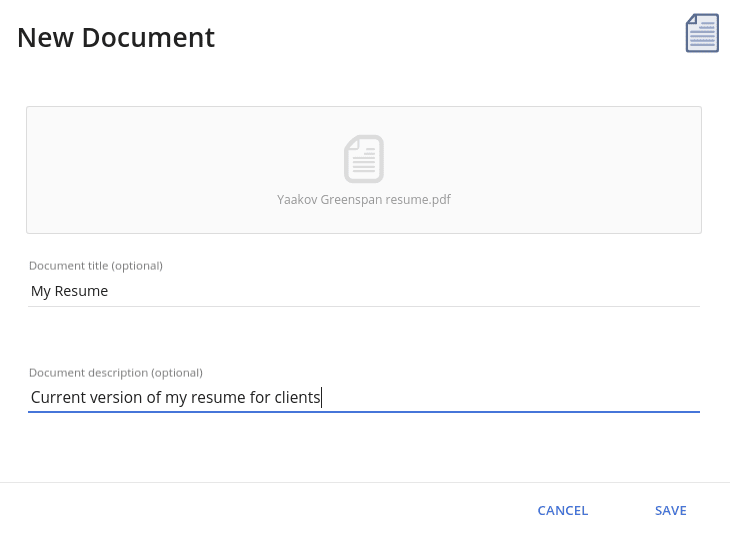 Document Management System (DMS)
Invoicing clients frequently involves sending commonly requested documents such as bookkeeping management and tax certificates. With vcita, users are able to upload, store, and organize documents directly from within the business manager. Once email is connected, the system can also identify and parse incoming documentation sent in the form of attachments from outside the user group.
The header area provides key metrics about how much storage capacity has been used and how many documents have been shared through the system.

If users want to request a document from a client, they are able to email them an email invitation.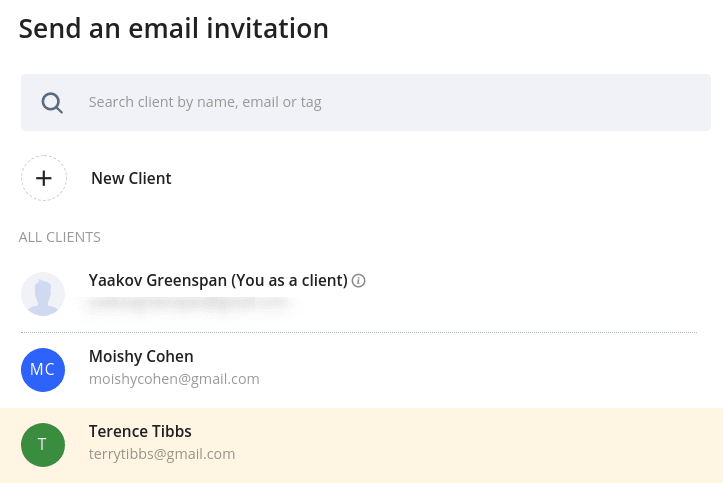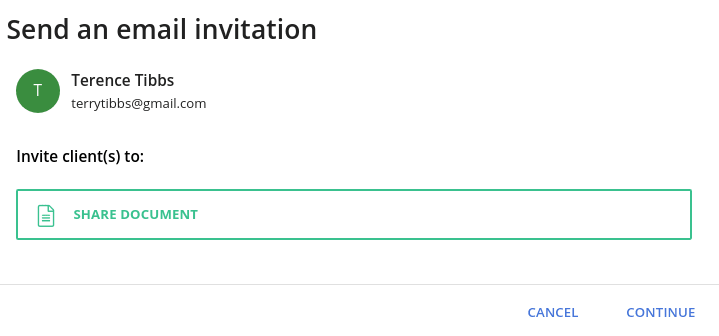 The process will send a link to the user which gives them the ability to easily upload documents. These will then be stored within the CRM.
Invoice Creation
Needless to say, the centerpiece of vcita for invoicing purposes is its invoice creator.
vcita presents an attractive and easy to use interface for annotating and issuing invoices to clients.
A nice feature of vcita is that it uses the onboarding questionnaire to automatically populate stock items that can be quickly added by selecting an option from the drop down menu:
Alternatively users can create a new item and save it to the selling item inventory for future use: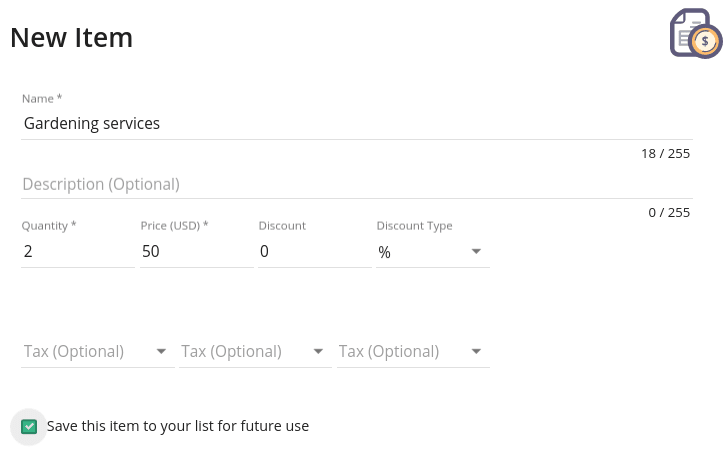 Users can add manual information in the form of a note which will appear in the footer and select the option to allow the client to pay online, if that is desired.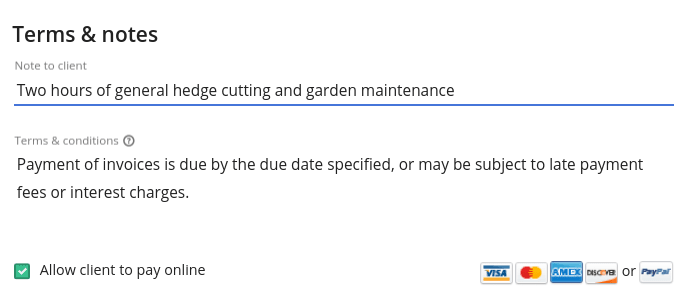 Invoices generated through the system can be sent immediately to the client or stored in draft format. The one feature that we did not find here is the ability to create automatic recurring invoices. For customers with retainer clients, having to recreate the same invoice every month could prove bothersome.
Advanced Calendar Creator
One of vcita's most attractive features has to be the fact that it automatically creates beautifully formatted emails based on information generated in the CRM. This is particularly true when users create appointments.
For instance, when we decided to create an appointment with a prospect to discuss a quote, we were able to input our Skype handle and configure both email and SMS reminder settings.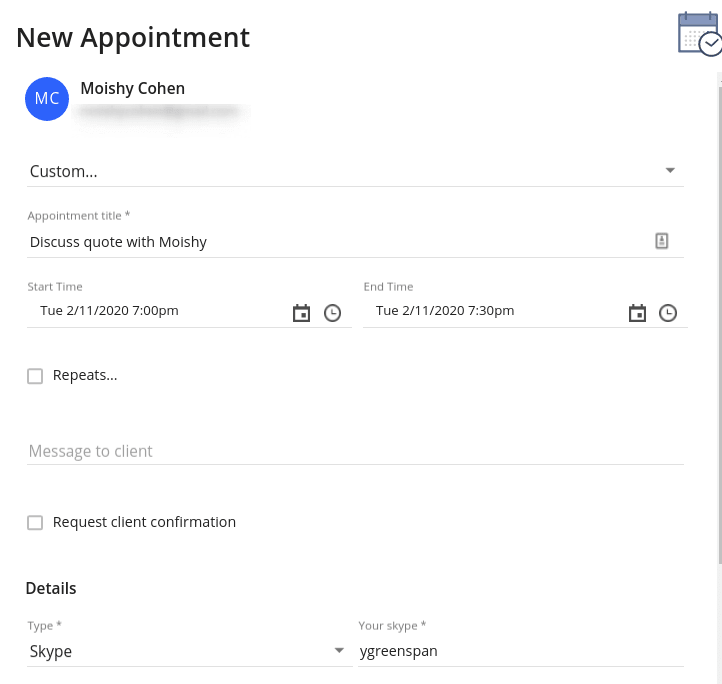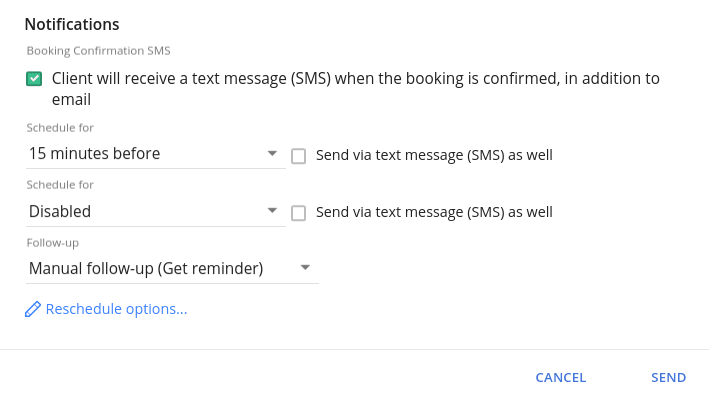 Users in turn receive an attractive email confirmation message: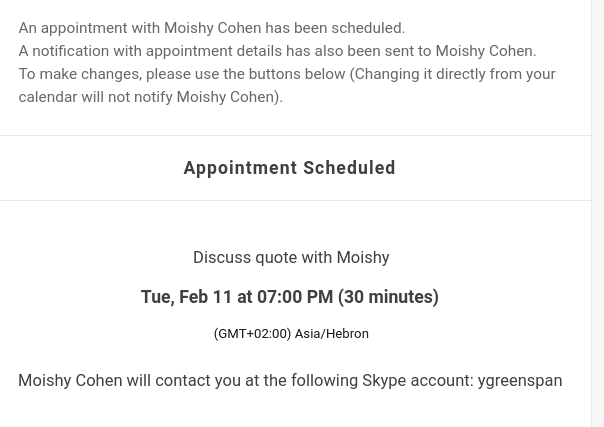 Chat-Like Email Experience
Another amazing vcita feature is its 'Conversation' module. As anybody who spends their days battling their inbox can tell you, it's not the most pleasant user experience to operate in. With its Conversation module, vcita makes replying to and sending emails feel as natural as sending a Facebook chat.
Users simply enter the message into the box and hit the send button. There's also an 'engage' popup window which allows users to send attachments.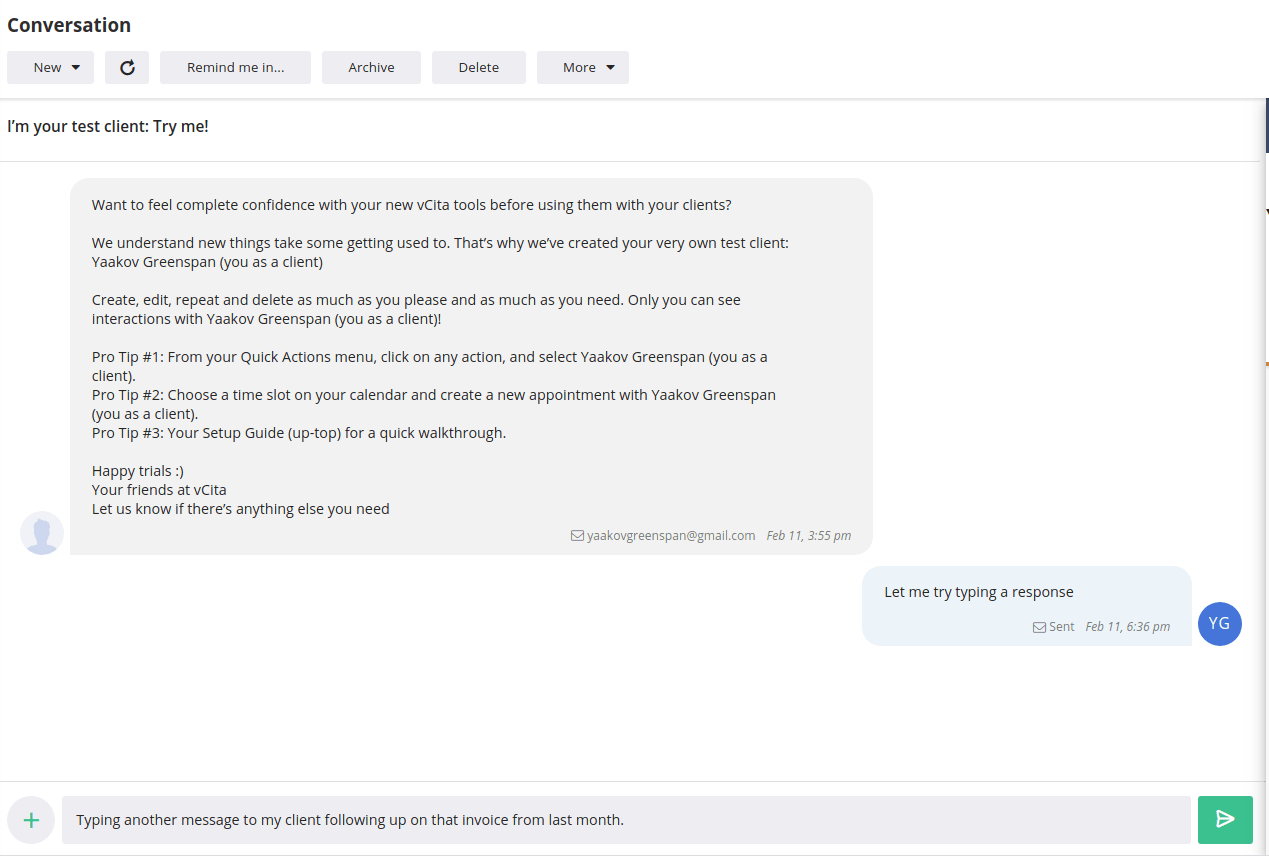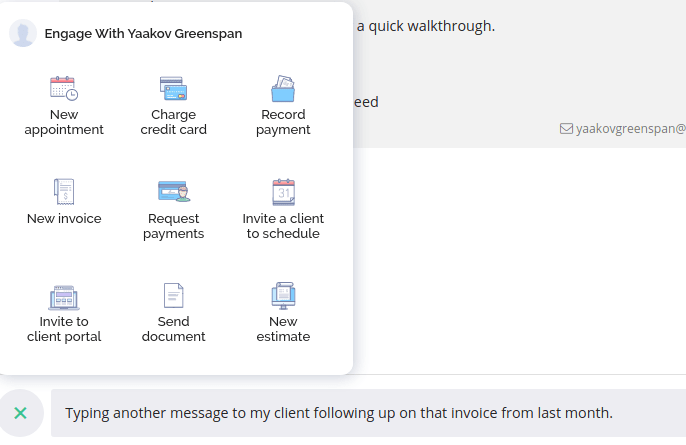 As soon as correspondence is received in return, it will update the conversation view.
Site Builder
Not only is vcita a beautiful business management solution—it also automatically builds a "client portal" microsite where users can do everything from pay their invoices to send files.
Unlike Google My Business (GMB) microsites, vcita users are able to update all fields from directly within the platform. And there's seamless integration throughout the system—so if a client pays their invoice this way, the right documentation will automatically generate.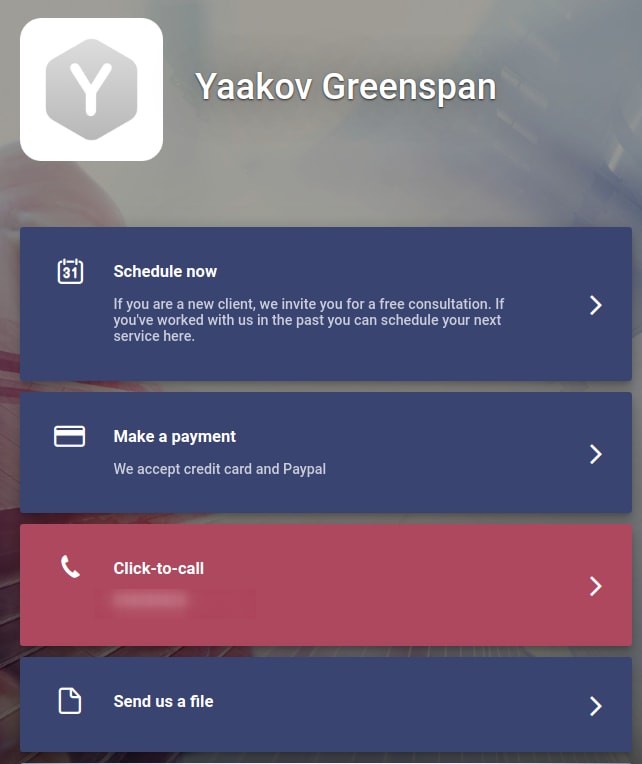 Payment Options
vcita allows customers to pay their invoices online through major payments gateways. Of course, customers can pay their invoice through other means such as bank transfers or cash, that are then added to the system manually. And the platform also makes it easy to toggle the online payment option on and off at the invoice generation stage.
vcita currently supports the following payment gateways:
With PayPal, users do not need to have an account; they can simply input their credit card details and directly pay an invoice.
Pricing/Costs & Fees
vcita is available for both solopreneurs and teams with 2 sets of pricing. It can be purchased on a monthly renewal basis or annually. The Team plans can cater for teams from as little as 2 users (Business) to up to 20 (Platinum 20).
Solo Plans
Team Plans
For Solo users:
Essentials contains basic features including client management, billing and invoicing, and calendar integration.

The Business tier includes features for email marketing with a limit of 5,000 campaign recipients. Additionally, users can create coupons, buy monthly SMS credit, and access email and phone support.

The Platinum tier increases the campaign limit and users' monthly SMS credit. They can also customize email templates and get top priority support.
For Team users:
Business users gain all the basic invoicing and account management functionalities.

Platinum users can configure advanced roles and permissions, create assignment rules for automatically routing leads internally, have access to higher marketing campaign limits, and can customize templates.

Platinum users get a full onboarding process and more monthly SMS credit.

Top tier (Platinum 20) users get a dedicated account manager and can send marketing communications to unlimited recipients.

vcita Visit Site
Usability
Usability is really vcita's strong suit. In particular, we loved the conversation view for sending emails, the attractive emails which clients receive, and the easy document management system.
Conclusion
vcita is a fantastic tool that manages to break down the divides between CRM, support tool, and invoice management platform. It contains great communications tools which encourage users to set up regular catch-ups with their clients to make sure that the accounts are running in good order. The system also creates a full-fledged, self-service portal and accepts online payments. For small business owners, vcita is truly the one tool that does it all.
Screenshots