In a Nutshell
KPMG Spark is an advanced invoicing and bookkeeping tool from KPMG, which you might know as one of the world's Big Four accountancy firms. You can use KPMG Spark to do everything from tax preparation to payroll management in the cloud, all while keeping track of multiple accounts through a real-time accounting dashboard. In this KPMG Spark review, we'll be focusing on the platform's advanced invoicing features.
pros
Quick setup with automatic bank account connection
Covers tax preparation, payroll, and invoicing
Dedicated KPMG Spark bookkeeper
cons
Designed for SMBs, not large businesses
No free trial or plan
Expensive if you have many accounts

KPMG Visit Site
KPMG Spark at a Glance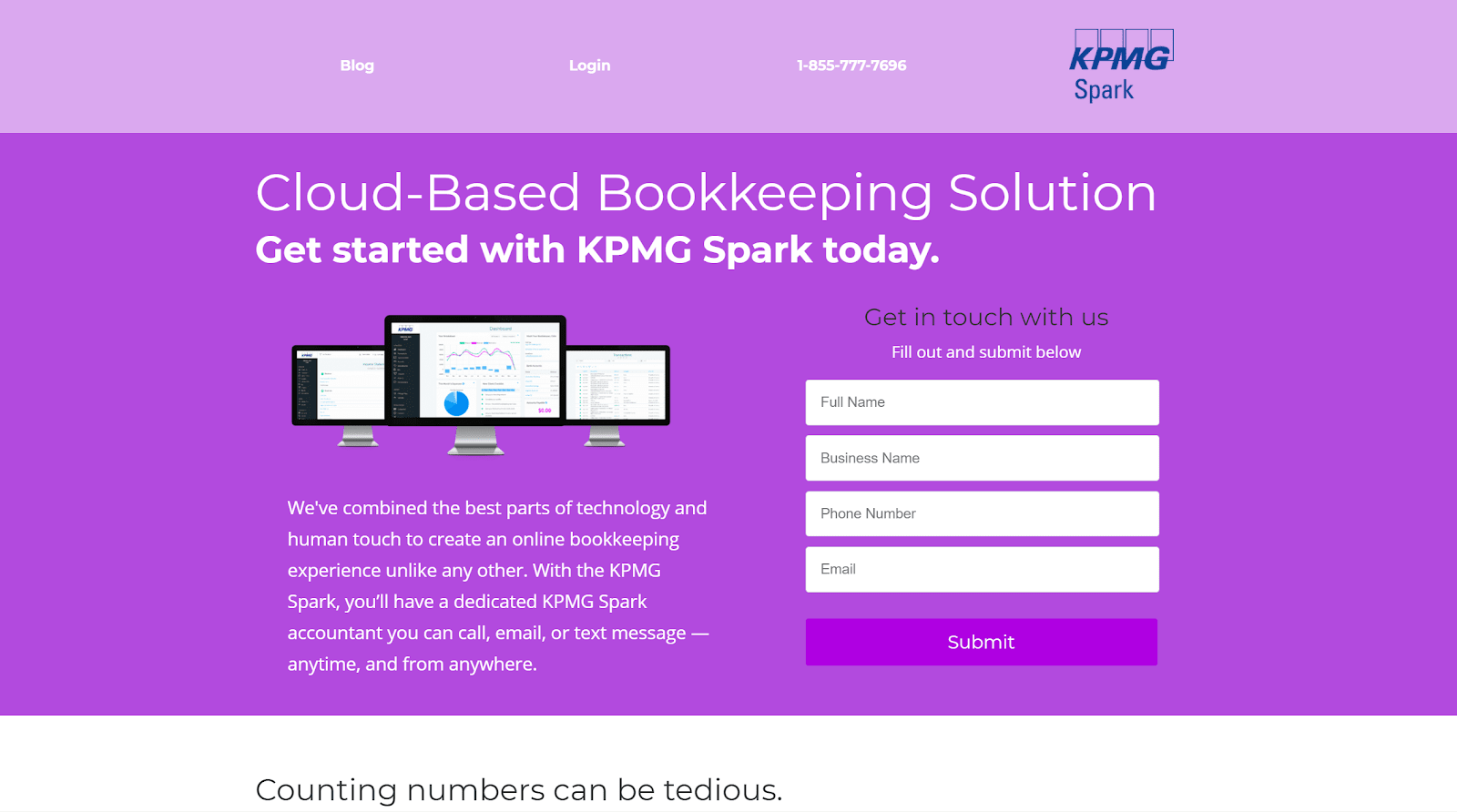 Best for: SMBs who want to save time and money
Price range: $179 per month and up
Apps: In-browser dashboard
Features and Add-ons
KPMG Spark is a user-friendly bookkeeping tool designed to streamline tax preparation and online accounting for small and medium-sized firms (SMBs). The platform offers a combination of accounts payable and accounts receivable technology and also offers software partnerships for Certified Public Accounts (CPA) firms.
A core KPMG Spark feature is an advanced invoicing system that enables you to produce professional templates almost instantly and accept payment from your clients. Spark can collect payment details from recipients and lets them pay you directly via the WePay platform.
Dedicated bookkeeper and manager.
When you sign up to KPMG Spark, you'll be assigned a dedicated bookkeeping assistant and account manager. You can get in touch with them by email, over the phone, through text, or via online chat. If they're not available, you can discuss your tax and accounting issues with one of KPMG's other expert employees.
Connect your bank accounts and books.
You can connect KPMG Spark to your credit card accounts and third-party services such as PayPal. When you pay an invoice or make a purchase, this information appears within 3 hours on your Spark platform. Thanks to this near real-time processing, Spark sets you free from having to deal with burdensome monthly reconciliations.
To help you get your books in order and simplify tax payments, KPMG Spark tracks and syncs expense information from across your business, displaying it all in one unified interface. What's more, KPMG Spark has a variety of payroll organization tools to help you get prepared and pay local, state, and federal taxes.
Payment Options
KPMG Spark can help you take your invoicing to the next level with a standard template to use across your business. Invoices can be generated in under a minute which, if you have to charge numerous clients regularly, could potentially save your company a huge amount of time and money.
After you send out an invoice through Spark, the platform can automatically collect payment information from your clients, such as their bank account and credit card numbers. This will help you to keep track of your invoices and chase up clients who haven't paid yet.
Alternatively, your clients will have the option to submit payment directly through Spark using WePay, a California-based online payment provider owned by JPMorgan Chase. WePay is best known for its partnerships with crowdfunding sites like GoFundMe. When a client pays through WePay, they will be able to make use of MasterCard, American Express, Visa or Discover. The WePay platform also supports Apple and Google Pay.
Pricing/Costs & Fees
Receiving invoice payments through WePay might be simpler than letting the Spark system collect payment information for you and then processing it yourself, but it will also probably be more expensive. That's because WePay charges a fee of 2.9% plus $0.55 for each invoice paid.
Besides those invoicing fees, you'll need to pay a monthly subscription to use KPMG Spark and prices vary based on the number of accounts you need bookkeeping for. For up to 3 accounts, the cost is $179 per month. This rises to $362 for 4 to 6 accounts, and $454 for up to 10 bookkeeping accounts.
Those prices represent the cost of KPMG Spark if you pay in advance for a year's worth of service. If you'd rather pay month-to-month, costs jump by approximately 10%. To connect KPMG Spark with more than 10 accounts, you'll need to request a custom pricing quote.
Your subscription will cover access to core features of the KPMG Spark platform, but a few extra add-ons are also available. These include an income tax preparation package at $125 (and up) per month and a business licensing service starting at $20 per month. You can also buy a one-time R&D credit feasibility study for $500.
In short, KPMG Spark isn't cheap. However, given that the platform can perform many of the same invoicing, payroll, and accountancy duties you'd normally have to hire a professional to carry out, its prices are quite fair. If you encounter any problem with your service after signing up, KPMG might offer you a refund.

KPMG Visit Site
Usability
When it comes to usability, KPMG Spark really comes into its own. That all starts with the real-time accounting dashboard, which you'll be presented with whenever you log into Spark.
On the left-hand side of the dashboard, you'll find links to jump to key areas of the platform such as billing, vendors, and transactions. Within the billing section, you'll be able to quickly enter key information required to generate a new invoice. Meanwhile, to the right of the dashboard, you'll find shortcuts for contacting your bookkeeper and reminders about any urgent accounting tasks to complete.
Also displayed are several informative charts including a timeline of expenditure, revenue, and net profit over the past year. Below your annual breakdown chart, you'll find a summary of monthly expenses.
Setting up your KPMG Spark account only takes a few minutes and the system can be accessed from mobile browsers as well as desktops, even though no dedicated mobile app is available at present.
Conclusion
With an easy-to-use invoicing system that enables you to automate invoice creation and payment collection, KPMG Spark is an awesome platform for small businesses to consider using. If you aren't ready to hire a full time bookkeeper, this could be a good tool as you'll get access to real accountancy expertise without the expense of hiring a full-time employee.