In a Nutshell
If you're searching for a more convenient way to charge your clients, Invoice2go claims to be the solution that you're looking for. In this Invoice2go review, we'll be taking a look at the iOS App Store's top-grossing business application. Does that commercial success mean Invoice2go really is the best, or would you be better off with an alternative service? Read on to find out.
pros
Stores client information
Tracks billable hours
Scans and records expenses
cons
Some customers report syncing issues
Additional charges for certain payment methods

Invoice2go Visit Site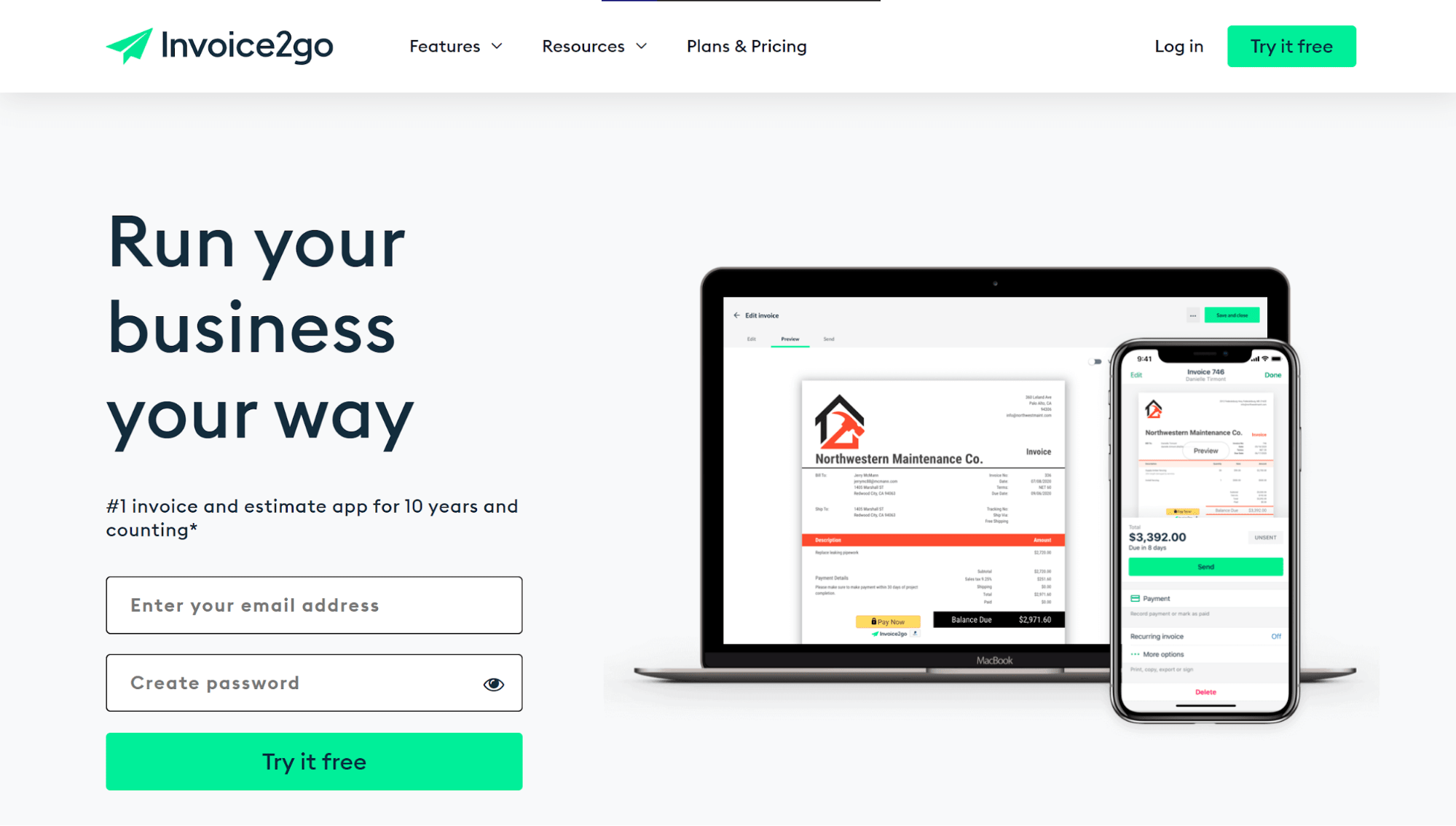 Invoice2go at a Glance
Best for: Small business owners who don't work at a desk
Price range: $5.99 to $39.99 per month (16% cheaper when you pay annually)
Apps: iPhone, iPad, and Android
Features and Add-ons
Invoice2go has an enormous range of features to simplify the way you send out invoices and collect payments. This covers high-level functionality, like itemized cost storage for repeated expenses, as well as more basic tools, such as invoice design.
Comprehensive job management
So you can keep records of the work you've done and fill out your invoices quickly and accurately, Invoice2go helps you keep track of all the information required to bill correctly. Within the Invoice2go app, you'll find a place to add a list of client addresses, payment information, and other contact details. Also, the app will record repeatedly charged costs so that they can be easily added to future invoices.
Create invoices from your mobile
Doing away with the need for a laptop, Invoice2go enables you to create professional invoices from your smartphone. This makes it a handy tool for contractors or anyone else who doesn't work from behind a desk.
Expenses and appointments tracking
As a busy business person, you never want to miss an important appointment or forget to charge a client for a job-related expense. Invoice2go prevents that from happening with a unified system for recording expenses and appointments whenever required.
Recording and tallying up your hours can be a real drain on time for freelancers and small business owners. Invoice2go addresses this issue with a stopwatch function that automatically remembers how long you've worked for and adds it to your next bill.
Estimates and business reports
Going beyond regular invoices, Invoice2go facilitates the creation of high-quality cost estimation documents to help you win more work. Also, to make paying taxes easier, you can generate a comprehensive business report from within the app.
Payment Options
When you send out an invoice through Invoice2go, your clients can submit payment through the app. A large selection of payment methods are covered, so you'll be sure to get your money without any fuss. With each invoice you send, you can toggle specific payment methods on or off.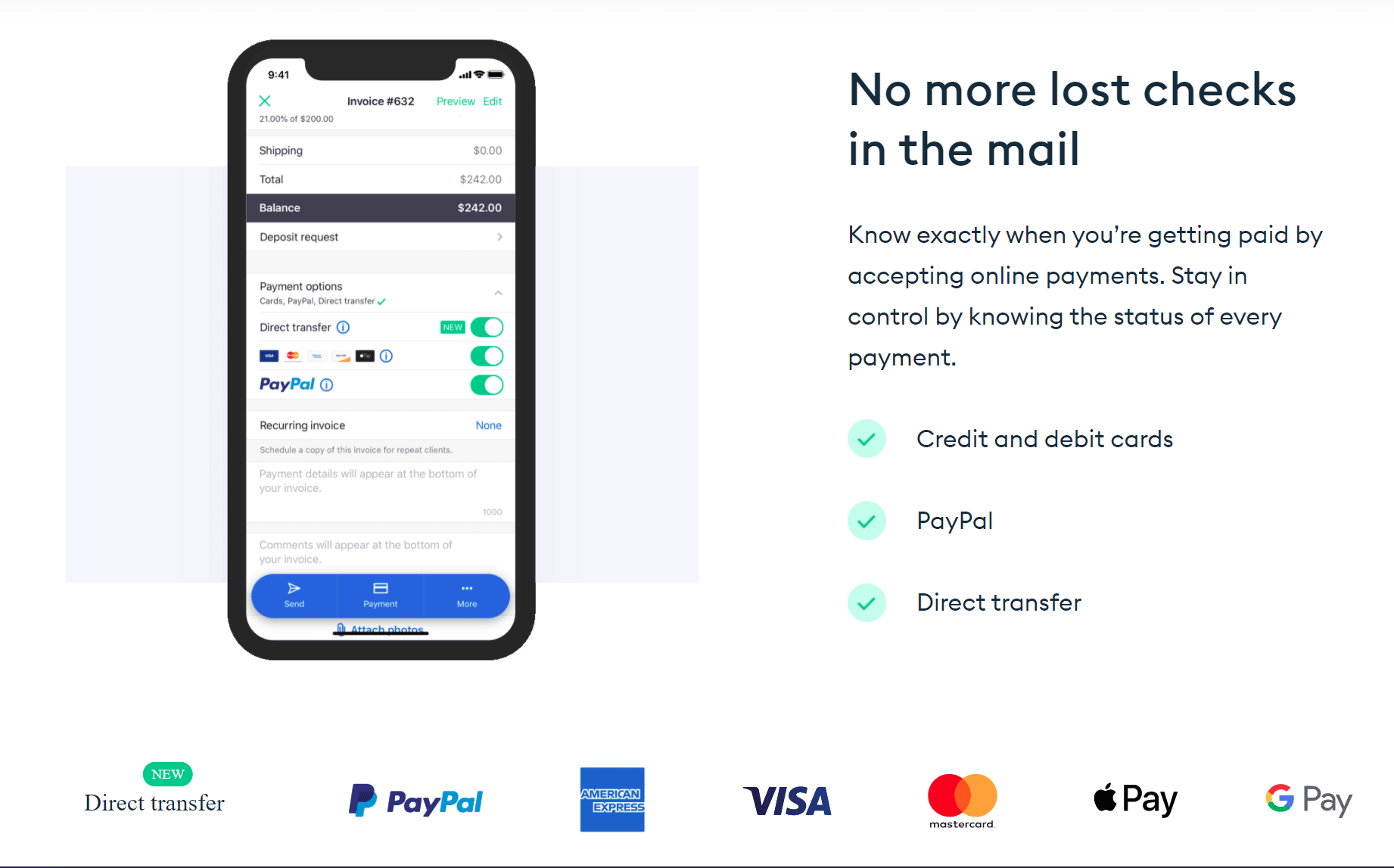 If your client wants to pay online, they can do so by direct transfer, Paypal, or card. Supported card providers include VISA, Mastercard, and American Express. Alternatively, you can opt to collect your cash in person.
Pricing/Costs & Fees
In total, there are four distinct Invoice2go memberships you can subscribe to. The company also offers a 30-day free trial, though you'll have to enter your payment info to activate it. It is much more worthwhile to opt for an annual subscription, which will give you a 16% savings:

The starter plan is the Invoice2go Lite package which enables you to accept payments and create up to 5 invoices each month. However, it lacks some key features such as time and expenses tracking. The lite plan costs $5.99 monthly but drops to just $3 per month when you opt for an annual subscription.
Up next is the $9.99 per month Standard package, which drops to $6.67 when paid annually. This ups the invoice creation limit to 20 and includes most of the key functions missed out on by Lite-subscribers. For appointment management and tracking of up to 100 clients, you'll need to upgrade to the $15 per month Advanced plan instead.
Finally, there's the Unlimited membership which will only be worth considering if you run a fairly large enterprise. Unlimited Invoice2go accounts can be shared between up to 5 users and come with premium phone support.
Note that, besides standard subscription fees, if you receive payments through Invoice2go, you may be hit with extra charges. Card processing fees cost approximately 3%, for example, while ACH Bank Transfer fees are capped at $15. In some cases, you can opt to pass these charges on to your clients directly.

Invoice2go Visit Site
Usability
The Invoice2go interface is exceptionally user-friendly. The entire app is based around the idea that you should be able to create invoices on your mobile that look just as good as those designed on a desktop. To make that possible, Invoice2go has an intuitive designer through which you can change your company's logo or adjust color schemes from any Android or iOS device.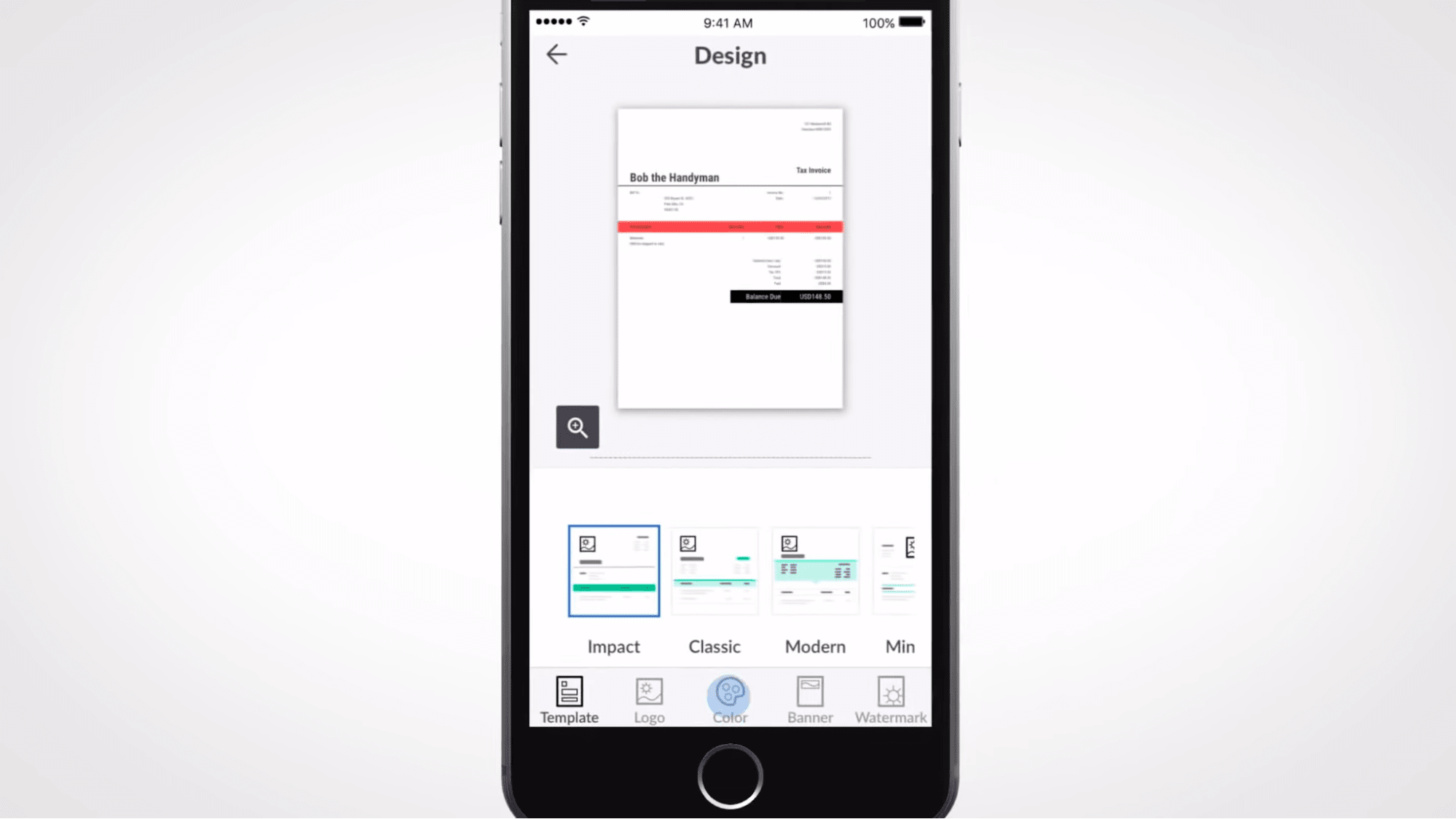 The platform is just as easy to work with on larger tablets, but desktop support has now been ended. No matter what device you're working with, you can use the platform to view key summaries of your business account balances and the amount you are owed. It is worth noting, however, that some past users have reported issues with expenses not syncing properly between different devices running Invoice2go.
Conclusion
Invoice2go has a top-notch feature set that covers everything a small business could need when it comes to managing financial relationships with clients. Particularly impressive are the platform's time-keeping and appointment management tools, that aren't replicated by many competitors. However, be wary of Invoice2go's payment processing surcharges as these aren't always too transparent. Past customers also report issues canceling Invoice2go subscriptions.