In a Nutshell
First Premier is a home warranty provider that aims to make the home warranty process simpler for homeowners. It offers a straightforward website, easy signup, and solid policy. You can choose from several add-ons to upgrade your coverage. A home warranty name that's been around for 30+ years, First Premier offers reasonable annual pricing and lets you sign up for monthly contracts. Trained, vetted technicians seal the deal for this brand.
pros
All technicians are thoroughly screened
Flexible contracts
Straightforward service agreements
cons
Quotes must be called in
Not available in all states
First Premier Visit Site
First Premier at a Glance
Annual Premium: Starts at $419
Plan Types: Premier, Platinum, add-ons
States: N/A
HVAC: Yes, with Platinum Plan
Contractors: In-network, wide network across the country
Home Inspection Required: N/A
Claims Service Fee: $50-$100
24/7 Claims Department: Yes
Workmanship Guarantee: 90 days on parts, 30 days on labor
Coverage
First Premier covers all the basics when it comes to home appliances and systems and offers some extra features as well. Depending on which plan you purchase, First Premier will cover up to 7 systems and 14 appliances. There are also several add-ons detailed below.
Once you make a claim, First Premier will send a contractor to your home to assess the situation. The covered item will be repaired or replaced if it cannot be fixed. First Premier service contracts come with a 90-day warranty on parts and 30-day warranty on labor.
What Appliances and Systems Does First Premier Cover
First Premier also has optional add-ons that you can purchase separately including:
Limited roof leak coverage
Additional heating system
Additional garage door opener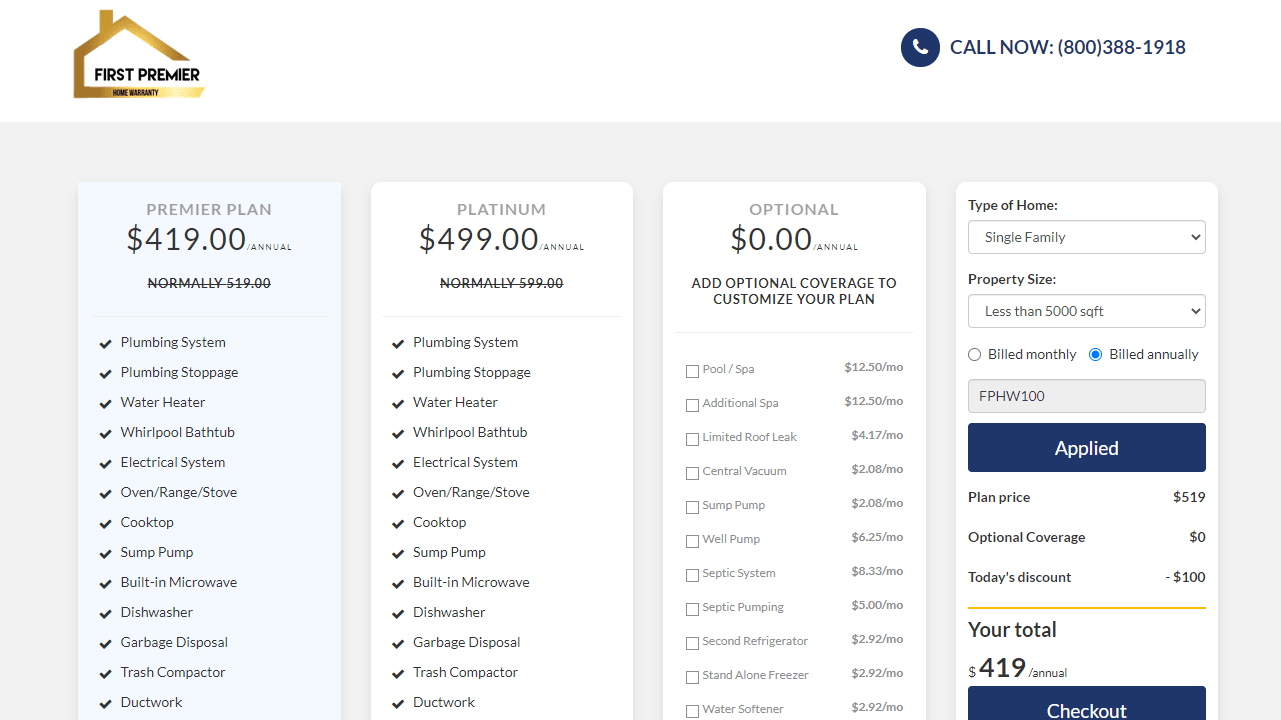 Pricing and Onboarding Deals
First Premier has 2 plans to choose from, the Premier and the Platinum plans. In terms of industry norms, First Premier offers competitive pricing. What we really like about these plans is that they're very inclusive. If you opt for the more basic plan, you'll still have your electrical and plumbing systems covered, as well as ductwork and most major appliances. The Platinum Plan offers even more inclusive coverage, spanning just about every home system and appliance you can think of. What's more, First Premier offers coverage for 2 A/C and heating systems with its Platinum Plan, something you generally have to pay extra for.
If you want to include add-ons to your plan, First Premier has multiple options that range from less than $3 a month up to $12.50, depending on the item in question. For new customers, First Premier has an attractive promotion that gives you $100 off plus 2 months free. You'll also get free roof coverage added in. First Premier offers discounts for seniors and veterans.
First Premier allows you to cancel your policy within the first 30 days for a full refund. After that, it will provide a pro-rated refund and charge a service fee if necessary.
Contractors and Service
While it doesn't provide an exact figure, First Premier has a wide network of contractors spread out across the country. What's more, First Premier thoroughly screens each of its technicians before including them in the team, so you know you're getting someone who is trained, skilled, and reliable.
First Premier has a 24/7 claims department, a big plus for this type of service. You can call in a claim at any time. Generally, a technician will arrive within 2 days. In case of an emergency, the situation will be expedited. Service fees range from $50-$100 depending on your location. First Premier does not mention whether home inspection or maintenance records are required to receive a contract or to carry out repairs.
How Does First Premier Compare?
30 days for service
90 days for parts
30 days for service
90 days for parts
What Do People Say About First Premier?
"Christine went above and beyond to help me with my claim! First Premier walked me through the entire claim process when my central air conditioner wasn't working adequately. Between Christine the customer representative, and the technician that was dispatched to my home, they turned a frustrating ordeal into a smooth and professional process! Kudos to the entire team!" - Maurice Cheatum, Savannah, GA
"Tony was great! He answered all my questions and explained my options clearly. I'd be very happy to have First Premier as my home warranty provider for many years to come!" - Jan J.
"Great job. I called Monday morning, and by Monday afternoon, a technician was already out at the house. Couldn't ask for better service! Thank you." Samuel M.
First Premier Visit Site
Bottom Line
First Premier is a well-known name in the home warranty industry. It offers no-nonsense, inclusive contracts that make it easier for homeowners to purchase the coverage they want at a reasonable price. First Premier has a nationwide network of vetted technicians and plenty of add-ons to complement your coverage.
About First Premier
Established in 1989, First Premier has grown steadily over the 30+ years it's been in business, thanks to a solid reputation for providing reliable home warranty coverage and positive public feedback. First Premier has an A- rating with the Better Business Bureau. There isn't a lot of online buzz about the company, but any online reviews have been positive