In a Nutshell
WonderEar offers very competitively priced hearing aids, with no prescription or hearing test required before purchase. However, the generic nature of its products means that those with moderate to severe hearing loss may not experience the same sound quality as they would with custom hearing aids. There's still plenty to suit those with less specialized requirements, like background noise reduction and feedback cancellation across the board.
pros
Very competitively priced
No prescription or hearing test required
45-day money-back guarantee
cons
No warranty or guarantee
Only available online

Wonder Ear Visit Site
WonderEar Hearing Aid Models
There are five WonderEar hearing aid models available, with prices ranging from $149.99 to $499.99 per pair. These include everything from basic analog devices to small, in-ear solutions that use digital sound processing and background noise reduction to help those with more advanced hearing loss.
WonderOne
The entry-level device WonderOne starts at $149.99 for a pair or $99.99 for a single hearing aid. It's a basic device targeted at those with mild hearing loss, and it uses simple noise reduction technology with adjustable volume to provide an optimal experience.
WonderPro
WonderPro costs $249.99 per pair and uses analog sound processing technology, with more advanced noise-canceling than the WonderOne device. It also features a telecoil loop, which is designed to help you hear in echoey spaces. WonderPro should be powerful enough for most users, although you may need to go for a more advanced product if you suffer from extreme hearing loss.
WonderX
WonderX hearing aids will cost you $399.99 per pair. These boast enhanced noise reduction and use digital sound processing, making them an advanced yet affordable option. WonderX hearing aids are also fully rechargeable.
WonderMax
The WonderMax device is even more sophisticated, and it's a good option for those with more severe hearing loss. It features smart noise reduction, smart feedback canceling, and three different sound settings. And at $399 per pair, it's still an affordable option.
WonderWave
The high-end WonderWave hearing aid ($499 per pair) is WonderEar's most advanced product. It offers better sound quality for those with the most extreme hearing loss, and it boasts adaptive technology, dual directional microphones, and four different sound environment settings.
WonderEar Additional Services & Products
Along with its selection of five different hearing aids, WonderEar offers a number of accessories. You can purchase ear domes of different shapes and sizes in affordable packs costing just $9.99 each. These enable you to achieve a perfect fit with your hearing aids.
You can also purchase replacement chargers and batteries for your devices, along with other parts and WonderGuard wax guards that are designed to protect your device and prolong its life.
While no warranty is offered, WonderEar has an excellent protection plan that covers your hearing aids against accidental damage, malfunctions, and some other issues. It costs $9.99 per month and includes full replacements for major defects. Free shipping is included, so you won't have to pay any extra fees.
How do I Purchase WonderEar devices?
All WonderEar hearing aids can be purchased without a prescription or hearing test. There's no need to visit an audiologist before purchasing a device, although this may still be a good idea.
The only way to purchase a WonderEar device is online via the company website. There are numerous discounts and deals available, and all products are shipped from a California-based logistics center. The estimated shipping time is 2–6 days, but this may vary according to your location.
WonderEar Payment Options
WonderEar offers a number of payment options, including credit/debit card, PayPal express checkout, Apple Pay, and others. Payment plans are provided through Affirm, which enables you to make four interest-free payments. However, plan eligibility is subject to location and other factors.
WonderEar Features and Tools
WonderEar's prices are the main thing that set it apart from the competition. There are still a few features worth noting, though.
For one, all devices come with some form of background noise reduction technology. This filters out sounds such as traffic, machinery, or anything else that could prevent you from hearing properly.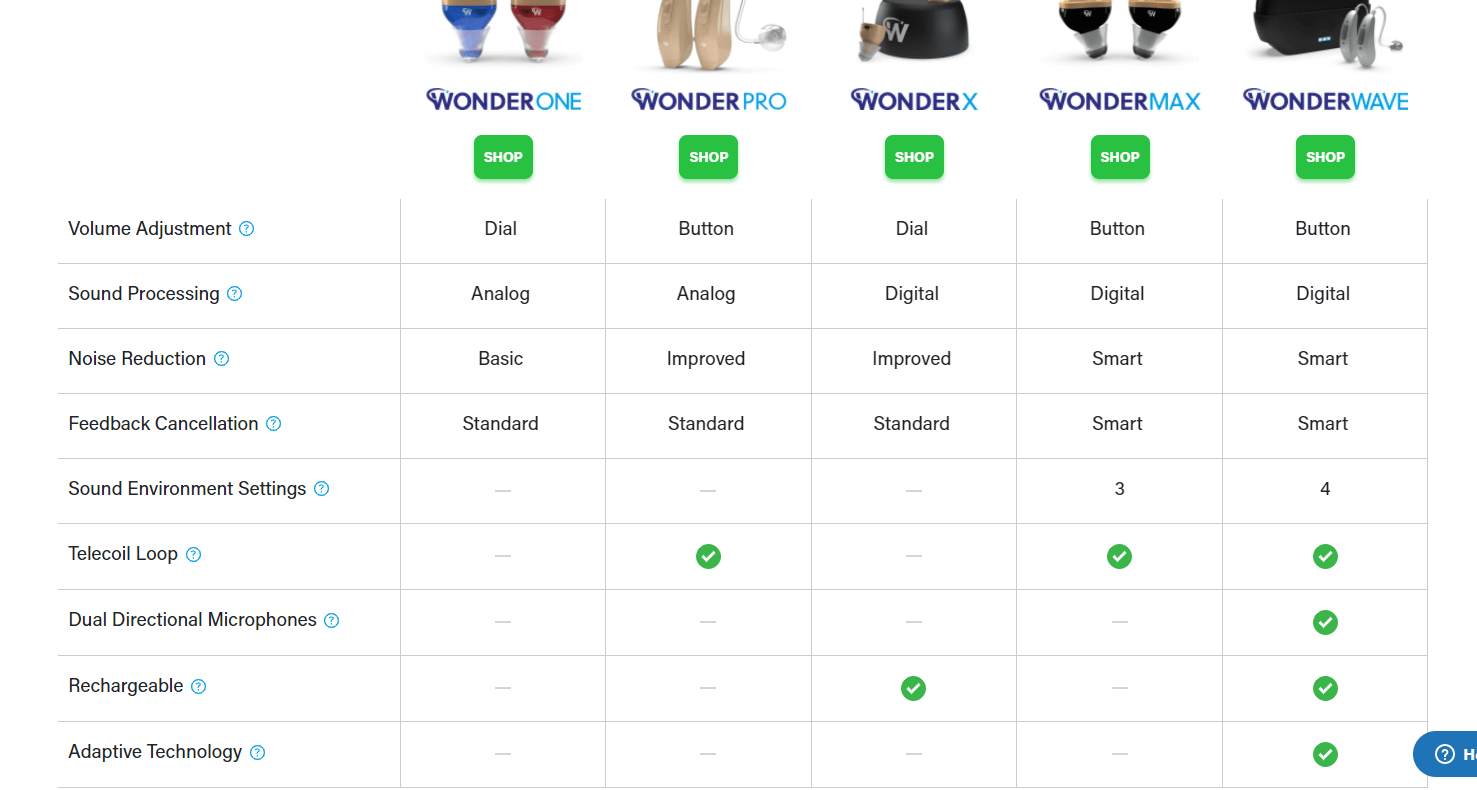 Feedback cancellation is also a noteworthy feature of all WonderEar devices, and the WonderMax and WonderWave models have multiple sound settings for different environments. Some devices are rechargeable, and others feature a telecoil loop to help you hear better. The high-end WonderWave device also includes dual-direction microphones and adaptive technology.
What about the WonderEar app?
Unfortunately, WonderEar offers no mobile app or other mobile tools at this time.
Service and Support
WonderEar offers phone, email, and online ticket support options. You can reach out via email or online ticket at any time, but you may not get an immediate response. Phone support is only available from 8 am to 8 pm (EST), Monday to Friday. The team will happily work with you to answer pre-sales questions and/or for technical product support after your purchase.
There's a small blog, but useful information is limited. WonderEar's FAQ page is much better, though, with a selection of common questions answered clearly and concisely.
How to get a refund from WonderEar?
WonderEar offers a full 45-day money-back guarantee. This means that you can test any of the company's products and get a full refund if you're not satisfied. You will have to cover shipping costs, though, and the returns process is a little complex.
You will need to reach out to the customer service team to start the refund process. Once approved, you will be given a Return Merchandise Authorization (RMA) number and further return instructions.
Bottom Line
If you suffer from mild to moderate hearing loss, WonderEar may be worth considering. It's a very affordable option, and purchasing is a fast, straightforward process. The hearing aids may lack some of the advanced technologies offered by competitors, and there's no warranty available. WonderEar is a great choice if you're on a tight budget, but we'd still recommend booking a hearing test and assessment before settling on a hearing aid.
FAQs
Are the hearing aids from WonderEar registered with the FDA?
Yes, all WonderEar hearing aids are registered as class 1 devices with the FDA.
Can I purchase WonderEar products without a prescription?
Yes, there's no need for a prescription or even a hearing test before purchasing a WonderEar hearing aid.
Can I get a refund if I'm not happy with my WonderEar?
Yes, WonderEar offers a full 45-day money-back guarantee on all products. If you're not satisfied, reach out to the customer service team to arrange a refund.

Wonder Ear Visit Site
When will my product arrive?
All WonderEar devices are shipped from a logistics center in Los Angeles, California. Shipping within the USA generally takes 3 to 7 days.
How do I choose the right WonderEar device?
The WonderEar team is available to help you make a selection. Reach out via phone or email for assistance.