In a Nutshell
Audien Hearing does a good job of providing sound-amplifying hearing aids for people on a budget. They're simple to use, easy to recharge, and have multiple tips to fit different ear shapes and sizes. As these hearing aids aren't custom-made to fit your ear canals, they can't compete in clarity with more expensive choices. But if you're lucky enough to have ear canals that fit Audien Hearing's devices, they may work for you.
pros
Great pricing
Easy to recharge
45-day money-back guarantee
cons
Earbuds are large
Sound quality doesn't compete with custom-made hearing aids

Audien Visit Site
Audien Hearing Aid Models
Audien Hearing offers four hearing aid models. They are affordable, rechargeable, and come with all the accessories you need.
The Audien EV1, at $89 a pair, is the most affordable option on the Audien roster. You get four different tip sizes so you can find the right fit, and you'll get up to 20 hours of sound between recharges.
Consider the Audien EV3 the pro version of the EV1. The EV3 is 26% smaller than the EV1, and you can get up to 24 hours of sound from each charge. It also comes with six different tip sizes instead of four. The price increases to $199 per pair.
Another option is the new Atom hearing aid, which features wireless charging. The Atom comes with a dock that charges the hearing aid, and is roughly the same size as the EV3. Audien says it offers better sound quality, which may be more suitable for people with more profound hearing loss. The Atom costs $99 a pair.
Finally, there's the Atom Pro. At $249 a pair, it's the most expensive choice from Audien, but this is still significantly cheaper than custom-fitted hearing aids. The Atom Pro, like the Atom, has a docking station for easy recharging. But with the Atom Pro, you can get up to four days of use out of a single charge.
Audien Hearing Additional Services & Products
An additional protection plan (above the standard warranty) provides cover if you lose or break your hearing device. This costs $4/month or $24/year. You will still need to pay for your replacement, albeit at a special, reduced price. The replacement price ranges between $19 for the EV1 and $34 for the Atom Pro.
Additional charging kits are available for all models. Prices vary, starting at $14 for an EV1 charging kit to $24 for an Atom Pro charger with case.
Finally, an accessory pack at $12 includes 12 replacement earbuds, a cleaning brush, screwdriver, and eight wax guards. You can purchase this on a subscription basis, where a new accessory pack will be sent to every month for $9/month.
How Do I Purchase Audien Hearing Devices?
Audien Hearing devices are not medical devices regulated and approved by the FDA. The National Advertising Division (NAD) of BBB National Programs challenged Audien Hearing's use of the term "hearing aid" for its products, saying they are instead "personal sound amplification products". To date, Audien Hearing still says "hearing aid" on its website.
Because of the lack of regulation, buying Audien Hearing devices is relatively straightforward. You can purchase the devices directly from its website. You don't need a prescription and you don't have to visit an audiologist. Audien Hearing considers this a major advantage of its products, though its competitors who do require audiologist visits are quick to state that they provide more sophisticated hearing devices.
Audien Hearing Payment Options
Payment to Audien Hearing is via a one-time purchase process through the company's website using a credit card.
No payment plan is available for the devices themselves, but extras such as monthly cleaning kits can be purchased as an ongoing subscription.
Audien Hearing Features and Tools
Audien Hearing devices are relatively simple to use compared to pricier hearing aids. The devices don't perform any audio manipulation other than amplifying sound. This makes their use in noisy environments inferior to custom-made hearing aids.
The standout feature of Audien Hearing devices, besides the low prices, is their rechargeable nature. You don't have to change batteries every day. Instead, you need only remember to plug in your earbuds, or sit them on top of the wireless charging dock.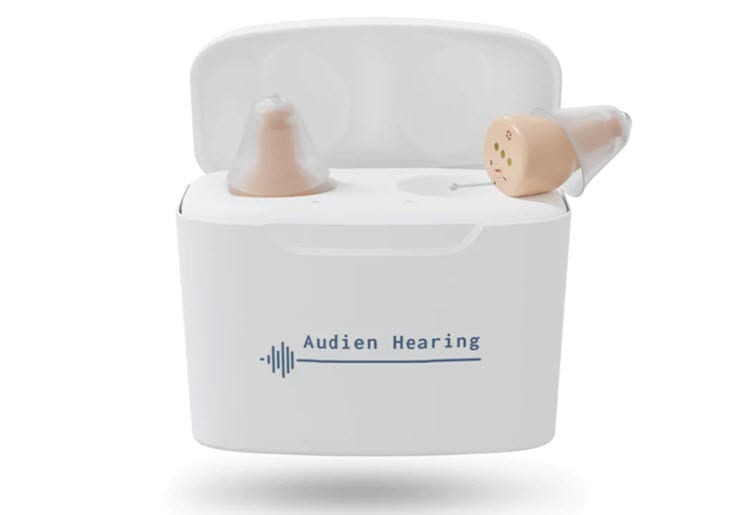 Audien Hearing's one-size-fits-all approach to hearing aids is certainly a plus for those who don't want to go through the hassle and expense of getting a hearing aid custom-made. The devices are a legitimate alternative to those that cost over $1,500, as long as you reign in your expectations around sound quality.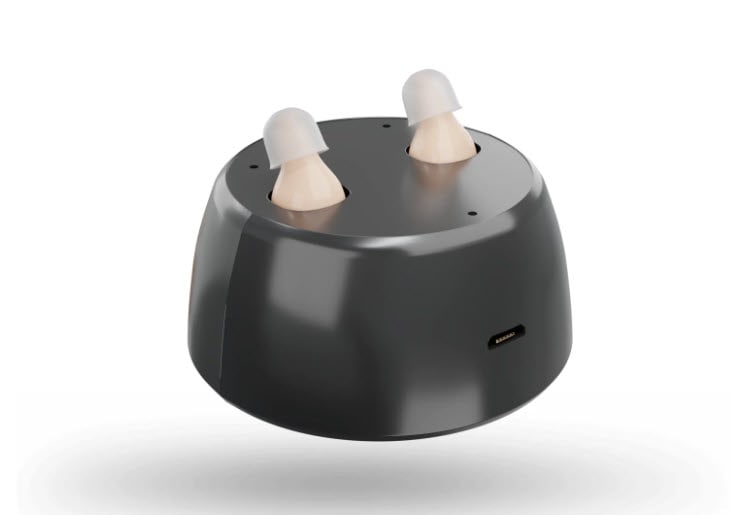 What about the Audien Hearing app?
Unlike some competitors' products, Audien Hearing doesn't include a mobile app for its hearing devices. If you want to check battery levels or adjust volume using a mobile app, you should look elsewhere for your hearing aids.
Service and Support
Customer support is available Monday-Friday between 7am-4pm PT. During this time, you can phone the company or use the live chat system to speak to a representative. Outside of these hours, there is email support only, which has a 24-hour response time. This could be considered lackluster for a company that primarily supports older customers.
Online reviews often mention the difficulty of reaching customer support at Audien Hearing, which could be a dealbreaker for many people.
Online support documentation is also sparse, essentially boiling down to four videos that show you how to use each of the devices. Those interested in the specifics of how the devices work are out of luck. Audien Hearing has a blog, but nearly all posts are several years old.
How to get a refund from Audien Hearing
Audien Hearing provides a 45-day money-back guarantee and a one-year manufacturer's warranty. The manufacturer's warranty offers a complete replacement in the case of a defective product.
To get a refund, you request one through the Audien Hearing website. The support team will provide you with a return shipping label, and you must send the product back from the post office using tracked mail. The shipment must reach Audien's warehouse 45 days after you received your product, or a refund will not be given. Once the returned product is received by Audien Hearing, your refund will be processed within 3-5 business days.
Online reviews commonly mention problems in getting refunds from Audien Hearing, whether it's because of a lack of communication or refusal to refund the customer based on a technicality. Because of this, it's difficult to recommend Audien Hearing to those who value the opportunity to get a full refund easily if the product doesn't suit them.

Audien Visit Site
The Bottom Line
Audien Hearing provides good hearing amplification devices for your money. They're easy to use, have several tip sizes, and are rechargeable.
However, don't buy Audien Hearing devices if you expect them to be direct replacements for more expensive, custom-made hearing devices. The sound quality, while passable, doesn't compete with a hearing aid specifically designed for your ear canals. The low prices may also affect Audien Hearing's customer service, as there are plenty of negative customer reviews online to warrant some concern.
FAQs
How long does Audien's hearing aid charge last?
The EV1 charge lasts up to 20 hours, the EV3 and Atom last up to 24 hours, and the Atom Pro lasts up to four days.
How do I adjust the volume on my Audien hearing aid?
Volume is adjusted by turning the screw on the devices using a small, supplied screwdriver.
What is the difference between a hearing aid and a hearing amplifier?
Technically, Audien devices are hearing amplifiers, not hearing aids. Hearing aids are professionally fitted and tuned to the needs of the individual, often boosting specific sound frequencies. Hearing amplifiers simply make everything louder, which isn't ideal in all environments.
Are Audien Hearing aids FDA-approved?
No, Audien devices are not medical devices and are not FDA-approved.
What is the difference between the Audien Atom and Atom Pro?
The Atom and Atom Pro are similar, even using the same sound processing chip. However, the Atom Pro lasts four times longer between charges.