In a Nutshell
Phonak offers a selection of advanced hearing aids and accessories and a near-global network of hearing care partners. Its products are backed by intuitive apps and a range of great features, although support is limited to email. You can only purchase Phonak's devices through one of its partners, which may be inconvenient for some. There also aren't any online or contactless purchase options, and its products are a little on the expensive side.
pros
Excellent integrated mobile apps
A global network of distributors
Over 70 years in the hearing aid industry
cons
Can't be purchased online
Relatively high prices compared to some alternatives

Phonak Visit Site
Phonak Hearing Aid Models
Phonak currently offers ten different hearing aid models. These are equipped with the latest technology, and many come with advanced features such as Bluetooth connectivity and integrations with the company's apps. Prices vary according to the provider you purchase your hearing aids from, and many of the devices share similar features and integrations.
Audeo Paradise - This in-ear hearing aid comes with full Bluetooth connectivity and is designed for those with mild to advanced hearing loss. It features personalized noise canceling, voice assistant technology, and the ability to connect to Smart TVs, phones, and a variety of other devices.
Naida Paradise - With Bluetooth connectivity, speech enhancement, dynamic noise cancellation, and tap control, this behind-the-ear hearing aid is up there with the most advanced on offer. There are two versions available; one designed for mild to severe hearing loss and one for severe to profound loss.
Sky Link M - This kid-friendly hearing aid is designed to help hard-of-hearing children transition towards cochlear implants. The behind-the-ear device comes with full Bluetooth connectivity, and it's also water and dust-resistant.
Naida Link M - The behind-the-ear Naida Link M device is one of Phonak's more advanced hearing aids. It can be used with the Naida CI M90 sound processor to provide a complete solution for those with severe to profound hearing loss.
Naida Marvel - This behind-the-ear device is designed for those with moderate to advanced hearing loss, and it's backed by Bluetooth connectivity. It's dust and water-resistant and fully compatible with the Phonak smartphone apps.
Bolero Marvel - This robust behind-the-ear hearing aid is fully rechargeable, Bluetooth-compatible, and designed for use in noisy and changing environments. It's suitable for those with mild to severe hearing loss.
Virto Marvel - These high-end custom hearing aids are designed to meet very specific hearing needs. One noteworthy feature is AutoSense OS 3.0, which can provide better sound quality in all situations. The discreet in-ear device offers maximum comfort and durability.
Vitus/Vitus+ - As one of Phonak's more basic hearing aids, this affordable option is designed for those with a tighter budget. It comes in both behind-the-ear and in-ear forms, and there are options for everything from mild to profound hearing loss.
CROS B - The CROS B device is designed specifically for those with single-ear hearing loss. It boasts contralateral routing of signal (CROS) technology, which effectively transmits sound from your bad ear to your good ear.
Lyric - The Lyric in-ear hearing aid is 100% invisible, and it can be worn 24/7 without any need for regular charging or removal during showers or exercise. It's a great option for permanent long-term use. Rather than purchasing devices individually, the Lyric is purchased with an annual subscription, and you get a fresh hearing aid each month on this plan.
Phonak Additional Services & Products
All Phonak products come with a 1-year limited international warranty, which means manufacturing and material defects will be covered for 12 months from the date of purchase. Local warranties may also be available. All warranties are void if you purchase from an unauthorized online retailer.
There's also a selection of accessories and other hearing-related products. One standout is the Roger microphone, which can be used to pick up and transmit a speaker's voice directly to your hearing aids, helping you to hear better in situations where there's a lot of background noise. It's compatible with numerous different hearing aids, including some non-Phonak devices.
Other accessories include a Phonak PartnerMic, a remote control that enables you to control your hearing aids, and a TV connector so you can stream TV audio directly to your devices. There is also a Phonak Serenity Choice hearing protection range, designed for those who regularly work in or experience loud environments.
How Do I Purchase Phonak Devices?
Phonak only sells its hearing aids and related products through licensed audiologists. It boasts a global network covering over 100 countries.
To make a purchase, you can reach out to the Phonak team on 833-828-1749 to find your local stockist. There's also an online map, or you can ask the team to connect you directly with a specialist for your initial consultation.
Phonak Payment Options
Phonak products are only available through licensed third-party hearing care partners, so payment options can vary. You'll need to speak to your local Phonak partner to discuss the options available.
Phonak Features and Tools
Phonak's products are backed by a suite of advanced features.
For one, many of Phonak's hearing aids come with full Bluetooth support. With this, you can connect to your smartphone or any of Phonak's range of streaming devices, enabling you to have sound routed directly to your ears.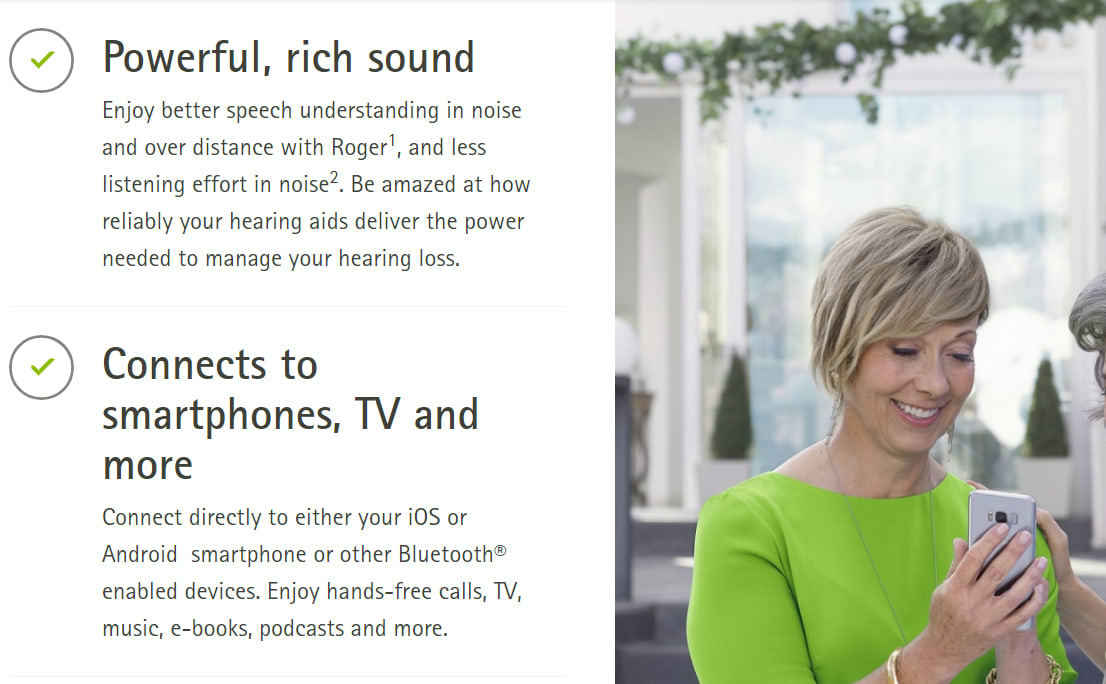 Another notable feature is Phonak's single-ear solutions. With these, you can effectively improve your hearing across the board. Sounds are picked up from your impaired ear and transmitted to your good ear via CROS technology.
What About the Phonak App?
Phonak offers a number of different free apps for both Android and iOS devices. They are compatible with many of the company's hearing aids and connect via Bluetooth.
The myPhonak app is designed for remote hearing aid control and advanced technical support. With it, you can monitor the condition of your devices and accept phone calls directly through your hearing aids.
There's also a myPhonak Junior app, which is designed to help kids get the most out of their hearing aids. It's similar to the adult version but comes with a child-friendly interface. A small number of specialized apps are also available.
Service and Support
Unfortunately, Phonak's support services are fairly limited. Live support is confined to email, and you have to create an account before you can even reach out via this method. Phone and live chat support are notably absent.
There is, however, a selection of self-help resources, including a comprehensive FAQ section. Here, you will find detailed answers to a wide range of popular questions, while resources such as Getting Started guides and product-specific user guides are excellent. There are a number of video tutorials, along with a troubleshooting portal, to help you identify and deal with any problems that arise.
How to Get a Refund from Phonak
Since Phonak sells its products through a global network of third-party retailers, there's no single refund policy. In most cases, you will need to speak with the hearing care professional you purchased your device from if you run into problems.
Bottom Line
Phonak is one of the world's top-rated hearing aid manufacturers. Its products are sold across the globe, and all are backed by an excellent range of advanced features, such as digital sound processing and background noise reduction. All products come with a 12-month limited international warranty, and many devices come with Bluetooth connectivity. If you're looking for a high-end hearing solution from one of the world's leading manufacturers, Phonak is certainly worth considering.
FAQs
Is Phonak a good brand?
Phonak has an excellent reputation across the world. Its products are sold in over 100 countries, and its market saturation is up there with the largest brands around.
Does Phonak have a warranty?
Yes, Phonak offers a 12-month limited international warranty covering product and material defects. You may also benefit from a local warranty if your hearing specialist offers one.
Can I use Phonak with my smartphone?
Yes, Phonak offers mobile apps for both Android and iOS devices. These come with a range of integrated tools, enabling you to manage your hearing aids in a streamlined manner.

Phonak Visit Site
What is myPhonak?
The myPhonak platform provides an integrated management dashboard. Here, you can access product support, information about your devices, and usage statistics and insights.
How much do Phonak hearing aids cost?
Since Phonak devices are sold through third-party providers, the cost can vary from business to business. However, you can expect to pay around $1,000 for a low-end base model, and prices can increase into the thousands for more advanced devices.