In a Nutshell
Oticon is the world's second-largest hearing aid manufacturer and offers dozens of premium models to choose from. The company uses noise-canceling AI technology and has hearing aids designed specifically for children and one-sided hearing loss. Oticon hearing aids are pricey, and you must purchase them through a local audiologist. The upside is that you get a support network of thousands of dealers if you encounter a problem with your device.
pros
Wide range of hearing aid models to meet specific needs
Remote control via Oticon ON mobile app
Thousands of local dealers across the US
cons
Relatively expensive
Must purchase through a third-party audiologist

Oticon Visit Site
Oticon Hearing Aid Models
Oticon offers 11 different series of hearing aids and dozens of models to suit every budget and type of hearing impairment. The company makes both behind-the-ear (BTE) and receiver-in-channel (RIC) hearing aids, as well as devices specifically for children. Oticon is at the leading edge of hearing aid technology and typically releases peer-reviewed research with each new model to back up its claims about the quality of its devices.
It's worth noting that most Oticon hearing aids are compatible with the company's CROS technology, which optimizes for hearing loss in one ear. Adding CROS to any hearing aid increases the price by about $1,000.
More
The More hearing aid is Oticon's newest device. It includes an onboard deep neural network that's been trained on over 12 million sounds, enabling the hearing aid to denoise your environment and amplify speech during conversations. Compared to the Opn S, Oticon's second-newest hearing aid model, the More delivers 30% more sound.
This hearing aid is best for people with moderate hearing loss who want the highest-quality conversations and don't mind using a BTE receiver. The More costs $2,761.
Opn, Opn S & Opn Play
The Opn and Opn S have 3 hearing aid models each, including both BTE and RIC hearing aids. The devices in each series eliminate noise using Oticon's BrainHearing technology, which is an earlier iteration of the technology used in the More. OpnS hearing aids use a slightly more advanced version of the BrainHearing algorithm and offer 15% better speech understanding than Opn series hearing aids.
The Opn and Opn S are most suitable for people with moderate to severe hearing loss who prefer an RIC over a BTE hearing aid. The Opn S RIC model costs $3,568, while the Opn RIC model costs $3,250. In addition, Oticon offers 4 Opn Play models, which are designed for children, starting at $2,300.
Xceed & Xceed Play
The Xceed is a line of high-powered hearing aids designed for people with severe hearing loss. These devices offer a 360-degree microphone so that you're not limited to only hearing what's in front of you. They also use sound optimization technology to eliminate static and whistling even at high amplification volumes.
The Xceed series includes 3 BTE models, which range in price from $2,609 to $3,538. Oticon also offers 2 Xceed Play hearing aids, which are designed for children with severe hearing loss and start at $2,500
Ruby
The Ruby hearing aid lineup consists of 5 BTE and RIC hearing aids that use Oticon's older Velox sound processing system. While these hearing aids lack the advanced noise cancellation of the Opn and More series, they are much more affordable. Ruby series hearing aids start at $1,733.
Siya
Siya is a series of 9 different hearing aids that, like Ruby devices, use Oticon's Velox sound processing technology. What differentiates the Siya series is that it includes a number of in-the-canal hearing aids. The smallest of these go deep inside your ear canal and are virtually invisible when you're wearing them. Siya hearing aids start at $1,818.
Dynamo
The Dynamo is a single hearing aid model that is Oticon's most powerful option for people with severe hearing loss. This BTE hearing aid is designed to amplify noise without sacrificing clarity and uses Oticon's BrainHearing technology to specifically transmit speech. The Dynamo costs $1,990.
Sensei & Sensei SP
The Sensei series is a line of 3 BTE and RIC hearing aids designed specifically for children. They include BrainHearing technology for clarity and Bluetooth connectivity for connecting to smart educational devices. In addition, Sensei hearing aids are fully water-resistant. They start at $1,395.
For children with severe hearing loss, Oticon also makes the Sensei SP (Super Power) hearing aid. This uses the same technology as the Sensei, but offers greater amplification and is only available as a BTE model. The Sensei SP costs $1,595.
Oticon Additional Services & Products
Oticon offers a 2-year manufacturer's warranty on all hearing aids, plus a 1-year warranty for loss and damage. You'll need to bring your hearing aid to an Oticon audiologist, and they can offer a replacement part immediately or ship your hearing aids back to Oticon for replacement.
Oticon also offers ConnectClip and ConnectLine devices to help you make the most of your hearing aids. ConnectClip enables you to make phone calls wirelessly from your smartphone and includes a built-in microphone to transmit your speech. ConnectLine is a television adapter that lets you connect your hearing aids directly to your television's audio feed.
How Do I Purchase Oticon Devices?
To purchase Oticon hearing aids, you'll need to schedule a hearing test with a local audiologist who sells Oticon products so that you can get a prescription for your device. The company has thousands of dealers across the US, with at least one in every state.
Oticon Payment Options
Your options to pay for Oticon hearing aids will depend on the local audiologist you purchase them through. Oticon itself doesn't offer information about payment plans nor any insurance policies that cover its devices.
Oticon Features and Tools
The number one thing that differentiates Oticon hearing aids from other manufacturers is the company's use of noise-canceling technology. The new More hearing aid has a built-in neural network trained on over 12 million sounds, enabling it to decide what noise to amplify and what to eliminate. That reduces the effort of following conversations and results in 15% better speech understanding compared to the Opn S.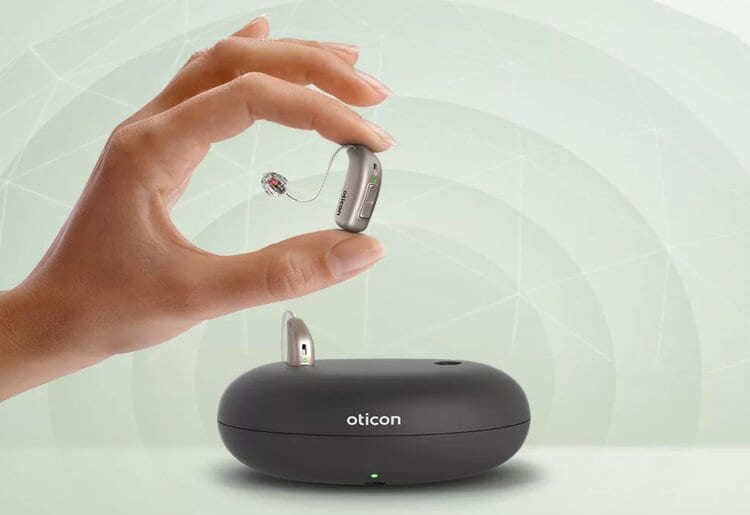 While the Opn S and older models don't have a neural network, they also offer Oticon's BrainHearing technology. This scans your surroundings 100 times per second to differentiate noise from conversation and eliminate chatter.
What About the Oticon App?
Nearly all of Oticon's hearing aids can connect via Bluetooth to the Oticon ON mobile app. This free app is available for both iOS and Android devices, including the Apple Watch.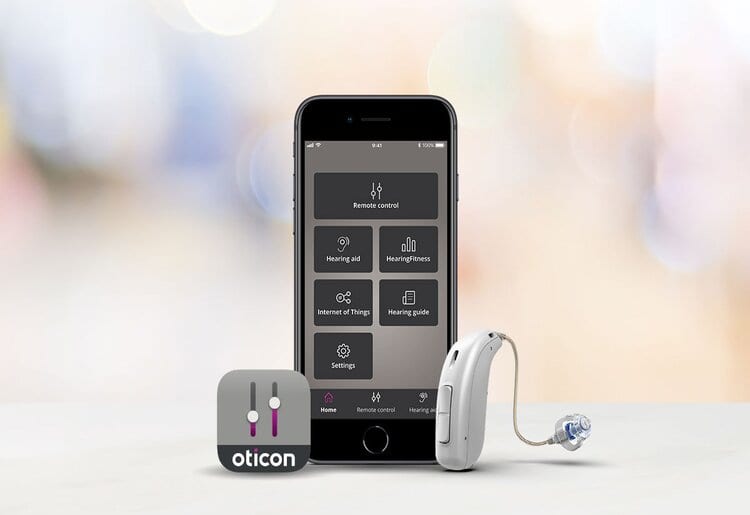 With the Oticon ON app, you can adjust your hearing aid's volume, keep track of how frequently you use your hearing aid, and stream music or audio directly to your hearing device. Oticon ON also integrates with IFTTT, which lets you set up 'if this then that' controls for all of the internet-connected devices in your home. So, for example, you can program your hearing aid to turn on whenever the television turns on.
Service and Support
Oticon doesn't provide direct support for customers. The company offers documentation for all of its hearing aids, including user guides, but that's about it. If you need help with your device, you'll need to speak with your local audiologist or another audiologist that sells Oticon products.
How to Get a Refund from Oticon
Oticon encourages audiologists to offer a risk-free trial for its hearing aids, although the length and details of this trial vary by provider. If you want to get a refund, you'll need to go through the audiologist from whom you bought your Oticon hearing aid.
Bottom Line
Oticon's hearing aids are premium devices that offer cutting-edge technology like deep learning-based noise cancellation and automatic sound optimization. The company has models for every type of hearing impairment, including devices specific for children and hearing loss in one ear only. While visiting an audiologist to purchase Oticon hearing aids can be a hassle, the company's network of thousands of dealers across the US means that support is always nearby when you need it.
FAQs
What is the newest Oticon hearing aid?
The newest Oticon hearing aid is the More, which builds on the noise-canceling properties of the Opn S to deliver 30% more sound to your brain.
How long do Oticon hearing aid batteries last?
Oticon rechargeable batteries typically last about 1 year. You can have your batteries replaced by any Oticon dealer.
How do you reach Oticon support?
The best way to get support for your Oticon hearing aid is to visit a local audiologist who sells Oticon products.

Oticon Visit Site
Why is my Oticon hearing aid beeping?
Oticon hearing aids beep when the battery is running low. This indicates that you should recharge your batteries.
How do I connect my Oticon hearing aids to my TV?
You can connect your Oticon hearing aids to your TV using the ConnectLine accessory. You can also connect through your smartphone using the Oticon ON app.