In a Nutshell
Neosonic offers high-quality hearing aids at an incredibly affordable price. The company stands out for the rechargeable battery technology its hearing aids use and the dual microphones in its higher-end MX and MX-RIC models. In addition, Neosonic offers a 45-day free trial and a 1-year warranty on all of its models. If you're on a budget and don't mind the lack of a smartphone app, Neosonic's hearing aids are worth considering.
pros
Very affordable models with a 45-day free trial
Rechargeable batteries last 20 hours per charge
Monthly payment plan available through Affirm
cons
Not compatible with a mobile app
Does not accept health insurance

Neosonic Visit Site
Neosonic Hearing Aid Models
Neosonic offers 3 types of hearing aid, including 2 BTE models and 1 RIC model. All 3 are powered by rechargeable lithium-ion batteries that last 20 hours per charge. A charging station is included with your purchase.
Neosonic's hearing aids are extremely simple to operate since they include volume controls on the case. However, none of the models are compatible with a smartphone app, so your options for fine-tuning the microphone direction or making other adjustments are limited.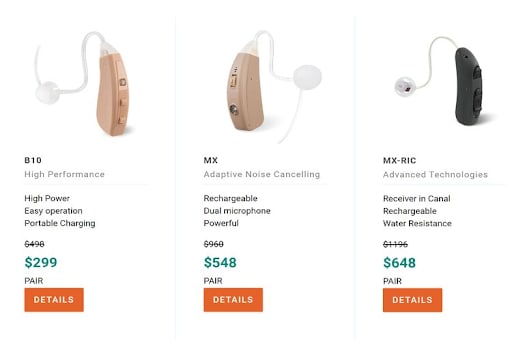 B10
The B10 is Neosonic's entry-level hearing aid and costs just $299 per pair. This BTE hearing aid is especially good for people with severe hearing loss since it offers amplification up to 50 dB. In addition to volume controls, the B10 offers normal, noise reduction, and high-power program modes.
One thing we really like about the B10 is that it comes with a carrying case that doubles as a wireless charging pod. The carrying case fits in the palm of your hand and offers 2 full charges, which is equivalent to around 40 hours of battery life. Each full charge takes about 3 hours.
The downside is that this hearing aid doesn't offer the greatest sound quality, with just one microphone and a relatively cheap Onsemi microchip.
MX
The MX is Neosonic's higher-end BTE hearing aid, and it costs $548 per pair. This model has an upgraded Intricon processor and dual microphones that cancel noise in busy environments. With a maximum volume of 50 dB, the MX is ideal for anyone with moderate to severe hearing loss who wants better sound quality than the B10 can offer.
Unfortunately, the MX doesn't come with the same portable charging pod as the B10, even though the battery is still limited to 20 hours. Instead, you get a magnetic home charging dock that takes around 4 hours to charge your hearing aids fully.
MX-RIC
The MX-RIC is Neosonic's top-of-the-line RIC hearing aid. It costs $648 per pair and uses the same Intricon processor and dual microphone system as the MX. The main difference from the MX is the in-ear receiver, which minimizes feedback and improves sound quality during conversations. However, the receiver isn't as loud, so this hearing aid is best suited for people with mild to moderate hearing loss.
The MX-RIC comes with a few attractive upgrades, including a quick-charging battery that can fully charge in under 90 minutes. It's also waterproof to IP65, meaning that it can easily survive being worn in the rain or during workouts.
Neosonic Additional Services & Products
Neosonic has a few offers to ensure customer satisfaction. Firstly, there's a 45-day free trial available for all new hearing aids. If you return your hearing aids within 45 days, the company will issue you a full refund (the device must be undamaged to qualify for a refund).
In addition, Neosonic offers a 1-year warranty on all of its hearing aids. While loss and damage aren't covered under warranty, the company does offer a 10% discount if you need to replace your hearing aids within the first year for either of these reasons.
Neosonic also sells accessories, including ear domes, replacement tubes, and wax guard filters. These accessories provide long-term care of your hearing aids and cost less than $10 apiece (with free shipping on orders over $25). Unfortunately, Neosonic doesn't sell replacement charging pods for any of its hearing aids.
How do I Purchase Neosonic Devices?
You can purchase Neosonic hearing aids online directly from Neosonic. There's no hearing test or prescription required, and you don't need to be fitted for Neosonic's devices ahead of time.
Neosonic Payment Options
Neosonic accepts payment from most major debit and credit cards, including Visa, Mastercard, American Express, and Discover. If you want to pay for your hearing aids over time, Neosonic offers payment plans through Affirm. Payment plans start at $28 per month for the B10, $50 per month for the MX, and $59 per month for the MX-RIC.
Neosonic Features and Tools
One of the main things that set Neosonic hearing aids apart from the competition is that all Neosonic devices use rechargeable batteries. So you never run the risk of having your batteries die mid-conversation, and you never have to change the batteries in your hearing aids. The B10's portable charging pod stands out as an innovative feature for people who rely heavily on their hearing aids and may run through a battery charge quickly.
The dual-microphone system on the MX and MX-RIC hearing aids is another major selling point. The front microphone is designed to pick up sound in front of you, making it easier to focus on conversations. At the same time, the rear microphone detects and cancels out room noise. This unique system means that the MX and MX-RIC hearing aids offer excellent sound quality even in noisy environments.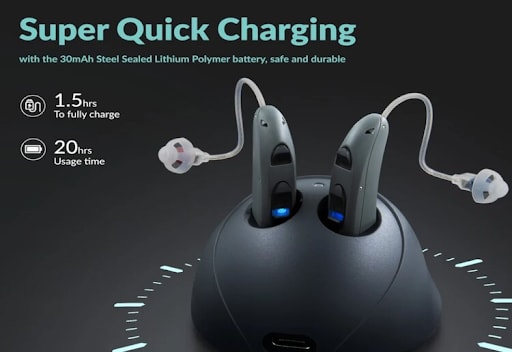 What about the Neosonic app?
One big disappointment is that Neosonic doesn't have a mobile app to control its hearing aids. That means that you can't adjust the volume, microphone direction, or noise filtering from your phone.
Service and Support
Neosonic offers customer support by phone, email, and live chat from 9 am–6 pm (PT), Monday to Friday. We were able to get in touch with a support agent immediately when we called. There's also an FAQs page and a blog that provide more information about Neosonic's products and return policy.
How to get a refund from Neosonic
Neosonic allows you to initiate a refund within 45 days of purchasing your hearing aids. Simply email customer support to get a return ID, and then ship your hearing aids back to the company. You'll be responsible for the cost of return shipping. Refunds are usually processed within 1–2 business days after your hearing aids reach Neosonic.
The Bottom Line
Neosonic makes 3 types of hearing aid, including 2 behind-the-ear (BTE) models and 1 receiver-in-channel (RIC) model. The 2 BTE models are affordable and offer up to 50 dB of amplification for people with severe hearing loss. The RIC model offers excellent sound quality and built-in noise-canceling technology. None of Neosonic's hearing aids can be controlled with a smartphone, which makes them simple to use but less adaptable than other options.
FAQs
Do off-the-shelf hearing aids work?
Most pre-programmed hearing aids work well for people with hearing loss, even if they're not custom-made for your ears.
What if Neosonic's hearing aids don't work for me?
Neosonic offers a 45-day free trial, so you can test out the company's hearing aids. If they don't work for you, you can return them for a full refund.
How much does shipping cost?
Neosonic provides free 2-day shipping on all hearing aid orders.

Neosonic Visit Site
Do I need a hearing test?
No hearing test is needed for you to buy Neosonic hearing aids. They are designed to work for 80% of people with hearing loss.
Should I buy one or a pair of hearing aids?
Even if you only have hearing loss in one ear, you should always buy a pair of hearing aids. That's because two hearing aids improve your sound quality and balance.