In a Nutshell
Lexie offers three over-the-counter hearing aid options that stand out for its customization options. These high quality Bluetooth-enabled devices connect to your smartphone so you can easily manage your hearing aids via the Lexie app.You can also adjust the hearing aids to different types of environments with a single tap. In addition, we like that Lexie offers a monthly payment plan that you can cancel anytime.
pros
Access to specialists who can adjust your device remotely
Protection plan for damage and loss
Some of the models feature Bose-powered technology
cons
They do not stream phone calls or music
Not designed for severe hearing loss

Lexie Visit Site
Lexie Hearing Aid Models
Lexie currently offers three hearing aid models, the Lexie Lumen hearing aids, the Lexie B1 hearing aids Powered by Bose and the Lexie B2 hearing aids Powered by Bose. Lexie Hearing doesn't make a model for children. But, if you are older than 18 with mild to moderate hearing loss, you can purchase the affordable Lexie hearing aids.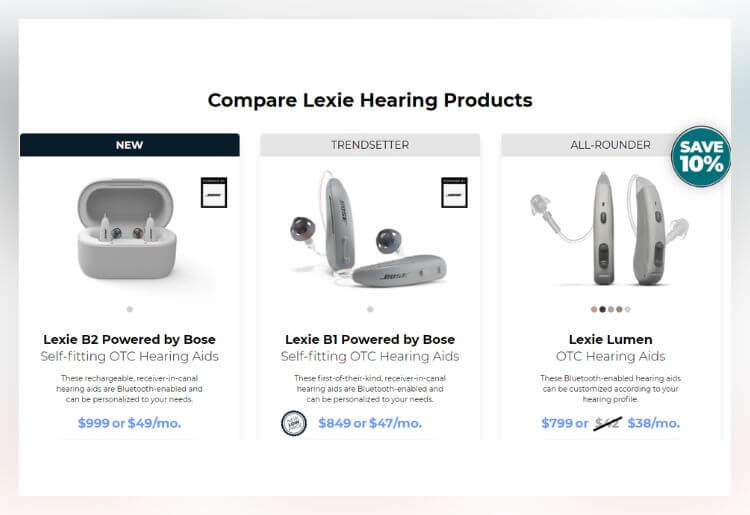 It's important to note that Lexie hearing aids are not suitable for people with severe hearing loss. The devices also cannot take calls or work as wireless headphones. If you purchase high-quality Lexie hearing aids, be aware that some sounds may take some getting used to - including water sounds and the sound of your own voice.
Check out this handy comparison chart and see the difference between the three models available through Lexie Hearing:
$799/per pair
or $42/mo. x 24 mo.
$849/per pair
or $47/mo. x 24 mo.
$999/per pair
or $49/mo x 24 mo
6 pre-set listening environments
Different listening environments
One of the key things about the Lexie hearing aids is that they are equipped with easy Bluetooth connectability. You can video chat with a Lexie Expert through the app, and they can guide you in adjusting your hearing aids. You can also use the Lexie app—or a button on the hearing aid's case—to get optimal listening in different environments.
Lexie Additional Services & Products
Lexie offers a number of additional services to improve your listening experience.
Lexie Help & Care Coverage
First, Lexie provides access to Lexie Experts from 9 am–8 pm (ET) Monday–Saturday through its Lexie Care program. You can chat by phone or video through the Lexie app, and these Lexie Experts can assist with answering questions you may have. You get 2 years of Lexie Care coverage when you purchase the Lexie hearing aids with a one-time payment or through the subscription model.
Free Trial
Lexie offers a risk-free trial and subscription cancellation policy. You can return the hearing aids anytime within the first 45 days for a full refund. In addition, if you opt for the monthly subscription plan, you can cancel and return your hearing aids at any time after the 45-day trial period as long as they're undamaged. You won't be refunded the payments you've already made, but you won't need to continue making payments, either.
Lexie Warranty Plan
Lexie provides a 1-year manufacturer's warranty on every pair of hearing aids to protect against defects. If you opt in for a monthly subscription, you also get a protection plan for breakages and loss, called Lexie Cover. Under this plan, the customer is covered against certain types of breakages and damage. Lexie Hearing reserves the right to make this determination at its sole discretion.
If the hearing aid is lost, stolen, damaged by a third party or irreparably damaged a replacement fee of $120 per individual Lexie Lumen hearing aid or $300 per pair of Lexie B1 Powered by Bose hearing aids or $360 per pair of Lexie B2 Powered by Bose hearing aids is payable for the hearing aids to be replaced. If your hearing aids become damaged (excluding third-party damage), the customer can send them to Lexie Hearing and they will be repaired at no cost to the customer under the protection plan.
Lexie Care Kit
Should you subscribe to Lexie Hearing you'll get four Care Kits after the 45-day trial period has ended.. The Care Kit includes replacement batteries (for the Lexie Lumen and Lexie B1), ear domes, tubes, and drying capsules. These accessories are also available for purchase on the Lexie Hearing website or through the Lexie app. Customers who make a one-time purchase of the hearing aids have the option to opt in for the Care Kit.
Lexie's Online Hearing Test
One really unique feature that Lexie offers is a free online hearing test.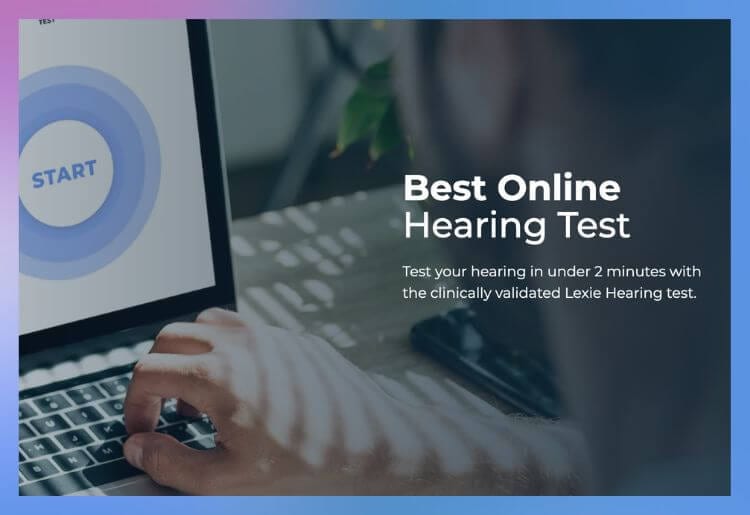 The hearing test is quite easy to use. Put in your age, note whether you think you have hearing loss or not, sit in a quiet space with headphones or earphones, and be ready to listen to some audio.
During the tests, you hear a voice saying number combinations out loud in different frequencies and with various noise levels layered over. You have to type in the numbers you hear after every one of the 23 audio snippets. The test itself takes about two minutes. To get your results, you have to enter in your first and last name, email, and contact number.
hearX Group, the owners of Lexie Hearing, develop audio solutions, like the online hearing test, which are used by various medical organizations like 23andMe, Harvard Medical School, various children's hospitals around the United States, the USAID, and the London School of Hygiene and Tropical Medicine.
How do I Purchase Lexie devices?
You can purchase Lexie hearing aids from the company's website. You don't need a prescription or test to order, although Lexie offers an online hearing test to help you determine if its hearing aids are right for you.
As all Lexie hearing aids are available over the counter, you can also purchase a Lexie hearing aid at over 11,000 retail stores throughout the United States.
Lexie Pricing & Payment Options
Lexie offers two ways to pay for its devices.
You can pay for the hearing aids upfront in one lump sum. Alternatively, you can pay for the hearing aids with a 24 monthly subscription which includes a one-time start-up payment. Be aware that the subscription ends up being a bit more expensive than paying at once as it includes the benefit of the Care Kits, which includes additional accessories, and the Protection Plan. Making monthly payments can be a more financially sustainable option for many. The third option is that you could purchase the hearing aids using your HSA or FSA dollars.
OR payment price by installment
$42/mo. x24 months + a $149 start-up payment
$47/mo. x24 months + a $199 start-up payment
$49/mo. X24 months + a $249 start-up payment

The subscription option includes ongoing access to Lexie Care, 4 Care Kits delivered after the 45-day period, and the Protection Plan for breakage and loss. You can also cancel your monthly subscription at any time by returning your undamaged hearing aids to Lexie.
Lexie Features and Tools
The main thing that differentiates the Lexie hearing aids from other devices is how customizable they are. Depending on the device you choose, you can switch between pre-programmed modes for everyday use, noisy indoor settings, outdoor environments, and microphone attachments. In addition, the hearing aids enable you to adjust the level of noise-canceling so you can get the clearest sound in all situations.
Even better, the Lexie Lumen hearing aid can be adjusted automatically based on the results of a hearing test. It's easy to run the test and optimize your settings using the Lexie mobile app, but you can also chat with a Lexie Expert to have them adjust your Lexie Lumen devices for you.
What about the Lexie app?
Lexie offers a free app for iOS and Android devices. Through the app, you will set up and manage your hearing aids. You can also connect with a Lexie Expert and have them guide you in optimizing your hearing aids. In addition, the app includes capabilities that let you adjust your hearing aids for different environments and sound levels.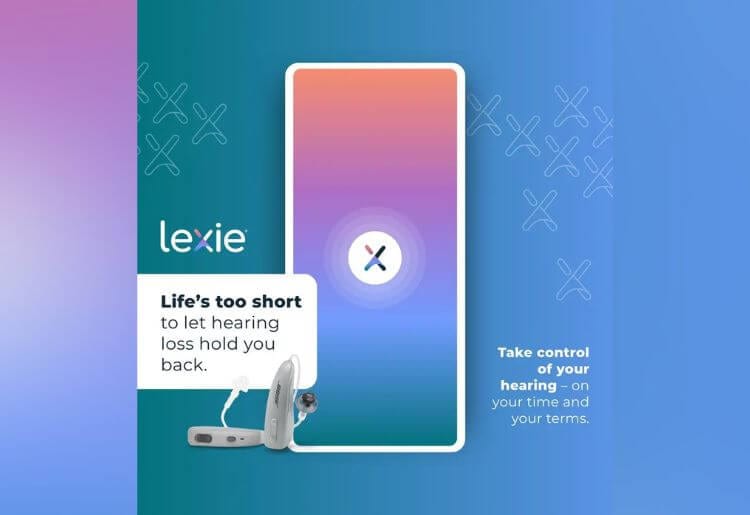 We found the Lexie app to be very easy to use. When running a hearing test (applicable for the Lexie Lumen), the app walks you through every step of the process and shows you how your hearing compares to normal. The app also has clear visuals to show you how much you've used your hearing aids in any given week.
Service and Support
Lexie's customer support team is available from 9 am–8 pm (ET) Monday–Saturday by phone or email. We were able to connect with a representative immediately when we called. In addition, Lexie's website has video tutorials to help you get started with your device, detailed user manuals, and a blog to explain the basics of hearing loss.
Phone: (800) 499-1336
Email: support@lexiehearing.com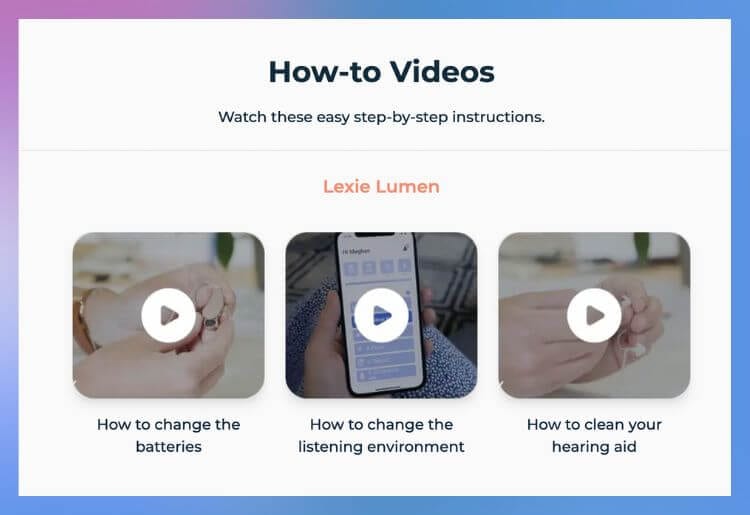 How to get a refund from Lexie
You can request a refund from Lexie at any time during your first 45 days with your hearing aids as long as your device is undamaged. Just contact customer support to get a return authorization number and return shipping instructions. Refunds are typically processed within 1–2 business days after your hearing aids (as well as everything that was sent with the box) are returned.
You can call Lexie's return line here, (800) 499-1336. If you decide to call and schedule a return, Lexie's refund team members will instruct you on shipping details. Keep in mind that return shipping would be at your own expense.
The Bottom Line
Lexie hearing aids offer impressive customization and support options. While many hearing aids let you use a hearing test to adjust your device, the Lexie Lumen is one of the only devices that can either be auto-tuned through the app or be adjusted remotely by an expert. What's more, Lexie's 45-day risk-free trial period and subscription plan make it easy to try out the hearing aids, so they're well worth a look for adults with moderate to severe hearing loss.