In a Nutshell
Lexie offers a single behind-the-ear hearing aid that stands out for its customization options. This Bluetooth-enabled device connects to your smartphone so you can run a hearing test or have a specialist adjust your hearing aids remotely. You can also adjust the hearing aids to different types of environments with a single tap. In addition, we like that Lexie offers a monthly payment plan that you can cancel anytime.
pros
Access to specialists who can adjust your device remotely
Monthly payment plan can be cancelled anytime
Protection plan for damage and loss
cons
Uses non-rechargeable batteries
No children's model available
Lexie Visit Site
Lexie Hearing Aid Models
Lexie offers just one model of hearing aid, aptly named Lexie. This behind-the-ear hearing aid is best suited for adults with moderate to severe hearing loss. Lexie doesn't make a model for children at this time.
The Lexie hearing aid features 2 directional microphones to amplify conversation in front of you and cancel out noise behind you. The device comesin 5 colors and is sweat-proof to ensure it lasts for years.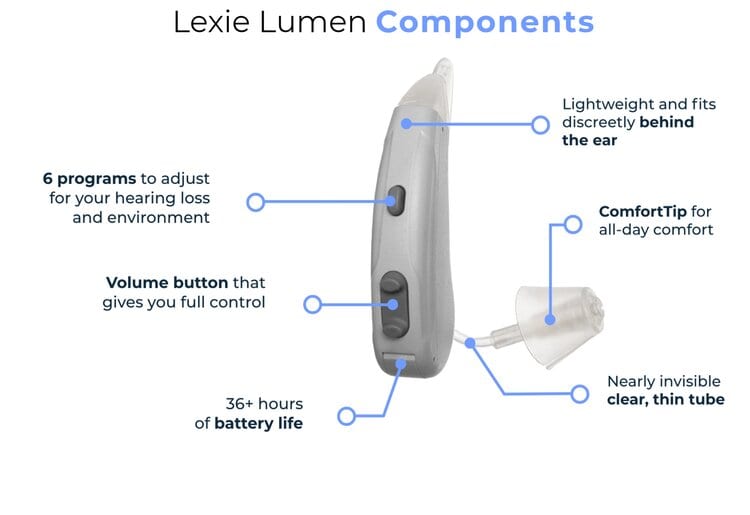 One of the key things about the Lexie hearing aid is that it's equipped with Bluetooth. The Lexie smartphone app offers a 2-minute hearing test that you can take to optimize your hearing aids. Alternatively, you can video chat with an expert through the app, and they can adjust your hearing aid's settings remotely. You can also use the Lexie app—or a button on the hearing aid's case—to switch between 6 pre-programmed modes for optimal listening in different environments.
The Lexie hearing aid costs $799 if you pay upfront or $1,176 if you pay in 24 monthly installments.
Lexie Additional Services & Products
Lexie offers a number of additional services to improve your listening experience.
First, Lexie provides access to hearing experts from 9 am–5 pm (ET) Monday–Saturday through its Lexie Care program. You can chat by phone or video through the Lexie app, and these experts can adjust your hearing aids remotely. You get 2 years of Lexie Care coverage when you purchase the Lexie hearing aids with a one-time payment or unlimited Lexie Care coverage if you purchase with the subscription plan.
Lexie also offers a risk-free trial and subscription cancellation policy. You can return the hearing aids anytime within the first 45 days for a full refund. In addition, if you opt for the monthly subscription plan, you can cancel and return your hearing aids at any time after the 45-day trial period as long as they're undamaged. You won't be refunded the payments you've already made, but you won't need to continue making payments, either.
Lexie provides a 1-year manufacturer's warranty on every pair of hearing aids to protect against defects. If you opt for a monthly subscription, you also get a protection plan for breakage and loss called Lexie Cover. Under this plan, Lexie will repair your hearing aids at no cost to you. If you lose your devices or they can't be fixed, Lexie will replace them for $120 per device. One-time purchasers can sign up for the protection plan for a monthly fee through the Lexie app.
Finally, Lexie delivers a care kit twice a year for subscribers. This includes replacement batteries, ear domes, tubes, and drying capsules. These accessories aren't available for purchase on their own, but one-time purchasers can sign up for care kit deliveries through the Lexie app.
How do I Purchase Lexie devices?
You can purchase Lexie hearing aids from the company's website. Lexie doesn't have physical stores and doesn't sell through any third-party retailers. You don't need a prescription or test to order, although Lexie offers an online hearing test to help you determine if its hearing aids are right for you.
Lexie Payment Options
Lexie offers two ways to pay for its devices.
You can pay for the hearing aids upfront in one lump sum of $799. Alternatively, you can pay for the hearing aids in 24 monthly installments of $49. That's $1,176 over 24 months, but the subscription option includes unlimited access to Lexie Care, care kits delivered twice a year, and the protection plan for breakage and loss. You can also cancel your monthly subscription at any time by returning your undamaged hearing aids to Lexie.
Lexie Features and Tools
The main thing that differentiates the Lexie hearing aids from other devices is how customizable they are. You can switch between 6 pre-programmed modes for everyday use, noisy indoor settings, outdoor environments, music, phone calls, and microphone attachments. In addition, the hearing aids enable you to adjust the level of noise-canceling so you can get the clearest sound in all situations.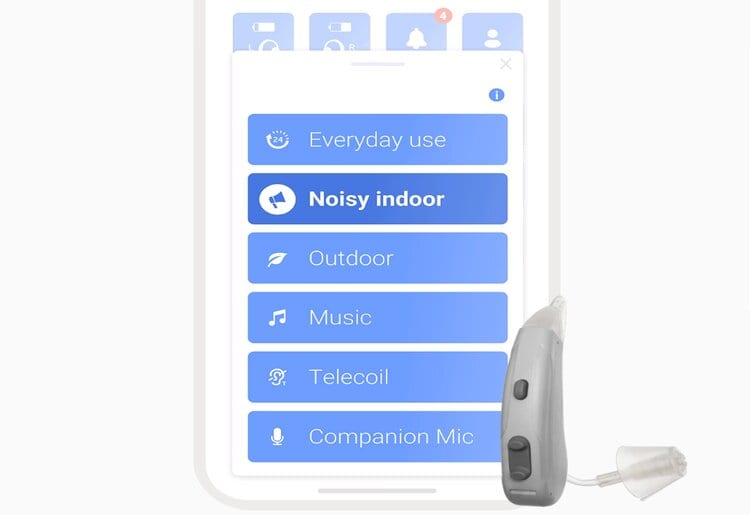 Even better, the Lexie hearing aid can be adjusted automatically based on the results of a hearing test. It's easy to run the test and optimize your settings using the Lexie mobile app, but you can also chat with a hearing expert to have them administer the test and adjust your devices for you.
What about the Lexie app?
Lexie offers a free app for iOS and Android devices. Through the app, you can run a hearing test and adjust your device settings based on the results. You can also connect with a Lexie hearing expert and have them optimize your hearing aids remotely. In addition, the app includes 6 pre-programmed modes that adjust your hearing aids for different environments. Another benefit to the Lexie app is that it allows you to hold calls and stream music through your hearing aids.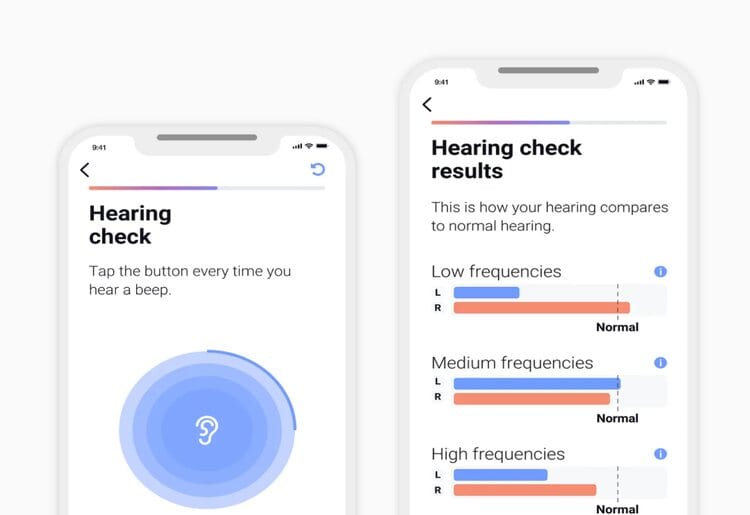 We found the Lexie app to be very easy to use. When running a hearing test, the app walks you through every step of the process and shows you how your hearing compares to normal. The app also has clear visuals to show you how much you've used your hearing aids in any given week.
Service and Support
Lexie's customer support team is available from 9 am–8 pm (ET) Monday–Saturday by phone or email. We were able to connect with a representative immediately when we called. In addition, Lexi's website has video tutorials to help you get started with your device, detailed user manuals, and a blog to explain the basics of hearing loss.
Phone: (779) 212-7334
Email: support@lexiehearing.com
How to get a refund from Lexie
You can request a refund from Lexie at any time during your first 45 days with your hearing aids as long as your device is undamaged. Just contact customer support to get a return authorization number and return shipping instructions. Refunds are typically processed within 1–2 business days after your hearing aids are returned.
The Bottom Line
Lexie hearing aids offer impressive customization and support options. While many hearing aids let you use a hearing test to adjust your device, this is one of the only devices that can be adjusted remotely by an expert. The pre-programmed listening modes and support for music streaming are also a major plus. What's more, Lexie's 45-day risk-free trial period and subscription plan make it easy to try out the hearing aids, so they're well worth a look for adults with moderate to severe hearing loss.
FAQs
Who makes the Lexie hearing aid?
Lexie is owned by Intricon, a US-based manufacturer that supplies chips for a wide variety of hearing aids.
How often is the care kit delivered?
Lexie sends a care kit every 6 months. If you run out of supplies sooner, you can request that your next care kit be sent early by contacting support.
What is Lexie Cover?
Lexie Cover is a protection plan that's included with a Lexie subscription purchase. With Lexie Cover, the company will repair your hearing aids for free and replace them for $120 per device.
Lexie Visit Site
How do I contact a hearing expert?
You can contact a Lexie hearing expert via the Lexia app from 9 am–5 pm (ET) Monday–Saturday.
How long does the battery last?
Lexie hearing aids offer 36 hours of battery life under normal use.