Did you know that somebody finds love on eharmony every 14 minutes? On the other hand, once upon a time, a statistic claimed that 30% of marriages were initiated thanks to Match.com. If both of these online dating apps are so successful for finding a romantic partner in crime, then which one should you be dedicating your precious time, energy, and money to? In this round of dating app battles, 2 of the leading platforms — eharmony and Match — enter the battleground to see which app will reign superior.
Head-to-Head Comparison
Finding a serious partner
Specify sexual orientation
Notifications for mutual match
Short- and long-term dating
Signup Process
Match's signup process is easy and only requires a few quick steps. You can go from hitting the website's homepage or downloading the app on your iPhone or Android to having a fully launched profile in just a few minutes — and I love a quick signup! All you need to do is plug in the necessary information, including your height, weight, what your intent of using the app is, and some other basic details that most dating apps require, like your job title, school history, whether or not you earned a college degree, and your ethnicity.
Signing up for eharmony is just as simple with its onboarding process consisting of just 3 steps, including a compatibility quiz that's unlike any other. I genuinely enjoyed answering the questions that they asked during this unique questionnaire, which range from what my ideal day off from work would be like, what I'm most grateful for in life, and how often I have sex. Despite the fact that most people probably don't want to talk about how sexually active they are right from the jump, especially on a dating app, I personally love answering intimate questions like that. On that note, eharmony's signup process was way more fun in my opinion, but Match does ask engaging questions about the hobbies you participate in and what you are looking for out of life — and of the app as well.
Winner: Match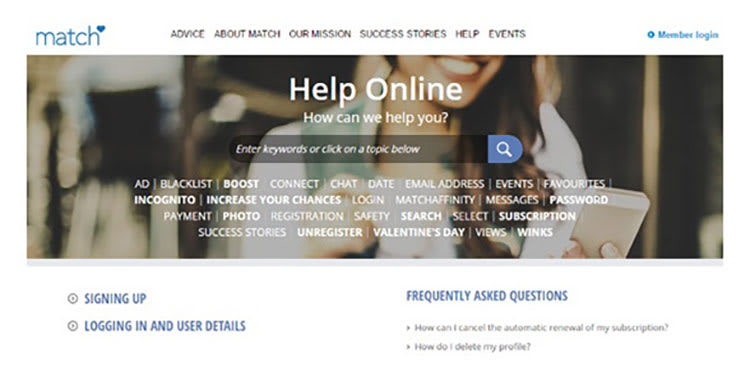 Dating Pool
There are about 10 million people on eharmony and almost double that amount on Match. Depending on the answers you input upon signup, eharmony will deliver you new, extremely personalized matches every day — and the suggestions are great!
Although there are lots of potential candidates on eharmony that I would get along with in terms of our personalities and compatibility, I think that I've found more attractive people on Match. Looks aren't everything, though, and eharmony is all about showcasing the importance of interpersonal communication and chemistry.
Winner: eharmony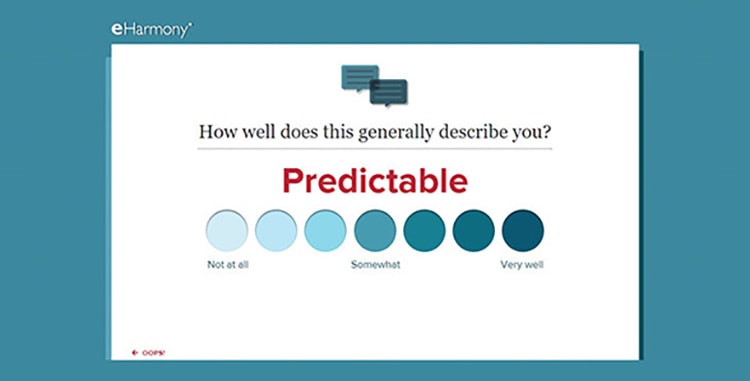 Profile Settings
Profiles on Match and eharmony both showcase your photos, the classic personality traits and interests lists, and your answers to the questions asked upon signup.
eharmony takes the cake when it comes to profile layout and details, for sure. User profiles on eharmony are way more in-depth than Match's profiles, which just show compatibility percentages and graphs that analyze your answers to the signup quiz compared to your potential partner's answers. An expansive chart displays just how well you would connect with each person on different levels, including your intellects, emotions, affection, religious beliefs, and physical intimacy — and it is by far my favorite dating app profile feature that I've ever encountered on any platform before.
I don't know if I'm just a nerd who's into deciphering analytics or if this is actually cool, but these insights are really helpful to see just how well you would align with a particular person. I mean, that's what online dating (and dating in general) is all about anyway, right?
If you really don't care about all that fancy, analytical stuff and you would rather get to know somebody by messaging with them, then Match is probably more your style. Its profile layout is nowhere near as detailed and intricate. It basically gives you all of the necessary information you'd want to know about somebody and displays it in a digestible way so that you can figure out if you want to "like" them or not with just from a quick glance of their profile.
Winner: It's a Tie
Features
Match is very simple to use and easy to navigate with various ways to meet people. It offers a bunch of specific search and sorting features to help you find your perfect match as soon as possible. There are different menu tabs available to sift through at the top and side of the platform where you can read messages and chat with those you have previously matched, find new people who live in your area, view who has liked you, and check out Match's local events that they host for singles in your area. With a free account, you can match with up to 33 people per day, which is more than enough until the next day when that number refreshes.
As incredible as its partner compatibility analyses and profile functionalities may be, the biggest downfall of eharmony is that you can't see other user's photos without upgrading your account. I don't like that they practically force you into buying a membership so you can unblur the faces of whom eharmony claims you'd mesh so well. Once you upgrade your account and start paying for a subscription plan, you can tap into its features like photo viewing, unlimited messages, and browsing anonymously.
Winner: Match
Pricing
The cost of a full subscription to Match can get pretty expensive, ranging from $16.99 a month for 1 year, up to $40 per month for 3 months or one full month for just over $60. Yes, signing up for Match grants you premium features like local events, private mode, and super likes, but eharmony offers comparable benefits (with the exception of hosting events) at much cheaper rates. eharmony Standard and Premium plans range in terms and pricing, but they typically cost around $7 per month, which isn't bad comparatively and seems like a doable rate for people of all incomes who want to find love — like me.
Winner: eharmony
Overall Winner: It's a Tie
Match may be one of the main apps for people looking for a serious relationship, but eharmony also has a lot going for it. Match's signup process is super easy and the platform offers features that genuinely make it easy to find a suitable match. At the same time, eharmony is very affordable, boasts a number of amazing features, and offers various options to find a compatible partner with ease (just from spending time answering the fun questionnaire and browsing local singles). With both offering what most singles are really looking for, they are both winners in my book.