In a Nutshell
Sticky Password stands out from other password management tools thanks to its low price and expansive feature set. Although it might not be the best looking product in the market, it certainly does the job well and users are sure to appreciate its ability to sync login credentials between multiple devices securely. Find out more in this in-depth Sticky Password review.
pros
Works on desktop and mobile devices
Advanced two-factor authentication
Encrypted password sync
cons
Outdated looks
Free plan doesn't support multiple devices

Sticky Password Visit Site

Highlights
Features: Secure password management tools
Ease-of-use: Beginner-friendly interface
Reliability and Security: Industry-standard encryption protocols
Value: Prices are very competitive
Money-Back Guarantee: 30-day
Best For
Stop forgetting long passwords
Improve your online security
Keeping private information protected
Why Choose Sticky Password
Staying safe online is getting harder as malicious characters create ever more advanced techniques to steal your personal or business information. One of the best ways to protect yourself from identity theft is to use secure alphanumeric passwords with many characters. But the downside of doing so is that these passwords can be almost impossible to remember.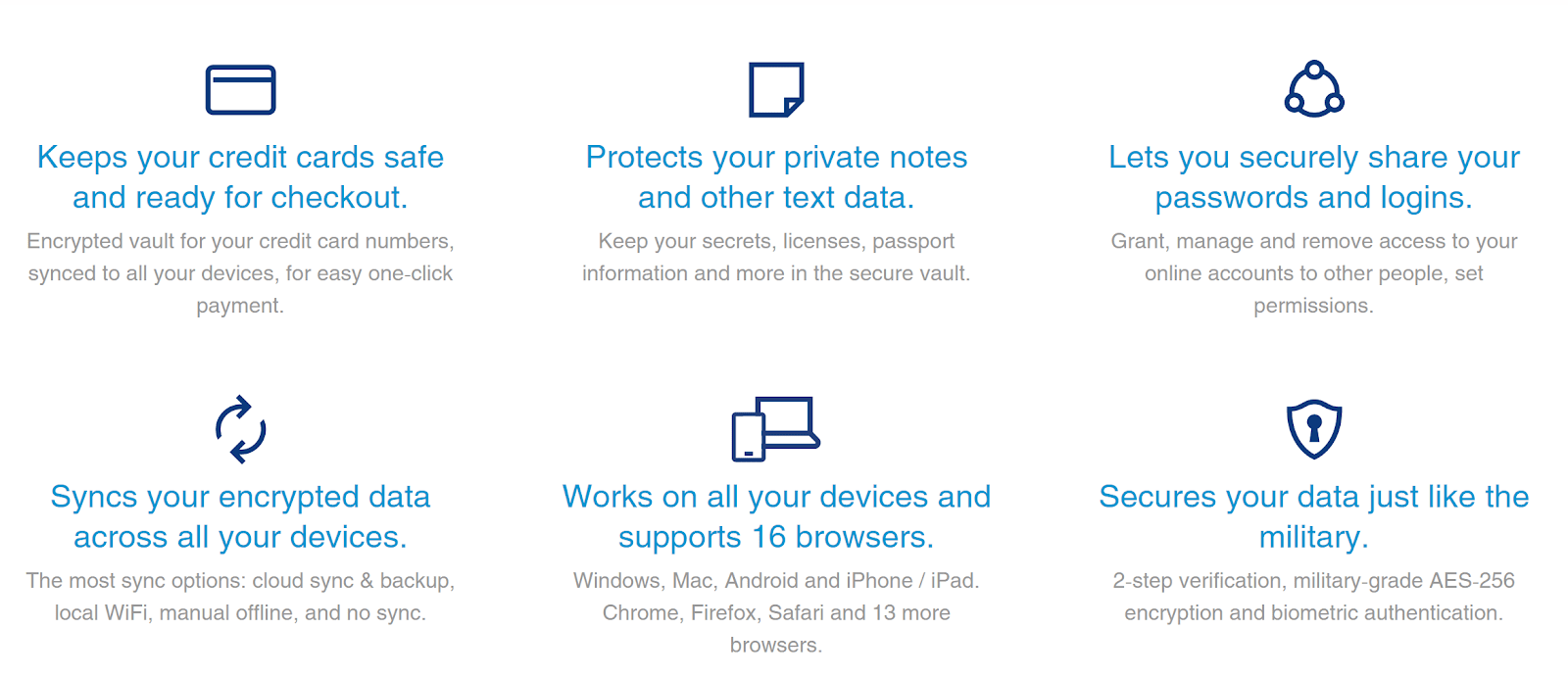 Sticky Password promises to solve this problem by providing you with a trustworthy system to which you can add all of your login details and payment information. Whenever you need to login on one of your devices, Sticky Password will automatically load up the relevant information you need.
What Sticky Password Offers
There are a few different tiers of StickPassword service, but the two core options are Sticky Password Free and Sticky Password Premium:
Sticky Password Free - The unpaid version of Sticky Password is ideal if you want to test out this product or only want to store your passwords on a single PC or mobile. It lacks the ability to sync passwords between multiple devices but still supports advanced security options with AES-256 encryption and two-factor authentication (2FA).
Sticky Password Premium - With the paid version of the platform, you'll gain all sorts of useful extra features. For example, you'll be able to sync your login credentials between multiple devices over both the cloud and local WiFi networks. You can also backup your information to a secure Sticky Password server and you'll receive premium support coverage.

Sticky Password Teams - This is the corporate, multi-user version of the Premium package. It comes with all the same features as the Premium package but is priced per user, and allows you to control the permissions granted to each individual on your Sticky Password system.
Sticky Password Academic - This isn't really a Sticky Password product, but is actually a subscription to an affiliated service, OnTheHub, which is a budget password manager for use in academic environments.
Emergency Access
This feature allows you to select emergency contacts, granting them access to your accounts in case you can't. You can choose a family member, a trusted friend, or an authorized colleague. Either way, you can set as many contacts as you like, and remove them at any time. In case of emergency, you'll be prompted to grant them access. If you don't reply by the end of the waiting period you've defined, this will happen automatically. This feature, however, is only available for Sticky Password Premium users.
Ease of Use
Overall, the Sticky Password platform does well when it comes to ease of use. After you first add the product to your system, depending on what browser you're using, Sticky Password will install a couple of extensions so that passwords and credit information can be input automatically online.
You'll manage your credentials inside a local client that looks a little outdated but functions as it should. Menus, where you can add website or app credentials, can be accessed through on the left-hand side of the screen. There you'll also find a sharing center, where you can grant other users permission to access services using your details. Keeping the Sticky Password interface clean and tidy is really easy to do thanks to the automatic grouping of any login credentials for the same service.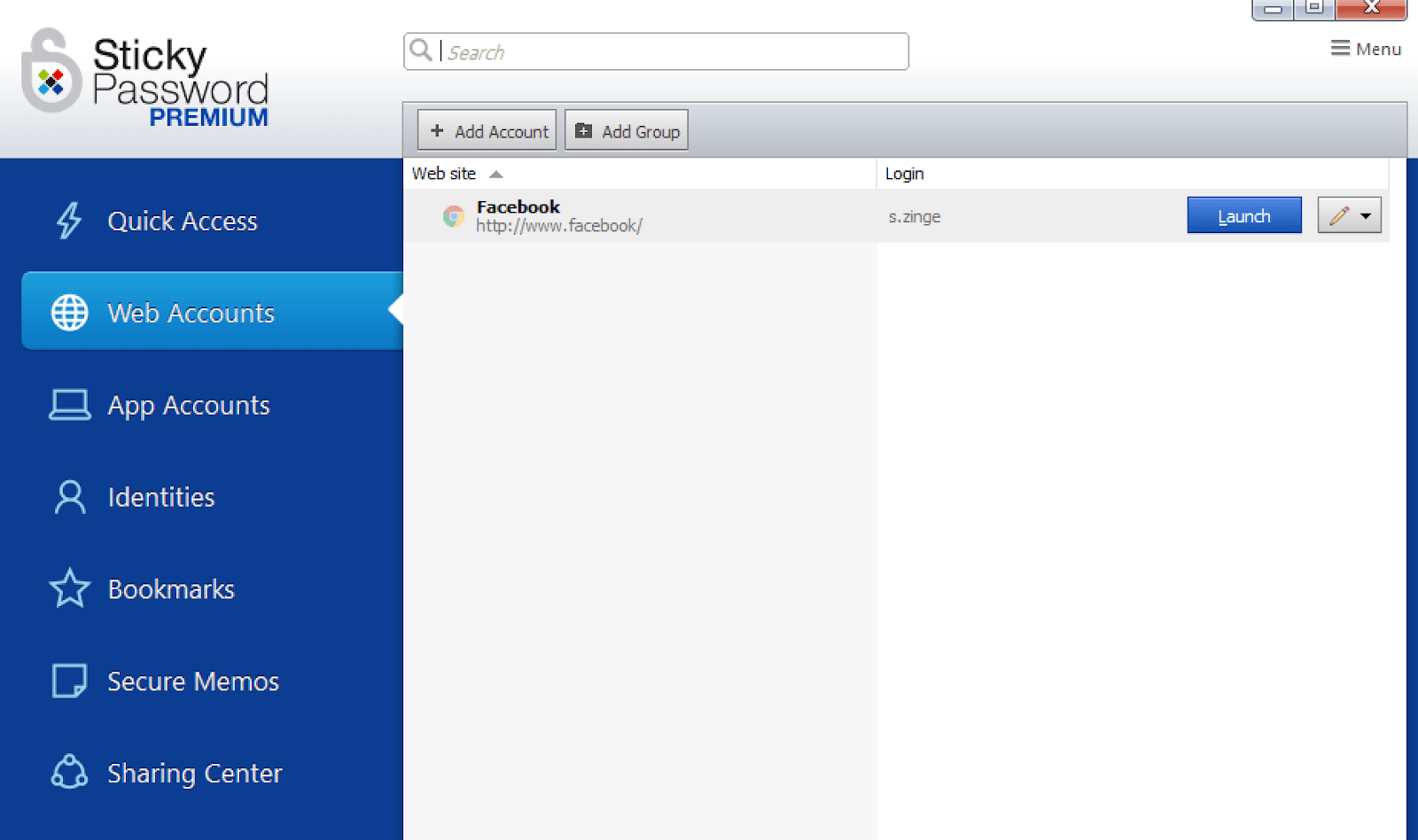 However, it's worth emphasizing that some areas of the Sticky Password system really are showing their age. One example is the "Secure Memos" feature, where you can add private notes for yourself that will be encrypted and stored alongside your passwords. The memo window is an extremely basic text tool, with only a handful of options to change text size and font.

Security and Reliability
When it comes to keeping your information safe, Sticky Password does just as well as any other modern password manager. The database containing all your info will be encrypted using the AES-256 standard, which is almost impossible to break.
To access that database, you'll need a master password that you set when first creating your Sticky Password account. Without it, the database will be of no use to anybody who gains access to your PC. You can also set up 2FA via Google, Bluetooth, or a USB drive as an additional layer of security.
And if you decide to activate the Premium-only multi-device syncing option, then your encrypted information will be sent over to the Sticky Password cloud server using hacker-proof SSL/TLS connection.
Pricing
If you're not entirely sure that upgrading to the Premium version of Sticky Password is worth the bother for you, the Free version is almost certainly the right place to start. It actually comes with a free 30-day trial of Sticky Password Premium, giving you plenty of time to make up your mind.
Encrypted Storage for Passwords
Value for Money
In this Sticky Password review, we found that this product is very much priced in the same bracket as most password managers. Some are more expensive, such as Dashlane which begins at $59.88 per year, while others are the same price, like LastPass's $36 per year plan.
Help and Support
Given this platform's reputation for reliability, there's little chance that you'll need any technical assistance to use it. If you do, you'll find that options are, unfortunately, a little limited for free users with just a barebones knowledge base and community forum. Premium users, on the other hand, can submit support tickets and get a guaranteed 24-hour response time.

Sticky Password Visit Site
Bottom Line
As long as you're not put off by the old-school look of the Sticky Password client, you'll find that this is one of the most useful password management tools out there. With high strength encryption, support for 2FA, and a secure cloud sync option, Sticky Password easily matches its competitors' security features.
About Sticky Password
As this Sticky Password review demonstrates, Sticky Password is a helpful password manager that simplifies the daunting task of keeping track of your payment information, passwords, and personal notes. It's not the most modern-looking piece of software, but it's sure to keep your information safe.