In a Nutshell
TotalAV is a complete internet security solution and antivirus tool that has a number of capabilities including virus and malware blocking, phishing protection, and a sandbox environment for running suspicious applications. Although the product has not yet begun participating in the independent benchmarking process, we tested it out with satisfactory results.
pros
Up to 6 devices protected
Real time antivirus protection
cons
No protection for Linux
Not the cheapest antivirus tool

TotalAV Visit Site
If you're looking for a well-vetted tool that can protect all your devices, then Total Security by TotalAV, which protects up to 6 devices, ranks as one of the smartest options on the market.
Highlights
Features: Real time antivirus and malware protection
Ease of Use: Intermediate. Comprehensive tools.
Reliability: Independently audited tests
Value: Average
Money Back Guarantee: Full 30-day money-back guarantee
Best For
Computer users that want to protect their computers with a thoroughly audited and reputable tool

Users that want protection against a variety of cybersecurity threat types including ransomware, malware, and conventional viruses.

Advanced users that would like to be able to change security configurations remotely including the firewall

Those that want hard-to-find adware protection which prevents privacy-invading advertising from collecting information about you
Why Choose TotalAV
TotalAV's top tier product, Total Security, is a very thorough tool which features both optimization and security features.
Unlike some optimization and cleanup tools, TotalAV comes with a stellar industry track record. Additionally, the tool supports paid add-ons including a VPN for safer encrypted browsing. There's also a safe site detector and a password vault for securely storing credentials.
What TotalAV Total Security Offers
On the security side TotalAV Total Security features protection against:
Virus

Malware (real time protection)

Spyware

Adware
There's also a safe site blocker to automatically stop users accessing phishing sites.
On the speedup/system optimization site there is:
Startup optimizer

Disk space and memory liberator

Background process manager
Features
Security Protection
TotalAV features a comprehensive mixture of real time and definitions-based protection layers which are together designed to protect against both traditional and emerging threat types facing computer users. The protection includes coverage against malware, ransomware, spyware, and adware. The technology at work under the hood is powered by Avira and 2 basic scan types are offered: quick scans and system scans. And unsurprisingly (given Avira's reputation) the detection rate that it offers is more than good enough for the majority of computer users.
TotalAV is also a well-designed tool and the system prompts users with an action dropdown after the scan has run. Users are able to add innocent files to a whitelist so that they are not flagged against, for instance—or they can choose to delete the files or take no action at all.
In addition to the standard virus-fighting capabilities, TotalAV has real time protection on its side. This looks at suspicious applications' real time process behavior rather than their code base. Using this form of protection, users are able to receive protection against cutting-edge cybersecurity threats that have not yet been codified into the international virus libraries.
System Tune-up and Optimization
Two things can bring even a PC packed with the latest hardware to its knees: viruses and junk files! TotalAV complements its excellent scanning capabilities with a junk file detector which can target unnecessary disk space and remove it in one click (although don't worry, the system provides a full breakdown of what it has found to prevent accidental deletion.)
Some of the system cleanup tools that TotalAV Total Security includes are:
Potentially Unwanted Application (PUA) detection and removal

Browser cleaner and manager: get rid of temporary files, browser caches, and other heavy directories that can put systems under file space strain
VPN and Password Manager
Total Security also throws in 3 extra utilities that are together valued at more than $50:
VPN: While TotalAV's VPN isn't intended as a replacement for third party VPNs when trying to spoof a geolocation to view Netflix, its small pool of worldwide servers is wide enough to support basic use cases. More importantly, it can be used to make sure that whenever you're using online banking your connection is encrypted. While the vast majority of online banking logins are secured by HTTPS connecting with a VPN ensures that even if that is not the case your session will be encrypted and protected from traffic sniffers and other cybercrooks.

A password vault for securely saving passwords in encrypted format on the local machine.

An ad blocker to cut down on annoying interruptions.
Ease of Use
TotalAV Total Security is a simple product to install. The license can be used to protect 6 computers and users simply need to download the installation file (or the app) in order to begin the setup process. Running the program does not take any particular training—even the advanced real-time protection component. The tool offers 2 choices of scan type and both execute seamlessly in the background while the user is free to engage in other pursuits—or not use the computer at all.
The same can be said for the various cleanup components. Overall, Total Security has a flat learning curve and even newbies to the world of computer security should be able to come to grips with its functionalities in no time.
Detection Rates and Reliability
Although Total AV has not yet begun participating in independent benchmarking tests to audit its quality, it did succeed in detecting the mixture of viruses and malware that we loaded onto our test virtual machine. Although we weren't able to assess its real-time detection capabilities, we can safely say that when it comes to identifying traditional viruses that the tool has enough firepower to protect users.
Pricing
Internet Security plus VPN, Ad Blocker, and Password Vault
Value for Money
At the current deeply discounted rate we think that Total Security represents rather excellent value for money particularly given the fact that it can protect 6 computers and includes additional tools including the VPN and ad blocker. Although it's not the cheapest antivirus on the market, for the utilities included we think that it represents good value for money.
Help and Support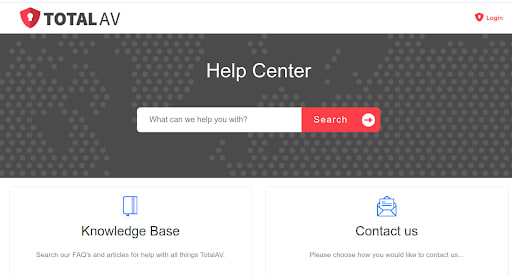 TotalAV has an online help center populated with a knowledge base that includes FAQs and common troubleshooting steps. One-on-one customer support is available by email, live chat, and telephone.
The phone line is open 24/7 and there are 6 international support numbers to help users dial at local rates.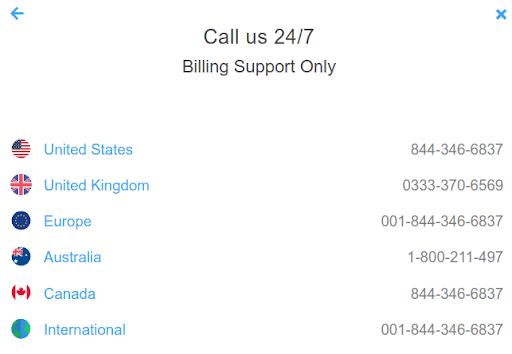 TotalAV Visit Site
Bottom Line
Total Security is the top product in the Total AV line and it certainly adds added value with its VPN and password manager. Total AV is a comprehensive antivirus tool that features real time detection capabilities. It also has junk removal tools and comes at a fair price considering what's on offer for up to 6 computers.
About
TotalAV is based in Fareham, Hampshire in England and has been in the antivirus market since 2016. The company employs 51-200 employees and is headed by an experienced development team.