In a Nutshell
Avast One is a comprehensive security suite from Avast that includes antivirus scanning, a secure browser, a VPN, a password manager, disk cleaning, and more. It's easy to use and includes all the tools you need to keep your devices safe. Avast One works for Mac and Windows computers and iOS and Android smartphones. You can protect up to 30 devices with a single Avast One plan, making it a great choice for families and small businesses.
pros
Protect up to 30 devices
Powerful antivirus software
VPN with 55 server locations
cons
Free version includes many ads to upgrade
Password manager is only available in browser

Avast Visit Site
Highlights
Features: Comprehensive protection for all your devices

Ease of Use: Very easy to use

Reliability: Above average

Value: Above average

Money Back Guarantee: 30-day
Best For
Antivirus scanning

Secure browsing with a VPN and password manager

Families and businesses with up to 30 devices
Why Choose Avast
Avast One is a comprehensive cybersecurity suite that offers all the security and privacy tools you need, including antivirus software, a VPN, and a password manager. It also alerts you if your passwords have been leaked on the dark web so you can proactively change them. With Avast One, you can be confident all your devices are protected.
Avast One offers two plans: one for up to five devices and one for up to 30. The larger plan is ideal for families or small businesses with up to around 10 employees. Avast One works for Windows and Mac computers and iOS and Android smartphones. It's very easy to use across all these devices.
What Avast Offers
Avast offers a wide range of tools. Proactive security tools include a file shield that scans files for malware before opening them, a password manager, and a firewall. Ongoing monitoring tools include a powerful antivirus scanner. Privacy tools include a VPN, secure browser, and webcam protection. Device optimization tools include a disk cleaner and driver updater.
Here's the full list of the features Avast offers:
File shield malware scans before opening

Password manager inside secure web browser

Customizable firewall

Highly reliable antivirus scanner

VPN with 55 locations

Webcam protection

Disk cleaner and optimization tool
Features
Let's take a closer look at some of the key security tools that Avast One offers.
Antivirus Scanner
Avast's antivirus scanner enables you to identify and eliminate malware on your system. You can run a quick or deep scan, or choose specific folders to scan. It also comes with a customizable firewall that you can use to stop malware from infecting your computer.
VPN
The VPN included with Avast One offers access to 55 server locations around the world. It's speedy and includes DNS leak protection, which prevents information about your device from being exposed while you browse the internet.
Secure Web Browser
Avast One includes a secure web browser that prevents advertisers from tracking you with cookies. It can also automatically hide sensitive information, such as payment details, when you shop online.
Password Manager
Avast's password manager is an extension for the secure web browser. It can help you create hard-to-guess passwords and warn you if you create duplicate passwords. Avast also alerts you if any of your passwords are leaked through large-scale data breaches.
Disk Cleaner
Avast can identify junk, temporary, and old files on your computer and help you remove them. It can also ensure that your drivers and software are up to date.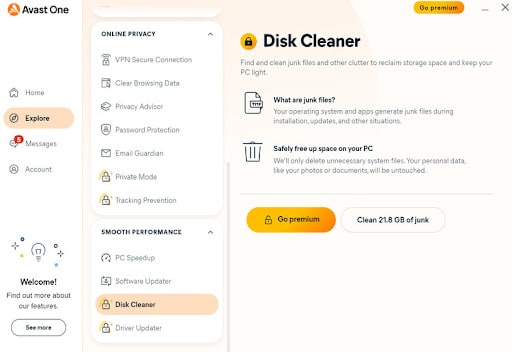 Ease of Use
I found Avast One to be very easy to use. After downloading it from the Avast website, it installs in minutes. Setting it up on your device is simple.
All the tools available in this cybersecurity suite can be found in a single interface and are organized into groups for Device Protection, Online Privacy, and Smooth Performance. You can run scans and customize settings within this interface without opening new windows.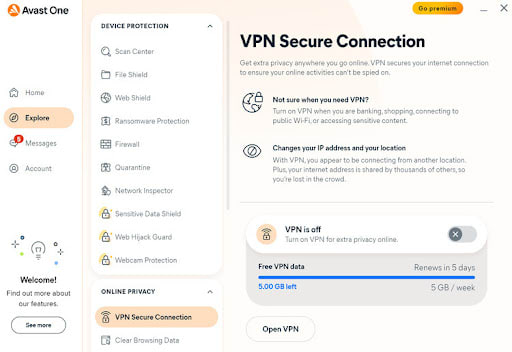 If you use the free version of Avast One, premium tools are indicated with a lock icon. I found that the software does occasionally launch pop-ups encouraging you to upgrade, which can be a little annoying.
Detection Rates and Reliability
Avast's antivirus scanner has been tested by the independent antivirus testing firm AV-Test. In those tests, Avast detected all planted malware on Windows and Mac computers. The antivirus software received the maximum possible scores for protection, performance, and usability.
In my own testing on a Windows computer, Avast didn't detect any malware, but it did find more than 20GB worth of old files to clean up. A basic scan only took around 30 seconds to run.
Pricing
Avast One has two plans available depending on how many devices you need to protect. There's also a free plan, although this severely reduces the depth of antivirus scans and limits your access to privacy and optimization tools. You can also purchase Avast's antivirus scanner on its own through the Avast Premium Security plan.
Avast One offers a 50% discount for the first year and comes with a 30-day money-back guarantee.
Value for Money
I think Avast One offers excellent value for money. You get not only antivirus software, but also a wide range of tools that can protect your information online and prevent your devices from being infected with malware in the first place. All of that costs just $99.99 per year for up to five devices, which is less than most standalone antivirus software.
Families and small businesses can protect up to 30 devices for $139.99 per year. That comes out to just $0.39 per device per month for comprehensive cybersecurity protection.
Help and Support
Avast offers 24/7 customer support by phone and through an online form. I got in touch by phone and was able to speak with a very helpful technician right away.
Avast's website also has a very detailed online knowledgebase. The tutorials include detailed screenshots to walk you through how to protect your devices.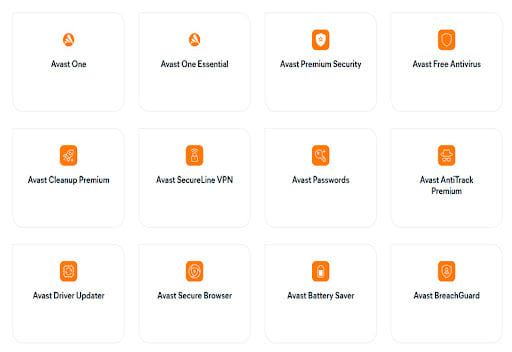 Phone: (844) 973-3072

Avast Visit Site
Bottom Line
Avast One is a comprehensive and easy-to-use cybersecurity suite. It offers a wide range of tools to protect all your devices. You get a top-rated antivirus scanner, a VPN, a secure browser with a password manager, a disk cleaner, and more.
You can use Avast One for free, but the paid version of this suite offers the most protection. It's very affordable for either five or 30 devices, making it a great choice for families and small businesses. Overall, I'd recommend Avast One for almost anyone who wants to stay safe from digital threats.
About Avast
Avast was founded in the Czech Republic in 1988. The company acquired another cybersecurity firm, AVG, in 2016. Avast then merged with NortonLifeLock in 2022 to form a new company called Gen.
Avast products are still sold separately from products from AVG or NortonLifeLock. Avast has more than 435 million monthly active users.