In a Nutshell
AVG offers comprehensive, highly rated cybersecurity solutions. These include complete antivirus software, a suite of additional security tools, and various features to optimize your digital experience. What's more, there's a free forever version, it's super easy to use, and there's a 30-day money-back guarantee. It's also available on various operating systems, and we'd highly recommend giving it a try.
pros
High virus detection rates
Very intuitive and easy to use
30-day money-back guarantee
cons
A little expensive compared to some alternatives
Can slow some systems

AVG Visit Site
Highlights
Features: Full-featured protection
Ease of Use: Easy for beginners
Reliability: Excellent
Value: Below average
Money Back Guarantee: 30 days
Best For
Cybersecurity newbies

Families

Those with multiple devices

Anyone wanting a packaged VPN and other cybersecurity tools
Why Choose AVG?
AVG has been a popular antivirus and cybersecurity program for decades, and it remains at the forefront of the industry. It's super easy to use, has excellent detection rates, and can be configured to run regular antivirus scans on your device.
What's more, AVG offers real-time web browsing protection, along with various other cybersecurity products. You shouldn't have any issues downloading and setting it up, and there's a free version that you can use to test it out. You could even use the free version as your stand-alone cybersecurity product if you don't need anything too fancy.
What AVG Offers
AVG offers a selection of cybersecurity products backed by decades of industry experience and excellent performance. Its cybersecurity packages come with a range of built-in tools, including the following:
Antivirus software

Real-time web protection

VPN

Ransomware protection

PC tuneup

Mobile security
Some of these are available to purchase as stand-alone products, while others come packaged with AVG's cybersecurity suite. More information is available in this video about AVG's antivirus and cybersecurity offerings.
Features
AVG offers two main packages which come with loads of extra features alongside its base cybersecurity tools.
For starters, the AVG Internet Security package is available on Windows, Mac, and Android devices. A single subscription can be used on up to 10 devices, and comprehensive internet security is provided via the AVG secure browser.
This is very similar to Google Chrome but with additional built-in security measures. Unsafe and phishing websites are blocked automatically, all downloads are scanned in real time, and complete WiFi security is included.
The more expensive AVG Ultimate package includes various other tools to help you optimize your device and to ensure you have the best digital experience possible. It's also available on iOS, which is great to see.
These tools include the AVG Secure VPN, which essentially hides your browsing habits from prying eyes. There's the AVG TuneUp tool that's designed to improve device performance, and the AVG AntiTrack to stop advertisers from tracking your online habits with cookies and other methods.
Ease of Use
Getting started with AVG is a super straightforward process. It took me no more than 10 minutes from the time I clicked the download button to start my first virus scan. You won't need any special skills to get started with or use the program, making it an attractive option for beginners.
It's also super easy to use. Starting your first virus scan is as easy as clicking a button, and the user interface is intuitive and self-explanatory. This is one of the main things that stands out about AVG when compared to some other alternatives, which can be a little more confusing and difficult to use in some cases.
Detection Rates and Reliability
AVG has long been one of the world's leading antivirus and cybersecurity programs, and it still stands out as an excellent option. Testing in October 2022 by AV-Test, an independent testing lab, showed that AVG had an impressive 100% detection rate from over 21,000 samples.
What's more, it's reliable, and new updates are released regularly. This means you can rest assured that AVG will continue to evolve as new cybersecurity threats pop up.
During my testing, AVG detected three "advanced issues" on my computer, including vulnerable files that could result in data being stolen. I was quite impressed with this, as I make sure to stay on top of my computer's security using a number of different programs.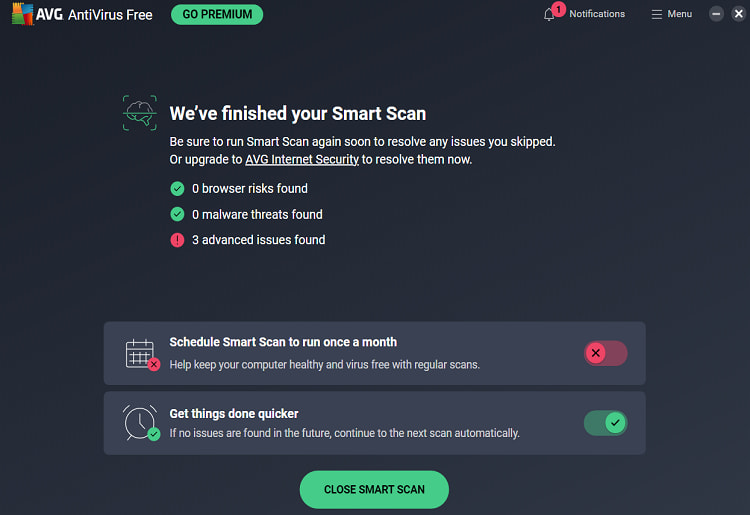 Pricing
AVG offers a free cybersecurity program alongside its two main premium packages, which both support up to 10 devices. There are also numerous smaller stand-alone products, including AVG Secure VPN (from $3.25 per month) and AVG AntiTrack ($53.99 per year).
Introductory price per year
Windows, Mac, Android, iOS
Value for Money
AVG offers high-end cybersecurity solutions for home and business users, but it is a little expensive compared to some of the other leading options. For example, Bitdefender, another clear industry leader, starts at just $14.99 per year.
The introductory discounts are attractive, but the price more than doubles after your first year. You also have to pay annually for AVG's premium cybersecurity products, which can be a little frustrating.
Help and Support
AVG boasts a decent help center for both its business and home cybersecurity products. These contain a wealth of useful information in the form of articles, FAQs, and other self-help resources.
You can also speak with the AVG support team directly by creating an online ticket. Disappointingly, phone and live chat support are absent, but at least the support team is responsive and usually replies to tickets within hours.

AVG Visit Site
Bottom Line
AVG stands out as a leading cybersecurity product, with comprehensive anti-malware protection and a suite of other tools. It's super easy to use, and you shouldn't have any issues downloading it and getting started. What's more, it boasts excellent virus detection rates, real-time web protection, and much, much more.
On the downside, AVG is a little expensive. Customer support is also limited to online ticketing, which is a little frustrating if you just have a quick question. However, there's an impressive free version and a 30-day money-back guarantee, and we'd recommend taking advantage of these and giving AVG a try.
About AVG
AVG was founded in 1991, making it one of the oldest cybersecurity companies still operating today. It brings more than three decades of experience to the table, enabling it to deliver the high-end solutions that it's known for.
In 2017, AVG was acquired by competitor Avast. This boosted its standing even more, as the new Avast developers were able to add extra cybersecurity features and improve the anti-malware program.