In a Nutshell
Norton primarily offers security solutions for enterprise-scale businesses, but the Norton 360 line offers cybersecurity for home use. The service offers antivirus and anti-malware protection, cloud file backup, a VPN, a password manager, and more. Norton 360 includes LifeLock, which protects you against identity theft and monitors your credit.
pros
Antivirus, anti-malware, and anti-ransomware protection
Includes cloud storage for backup
Secure VPN
cons
LifeLock monitoring costs extra
Cloud storage space is very limited

Norton Visit Site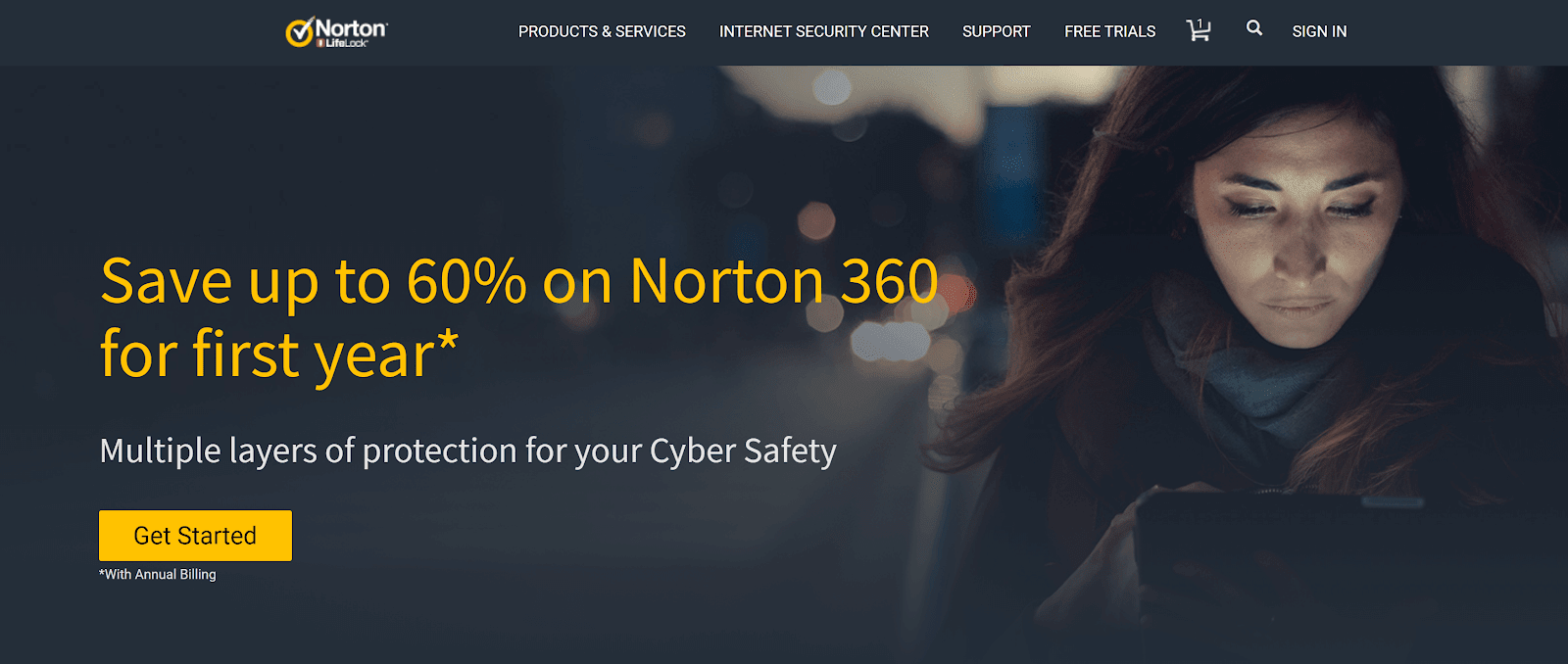 Highlights
Features: Antivirus coupled with complete online protection
Ease of Use: Very little experience needed
Reliability: Comes with Virus Protection Promise
Value: Fairly inexpensive unless you need LifeLock monitoring
Money-Back Guarantee: 60-day
Best For
Anyone worried about viruses and malware
Securing your passwords
Protecting against identity fraud
Connecting to the Internet securely
Why Choose Norton
Norton's 360 service protects your devices against nearly every online threat. The software uses artificial intelligence and a powerful human cybersecurity team to identify viruses, malware, and ransomware. A firewall automatically monitors your web traffic and flags or blocks threats, making it harder for malicious files to slip onto your computer. On top of that, an integrated password manager and VPN help to secure your online accounts without any work on your part.
Importantly, Norton also works with LifeLock to protect against identity fraud. You can get text, email, or phone alerts anytime there's suspicious behavior around your name, credit, or social security number. LifeLock will even insure you up to $1 million for the costs of dealing with a stolen identify.
What Norton Offers
Antivirus, anti-malware, and anti-ransomware software
Cloud backup
PC-based firewall
Password manager
Parental controls for web surfing on home network
Secure VPN
Dark web monitoring
LifeLock credit and identity fraud monitoring
Norton bundles a number of different cybersecurity tools into the Norton 360 package. The service not only protects against viruses and malware, but also against identity theft. The VPN, password manager, and firewall work together to ensure your accounts and devices are completely secure against online threats and hackers. All of this is backed up by Norton's Virus Protection Promise, which offers a refund if you get a virus that the company can't remove.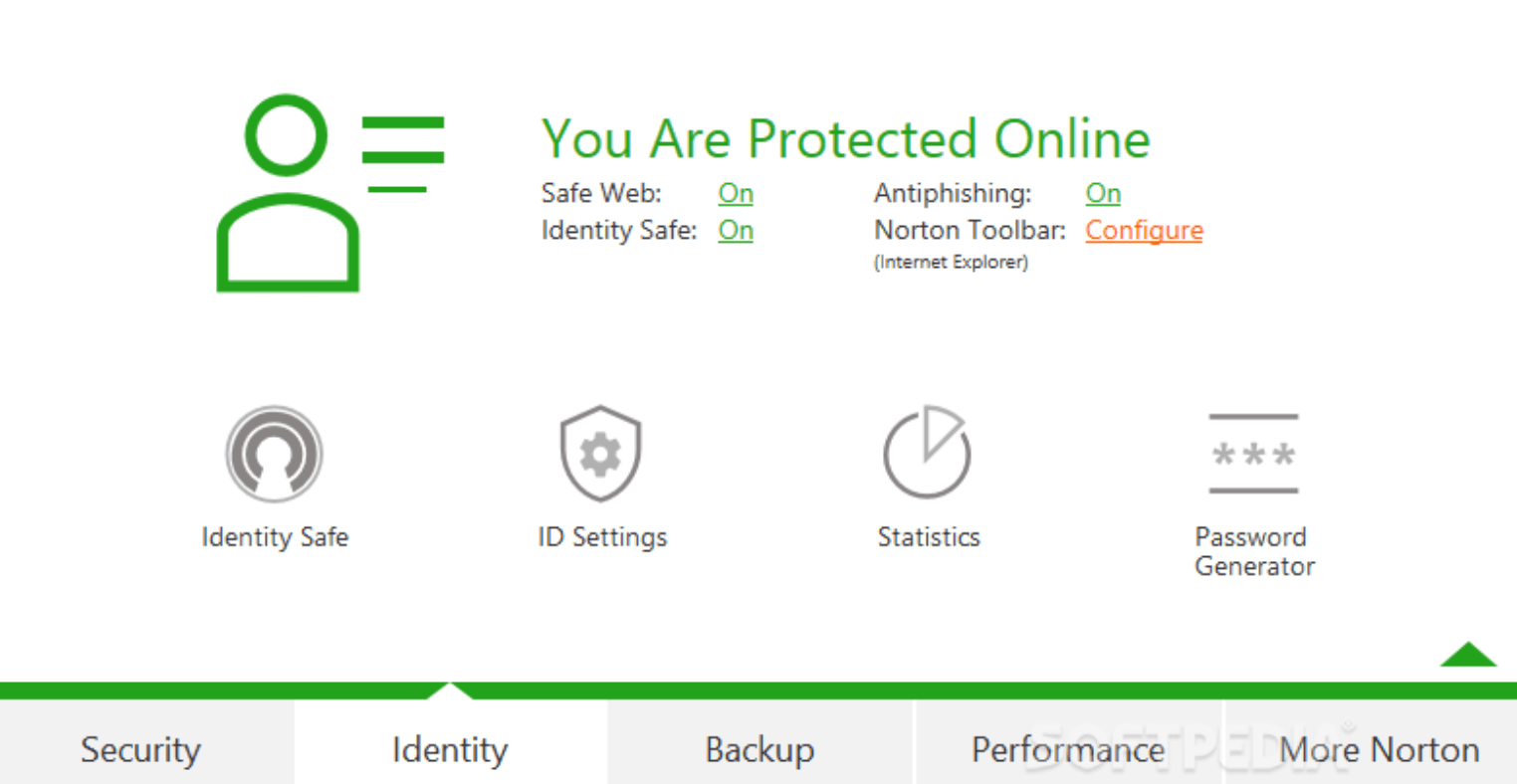 Malware
One of the premier antivirus providers on the market, Norton offers a full suite of cyber security features to combat malware, ransomware, and virtually every type of cyber threat. Norton's software is powered by artificial intelligence and machine learning technology that can automatically detect malware and ransomware. Furthermore, the product includes 24-hour response teams that offer real-time monitoring, plus smart firewalls and ID theft and VPN add-ons.
Ransomware
Norton is one of the most respected names in cybersecurity and has proven itself a top-notch defender against ransomware attacks. Powered by artificial intelligence and machine learning, it monitors unauthorized activity in real time as you surf the web, keeping the data on your computer, phone, and tablet safe so you can feel protected while sharing sensitive personal and financial information online. Norton also includes 24-hour response teams and offers ID theft and VPN add-ons for added security.
Features
Norton offers three different versions of the Norton 360 cybersecurity package. All of the service tiers offer complete protection against viruses and malware. The big differences are in how many devices you can use and whether or not you get identity theft protection from LifeLock.
Norton 360 Standard - Offers protection for 1 device, whether a computer, tablet, or smartphone. This plan includes 10 GB of cloud storage for file backups, but does not include identity fraud and credit monitoring.
Norton 360 Deluxe - Protects up to 5 individual devices and allows you to set parental controls for any device on your network. The Deluxe plan also includes 50 GB of cloud storage space, but does not include LifeLock protection.
Norton 360 with LifeLock Select - This is the plan for anyone who wants credit monitoring and protection against identify theft. It includes alerts for suspicious behavior, helps protect you in case of a lost wallet, and offers up to $1 million in insurance to help you recover from identity theft. The plan also covers up to 5 devices and gives you 100 GB of cloud storage space.
Parental Control
Norton Family is Norton's parental control tool. It includes several features to help keep children safe online. PC, Android, and iOS are supported.
Web supervision: Norton Family can report details of protected devices' internet browser histories allowing parents to see exactly what children are getting up to on the internet.
Mobile app supervisions: Norton allows parents to monitor which applications children have downloaded onto protected devices. Additionally, parents can choose to forbid specific applications—like Twitter or Facebook—while permitting all others. The app can also report upon the most accessed applications on the device.
Additionally Norton Family can:
Set time limits: The program can limit the times of day or days of the week when the device can be accessed. Time curfews can also be enforced. This feature is available on desktop editions.
Provide reports from all local child apps on the online monitoring dashboard.
Additionally, Norton Family can monitor and record search activity across all mobile applications that retain a history—including web browsers, YouTube, and others.
Ease of Use
Getting started with Norton 360 is extremely simple. The first step is downloading and installing the software, which is available for PCs, Macs, and iOS and Android devices. Once you open the software and login to your account, you can see how many licenses you have and how many you are using.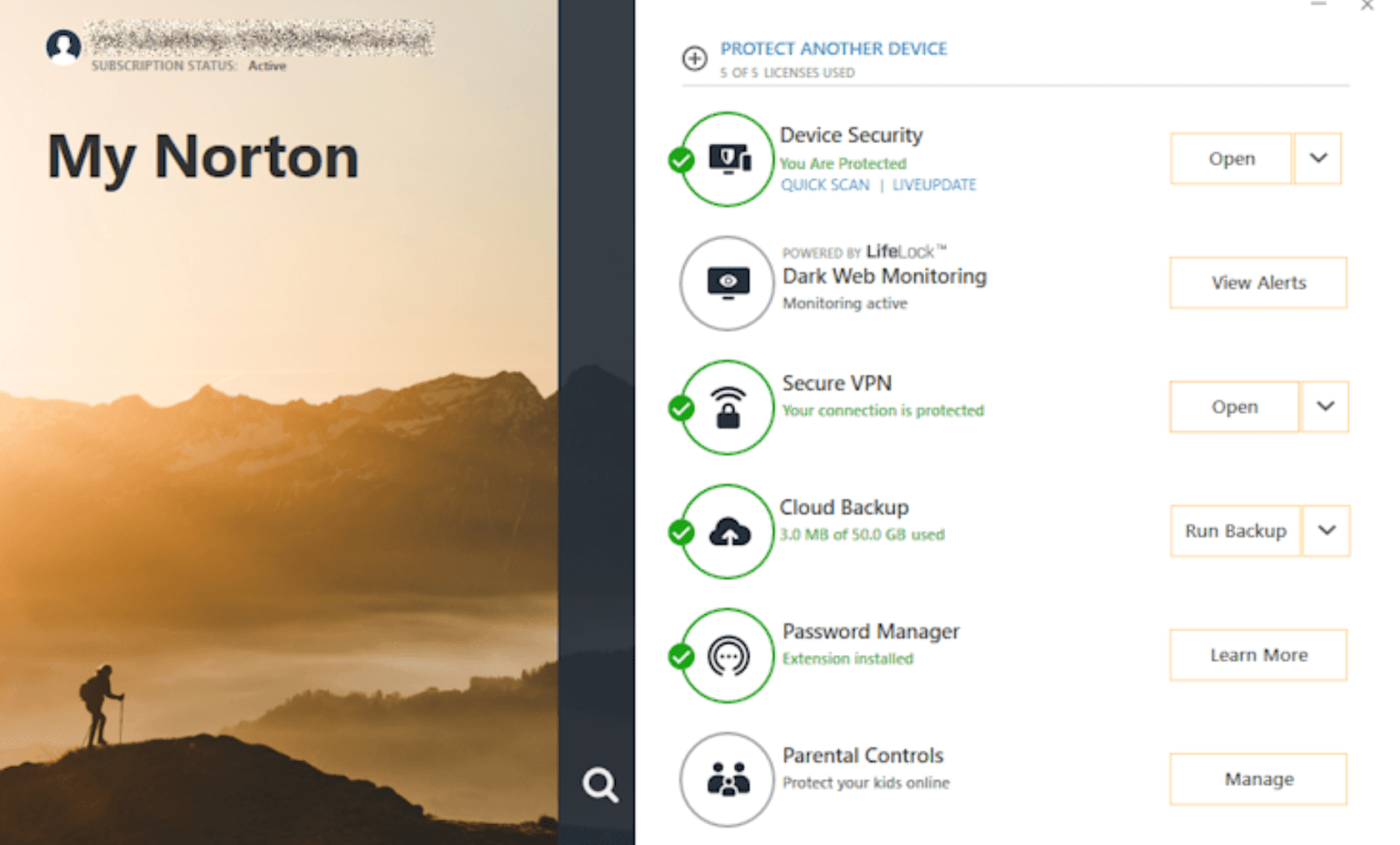 All of the service's tools are accessed from a single dashboard. It's worth clicking on each of the individual icons when you first launch, since that will allow you to customize scan frequency, install the password manager extension, and run the VPN. While the firewall is a bit more complicated to adjust, you can search the settings and toggle permissions for specific web pages to fine-tune your security.
Detection Rates and Reliability
Norton boasts one of the largest private cybersecurity teams in the world, and the company has a very strong track record when it comes to defending individuals and businesses. Norton 360 achieved perfect scores from the independent antivirus testing labs SE Labs and AV-Test Institute. In a test by PCMag, the software automatically eliminated malware threats from 97 out of 100 infected URLs.
If malicious software does get through to your computer, Norton stands behind its product with the Virus Protection Promise. If your device is infected with a virus or malware that the company can't remove, you'll be refunded the entire cost of your Norton 360 subscription.
Pricing
Norton 360 with LifeLock Select
$7.99 per month or $39.99 per year
$7.99 per month or $49.99 per year
$9.99 per month or $99.99 per year
Antivirus and Anti-malware
Identity Theft and Credit Monitoring
Value for Money
Given how comprehensive Norto 360's suite of cybersecurity tools is, the service offers a very good value. Norton 360 Deluxe in particular is less expensive than most similar software offerings that allow you to protect all of the computers and smartphones in your home.
The service gets considerably more expensive if you want to add LifeLock identity protection. However, the cost is still comparable to competing cybersecurity software options that don't offer credit monitoring.
Help and Support
Norton offers 24/7 support by phone, web chat, or email for Norton 360 customers. The company also offers a comprehensive documentation center, a user forum where you can pose questions, and a security center where you can learn more about emerging online threats. If you have identity fraud monitoring from LifeLock, that team is also available by phone around the clock.


Norton Visit Site
Bottom Line
Norton's Norton 360 cybersecurity suite is a cost-effective way to protect yourself and your devices against online threats. The software is fairly comprehensive, offering everything from antivirus and firewall protection to a VPN and password manager. You can also take advantage of Norton's partnership with LifeLock to protect your identify and get alerts about suspicious credit activity.
About Norton
Norton was founded in 1987 and provides cybersecurity solutions for individuals and businesses. The company split in 2014 to focus on security, and is now known as Norton LifeLock. Norton differentiates itself by offering enterprise-scale security plans and boasts one of the largest private cybersecurity teams in the world.