In a Nutshell
McAfee has retooled its antivirus software offering for optimization and peak performance, reducing slowdown and improving protection. Streamlined and light on your operating system, McAfee antivirus detects and blocks security threats, including viruses, malware, and ransomware from infecting your computer without causing lags.
pros
High-scoring malware protection
Won't slow down computer
Fast virus scanning
cons
Interface can be confusing
Expensive upgrades

McAfee Visit Site
Highlights
Features: comprehensive protection and bonus features

Ease of Use: interface confusing but customizable

Reliability: highest level of threat protection

Value: good value with promotional discounts

Money-Back Guarantee: 30-day money-back guarantee
Best For
Personal use

Small-to-medium businesses

Families
Why Choose McAfee
McAfee is faster than ever, even when updating while offering enhanced scanning with robust 2-way firewalls. The basic platform includes a wide range of optimization tools and services such as a Vulnerability Scanner to identify security gaps and update out-of-date programs, a Quick Clean tool that scans your files and deletes cookies to give you more disk space, the File Shredder feature that deletes and overwrites sensitive files to make sure your information is safe, McAfee's True Key password manager to keep up with your logins, and more.
McAfee is lighter on system resources and more efficient than previous iterations, and while the interface can use some improvement, this software is a solid choice for security, ease of use, and cost-efficiency. The customer support is also exceptional, although some service requests may require additional costs.
What McAfee Offers
Antivirus software from McAfee is available for a number of specific needs. For most individuals, families, and small businesses, Total Protection or Live Safe licenses offer a robust suite of security offerings that will keep you covered. In addition, McAfee offers special packages for Gamer Security and a premium Small Business Security license.
McAfee offers security coverage for your network, with packages ranging from 1 to an unlimited number of devices and licenses tailored to your security needs. All packages include protection from:
Malware

Spyware

Ransomware

Secure Encrypted Storage

Secure Payments

Privacy Protection
In addition to complete threat protection, McAfee also includes some great optimization tools to make sure your systems are running smoothly and that your sensitive files are secure:
File Shredder

Quick Clean

App Boost

True Key Password Manager
Premier features that are included only with multi-device licenses include:
Identity Theft Protection (in the US)

Safe Family parental control
McAfee LiveSafe offers the same features as McAfee Total Protection, but covers unlimited devices and also delivers 1GB of SecureCloud Storage to protect and store sensitive data in the cloud.
Features
McAfee antivirus packages offer a wide range of features, however, the main focus of any antivirus software is its ability to protect systems from security threats. The main protections included in McAfee licenses are:
McAfee has been a leading name in antivirus software for decades, yet the company is hardly resting on its laurels. It has positioned itself on the cutting-edge of cyber threat protection with ever-evolving digital security tools that protect both computer and user alike. Its packages feature impenetrable antivirus and anti-malware technology in addition to its host of extra features.
McAfee offers a docket of cutting-edge cybersecurity tools specifically designed to detect and prevent ransomware attacks. With a team that constantly follows the evolution of ransomware, the company is able to offer ever-evolving digital security tools, including endpoint security, which is backed by McAfee Global Threat Intelligence, a network of millions of sensors that are constantly monitoring unique ransomware signatures.
McAfee Internet Security, an included component in McAfee Total Protection, protects and monitors against any possible phishing attacks. The warning system can integrate with both internet browsers and desktop email clients in order to provide links before users visiting any website that has been reported as forming part of a phishing attack. Additionally, users can configure a whitelist of trusted websites. These will be allowed even if they have been reported as phishing by other users.
For those that would like to train their own anti-phishing instincts, McAfee's Knowledge Center also contains some helpful articles designed to coach users in spotting these threats.
Ease of Use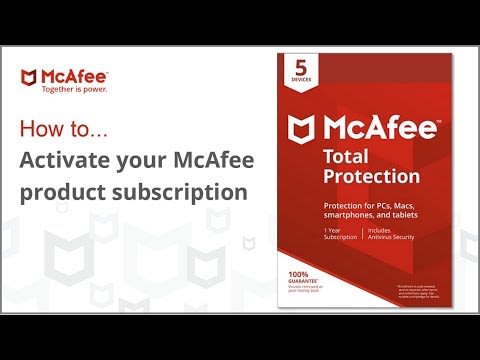 McAfee antivirus can be easily purchased online. Downloading and installing the product is quick and easy. While you will need 500MB of free disk space and a 1GHz processor, installation doesn't require a 'clean' computer and can be installed on an infected system.
Despite many improvements made to McAfee antivirus's interface, it is still less straightforward than other programs. However, once you get the hang of where to find things, it will allow you to seamlessly control all of the features included with the license. The main window displays necessary information and up-to-date system monitoring and navigation to parental controls (in multi-device packages), customizable settings, scanning scheduling options, anti-spam, and more.
Parental Control
Safe Family is McAfee's parental control product that can be purchased separately for a monthly or yearly subscription. It is also included in McAfee Total Protection Family Edition.
Safe Family provides the following features:
A detailed device activity summary from protected devices. This allows parents to see exactly which websites the child has visited including the timestamp and time spent on the website.
Live map geolocation. Parents can locate their children on a live map and receive automatic notifications if they are detected to have left a defined "safe place"—such as home or a school. Parents can even configure alerts which they will receive when their child has safely arrived at school.
Website-specific time limits: McAfee Family lets users set website-specific time limits as well as more general screen time schedules. Children are also able to request extra screen time, or app access, if either is blocked by the program. Unlike other parental control programs, this added degree of flexibility helps keep both parents and children on-board with the system.
Detection Rates and Reliability
Independent third-party tester AV-Test examines antivirus performance periodically, and consistently finds McAfee to be a high-performance and reliable antivirus program. McAfee successfully blocks 100% of the potential threats in virus detection tests. While McAfee performed well on real-time tests, other providers do have higher scores. Nonetheless, it remains near the top with consistently high detection and protection rates.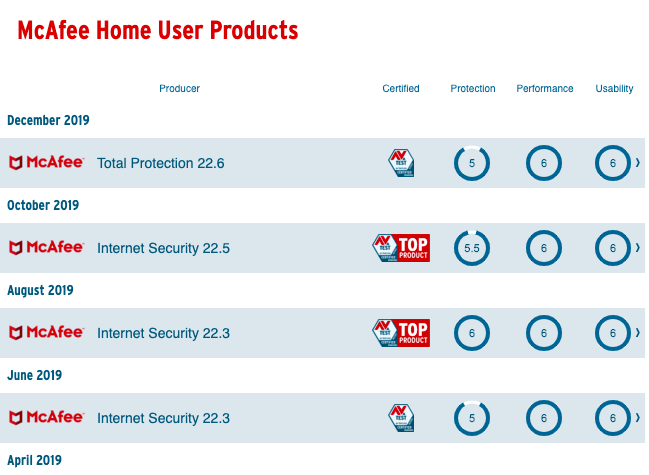 Pricing
$34.99 ($45 off after promotion)
$39.99 ($60 off after promotion)
10 Devices – $44.99 ($75 off after promotion)
$104.99 ( $5 off after promotion)
Value for Money
McAfee offers a 30-day free trial and several packages for home and business. With special promotions bringing costs down, McAfee AntiVirus for one computer for a year begins at a limited promotional price of $34.99. The software delivers above-average performance and protection, making it a good overall value. With a no-questions-asked, 30-day money-back guarantee, McAfee lets you try the service before committing, bolstering the software's value for money.
Help and Support
McAfee offers 24/7 tech support via toll-free phone, online chat, and a virtual assistant. Support personnel are very courteous, professional, and knowledgeable. Aside from round-the-clock support, McAfee customers can also purchase a range of TechMaster support packages:
One-time service call tune-up or set-up: $69.95

Concierge Gold 1-year support subscription: $179.95

Virus Removal Service: $89.95
Along with comprehensive service offerings, McAfee maintains robust FAQ section and knowledge base on their site. Many times, answers to pressing questions can be found in these resources without needing to contact customer support. The blogs page is also a great source of information with constantly updated, measured, and important content on a broad range of relevant topics—including family safety, cloud security, and leading-edge research in the cybersecurity space.

McAfee Visit Site
Bottom Line
McAfee is a solid choice for individual users. The software scores well for reliability and threat detection and offers a suite of useful features to help optimize performance while maintaining network security. While previous versions were bulky and weighed on operating systems, McAfee has addressed this complaint, and scans will not slow computer performance.
About McAfee
McAfee is a subsidiary of Intel Corporation and is the world's largest company dedicated to computer security. McAfee was founded in 1987 and, since its inception, has strived to keep online threats from impacting customers. The software is constantly being improved and propelled by leading-edge innovation to keep customers safe.